16 Scary Stories from Sign Pros
Your peers recount sign-related experiences they'll never forget, for one terrifying reason or another.
IN HONOR OF HALLOWEEN, we asked the Signs of the Times Brain Squad to share brief stories and anecdotes of when they were frightened, scared or otherwise terrified by a sign-related experience. Their tales of crazed customers, evil employers, sinister subcontractors, gun-toting government agents and more follow …
HIGHWAY HELL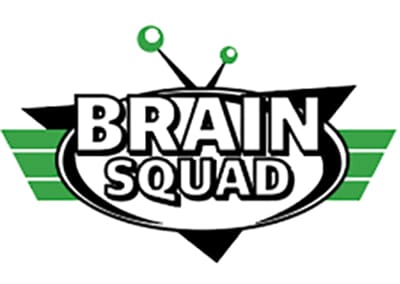 Owners and top managers of sign companies in the US and Canada can join our squad here.
A looooong time ago, before I owned my own graphics firm, when I was working for another signshop, we were using the shop owner's Suburban to transport a 4 x 8-ft. AlumaCorr sign to a jobsite. We bungee-corded the panel to the roof and proceeded to drive. On the highway, at 70 mph, the hooks bent flat and the panel sailed off the car like a Halloween decapitator from hell. We were terrified that it would hit another car following us, though we lucked out and no one was directly behind. The panel sailed through the air like a Frisbee of death and slid to a stop on the road, only to get run over repeatedly … Quality panel, though, and we installed it that same day! — Derek Atchley, Atchley Graphics, Columbus, OH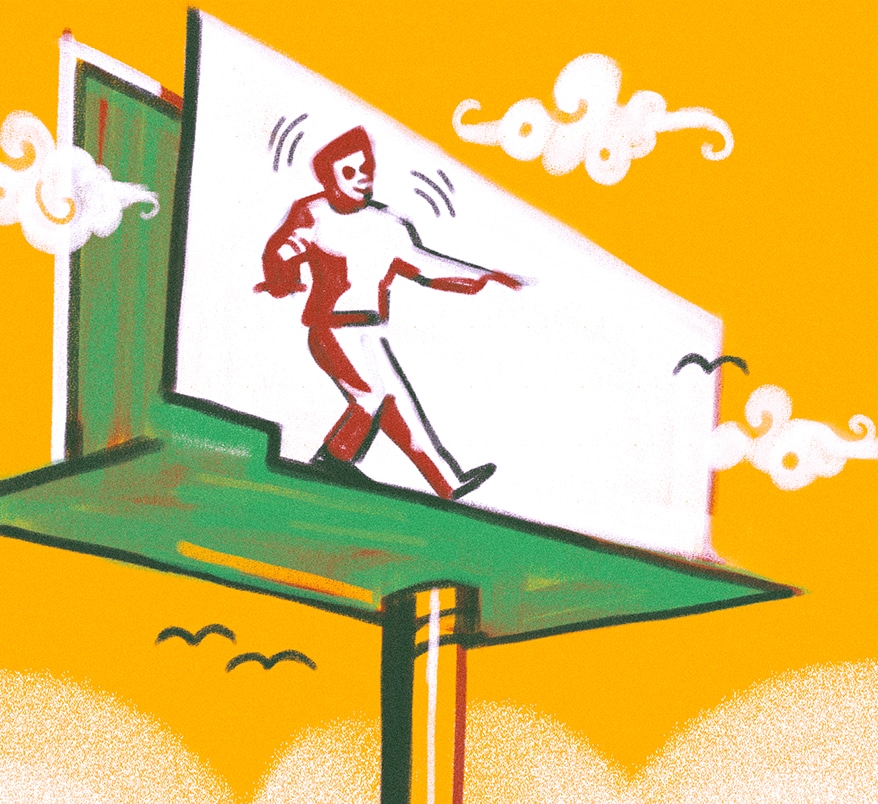 NEAR DISASTERS …
AND BEES!
My partner went out to install a billboard on the edge of a creek bank. When she got out there, she saw a bee colony set up right behind the billboard! She had to install the entire billboard without disturbing the bees! — Sheila Roberts, Sign Solutions, Phillipsburg, KS
A guy who worked for me told me of a time when he lashed an extension ladder in the bucket of a cherry picker because he couldn't reach with just the bucket. He set the bucket then climbed up the ladder to service a sign. — John Miller, Signs by Autografix, Branford, CT
Years ago, I helped a fellow sign man letter a billboard that had to be 30 ft. up — from the walkway on the billboard to the ground. Of course we didn't have any safety harnesses and just walked back and forth on a walkway about 10 in. wide. I was so frightened of falling, I wasn't much help to him that day. — Jeffrey Cross, Cross Signs, Seminole, FL
Was installing a billboard a few months ago and the wooden walkway broke through and had I not been using a safety lanyard … I may not be answering this survey. About a 30-ft. drop. — Larry McCain, Here's Your Sign, Jennings, FL
Electrical storms vs. swing stage; excavator vs. water main; auger bit vs. fiber optics, Bees! — John Konopka, US Sign and Mill, Fort Myers, FL
Advertisement
ACTUAL ACCIDENTS
The sign manager before me had fallen from a tall ladder in a sign install. [Now he's] working part-time with strict rules about not allowing him onto anything taller than a step stool. Still has back problems every now and again. — Lisa Hyman, Creative Printing and Internet Services, Boone, NC
It happened decades ago, but one of our employees in the construction/paint department cut his thumb off with the table saw. Good news: Quick thinking saved the thumb and surgeons were able to reconnect it. — Lisa Havniear, LA Designs, Mabelvale, AR
The only time I have been scared working in the sign industry was while working at [a company] in Oakland 25 years ago. I was the vinyl guy, working late, helping out the fabricators finish a monument sign for the next-day install. The sign was lit using grid neon and one of the fabricators lit up the sign as I stuck my hand inside the cabinet to finish securing the face. I was electrified by a small 9,000W tranny. Thank God it was a small transformer. I jolted back and landed on my tailbone. — Dennis Stanworth, Stanworth Sign, Nevada City, CA
CRAZED CUSTOMERS,
PERMITTERS AND OTHERS
What comes to mind is "establishing terms and extending credit" in our early days. First runner up might be hiring new employees, especially office/management staff … actually that might be the winner. [When] you don't get paid, you just move on and learn from the experience. Hire the wrong person, and the ramifications live on for quite a while. — Harold Pedley, Sign Engineering, San Juan, PR
Maybe the time the inspector showed up on a project and demanded that the guy at the top of a 60-ft. crane immediately come down and pack up the equipment because the project was on one of seven streets in all of Los Angeles where a special permit is required. My installer told me that in 30 years he had never experienced such a thing — neither being told to pack up and leave nor an inspector displaying a badge and a gun. — David Kinney, Kinney Custom Signs, Marina Del Rey, CA
There is a particular customer of ours where every project has been a nightmare. She doesn't know what she wants and then scolds me and my team for not being able to read her mind. After the last project, we fired her as a customer. There are folks that just are not worth the horror of dealing with. Period. — Vicki Kettle, Fastsigns of Lynnwood, Lynnwood, WA
I had a project with a tight timeline in Michigan and on the install day the crew was a no-show. I called the vendor to find out why they weren't there as scheduled. He apologized profusely and told me that his guys were in an explosion! I couldn't even be mad; even if it wasn't true, it was the best explanation I'd ever heard, lol. — Michelle Sanders, Walton Signage, San Antonio
JUST BEING
IN BUSINESS IS SCARY
We have $5 million in program work and suppliers not having material for five months! Worst horror story ever! — Corey Perez, Ad Art, Flower Mound, TX
As a new business, most of our larger sign fabrication projects and installations have been scary. We have not had any specific projects that have created terror … yet 🙂 — Becky D'Aiuto, Mohawk Valley Signs & Solutions, Oriskany, NY
Advertisement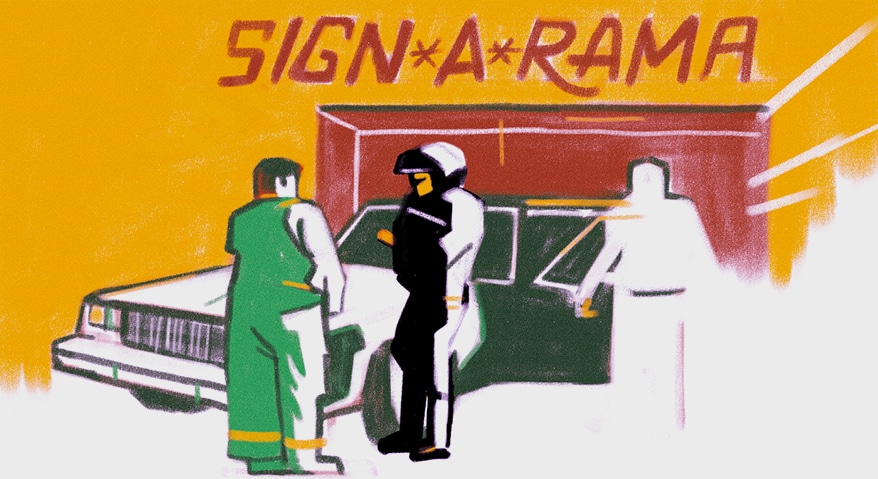 DON'T CALL ME
UNLESS…
Told from the perspective of owner Dawn Homa … The year was 2010. I was at the hospital where my husband, Jack, was having a procedure. I had left instructions with my staff that, "I didn't want any phone calls unless the building was burning down." About a half-hour after he was taken into surgery, my phone rang. It was my office manager, Laura. She said, "I know you only wanted to be called if it was an emergency, but a car hit our building." Me (whispering because I'm in the waiting room): "OK… so is there any damage? Everything OK?" Laura: "No, you don't understand… There is a car in our lobby." Me (very loud voice): "There is a car in our lobby?!"

An elderly man had been backing up his car from the Village Inn four doors down. Somehow he hit the gas and zoomed backward through the parking lot and right into our storefront. The rebar from the brick below our windows prevented the car from going all the way through the front office. This could certainly have been much worse.

I can hear Laura talking to the man. He is trying to remove the car from the lobby and the engine is roaring. I scream into the phone, "Tell him to turn the car off!" He finally does. I tell Laura to take a ton of pictures and call our insurance company. I would be there as soon as I could find someone to pick up Jack and take him home.

Just then the nurse comes in and says I can see Jack who is fairly coherent. I tell him what happened, that I would ask our neighbor to come get him and then I would go to the shop. He looks me square in the eye and says, "Did you call the news?" And then demands to go to the shop with me.

When we got to the building, the car was removed, but the entire front glass and entrance door were gone. I was surprised and amazed to see our two property managers, in their suits, helping to clean up the glass and debris; they were incredible during this entire situation. Laura created a banner using a photo of the car in our lobby that we installed over the boarded-up storefront. The headline read: "We thought a drive-through would be a good idea."

Fortunately, no one was injured in this accident. (And no, we never did call the news, though in hindsight, we should have. For pictures, visit
signsofthetimes.com/102205 and scroll down to Fact #1.) — Mallory Lynn, Signarama Brighton, Brighton, CO
For more Halloween-inspired contributions from the Signs of the Times Brain Squad, check out this month's Buzz Session.
SPONSORED VIDEO
Find it here! ISA Sign Expo 2023
Whether you're looking to grow your business or advance your career, ISA International Sign Expo® 2023 is the only place to find everything you need to be successful in the sign, graphics, print and visual communications industry.