2023 Women in Signs: Kelsey Dalton McClellan
She's preserving an age-old craft with excellence.
Kelsey Dalton McClellan
Owner
| Heart & Bone Signs (Chicago)
WITH A BACKGROUND IN fine arts, Kelsey Dalton McClellan studied art at the University of Colorado Denver before a graduate program at the School of the Art Institute of Chicago. "I would paint signs or paint chalkboards for restaurants to supplement my income while in school," she says.
"When I moved to Chicago, I became enamored with the goldleaf signs downtown and eventually cold-called [Robert Frese] whose signature was on some of the signs."
Coincidentally, Dalton McClellan also left grad school and began the trade of sign painting. Frese had been gilding in the "Chicago Style" for 40 years, and that legacy of goldleaf plays an important role with the city's architecture. With Frese as their mentor, "I along with my business partner and now husband [Andrew] launched our business in 2012 and slowly built up our clientele," she says. Though based in Chicago, the pair travels across the country — about 40% of their time — painting and gilding signs.
Advertisement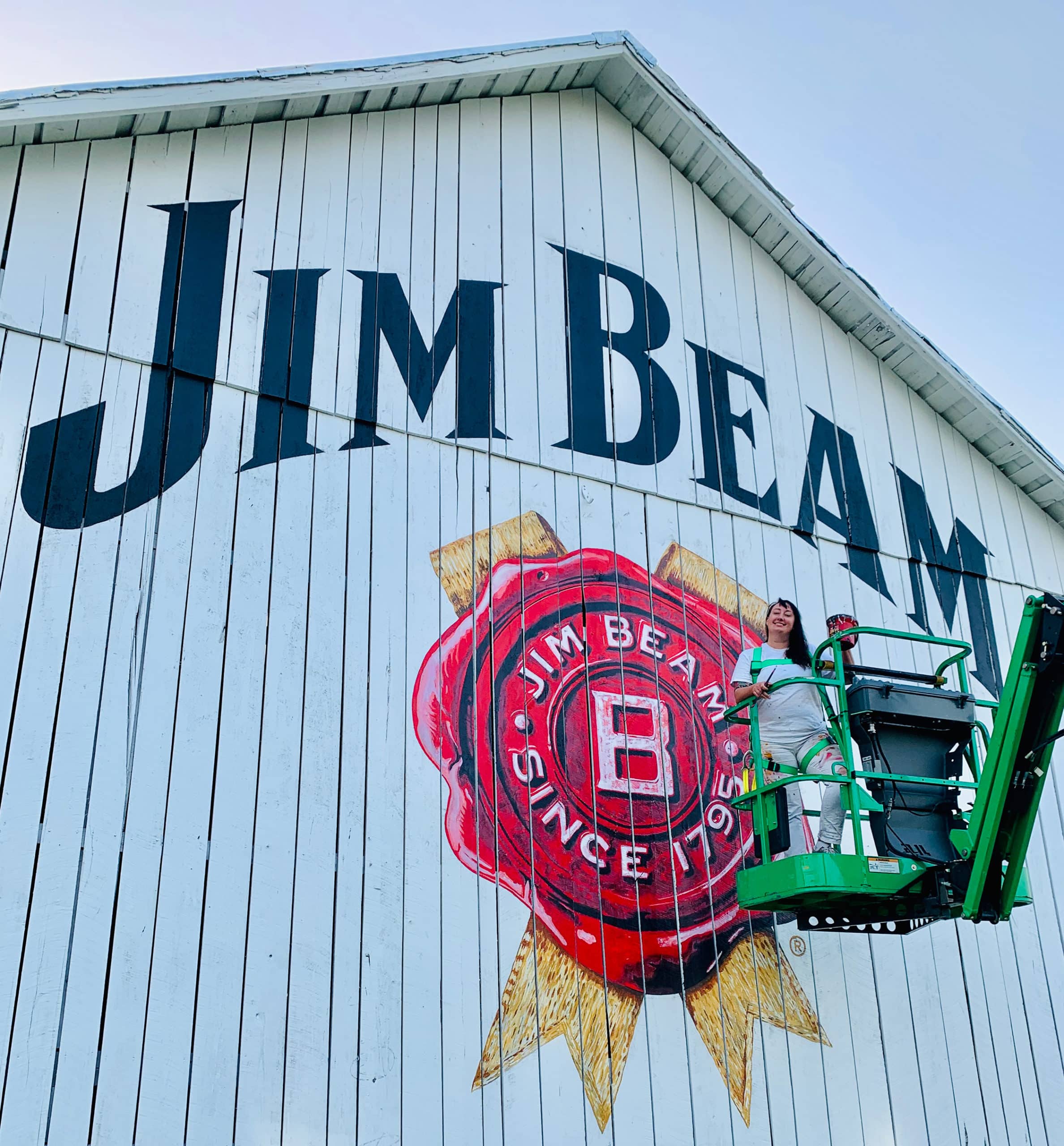 GOING FOR GOLD: Keeping alive the tradition of goldleaf and the "Chicago Style" are very important to Dalton McClellan.
Often the only woman on a site, Dalton McClellan says, "I can understand how that would be a challenge especially for young women who are not used to it." Over time she learned not only to make space for herself — but also that she deserves space and respect. "It's push and pull," she adds. "Certain situations can be intimidating, but the more you're involved, the easier it gets."
Heart & Bone Signs subcontracts with many sign companies or businesses looking for goldleaf. "People find us through friends and colleagues," Dalton McClellan says. "Also social media is a great tool and resource to connect." Their best customers, however, and the majority of their goldleaf work, come by word of mouth, "through our hard work and commitment to the trade, which is always the best compliment and what I am most proud of," she says.
Advertisement
Dalton McClellan is also proud to be one of the few people continuing the tradition of goldleaf in Chicago. "I take goldleafing very seriously and have dedicated a lot of time to perfect my skill set to be able to produce work on the same level of quality as my mentor," she says. "We still do the job the same way sign artists would decades ago, and I'm proud to continue that tradition in the city and throughout the US." She and her husband are working on a book about the founders of famed and influential Beverly Sign Co., and recovered an archive of around 300 rediscovered sketches.
Women are capable of any aspect of business, Dalton McClellan says, though she does think there's an assumption women are inexperienced or less capable. "The best way to challenge this perception is through representation," she says. "We need to see more women in leadership roles and more women working in the field. I saw that there were women signpainters before me who did my job, so I knew I could do it, too."
As she's become more involved, Dalton McClellan has made "really great connections with other women in the industry," she says. "I hope they continue." As a signpainter whose craft is often seen as a dead art, she also hopes her involvement with companies and manufacturers to continue signpainting is seen as a valuable contribution to signs in the future.
PHOTO GALLERY
(12 IMAGES)
Advertisement
SPONSORED VIDEO
Find it here! ISA Sign Expo 2023
Whether you're looking to grow your business or advance your career, ISA International Sign Expo® 2023 is the only place to find everything you need to be successful in the sign, graphics, print and visual communications industry.