3 Office Wall Graphics That Get Down to Business
A trio of PSPs made company workplaces more enticing than the comfort of one's couch.
This article originally appeared at our sister publication, Big Picture.
COMPANIES ARE RECONSIDERING the flexibility of remote work now that the pandemic has settled. Uber is requiring San Francisco employees to work in-person on Tuesdays and Thursdays. Apple is requesting all staff make the commute at least three times a week. With this move, corporations will need to think of unique ways to get most people back in office, like paid transportation, free meals, and, yes, beautiful wall graphics. See how three PSPs made company workplaces more enticing than the comfort of one's couch.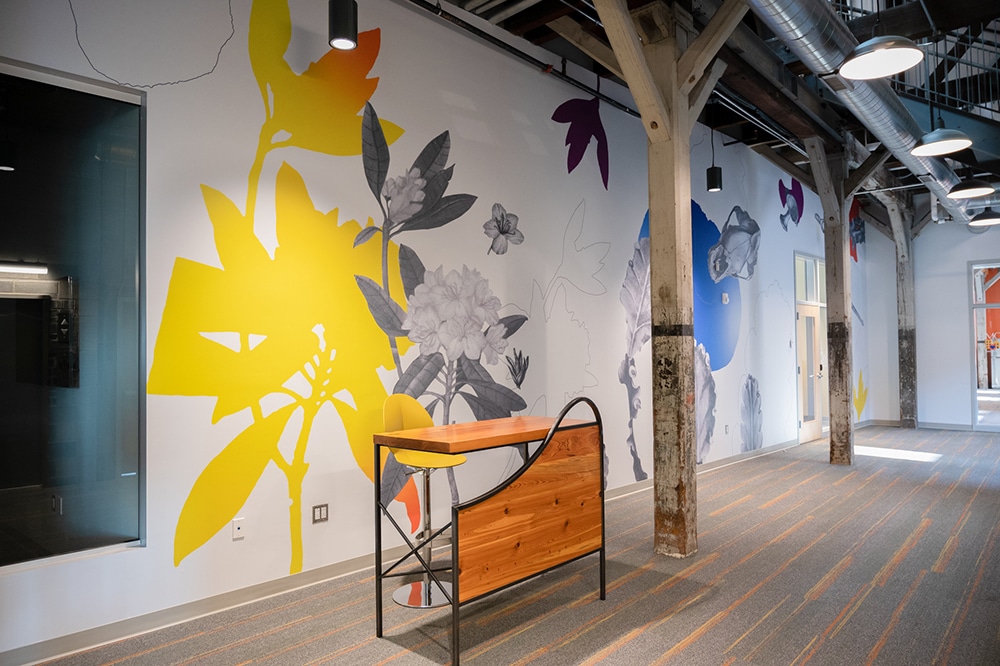 Alpha Graphics

Baltimore
Alpha Graphics (not a part of the franchise) is well known for its design and print work in museums across the country. Because of this, Cross Street Partners, a development and property management company, reached out in need of design, printing, and installation for its second-floor hallway in the newly renovated Hoen Lithography building in Baltimore. The structure had sat vacant for 35 years after the company's bankruptcy and has since been repurposed into The Center for Neighborhood Innovation, a collaborative workspace for mission-driven organizations. Its facilities include private offices, traditional coworking, and a suite of state-of-the-art classroom and training spaces. The design, completed in-house by Kim Loper, Alpha's senior designer, includes images from the original lithographs produced in the building during the time of its operation. Alpha Graphics used its Roland VersaCamm VS-640i wide-format printer/cutter, Adobe Illustrator, and the VersaWorks RIP onto PhotoTex adhesive fabric, totaling 2141 square feet of hallway graphics. "The client was speechless," says Christine Walsh, president/CEO. "She was so happy with the final results that they plan to work with us on another building being restored."
Tip: If you're not the specialist, find someone who is. Alpha Graphics worked with Typecast Press, a letterpress shop and graphic design studio, for "top notch archival skills," says Walsh.
Advertisement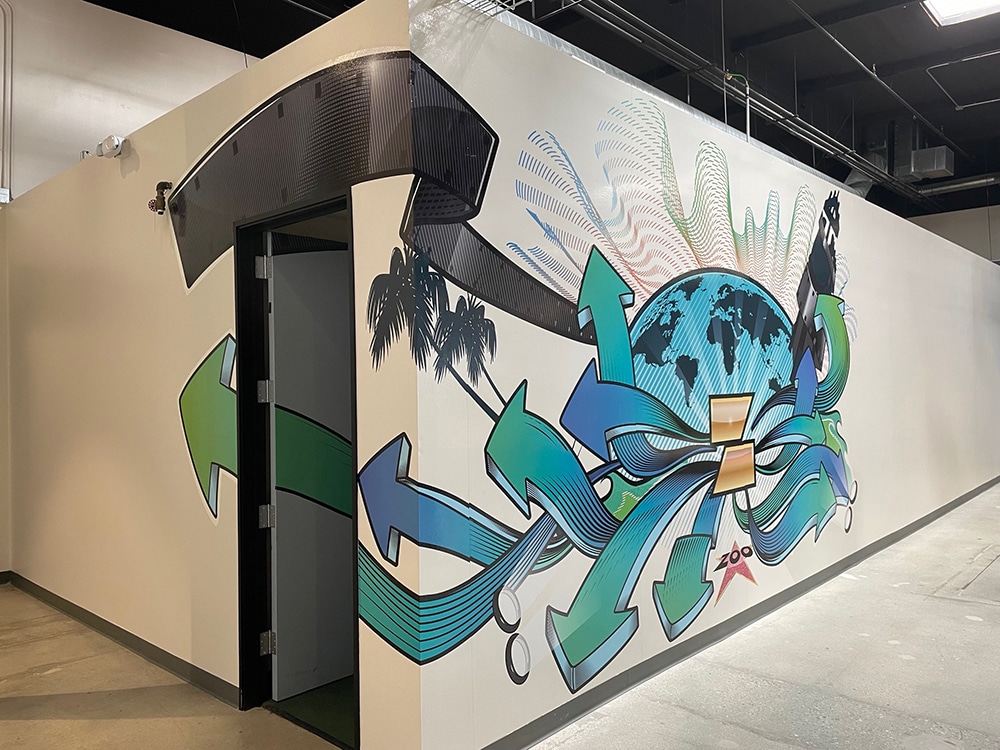 3V Signs and Graphics

Torrance, California
"We recently did a fun and funky wall mural/graphic for Zoo Digital in El Segundo, California, with print/cut elements incorporated into the overall application," says Pat Dacy, owner, 3V Signs and Graphics, and member of Sign Biz. Zoo Digital is a provider of cloud software-based subtitling, dubbing, and media localization services to the TV and movie industry. The graphics were set up and panels were broken out in Adobe Illustrator. 3V Signs and Graphics used its HP 360 Latex printer onto 3M Controltac IJ180Cv3 graphic film with 3M Scotchcal Gloss Overlaminate 8518. The printed graphics were cut with a Colex Sharpcut flatbed cutter. The work area wall mural measures 10 feet and 3 inches tall by 25 feet wide. It wrapped around a corner and incorporated a door.
The break room graphic measures 15 feet by 1 1 inches tall and 13 feet by 7 inches wide. The conference room graphic was printed onto Nekoosa Trifecta 6-mil semi-rigid matte white textured facestock, measuring 7 feet 9 inches tall and 20 feet six inches wide.
Tip: Don't forget about the exterior. 3V Signs and Graphics created a non-illuminated aluminum pan face sign in the parking area to greet staff and clients.
Advertisement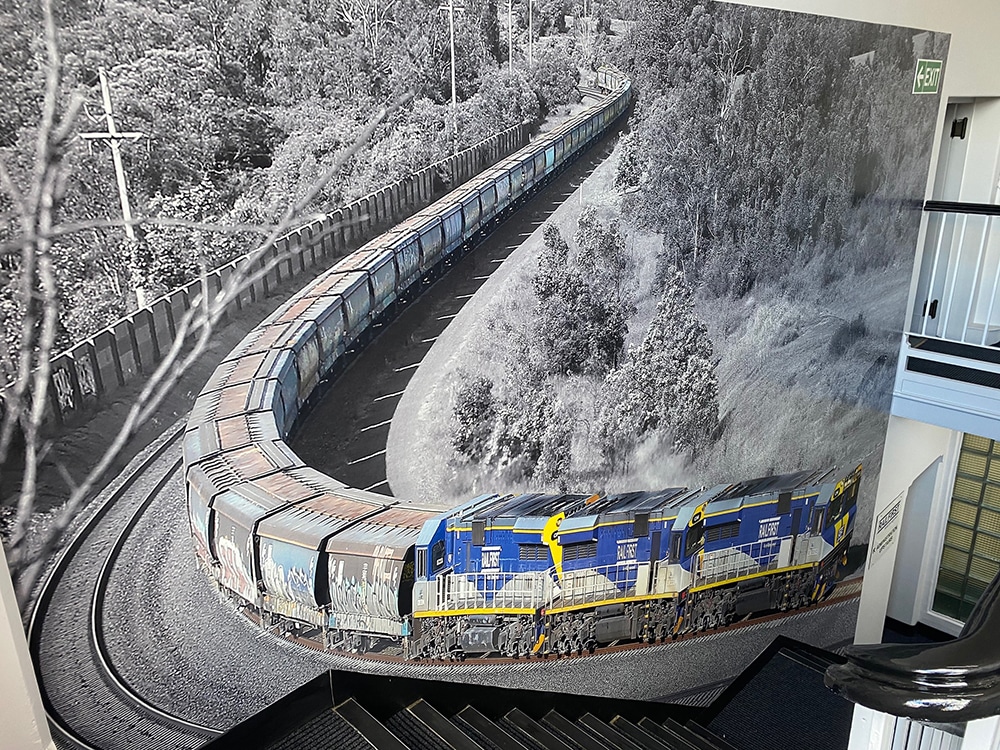 Signageworld

Adelaide, Australia
"While the staff were out of the office during COVID lockdowns, management took the opportunity to refurbish the building," says Derek Michalanney, managing director, Signageworld, about his client, a train management assessment company. "The brief was to include color and interest into the office to make it a more attractive place to work, rather than big drab gray walls. We decided same wall graphics would brighten the place up and show off some of their business aspects to employees, customers, and visitors." Signageworld used its HP Latex 700 W printer with Onyx RIP onto 3M Scotchcal Graphic Film IJ40 with 3M 8510 matte laminate and finished with Sign Master 1600 Pro Laminator. Wall graphics totaling 1076 square feet were printed and installed over various walls.
Tip: If feedback from the client is stellar, document it for future work. "We have had no end of positive feedback," says Michalanney. "It leads to referrals for other work, as well."
PHOTO GALLERY
(15 IMAGES)


📷: Alpha Graphics | 3V Signs and Graphics | Signageworld
SPONSORED VIDEO
Find it here! ISA Sign Expo 2023
Whether you're looking to grow your business or advance your career, ISA International Sign Expo® 2023 is the only place to find everything you need to be successful in the sign, graphics, print and visual communications industry.