3 Sign Designers Name the Do's and Don'ts of Their Craft
Veteran creatives illustrate and advise what always and never to do.
A PERSON, COMPUTER and software do not a sign designer make. Let's be honest. Some sign designs out there in the wide world are bad; some could be better. Many are fine. However, all should be great. And so, three top sign design pros have distilled a few lessons on goals and gaffes.
O ur first sign designer started in the industry in Denver in 1972 with a five-year union signpainter's apprenticeship. Mark Oatis has worked in all phases of the industry, and is currently creative director at YESCO, Las Vegas. "I am proud to be a founding member of Letterheads," he says of the decades-old trade organization dedicated to the furtherance of traditional signmaking methods.

TRADITIONAL TECHNIQUES: Despite technological options, Oatis prefers to work with pencil or pen and paper.
DO THIS
Always make thumbnail sketches, Oatis advises — if possible, by hand. "Because of my training, I favor the quick henscratch," he says. "I like to work with a pencil and pen. But regardless of the method, allow ample time to work through the situation at hand."
Oatis encourages fellow designers to save development roughs and compare them with subsequent ideas. "Explore options in your search for the elegant solution," he says.
Always study, examine and emulate the work of artists you admire, Oatis says. "Figure out why their work is appealing to you."
Advertisement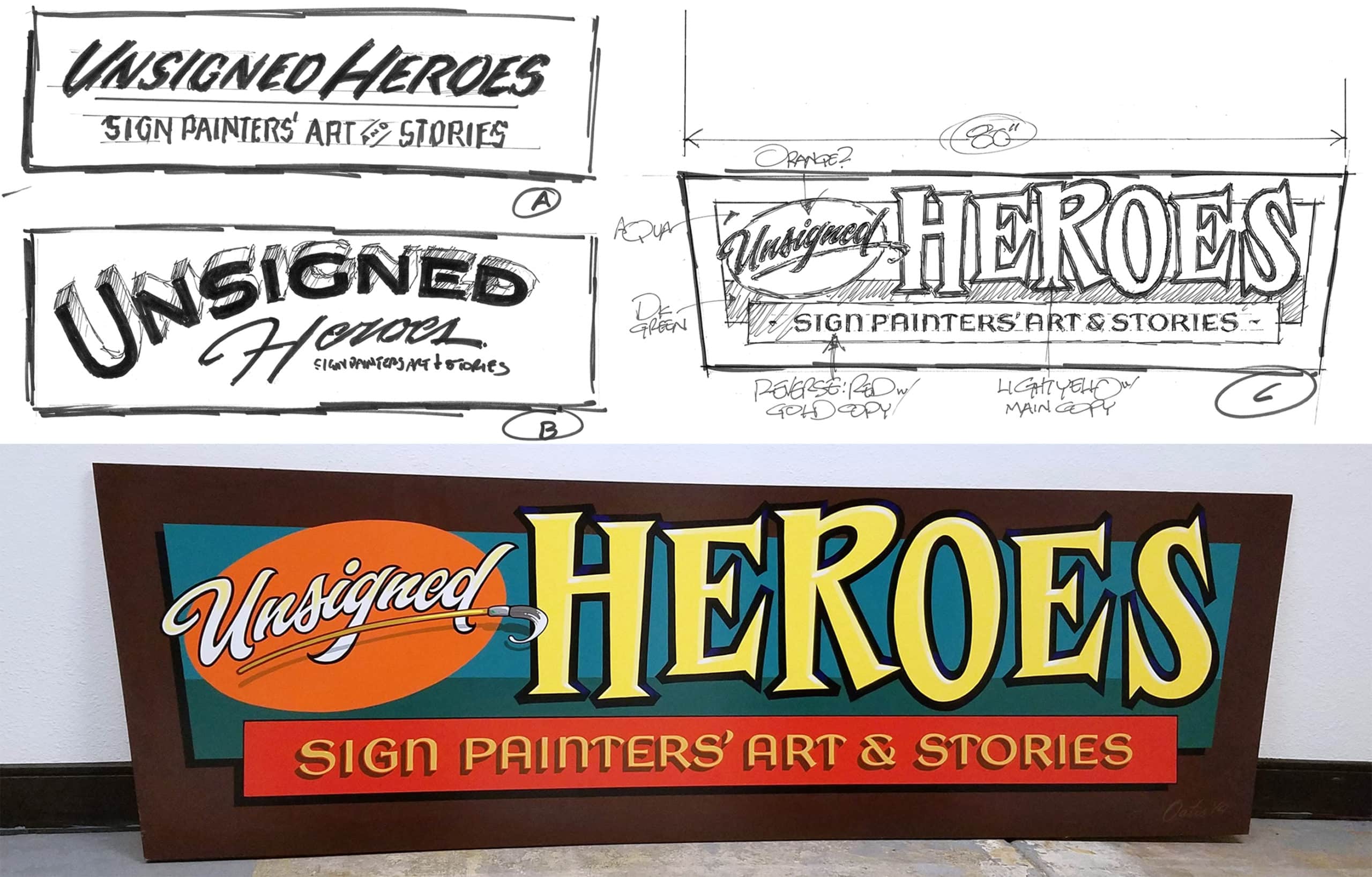 SEARCH FOR ELEGANCE: Save your sketches (top) as you progress toward a solution (below).
NOT THAT
"Never go with the first concept," Oatis says. When you are working at your usual breakneck commercial pace, it is tempting to go with a satisfactory solution, he goes on, when the sublime may be right around the corner.
"Edit your options with a red pen (or an imaginary one) and learn to welcome revisions," Oatis says.
Never concern yourself with cultivating your own "style," he warns. Concentrate on understanding and solving the problem.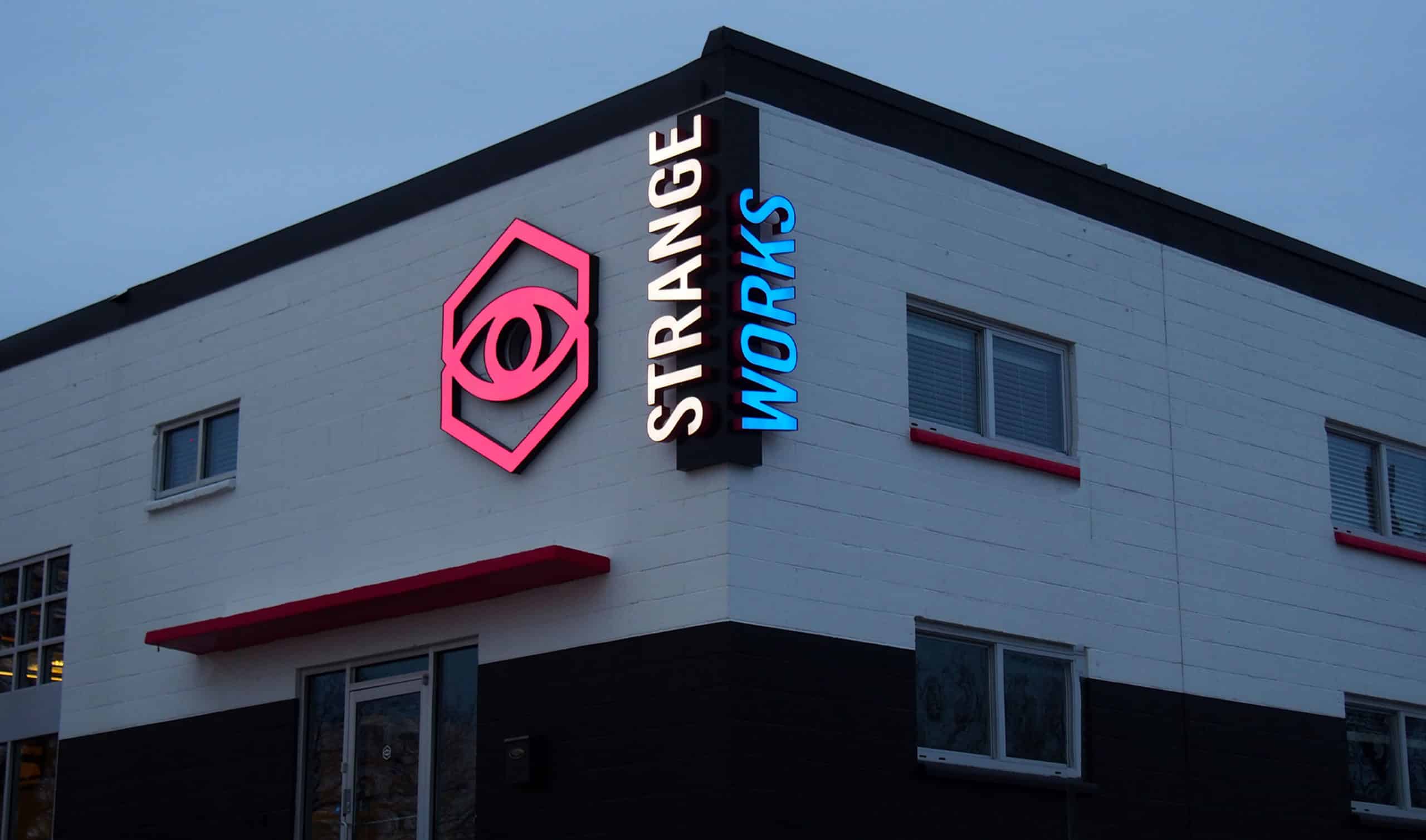 WHAT WORKS: Asking "why?" at the outset, then listening to and treating clients as partners are all necessary for successful sign design.
A classically trained designer, Russell Toynes, partner and creative director at Studio Dzo (Austin, TX), came into the sign industry with a background of over 10 years working in design. A decade of designing brand-elevating experiences, his education, skills and experience were applicable to signs. "It was the other things, like materiality, fabrication and engineering that I had to learn from my wife, father-in-law and from hiring seasoned sign guys," Toynes says. "Being an 'outsider' in signs allows me to constantly question conventional thinking and ignore, 'This is just how things are done,' in the sign industry."
DO THIS
Ask, "Why?" Toynes offers as the starting point. Every project requires a solution. Effective design solutions require exploration, asking "why?" throughout the entire process — from phone call to install. Ensure you are considering everything, not just the budget, or what the client thinks they need, or what you think is and isn't possible.
When you ask "why?" you are inviting discussion, he continues. This allows you and your team to listen instead of thinking you know exactly what clients need. "When we truly listen, we build trust," Toynes says. "Trust is what builds lasting relationships."
In fact, he states, "We don't have clients; we have partners." Partnerships are grounded in trust. When you have a partnership, your clients — or your "partners" — share their target budget, support your design vision, and will defend and support you when problems or challenges arise.
NO LIMITS: Don't design simply to your shop's own fabrication capabilities. Find solutions elsewhere when your sign designs demand it.
NOT THAT
"Never limit your vision or design solution to your fabrication capabilities," Toynes says.
Designing to your shop's capabilities only stifles creativity. "When your designers are limited to your equipment or what your fabrication team has made in the past, they limit their thinking," he says. "Instead, push your design team to 'blue sky it,' and explore beyond what has been done by your shop in the past."
If their solution requires an expertise or piece of equipment that you don't already have, find a fabrication partner that you can work with or challenge your team to make it work. "Give your designers the freedom to dream big," Toynes advises.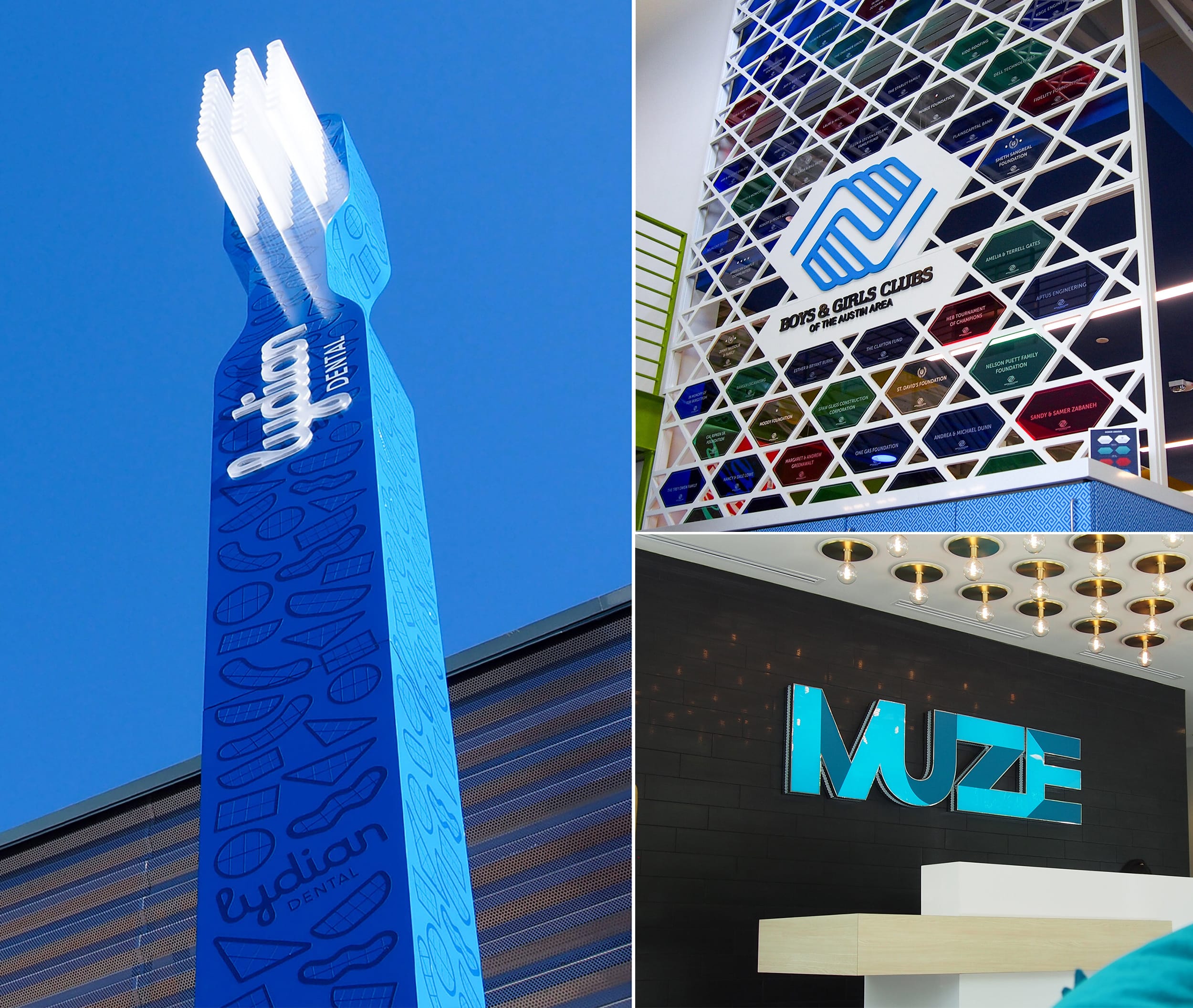 BLUE SKY IT: The only way onward and upward is to think big and go for it.
Design is problem solving. "Regardless of the execution method, as designers our job is to provide solutions," he says. "When we make the time to listen, wonder and wander, we open up possibilities."
Though sign designers sometimes face unique challenges related to budget, code and engineering, it is essential that they protect their thinking. "Don't let you or your designers get bogged down with budget, profits, timelines or capabilities too early in the creative process," Toynes cautions. "Explore all the possible solutions and see what awesomeness floats to the top."
Advertisement
SIMPLICITY: Good designs don't overdo it with font and color combinations. Too many compete with each other, so stick to one or two.

An art school graduate with a degree in Specialized Technology majoring in Commercial Art, Louise DiGiacomo, president and creative director of Signs of Art Graphic Design (Philadelphia), has been designing and making signs for 36-plus years. She has run her own signshop for 33 of those years. Her clients comprise commercial businesses primarily — local mom and pop, tradesmen and women, construction companies — and the occasional personalized sign. DiGiacomo works with these people, "designing and producing a nice-looking design for signs, vehicles, banners, windows, logos, business cards, etc.," she says.
DO THIS
"Use bold fonts," urges DiGiacomo. "Medium-weight fonts are OK, but not lightweight fonts for signs." Because signs, vehicles, banners or windows are being viewed from a distance and/or quickly, it's easier to read bold fonts.
The font can be serif or sans serif. "Serif fonts are good but keep them bold," DiGiacomo says. "If a lightweight font is used, it's too hard to read and get the customer's attention."
"Good designs result in great signs," she says, and that's easy to remember because it rhymes!
The design of a sign does not have to be complicated, DiGiacomo says. Get the point across with a nice font or two that complement each other. "Sometimes graphics are good, but not always necessary," she reminds us. "Keep color in mind and try not to use colors that don't contrast well." Of course, she notes, there are always exceptions.
NOT THAT
"Sign designers should never use or mix three, four or more different fonts on a design," DiGiacomo counsels. "Sometimes the fonts can compete with each other and your eye doesn't know what to look at first, what's important to know when first viewed," she says.
Never use a script font in all upper case for a word or wording, DiGiacomo advises. And try not to condense, stretch or make a font taller so much that you can't read it easily.
Advertisement
PHOTO GALLERY
(37 IMAGES)


📷 Mark Oatis | Russell Toynes | Louise DiGiacomo
SPONSORED VIDEO
Find it here! ISA Sign Expo 2023
Whether you're looking to grow your business or advance your career, ISA International Sign Expo® 2023 is the only place to find everything you need to be successful in the sign, graphics, print and visual communications industry.