Signs of the Times' Brain Squad members express their gratitude.
WITH THANKSGIVING DRAWING closer, we asked our Brain Squad members to share a paragraph on what they are grateful for, be it customers, employees, family and friends, or anything that has left an impact on their professional lives. Some are thankful for understanding clients or the ability to weather challenging times, while others greatly appreciate their employees. A few offered more unexpected gratitude.
For Customers
1.  I am thankful for our customers. We've found that our customers have become more understanding of our struggles as a small business. With material shortages and employee turnover, we are still able to exceed our customers' expectations. It is nice to see their appreciation and understanding. — Cory Marcin, EP-Direct, Fond du Lac, WI
2. Grateful that we have so many customers wanting to purchase signs at the same time. It's a daily challenge, but well worth it. Much better than the alternative. — Stuart Stein, ESCO MFG dba Stein Signs, Watertown, SD
3. The economy right now is good. Lots of new businesses starting up and new commercial and residential building. — Jean Shimp, Shimp Sign & Design, Jacksonville, FL
4. We are in business over 30 years and have a very loyal customer base and that is unusual in this business. — Stuart Matelsky, Westchester Sign, Yonkers, NY
For Employees
5. As I reflect on the past couple of years, impacted over and over by unforeseen and uncontrollable events… I am more than ever grateful for our incredible team. During the pandemic we embraced our #workfamily in new and exciting ways. Our team [was there] for each other, for our community and our business to become stronger than ever. — Bob Chapa, Signarama Troy | Metro Detroit, Troy, MI
6. We continue to be thankful for our work family. Everyone has remained committed to each other and the company… Our team's dedication has helped ensure that the company was able to be a point of stability in otherwise unstable times. Thank you to the entire FLS team for your dedication and caring you show to each other and our clients. — Cain Goettelman, FLS Banners, Sturgeon Bay, WI
7. I am grateful for employees I can count on. Since starting my wrap business I have hired and let go several employees. There are three core employees that have been with me since the start and they are the base of the shop. Without them we would not be where we are now. There is always give and take in every type of relationship, even professional ones. When you have employees who are willing to give what the business needs to thrive, as an employer it makes you want to give back to them so they share in the success of the business. — Catherine Bacot, Wraps For Less, Orlando, FL
8. I'm very thankful for another year to be standing with a fantastic team of employees to serve our customers. — JC Aviles, Competitive Signs & Graphics, Montclair, NJ
9. This year I am most grateful for my hardworking and dedicated employees. We are a family-owned business and we do our best to treat our unrelated employees as if they were [family]. They reward us by working hard, working late, and being quick on their feet to solve problems and keep things running smoothly. — Melvin La Pan, Fastsigns Augusta, Augusta, GA
10. Extremely fortunate to have a talented hardworking team to work with here at Alpine. To be able to deal with all the garbage [in] today's world is another plus. — Doug Bray, Alpine Sign & Lighting, Dallastown, PA
11. We're ever grateful and thankful for our million-dollar staff! We have great equipment, spaces and services, but it's our staff that makes the journey worthwhile! — Derek Atchley, Atchley Graphics, Columbus, OH
For Family, Friends and Mentors
12. My wife's love, dedication, friendship, and her wonderful personality that our clients love. — Larry Mitchell, SignChef, El Dorado Hills, CA
13. Being handicapped my whole life, I'm very grateful for the customers that have become friends. And for the friends that are available to give me a hand when needed. But mostly for my wife's help. — Jeffrey Cross, Cross Signs, Seminole, FL
14. I am grateful to work under a great owner who believes in personal growth and development. Over the past seven years I have been with the company, I've attended countless seminars, become tradeshow certified, digital marketing certified, and have had the opportunity to attend some of the industry-leading events like ISA multiple times. It is really fulfilling to work for someone who values you, your growth, and wants you to flourish. — Mallory Lynn, Signarama Brighton, Brighton, CO
15. I am grateful for the mentoring that got me started in the sign industry. Mary Ellen Kemmerer and Lois Stofko hired me as their first employee back in March 1989. I grew and learned so much from these two wonderful women. At times they may have even learned from me, but most of the time it was the other way around. They taught me all they could over the next four-plus years and made me love going to work. I'm proud to say that I am a sign guy thanks to them. — Gary Gower, Jr., G&L's Sign Factory, Bethlehem, PA
For Giving Back to the Community
16. I am grateful to be able to supply every kid in my small community that plays hockey, football, swim club and/or baseball [with] all of their stickers, name tags or affiliated signs to help sponsor them. — Geoff Orlick, Quality Designs Ltd, Campbell River, BC, Canada
For a Combination of the Above or Otherwise
17. Here at Triumph, we are incredibly grateful for the continued support of all of our local installers as well as the support and trust from our customers. Without our installers, we could not meet the demands of the customers. Nor could we provide the exceptional service that we strive for. Without them both, we would not be here. — Laura Alsdorf, Triumph Signs & Consulting, Milford, OH
18. Grateful to keep all production going during these trying times and keep everyone employed. — Joe Gibson, Ramsay Signs, Portland, OR
Being in an industry that is pandemic-proof.
Customers that understand there is a pandemic.
My family for their understanding for all the extra hours worked to make it happen. —

John Hotaling, Signarama Woodstock, Woodstock, GA
19. I am truly grateful for all of the employees that make our company such a great place to work. I'm also grateful for our ability to sell and produce through good times and bad. — John Johnson, A-Plus Signs, Fresno, CA
20. Thankful for Jesus Christ and His amazing grace in allowing us to serve through our business for 30 years now. We have great clients, great staff, and a great community to live and work [in]! — John Hipple, Sign Designs, Joplin, MO
21. I'm grateful for my family, my friendships, my co-workers, my pets and my health. — Michael Johnson, Henry Graphics, Buford, GA
22. My family, I get to work with them every day. It's not easy, but it's better than working for a stuffy corporation with a bunch of micro-managers. Our customers, who recognize quality service and products and keep coming back to us. Our vendors, who keep us well stocked and those who have acted as mentors helping us to navigate the landscape and challenges of business ownership. — Yvette Bryars, Sign Designs Now, Kingwood, TX
23. I'm grateful that our employees and their families have remained healthy through the pandemic. We are also blessed to have a team that cares about the quality of their work despite many of the challenges faced on a daily basis. Lastly we are grateful to have so many exceptional people we get to interact with as our clients. True professionals that have been very loyal to our company. They have been understanding of the challenges of obtaining permits, procuring material as well as the industry-wide cost increases we are dealing with. — Tom Dunn, Metro Sign & Awning, Tewksbury, MA
24. We are having a very good year, and for that I am grateful first to our customers who show their appreciation of our work by giving us more work and to our team members whose dedication to superior customer service allows us to have happy customers who keep giving us more work! — Vince Cvijanovic, Graphic Components, Greensboro, NC
25. We are grateful that we are [a] small family-run shop that does not have to adhere to the "big business" model. I am personally grateful for our customers and their willingness to come back year after year! — Nonnie Luther, Cadillac Sign Co., Norwood, NC
For a Dash of Sarcasm and Humor
26. I'm oh so thankful for: Project managers who have never turned a screwdriver in their life but know exactly how something should be done. Project managers who sit in their office and just say that we need to work 16-hour days to get a job done when they didn't order the correct materials/plan out the job correctly. Customers who do a custom build-out of their store but spend most of the sign budget on wallpaper. Then they ask if we can do the signs for half price. Oh, and also throw in the permit costs and sales tax plus have it done in three days. Engineers who insist on calling out raceway channel letter hardware as 3/16-in. Hilti togglers because there is published data on those anchors. Site supervisors who will tell any lie in order to get you there when it's on their schedule, even if the walls aren't ready for the signs. — Rocco Gaskins, Abco Signs, Pennsauken, NJ
27. There are signs things are better. We still have customers and they still want signs. In 2020, we were the turkeys and being roasted; this year they are served to us — this year is better. In 2020, just getting toilet paper was a problem — this year is better. In 2020, customers were as rare as Republicans on CNN — this year is better. — Frank Murch, Signs for San Diego, Oceanside, CA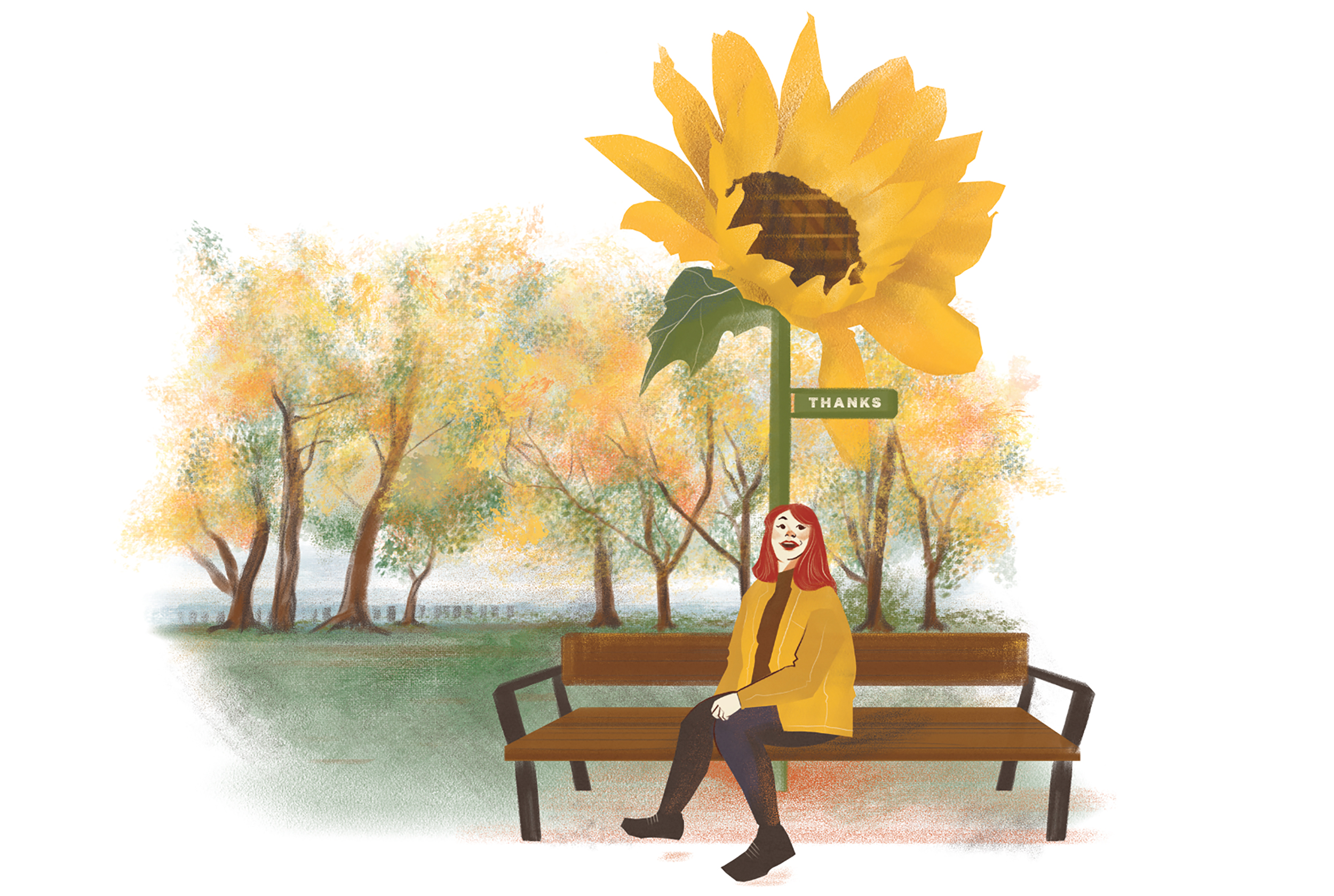 For the Ability to Do What I Do
28. We are thankful in a world where everything seems to be an online experience that signs are still very much in demand and needed. — Chad Lawson, Sign Pro of Skagit Valley, Mount Vernon, WA
29. I am thankful for an industry that continues to provide work both locally and nationally. It's not easy and yes, pricing can be a challenge, but the work is there. Our industry is blessed. — Brad Turpin, Jr., Ruggles Sign, Versailles, KY
30. I am grateful to be in an industry that is always challenging me and my team with new and more creative ways to make a sign. — Heather Jack, Fastsigns of Oklahoma City, OK – South, Oklahoma City, OK
31. The ability to adapt and choose opportunities as economies shift. The ability to create customized client solutions out of thin air. The depth of diversity across our team, yet continuously aligned in definite purpose, provides solid, stable income for all. — Bob Persichetti, Effective Sign Works, Burlington, NJ
32. A job that gives unlimited creative expression. One of the most important pieces of my work life. — Peter Poanessa, Keene Signworx, Swanzey, NH
SPONSORED VIDEO
Find it here! ISA Sign Expo 2023
Whether you're looking to grow your business or advance your career, ISA International Sign Expo® 2023 is the only place to find everything you need to be successful in the sign, graphics, print and visual communications industry.