50 Years of Wedded Business
Nixalite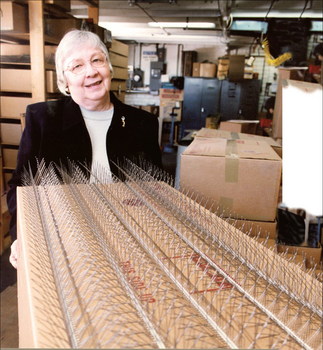 For years, she went by M.A. Gellerstedt. Women CEOs were a rarity, and Marie allowed people to believe the company president was a man. Her father, Charles B. Kaufmann, an attorney, had been the company president who assumed sole ownership of the company in 1953 and patented the Nixalite name ("Nix" as in "no" and "alite" as in "alight") for a product known generically as porcupine wire. The strips are placed atop billboards and signs to discourage birds from roosting and adding their "signatures" to sign faces.
But Charles succumbed to a heart attack in 1957 and, on his death bed, implored his daughter to not sell the company. As Marie put it, "My 'forever' began at age 30."
That same year, Marie married Keith Gellerstedt. If not for the financing he provided from his position with Bendix Corp., plus his labor at night, the entire company would have imploded. The next decade also produced four children, chronologically, Lori, Todd, Jon and Cory. "As each child learned to count to 10, they would count out the Nixalite fasteners and bag them," Marie recalled.
Her father and Fred Burnside, an engineer, partnered in the '40s to combat the problem roosting birds caused for architects, city planners and building-maintenance people. They studied birds' habits and experimented for five years before producing a solution. The original Nixalite bird-control strip is now housed in New York City's Museum of Modern Art.
The company itself was originally housed in a Davenport, IA, office, and every subsequent move has added more space. When Marie took control in 1957, the company moved to a Rock Island, IL location. (See the accompanying timeline that chronicles the company's physical growth.)
Advertisement
Now, 50 years later, she's still CEO, although "I don't have to be at work at 8 a.m., and I can take days off when I need them," Marie explained. It's truly a family business.
Jon is the co-president who handles R&D, manufacturing, inventory control and sales. Cory is responsible for marketing, administration, finance and the computers. Since husband Keith retired from Litton in 1988, he's managed human resources as secretary/vice president and assisted Cory with the computers.
Marie concluded, "I feel that working this late in life has kept my mind active. It's wonderful to see how far women have come in the business world from back when I had to pretend I was a man. Things have really changed for the better."
Nixalite's Moving History
1949: Company is located in Davenport, IA, but also acquires a 1,000-sq.-ft. building in Rock Island, IL.
1957: Moves to Rock Island.
1964: Moves to "cavernous" 1,500-sq.-ft. Rock Island building.
1979: Moves to 3,000-sq.-ft. building in Moline, IL.
1985: Acquires and moves into 12,000-sq.-ft. building in East Moline.
1993: Buys 3,000-sq.-ft. building next door.
1994: Remodels and connects the two buildings into a 15,000-sq.-ft. facility.
1996: Buys property next door, builds a new building and connects all three for 24,000 total sq. ft.
2007: Is running out of room and needs another expansion.
Advertisement
SPONSORED VIDEO
Find it here! ISA Sign Expo 2023
Whether you're looking to grow your business or advance your career, ISA International Sign Expo® 2023 is the only place to find everything you need to be successful in the sign, graphics, print and visual communications industry.