6 Mouth-Watering Food Truck Wraps We Love
Installers explain how they served 'em up.
SEEING A CLIENT'S vision come to life can be fun — especially when the signage you make wraps a mobile food vehicle that serves tasty dishes and treats like these six food trucks.
Food Under Construction
Bismarck Sign Co. (Bismarck, ND) co-founder Alexandra Lund states that her company has been wrapping client Baranko's fleets for years. Now they were looking for a unique food trailer wrap. Employing an HP Latex printer, a Seal laminator, 3M wrap films, Monkey Strips (to protect the surface) and a Summa cutter/plotter, "We really had a blast not just designing this trailer, but watching it come to life and then seeing customer photos of it on the job sites," Lund says.
Tacos to Die For
Full Sail Graphics & Marketing (Huntington Beach, CA) just happened to have an opening in their schedule to wrap the fun, colorful Killer Tacos food truck. Full Sail President Peter Brunner explains that, although the design was good, the artwork was bad. Despite the extra steps, the entire process took less than two weeks: printing most of the wrap sides using 3M IJ180Cv3 film with 3M 8518 Scotchcal Overlaminate, while using 3M IJ680 Reflective Films and 8518 for the rear of the truck. All graphics were printed on an HP Latex 570.
Advertisement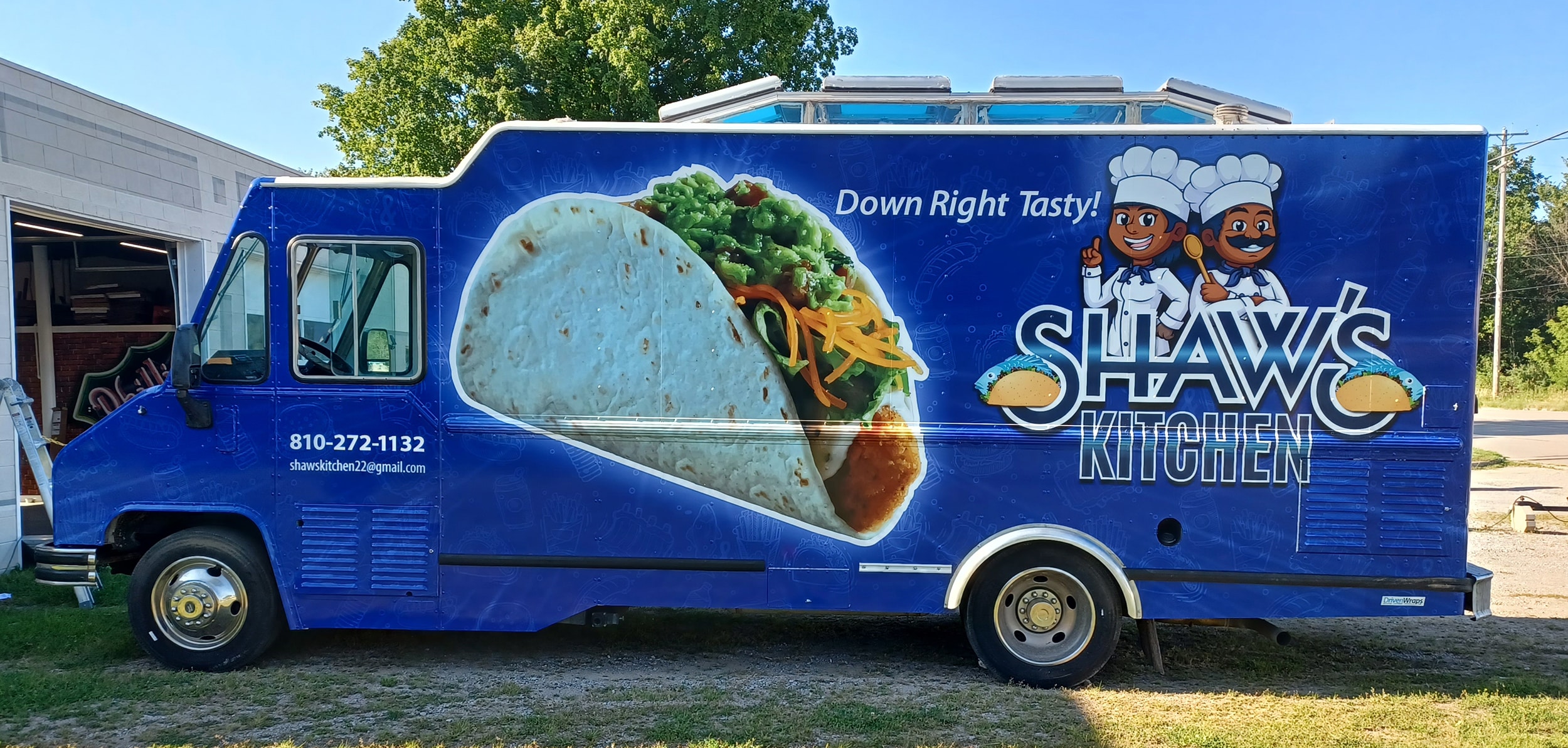 Better, Together
Among the things that sets Ed Shinn Signs (Mt. Morris, MI) apart from the rest includes owner Ed Shinn's willingness to let his clients help with the process. For the Shaw's Kitchen food truck, co-owners Sharon and Joe Hale choose a DIY option. "Their truck had an old wrap that had to be removed and prepped for the vinyl installation," Shinn says. "Joe opted to remove the old wrap, then prepped and helped install the finished wrap [which] saved him over 15% of the cost of the job."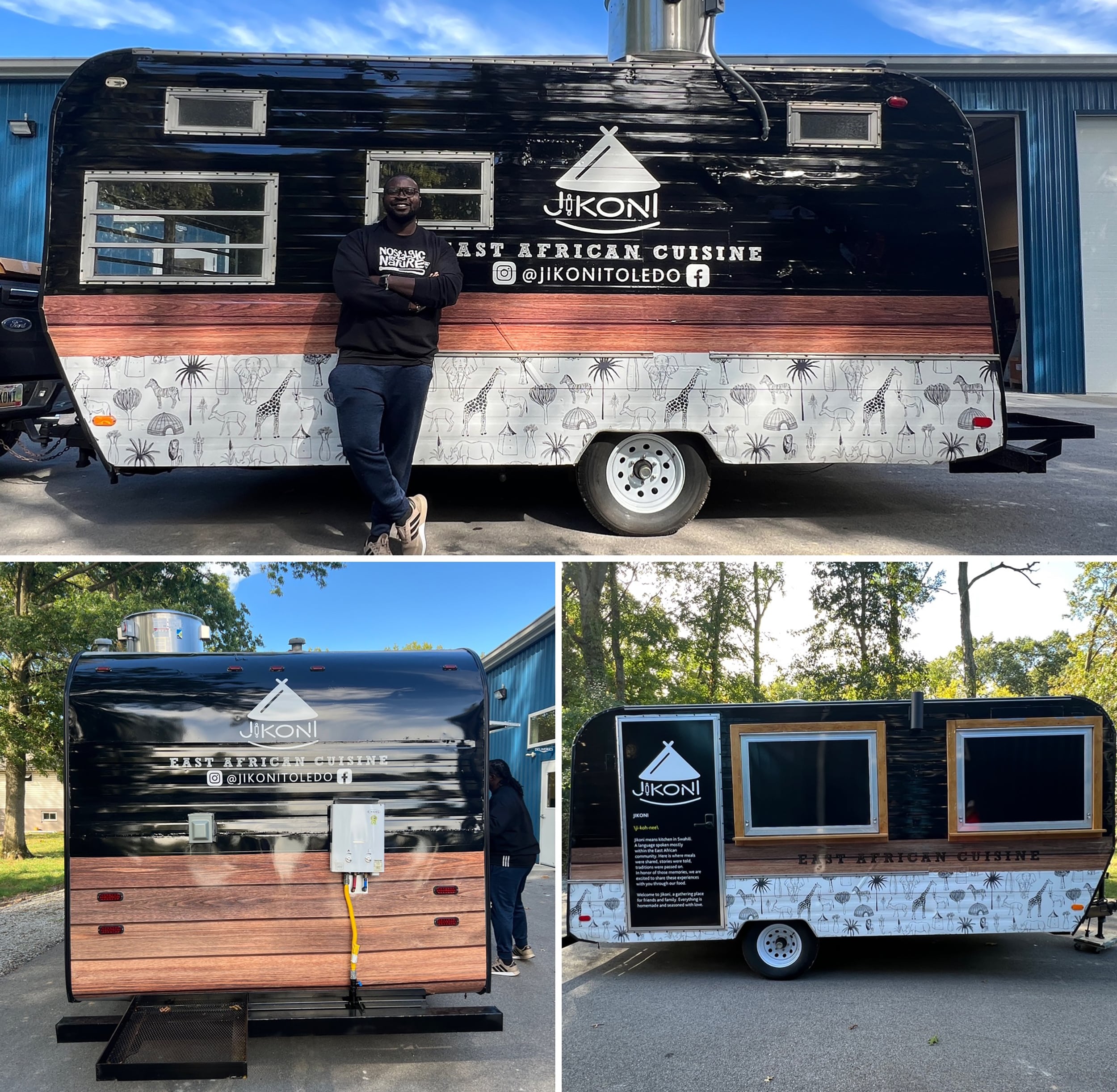 Kitchen on Wheels
Jikoni means "kitchen" in Swahili. And that's just what Toledo, OH's Jikoni food truck was meant to represent. Fastsigns of Toledo owner Karrie Brock created the truck wrap from the client's vision to feel like "a gathering place for friends and family" for Jikoni owner Tom Otieno, who is also her neighbor. The shop used their HP Latex 560 to print 3M IJ180Cv3 with Scotchcal 8518 applied by a Seal Laminator for the wrap.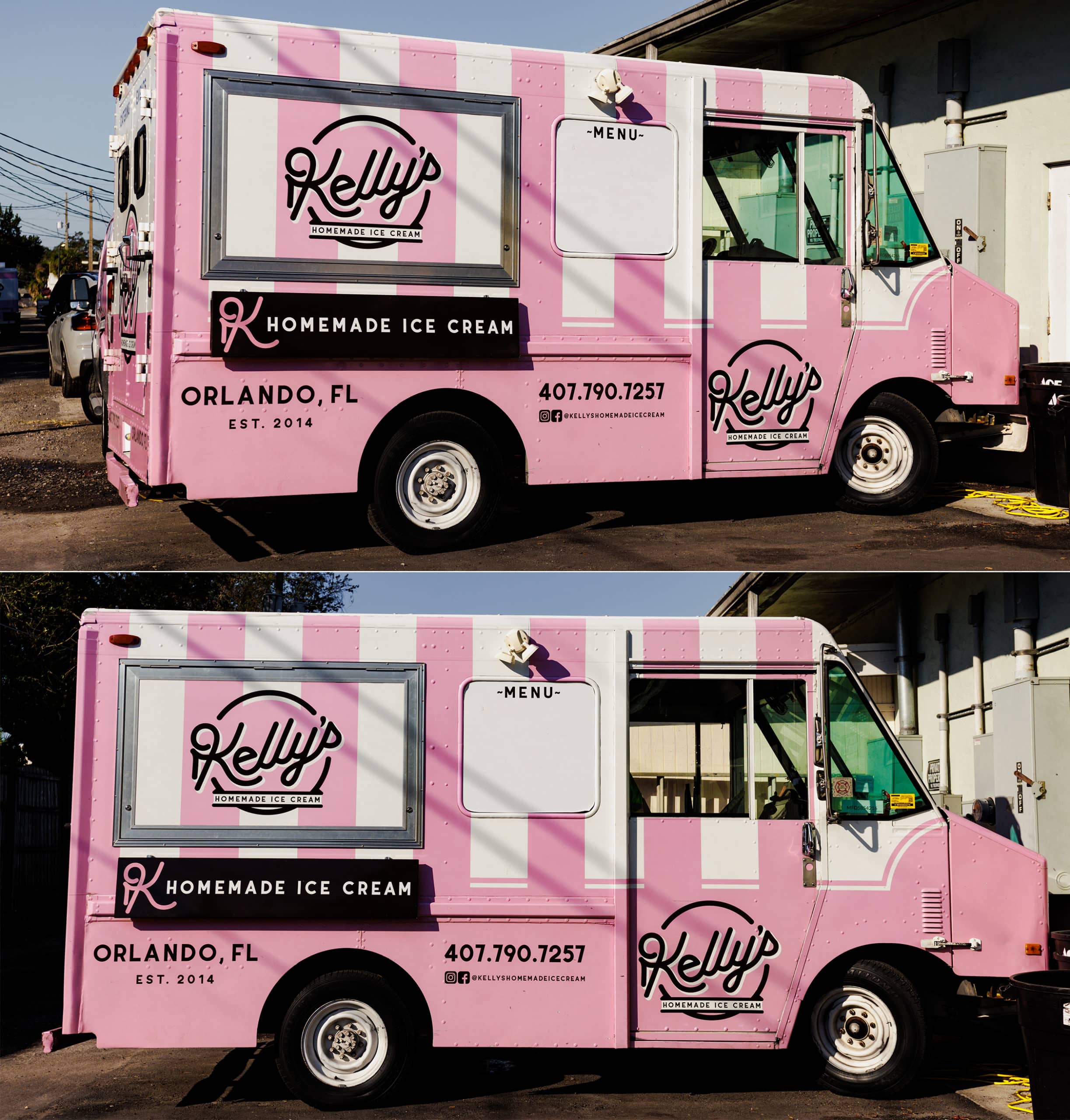 A Crustaceous Creation
The average length of a large crab is about a foot. The size of a Conrad's Seafood Food Truck? Just a mere 33 times longer. But you need that kind of space to hold and serve all the delicious seafood offerings from Maryland's popular Conrad's Seafood restaurants. Enter AP Corp (Sykesville, MD), which incorporated the logo, cutting board graphics and various seafood images across a series of 22 vertical panels using 3M IJ180C and 8518 Scotchcal Overlaminate and an HP Latex 570 printer, according to AP's Digital Marketing Specialist Randi Lindsay.
Advertisement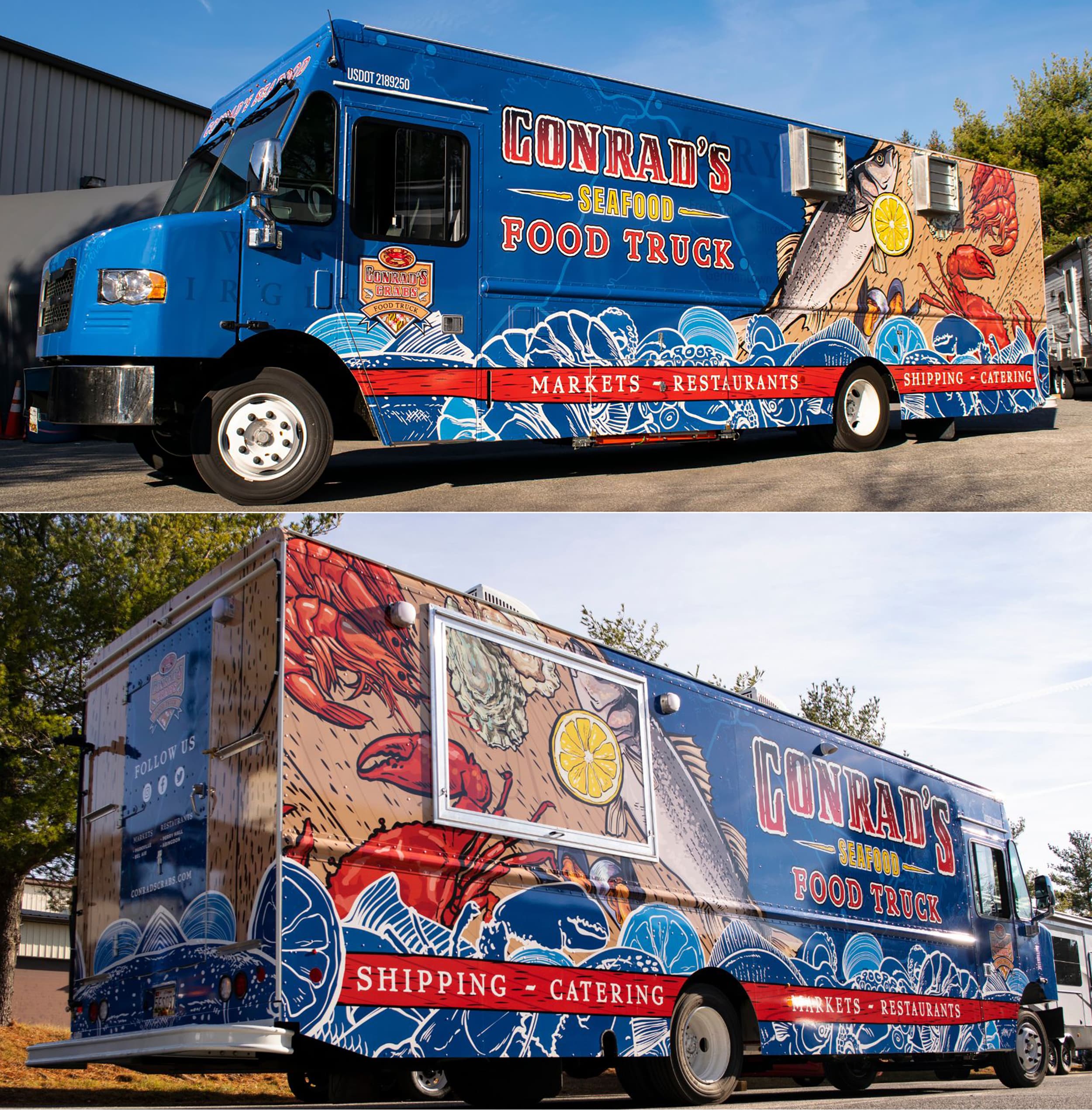 A Fresh, Frozen, Fleet of Fun
Fresh Ink (Orlando, FL) spent the past couple years customizing a truck fleet worthy of taking Kelly's Homemade Ice Cream on the road. For the initial concept, the client gave Fresh Ink a loose idea that they tweaked to fit each one of their vehicles, including a Rhino Lined truck with custom, bolted doors along the side, which proved challenging when trying to keep the stripes consistent, Fresh Ink owner Gabriel Boy explains. The shop prints their wraps on large-format Roland eco-solvent printers.
PHOTO GALLERY
(14 IMAGES)


📷: Bismarck Sign Co | Full Sail Graphics & Marketing | Ed Shinn Signs | Fastsigns Toledo | AP Corp | Fresh Ink
SPONSORED VIDEO
Find it here! ISA Sign Expo 2023
Whether you're looking to grow your business or advance your career, ISA International Sign Expo® 2023 is the only place to find everything you need to be successful in the sign, graphics, print and visual communications industry.