6 Office Signs That Make Excellent First Impressions
Signmakers lend their talents to help clients build their businesses.
CENTERPIECE. FOCAL POINT. Advertisement. No matter how you think of office signs, there's no denying their importance. Plus, they are a great way for sign companies to showcase their skills. As Skymark Signs' (Toronto) David Gonzalez puts it, "… a large number of visitors will see our signs and create an immediate impression of the place they are visiting. We feel that is a fantastic opportunity to display our skills and craftsmanship."
Here Come the Signs
Luxury-furniture showroom and interior design studio Clive Daniel (Naples, FL) is recognized for their thought-provoking home decoration. So, when searching for an elegant treatment for their conference room windows, they went to SpeedPro Affinity Solutions (Sarasota, FL), owner and President Steven Rowe explains. Using The Beatles as inspiration for the see-through conference room window graphics, SpeedPro worked with Daniel's designer to procure the right images of the fab four, then created the window treatments using General Formulations GF 255 OptiMark Clear Film printed on a Canon Arizona GT 135.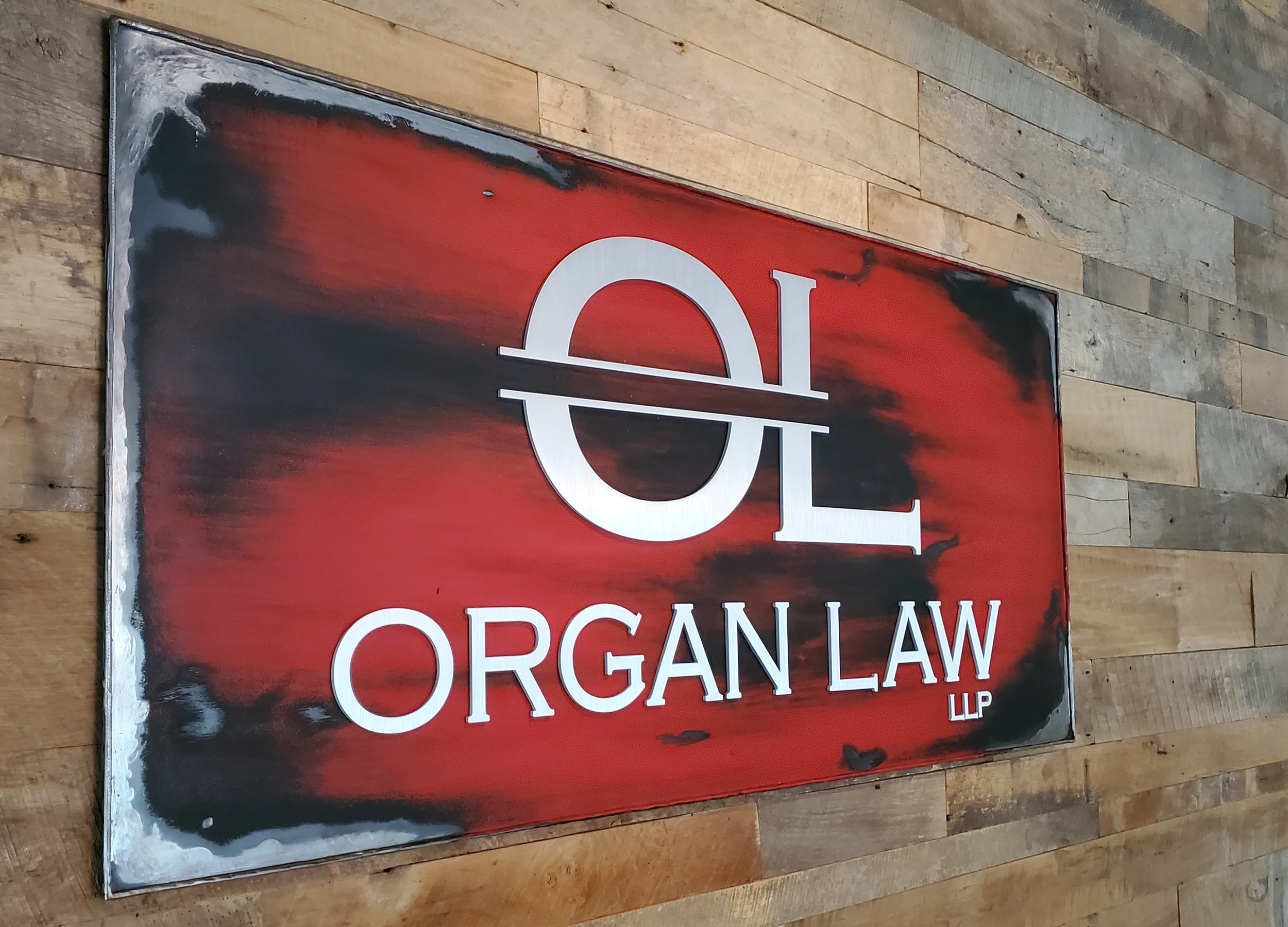 Layers of Law
Derek Atchley, CEO/owner of Atchley Graphics (Columbus, OH) says his shop creates a wide variety of office environment signage. This versatility and their unique approach attracted one of their latest local clients, Organ Law. After listening to their needs, Atchley offered imaginative and on-brand solutions, including the final result: A sign created from the base of a repurposed old metal table top that was distressed and mounted with the client's rebranded name created out of brushed dimensional metal lettering from Gemini.
Advertisement
DedON Arrival
Skymark Signs' (Toronto) Sales Manager David Gonzalez says they often suggest a mix of combining wall graphics with dimensional letters to clients, who rarely accept the idea. However, architectural support company DedON (Mississauga, ON, Canada) lept at the concept. Skymark achieved this look by using 3M Controltac Print Film 40C with matte overlaminate and ½-in., laser-cut letters painted with acrylic and then stud-mounted. "I think we managed to make something core to their business — architectural drawings — come to life with wall graphics," Gonzalez says.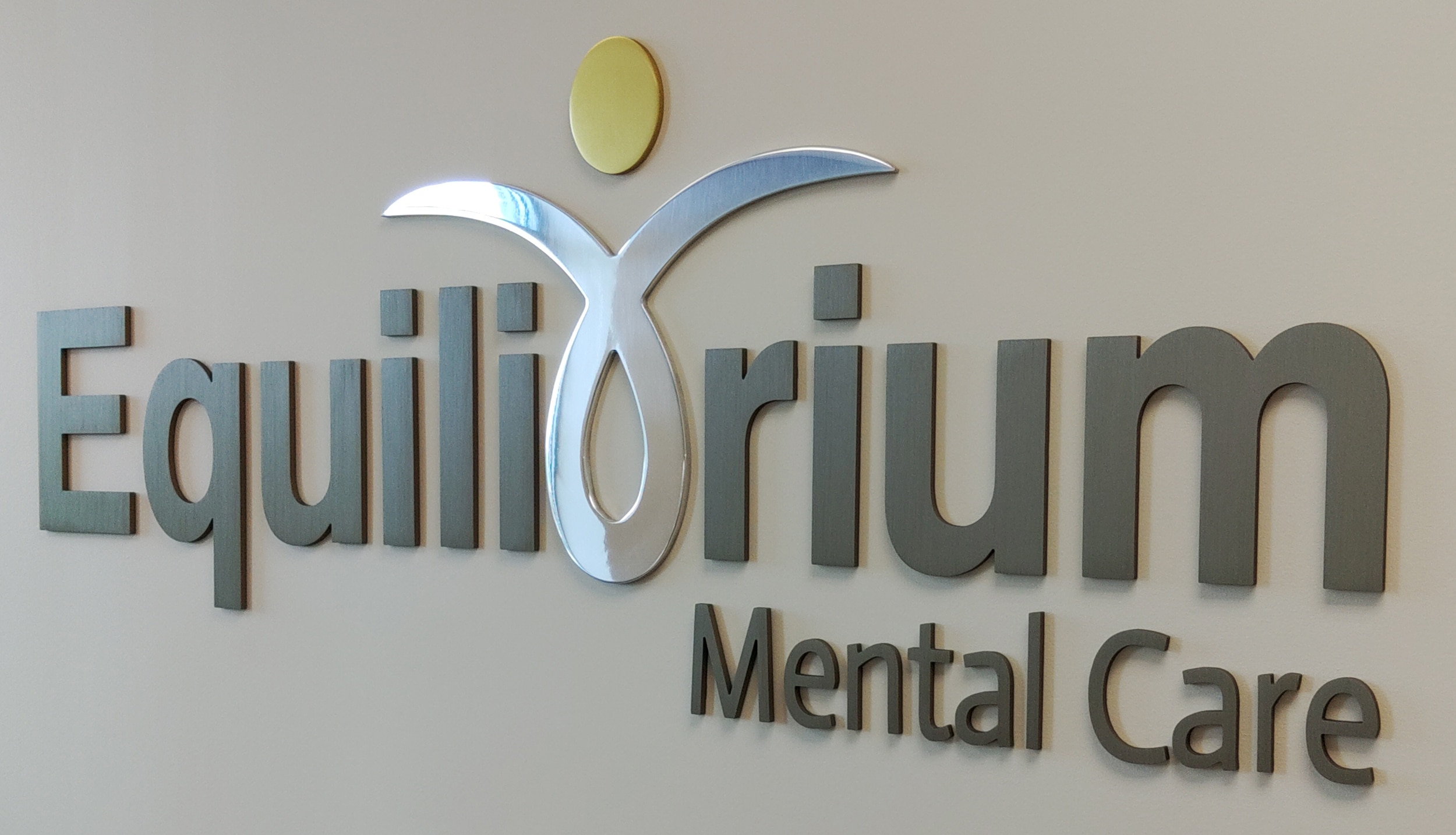 All About Balance
Sign Solutions Inc.'s (Frederick, MD) Managing Member Tim Ward says the shop creates a lot of office signage — from interior wall logos and wall-size plaques to full-scale wayfinding systems. Drawing upon their varied experience, Sign Solutions came up with a new office sign for Equilibrium Mental Care that employed the company's logo in a way that reaffirmed their professionalism. The signage was made of flat-cut, custom, multi-finished metal fabricated by Gemini from the shop's approved, scaled artwork.
Cleared for Takeoff
When Space Coast Regional Airport (Titusville, FL) needed an eye-grabbing sign for their office, they called upon Media 1/Wrap This (Sanford, FL). To draw attention to the aviation-themed logo, the shop used welded Eastern Metal aluminum and a 3-in.-deep reverse-lit channel letter logo with a brushed aluminum finish and blue LED halo lighting. "We gave the job to our most experienced fabricator, Steve Pass," Vice President Rick Ream says. "[Then] the paint department finished it off with a small bit of bodywork, primer and brushed silver paint. We went with the blue LEDs to give a classy glow to the finished product."
History Markers
Elite Signs & Graphix, a division of ESCO Mfg. (Watertown, SD) recently spent some time sprucing up their own walls to breathe new life to their offices: a vivid, bright timeline of their company's progression throughout the past 71 years, Digital Print and Graphics Installer Austin Morris explains. The graphics were created using 3M Envision Print Wrap Film IJ480mC and a Mimaki UCJV300 roll-to-roll printer. SloanLED supplied the strip lighting with standoffs and each milestone was printed on 3mm BeBond using a Mimaki JFX500 flatbed printer.
PHOTO GALLERY
(16 IMAGES)


📷 SpeedPro Affinity Solutions | Atchley Graphics | Skymark Signs | Media 1/Wrap This | Elite Signs & Graphix

Advertisement
SPONSORED VIDEO
Find it here! ISA Sign Expo 2023
Whether you're looking to grow your business or advance your career, ISA International Sign Expo® 2023 is the only place to find everything you need to be successful in the sign, graphics, print and visual communications industry.