8 Epic Sign Fails for the History Books
Can you identify with these major muck-ups?
HEY, NOBODY'S PERFECT, RIGHT? We all screw up from time to time. But sometimes… we fail immensely – through overconfidence, in experience, inaccurate info, lack of awareness and planning, or more.
Let's applaud these eight sign companies who willingly shared their momentous mistakes with us here.
DID I DO
 THAT?
Ben Phillips

Phillips Signs Inc., Seaford, DE
About 15 years ago, another guy and I did all the installations. We were installing a very simple 4 x 6-ft. box sign on an existing pole. We stripped off the old sign and used the crane to slide the new one into position on the pole. My buddy was operating the crane and I was in the bucket, holding the sign. He always did the welding as I was not the best. But on this [project], I told him to give me the welding lead and I would tack it before I came down, then let him finish the job.
Once I had tacked the sign to the pole, I told him to let off with the crane. He said, "Are you sure your weld will hold?" I told him, "Come on! I can certainly weld good enough to tack it to the pole." He said, "OK," and we let it loose. I came down to let him in the bucket to finish welding.
About that time the customer came out to check our progress. As we were talking to him, we heard this noise of metal scraping and then a crash. We turned around and there was the sign I had just welded — speared onto two steel bollards beside the sign to prevent cars from hitting the pole. The bollards went clean through the sheet metal, missing the frame. We looked at each other in disbelief.
Then the customer said, "Did you mean to do that?" Well, duh! No! Took it back to the shop and reskinned the frame. Had it back up the next day. I did not do any welding the second time.
WAIT, WE'RE LEGIT!
Carroll Berg

Berg Ink, Goffstown, NH
I made a sign for my wife — a Coroplast sign to advertise our chicken eggs. Sign said, "Marissa's Eggs." She was not comfortable with that. I had to add a little vinyl chicken so people knew we weren't black market dealers.
Advertisement
FOAM OVER
John Miller

Signs by Autografix, Branford, CT
A client had a freestanding cinder block monolith that he wanted to transform into a slicker-looking sign. Our plan was to skin it by fabricating a four-sided cover with a top that we would slide over the existing monolith. Now… how to permanently install it?
Our brilliant solution was to spray expanding foam out of a can on both sides, then slide the cover on. When the foam expanded, it would bond the cover onto the base. What could go wrong?
We did it and drove away pleased with our ingenuity. The next day when returning to the site, the sign cover looked like the Michelin Man. Too much foam, oh crap!
SANTA'S SLEIGH REALLY CAN FLY
Jerry Clark

Sign Design of Westline, Westline, PA
During a circa-1985 upgrade to a National Monument — "America's First Christmas Store" in Smethport, PA — part of the project was to restore Santa's sleigh, an antique from the mid-1800's. Body putty, newly milled wood pieces, paint and goldleaf were all involved, along with hours of painstaking restoration work.
As I was traveling the rolling hills of Northern Pennsylvania to proudly deliver this masterpiece, in my rearview mirror, I had the misfortune of seeing the entire sleigh fly up, up and away from the bed of my truck, then onto the asphalt of PA Route 59.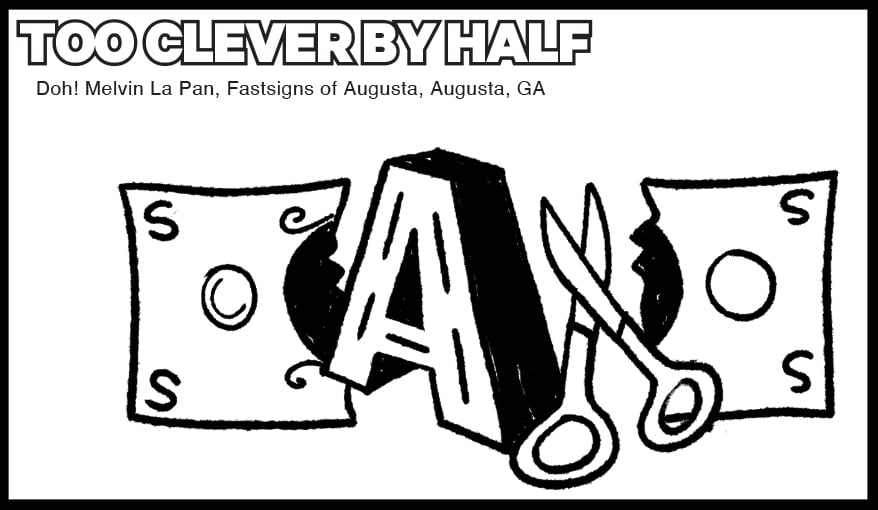 TOO CLEVER BY HALF
Doh! Melvin La Pan

Fastsigns of Augusta, Augusta, GA
I once sold a set of channel letters for half price — accidentally. My designer did not tell me the file they created for me was in half scale. I quoted the set, not realizing the size was off, and sent off the estimate. Once we got the deposit and began permitting, I realized my mistake.
A BLOW OUT BY 17
Keith Davis

KRD Design, Chester Springs, PA
I specified a low-voltage power distribution module for an installation, but was unaware it had no integrated transformer… So, when line voltage was hooked up, 17 digital picture screens blew out instantly.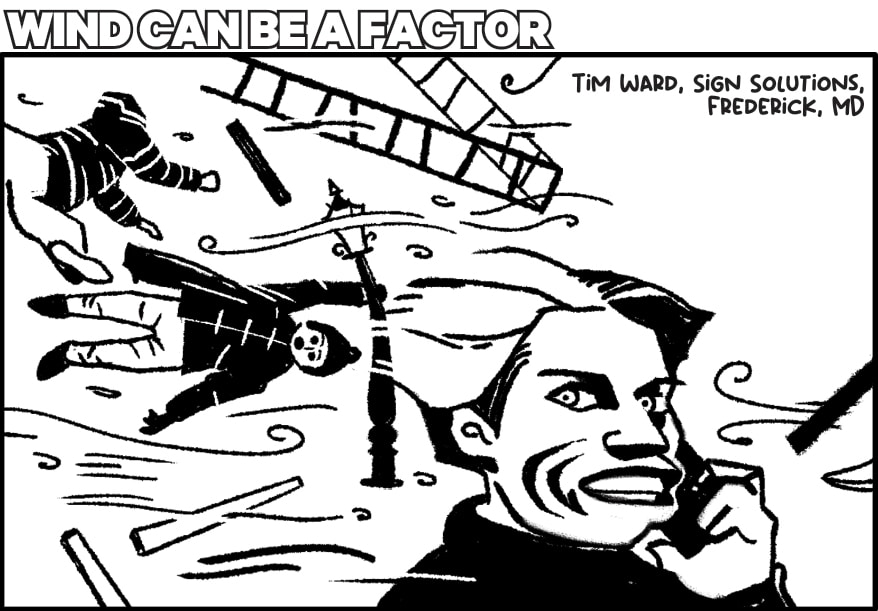 WIND CAN BE A FACTOR
Tim Ward

Sign Solutions, Frederick, MD
Sent the crew out on a day that was windy. The job was to install a set of wall-mounted dimensional letters. The installers called from the site, and not only did the mounting pattern blow away, the ladder they were using blew a block and a half away.
Advertisement
TOO BIG TO FAIL
Dale Salamacha and Rick Ream

Media 1/Wrap This, Sanford, FL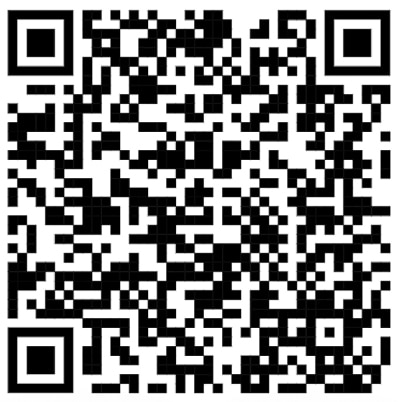 Scan this code to watch "Never Build a Sign Too Big to Fit Out the Door," the debut episode of Media 1 Wrap This' YouTube series.
Camping World had recently purchased the title sponsorship of the Orlando Citrus Bowl and hired Media 1/Wrap This (Sanford, FL) to fabricate the signs for the top of the stadium. In the pilot episode of the shop's YouTube series — scan the QR code to watch — Media 1 co-owner and Signs of the Times Shop Operations columnist Dale Salamacha says of the opportunity, "We needed to go big or go home." Little did he know how big a problem the shop would soon face right in their own home.
To accommodate construction of the 14-ft.-tall by 70-ft.-long sign — each letter being 6 ft. tall and 10.5 ft. wide — the team cleared a fabrication area. Everything proceeded perfectly with the design and construction of the sign components, but then Salamacha noticed Media 1 Lead Fabricator Steve Pass measuring the pieces, and then the door, and then the pieces again… "This can not be good," Salamacha says in the episode.
"After fabrication we realized we did not have a door big enough to get the sign out of our shop," Media 1 Vice President Rick Ream says. The channel letters had added another 8 in. of width to each section. "We did think about taking the sign apart, but we already had the crane and transport set up and there was not enough time," Ream says. "Steve and I were smacking our own heads wondering how we didn't catch it before we started fab."
With time running out and no other option, Media 1 employees cut into and knocked out enough of the cement wall on one side of the door so the sign sections could be brought out and loaded onto the waiting trucks. "Not my proudest moment when we realized it would not fit out the door," Ream says.
Advertisement
SPONSORED VIDEO
Find it here! ISA Sign Expo 2023
Whether you're looking to grow your business or advance your career, ISA International Sign Expo® 2023 is the only place to find everything you need to be successful in the sign, graphics, print and visual communications industry.