A Slice of Americana (Part One)
Creo Industrial Arts imparts vintage style for a California hotel.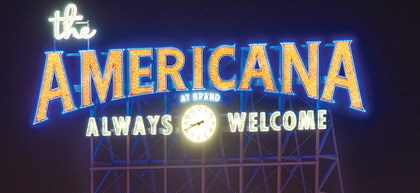 Caruso Affiliated (Los Angeles) hired CREO Industrial Arts (Seattle), formerly SignTech LLC, to construct a rooftop marquee for The Americana at Brand in Glendale, CA, a mixed-use development, which opened last spring, that encompasses retail, condos, apartments, restaurants and a multiplex theater. For the upscale development's primary project identification, the owner sought a high-profile sign that would become a Glendale landmark for years to come.
Creo's relationship with Caruso Affiliated began in 2002, when they collaborated to develop wayfinding and identification signage for The Grove, Caruso's progressive, upscale Los Angeles retail center. That project succeeded from both a signage and development perspective, and looms as a premier retail development because it garners among the highest U.S. sales-per-square-foot totals.
In fall 2006, Caruso Affiliated representatives approached Creo to discuss developing illumination for new signage. The Americana at Brand. Everything needed to evoke vintage Americana – thus, the name – and embody the design flair that helped create The Grove's appealing environment.
The project's main identification sign – a rooftop marquee that harkens to the 1930s and '40s "Great White Way" spectaculars – served as its focal point. Romero Thorsen Design's (Santa Monica, CA) conceptual rendering specified a 12 x 35-ft. marquee that features several large, open-face channel letters with exposed neon and flashing incandescent lamps that surround an internally illuminated clock. All elements were mounted to a steel structure that projects 20 ft. above a prominent rooftop.
Advertisement
Solving the lighting puzzle
Caruso insisted on an authentic, retro style. In some instances, Creo implemented old-school materials and fabrication techniques. For example, they used incandescent bulbs in the marquee rather than fluorescent or LED lighting. The designer initially provided a DVD with an animated MPG file that demonstrated the desired light show. A vertical series of incandescent bulbs waved, left to right, across the "Americana" text.
Creo studied various illumination options for the 9-ft.-tall Americana letters and the electrical circuitry required to power more than 2,000 incandescent bulbs and exposed neon. We provided Caruso with detailed pricing and power requirements to help determine feasible specifications. After significant analysis, we determined the power required to achieve the proposed lighting effect would more than double the primary power that was already engineered and routed to the rooftop.
Advertisement
To optimize the design intent within this constraint, Creo proposed wiring the lamps within each letter in a three-channel, chase configuration that scintillates while cumulatively spelling out the word one letter at a time. The scintillation effect requires only one-third of the bulbs be on at any one time, even when the entire spelling of "Americana" was completed.
To design and engineer the animation control system, we enlisted Design Specialty Inc.'s (Colorado Springs, CO) Dave Holmes to create an easily installed, microprocessor-based, master/slave control system; the master unit is programmed with the full sign-animation program. The control system communicates, via low-voltage data cable, with the slave unit located within each letter.
Bert Gothard is Creo Industrial Arts' project-management director.