A Times Square Display Update
The Crossroads of America Never Sleeps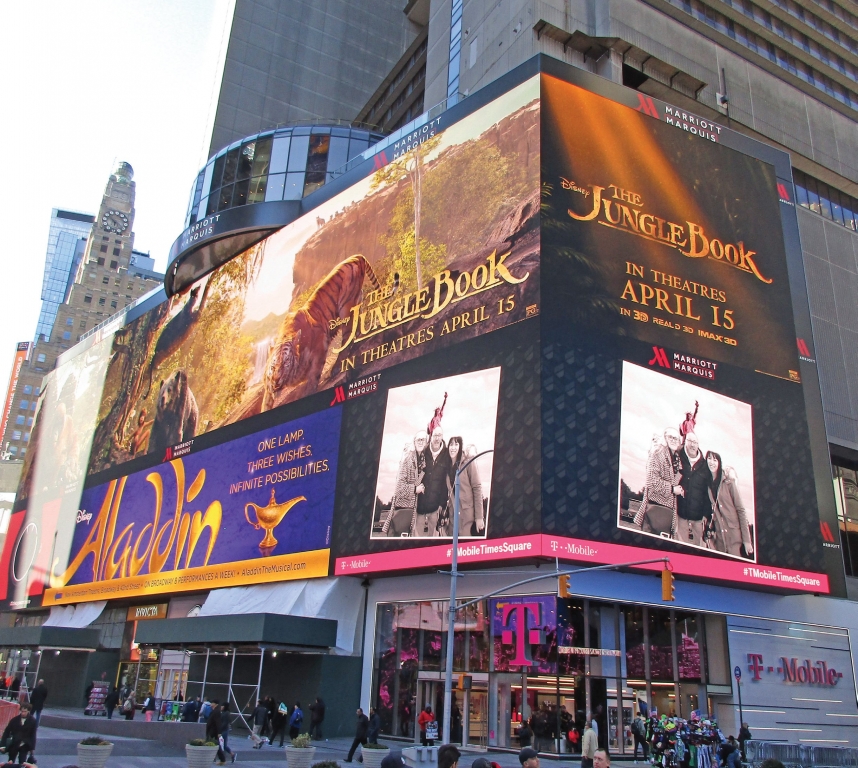 Louis M. Brill is a journalist and consultant for high-tech entertainment and media communications. He can be reached at (415) 664-0694 or louismbrill@gmail.com

Every major form of sign illumination has had its day in Times Square: incandescent lighting, neon and backlit plastic screens. In 1996, Morgan Stanley's installation of a three-tiered message center, built by Daktronics (Brookings, SD), created a new signature look for digital signage in Times Square by introducing LED-lit signage and video displays.
Every year since, additional LED signs have debuted throughout Times Square. Now every major sightline along Broadway and 7th Ave., as they intersect the square, is covered with LED message centers or video displays. Many of these digital displays are now more than 10 years old. They have suffered the ravages of time, weather and obsolescence – and all but demand makeovers.
A few of these are now legacy signs whose displays are recognized worldwide, and while some have been removed to make way for new digital displays, such as the Kodak and Bank of America signs, others have been upgraded with new digital-sign technology or remade as clones of their original
signfaces (examples include ABC's SuperSign and NASDAQ's cylindrical sign face). Other legacy signs, such as Coca-Cola's LED board, have incorporated a design makeover, and still more have made their debut in Times Square, commanding attention from locals and visitors alike.

Morgan Stanley's digital voice
The Morgan Stanley world headquarters' digital signage first appeared in 1996. This sign project was developed by Poulin + Morris (NYC), a multidisciplinary design consultancy, in partnership with Daktronics, which developed a series of digital displays on the building's east façade facing Broadway between 47th and 48th Streets. Once fabricated, the LED message centers and side panels were installed by Artkraft Strauss (NYC).
The 1996 Morgan Stanley sign system included two back-illuminated cylinders located at the building corners with three electronic ticker panels stacked atop each other. Each display carried dedicated market information, including news bulletins on the top panel, NYSE data on the middle ticker and NASDAQ information below.
This transformed the LED readerboard into a spectacular emphasizing the client's corporate brand. It also evolved the LED readerboard with an architectural integration of exterior building façades, introducing the complexity of multiple messages with three LED readerboards streaming different financial and news messages simultaneously.
As the Morgan Stanley signage was upgraded, its original infrastructure was still in good shape according to structural engineer R. Scott Lewis: "The Morgan Stanley sign structure was configured with both vertical, 4-in.-deep aluminum I-beams and horizontal aluminum angle rails," he said. "In its 20 years of service, there were no corrosion issues … Some minor structural members were added to the sign structure to incorporate the additional LED barrels into the existing sign package, but otherwise we left the structure alone." The removal of the original Morgan Stanley signage and its
second-generation replacement was provided by Landmark Signs and Electrical Maintenance (NYC).
First, the LED sign's digital-display territory was expanded from three message centers and the two end panels to a high-res full-color LED display covering most of the front façade. Morgan Stanley's new sign package includes three 16mm-pitch RGB ticker displays, each 155 ft. long, that together are three stories tall. Opposing the tickers are its two left- and right-side panels (59 x 33 ft.).
Underneath, the two former vinyl backlit sign barrels (44 x 37 ft.) were transformed into 10mm SMD RGB LED displays (all 6,500 nits), providing seven LED screens with a total of 12,800 sq. ft. of display acreage that encompasses one NYC block facing Broadway.
As a financial institution, Morgan Stanley is all about rapidly streaming financial information that its viewers are expected to absorb within seconds. To achieve such speed, the financial giant partnered
with Bloomberg (NYC) to generate data visualizations – sophisticated infographics interweaving statistics, graphics, charts, pictures and tables to create a single graphic image as a summary of a news item. Synchronized images from the three message centers or side panels are presented on the building façade with a screen of IMAX-like proportions that presents more than 2,000 blocks of news content over a 19-hour period. (Visit bit.ly/1QNHl0R to see the sign in action.)
Chasing new signage
Another iconic sign makeover in Times Square was the J.P. Morgan Chase Bank sign on 42nd St. and 7th Ave. Originally installed in 2004, the display featured a 170° curvilinear LED screen wrap-ped around the corner of the building, allowing the bank to present messages in both directions
simultaneously.
In fabricating the new Chase sign system, Daktronics replaced the original signage with five horizontal LED displays that fit within the pre-existing sign structure. The new displays incorporated a 10mm pitch (at 6,500 nits) with SMD RGB LED configuration. Randy Antes, Daktronics' director of digital projects, explained, "Many LED displays are now closer to the ground than previous displays, which were usually placed higher up on a building. As signs get closer to the street, one effect is that their point of view changes for pedestrians passing the sign." To accommodate that tighter sightline, Daktronics developed a viewing advantage known as the "City View Louver," which increases the vertical viewing angles to 65°, allowing pedestrians to see the display from greater distances. Again, removal of the original LED sign and its replacement were provided by Landmark Signs and Maintenance Corp.
Between a rock and a hard sign permit
It sounds like a joke: A climbable billboard – that is also a rock wall with professional climbers clambering all over it – right in the middle of Times Square. The billboard in question was a creative development by Saatchi LA to jumpstart Toyota's RAV4 Hybrid "How Far Will You Take It" promotion. A team from Atomic Props (St. Paul, MN) constructed the 10-story billboard. "We wanted it as dramatic as we could make it, to have as much extension and overhang as possible and still stay within the property lines," said David Dunn, general manager.
The resulting design is a plywood- and foam-carved construction built across two vertically aligned billboards. The base of the upper sign has a 2-ft. overhang beyond the lower billboard, as well as a flat surface that extends upward for its remaining 10-story height. Embedded within the billboard, a series of 8-10-in. projections simulate rock climbing (and can entertain real climbers).
The project began with a visit to upstate New York, where cliffs were photographed, turned into artwork and vinyl-printed for the billboard's background. Once all the parts were fabricated and ready for installation, the pseudo-mountainside was placed on the roof of DoubleTree Suites (47th St. and Broadway) in Times Square with the installation by North Shore Neon (Deer Park, NY). Its overall construction consisted of three layers: a regular printed vinyl of the Toyota RAV4 promotion pulled over the billboard surface; the billboard's base, including a plywood surface, which made up both the lower and upper billboard surfaces; and climbable handhelds made from high-density polystyrene foam coated with plastic, then shaped into rock-like projections and mounted to the plywood panels with a steel-frame backing.
"Across the plywood panels we drilled a series of threaded holes which we used to screw in the handhold 'pseudo' stone, creating a climbable path through the length of the billboard. The finished climbable handheld path was embedded within its vinyl imagery, making for one very large, impressive Toyota promotion," Dunn said. Saatchi LA attached more than 20 GoPro cameras to record the mountain climbers' trek to the top. (Visit bit.ly/1Uxux6I to watch the climbers.)
M&M's still melt in your mouth
In celebration of M&M's 75th anniversary, the confectioner is introducing new flavors in its Times Square flagship – so it needed a more vibrant LED display. Originally manufactured by D3 LED (see ST, August 2007, page 90), the store's maintained two LED signs – a 32 x 31-ft. sign on Broadway and 48th St., and a gargantuan 59 x 45-ft. sign on 7th Ave. Ten years later, D3 was back on board for a "module swap" revamp. As other LED signs age, they become increasingly expensive to maintain. Yet, according to Jason Barak, a managing partner at D3, replacement costs can exceed $1 million.
"With the M&M's displays, its steel-framing infrastructure remained the same and only required the original LED signface to be changed out," he said. "… while the M&M's display modules were being swapped, the sign's content was still able to run live." D3 ran dual control systems – one for the old LED sign and one for the new sign, allowing a mid-swap where the old sign module was turned off and reinstalled with its modern counterpart in a few minutes. Barak believes this will become his company's signature approach for future LED display upgrades.
The medium is the message
As Times Square evolves, LED displays will continue to dominate, harnessing their oversized attributes to deliver news, increase brand visibility and even, as in Toyota's case, reintroduce an element of entertainment reminiscent of an older era, one when Times Square's spectaculars were treated as theatrical productions – with passing pedestrians and motorists as its audience.
Though non-electric, the Toyota billboard caught pedestrians' attention quickly. Its ascending height and mountain climbers scampering across its signface delighted cheering observers. Will there be more of these theatrical spectaculars sprinkled amidst Time Square's growing inventory of digital
displays? Time will tell.

Advertisement

SPONSORED VIDEO
Find it here! ISA Sign Expo 2023
Whether you're looking to grow your business or advance your career, ISA International Sign Expo® 2023 is the only place to find everything you need to be successful in the sign, graphics, print and visual communications industry.