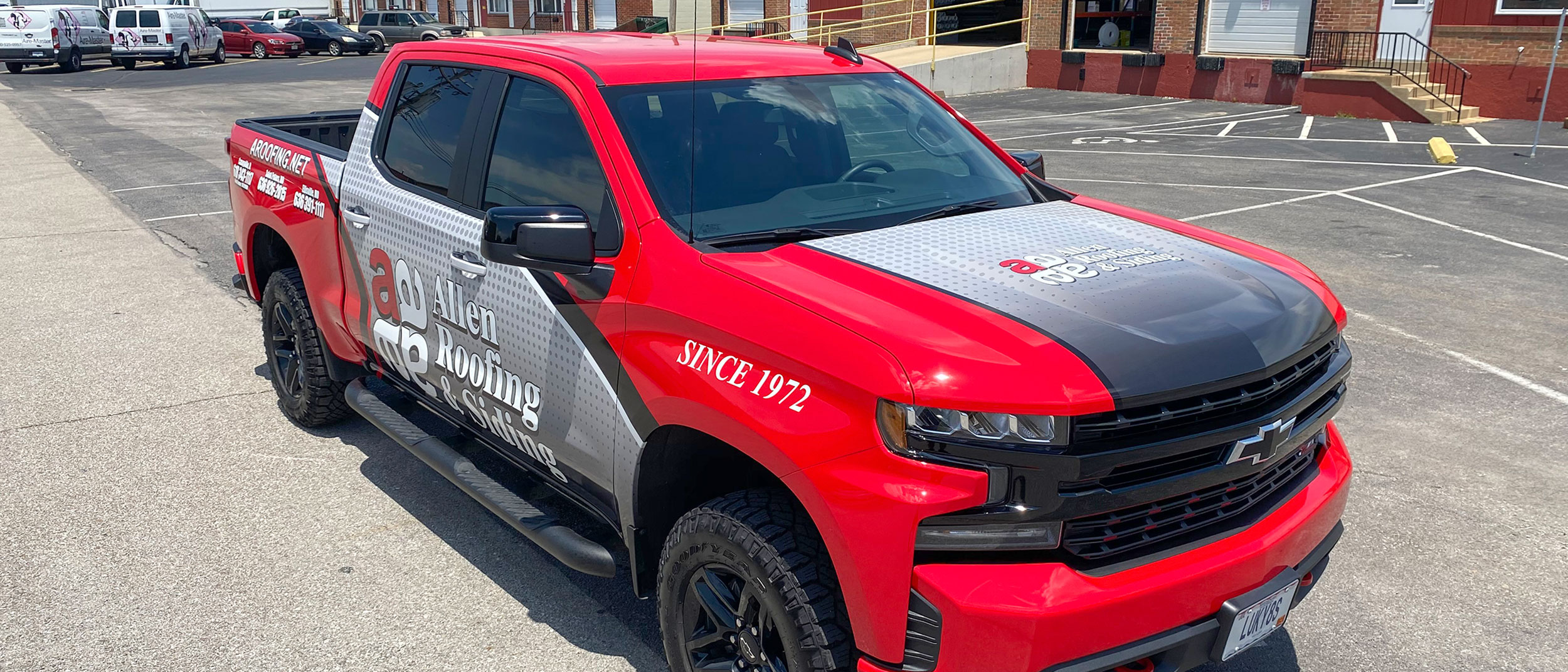 Great Expectations
Vinyl Images provided good value and high impact with this hybrid partial-print/color-change wrap.
MANAGING HIGH EXPECTATIONS can be dicey. After all, how often are you disappointed when you watch a series or movie that a friend has really built up? Allen Roofing & Siding (Ellisville, MO) had been referred to Vinyl Images (Fenton, MO) by a former employee of another large roofing company whose vehicles Vinyl Images had wrapped. "We did a killer job with that fleet, so the expectation was set high," said John Duever, president of the company – and also an accomplished wrap installer and trainer.
Nailed It
John knew he and "his impossibly talented team of 18 years" had to deliver high impact, but at a reasonable cost. With affordability in mind, John knew his shop would key in on red, as most of the vehicles in Allen's fleet were that color.
"What we chose to do with this re-brand [was] to digitally print the gray design in the middle, so we could retrofit all of the fleet of red vehicles with this swoop-shaped graphic to both save the client money from doing full wraps, and also maintain that enormous visual impact that a full wrap will bring," John said. Vinyl Images then tied the rest of the vehicle into the wrap with simple print-and-cut graphics. "This turned out to be a great option for the client, and no matter the color of the current vehicles, the fleet will all be uniform when completed," he said.
Putting the shop's subscriptions to Adobe Photoshop and Illustrator to good use, Vinyl Images designer Justin Dirks fashioned the gray swoop, which resembles aluminum with circular perforations diminishing in size and proximity from top to bottom.
Justin placed Allen's existing logo and drop-shadow company name on top of the swoop. Including three phone numbers in the design, per the client's request, presented the biggest design hurdle, John said. Justin produced six main mockups with four additional tweaks once a basic design was chosen – the complete design process taking about two weeks.
Tool Kit
For the swoop portion of the design, the Vinyl Images fabricating team of Kyle Kitrell and "Mean" Mike Green ran Avery Dennison MPI 1105 Wrapping Series film with Easy Apply RS technology through their HP Latex 570 printer, driven by ONYX Thrive RIP software, and paired the film with Avery Dennison DOL 6460 Clear Polyurethane laminate. John, along with Addison Dunlap, installed the print first, and then Avery Dennison Supreme Wrapping Film Gloss Carmine Red for the color change. To lay the vinyl down, John and Addison employed propane torches, an Auto Skins carbon fiber BUMPER POLE, Wet Edge squeegees, Avery Dennison FleXtreme squeegees (both red and blue), WrapGlove GHOST gloves, a Signgeer Snitty Slitter and NT Cutter knives with 30° blades – with the discarded blades kept in a Blade Cage to keep the area safe.
Advertisement
"I used [3M Design Line] Knifeless Tape to overlap the [color-change film] onto the printed area by 3/16 in.," John said. "The overlap looks clean and uniform and is not noticeable from 3 ft. away." Because the vehicle's factory paint was gloss black, a feature color of the design, the shop was able to leave the mirrors alone, only wrapping the faces of the door handles, not the grill. Addison and John also "very cleanly and smartly [wrapped] the front bumper, leaving the extremely difficult deep parts unwrapped," John said, adding, "The front grills and around the headlights are really difficult on these new Chevrolet trucks." The entire install took about 21 hours.
As far as we know, the client, whose anticipation may have been through the roof, is now siding with, and providing rave reviews of Vinyl Images, too, for even greater expectations next time.
PHOTO GALLERY
( 5 IMAGES)