Art Nouveau or Art Deco?
Sign designers should borrow from history; they should also know the source.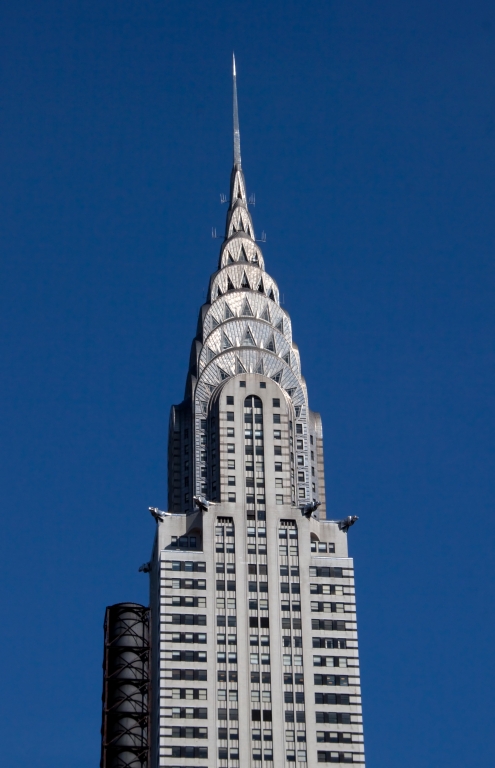 I miss the animal buoyancy of New York City, the animal vitality. I didn t mind that it had no meaning and no depth.
– Anais Nin, c. 1930
.
Art Deco flashed into existence, unnamed, in the early '20s. Art Nouveau (new art) preceded Art Deco and the two, under various names, are easily confused. The demand for Art Deco and Art Nouvean design lessened in the '40s, and the forms dissolved as a practiced art by the end of WWII. Mid-century modern art (think chrome, plastic and, worse, Scandinavian furniture) replaced it in the '50s. Today's art writers say we're presently in the Postmodernism or Contemporary design era.
The why of design history
Why is design history important? Because sign designs influence the overall appearance of urban areas and, to be innovative, sign designers should have strong knowledge of design, its history and all design trends and methods.
Unfortunately, today, many sign designs are distantly (corporately) controlled, thus, whenever independent design is possible, every designer should strive to create excellent work. In addition, because signs are part of our environment, the designer – and the person who sells the signs (and thereby influences the buyer's choice) – have a responsibility to their community.
Unsightly signs make unsightly neighborhoods.
Advertisement
Art Deco was, and remains, popular
In 20th Century Design, writer Judith Miller said Art Deco style, in its time, influenced every area of life – trains, airplanes, cars, skyscrapers, cinemas, silverwear, jewelry, fashion, furniture, appliances, posters and book design. Interestingly, it wasn't named Art Deco until 1966, following a Paris retrospective exhibit, although the art form received numerous, middle-realm references. In the '30s, for example, Art Deco was "Art Moderne" in France and "Modernistic" in the U.S.
In American Art Deco, author Alastair Duncan said Art Deco remains the only shorthand description of the decorative arts created between the two world wars. Duncan said such styles as Cubism (Picasso, Matisse), Russian Constructivism (revolutionary posters) and Italian Futurism (which added technological processes to design) influenced Art Deco. He also said France helped springboard the concepts.
Miller, in her Art Deco Collector's Guide, wrote, "The term [Art Deco] derives from the first syllables of the French term for decorative arts (arts décoratifs)." The words spawned from Exposition Internationale des Arts Décoratifs et Industriels Modernes, an influential, 1925, Paris event at which 34 countries exhibited their artists' design work.
She added, "There is no such thing as an Art Deco style, but, rather, there are many versions, evolved over three decades, mostly in Europe and the United States."
In the U.S., Duncan said, the French Art Deco style manifested itself most strongly in the fields of advertising and poster art. The most long-lived and deliberated designs, however, reside in the faction's architecture.
Were the Art Deco designers rebels?
Question: Was Art Deco a rejection of the period s accompanying, but more prosaic, Bauhaus and Le Corbusier designs – just as the oil-painting Impressionists rejected the level brush strokes and varnish glazes of their predecessors?
The Bauhaus group applied industrial steel and plate glass to architectural spaces, and the latter, Le Corbusier, had, in 1925, drafted, straight-line, reinforced concrete apartments for a Paris, lower-income housing project.
Advertisement
Art Deco originated at the end of WWI, in the Roaring '20s –– a time of "flappers," Lindbergh's solo, trans-Atlantic flight and, of course, F. Scott Fitzgerald's The Great Gatsby.
Did the era's young designers seek rebellion in the Art Deco style?
Art-history writers say the era was free spirited, that it reflected confidence, vigor and optimism.
Miller said it was born into a changing society and, because it became an international art movement, it went on to change the world. She said it spoke the language of the time.
WWII, mass production and easy-to-manufacture designs
The conclusion of WWI brought a desire for progress and, predictably, post-war factories began mass-producing consumer products — radios, refrigerators and cars. A new sense of freedom and emancipation appeared to have swept over Europe and the U.S.
Advertisement
Miller also said Art Deco architects incorporated ancient artwork schemes – ornamentation — into the period designs. Art Deco often has likenesses of Gothic, Mayan and Egyptian ornamentation. The Uxmal city ruins' (Yucatan, Mexico) House of Doves wall is a classic Mayan example, as are precedents from the 1922 opening of King Tutankhamen's tomb.
Gothic, of course, never goes away.
Ask any tattoo artist.
In case you didn t know
Notable Art Deco designs included the Douglas DC-3 aircraft (USAF C-47), the Rolls Royce logo, Raymond Loewy's streamliner trains (he later designed the Studebaker Avanti), Harley Earle's LaSalle automobile, Coco Chanel's fashions and Cassandre's machine-age posters. Further, Art Deco architecture survives (and is respected) worldwide. You'll see it in Europe, Mexico, Cuba, South America, India, Australia, Canada and the U.S.
America's most notable examples are the Empire State, Chrysler and Rockefeller Center buildings.
California lists 63 Art Deco buildings and most, expectedly, are in Los Angeles and San Francisco. Los Angeles also has the Frank Lloyd Wright designed Ennis-Brown house (1928). Although Wright didn't see himself in any art movement, some of his work easily falls into today's Art Deco definition.
In addition, the Art Deco Society of California stages a Gatsby Summer Afternoon annually. This year, it was at the Dunsmuir Helman Historic Estate, in Oakland.
My favorite Art Deco locations are The Observation Bar on the Queen Mary at Long Beach, and Teatro Merida, an Art Deco themed theatre in Merida, Yucatan, Mexico.
New York City lists 29 architectural structures that feature prominent Art Deco motifs. Florida lists 19, most are in the Miami Beach Architectural District.
How to tell Art Deco and Art Nouveau apart
Art Nouveau design reflects a more elegant mind-set than Art Deco. The latter is sometimes abstract, chic, fun to view, or, at least, you can imagine the designer enjoyed creating the piece, whereas Art Nouveau's near-gothic design style — made famous by Alphonse Mucha's posters — emphasized natural forms, curves, flowers and plants.
Art Nouveau was prominent from the 1880s to the 1910s. The Paris subway entrances are popular Art Nouveau icons; and, some of Toulouse-Lautrec's art carries the influence. Another prominent Art Nouveau location is Paris' Galleries Lafayette department store.
Where to learn — and see — more
The Old New York Evening Post Building, a lower Manhattan landmark at 20 Versey St. is also a classic Art Nouveau structure. Another is the 12-story Cornwall apartment (cooperative, now) building on West 90th St.
Further, the Chicago Van Buren St. subway gate has a Paris-style, Art Nouveau Metro sign overhead. The City of Paris gave it to Chicago in 2001.
A final note: Germany's National Socialist police closed the Bauhaus school (Dessau) in 1933; its leaders – Walter Gropius and Mile van der Rohe — immigrated to the United States, continued their design and architectural work and, in 1944, became U.S. citizens.
New York Deco, a small but valued book, presents Richard Berenholtz's photographs of Art Deco sites. For study, the most notable sites are:
The Rockefeller Center and plaza (1932)
Radio City Music Hall (1932)
The Fuller Building (1929)
The General Electric Clock Tower and building (1931) was once the RCA Victor tower
The McGraw ("Jolly Green Giant") building (1931)
The American Standard Radiator building (1924) is now the Bryant Hotel
The Hearst International Magazine building (1929)
The Empire State building (1931)
The Chrysler building (1930)
The Irving Trust building (1932)
The City Bank Farmers Trust Co. (1931)
— 30 —

SPONSORED VIDEO
Find it here! ISA Sign Expo 2023
Whether you're looking to grow your business or advance your career, ISA International Sign Expo® 2023 is the only place to find everything you need to be successful in the sign, graphics, print and visual communications industry.