Avery Dennison Partners With Akron-Based Repros Color To Rebrand Transit Van
The Laketran van serves as a mobile food pantry for senior citizens.
Avery Dennison Graphics Solutions (Mentor, OH) partnered with Akron, OH-based Repros Color to rebrand a retrofitted Lake County transit authority (Laketran) Dial-a-bus to serve as the new Lake County Mobile Food Pantry. Since early January, the van has been visiting communities throughout the county to distribute 180 boxes of fresh produce to seniors in need each week.
"Food assistance remains a top need among seniors during the coronavirus pandemic and while there are over 40 pantries throughout Lake County, this program is unique because it provides fresh produce," Laketran CEO Ben Capelle said. Three Lake County senior services agencies worked together to secure food donations from the Greater Cleveland Food Bank, and each agency plays a role in taking reservations, sorting donations and distributing the food. Every month, 720 households will receive over 22,000 pounds of fresh healthy produce through the program, according to Laketran.
A statement by Repros' senior account manager Anthony LaGuardia mentioned Avery Dennison's MPI 1105 wrapping film as the primary film used during the Mobile Food Pantry vehicle rebrand. "The majority of our guys were trained by Avery Dennison, so they are always happy when a job comes in where we're using the 1105," he said.
For more information, visit -graphics.averydennison.com.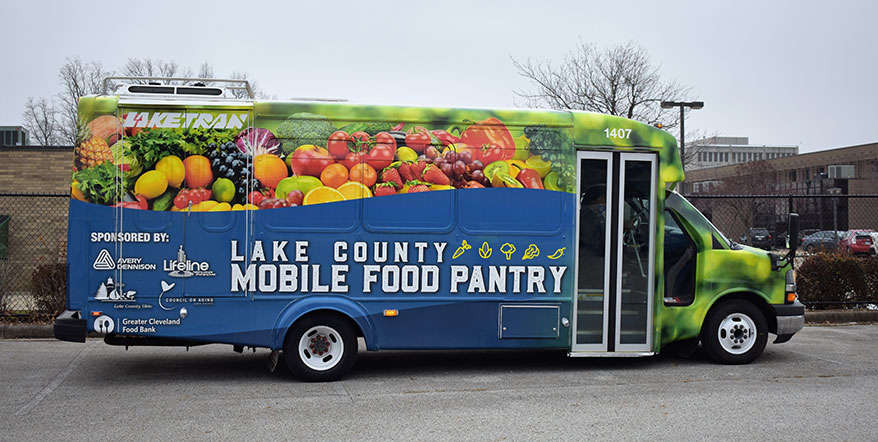 Advertisement