Building Lobbies and the Digital Domain
San Francisco turns skyscraper lobbies into art galleries with massive video wall constructions.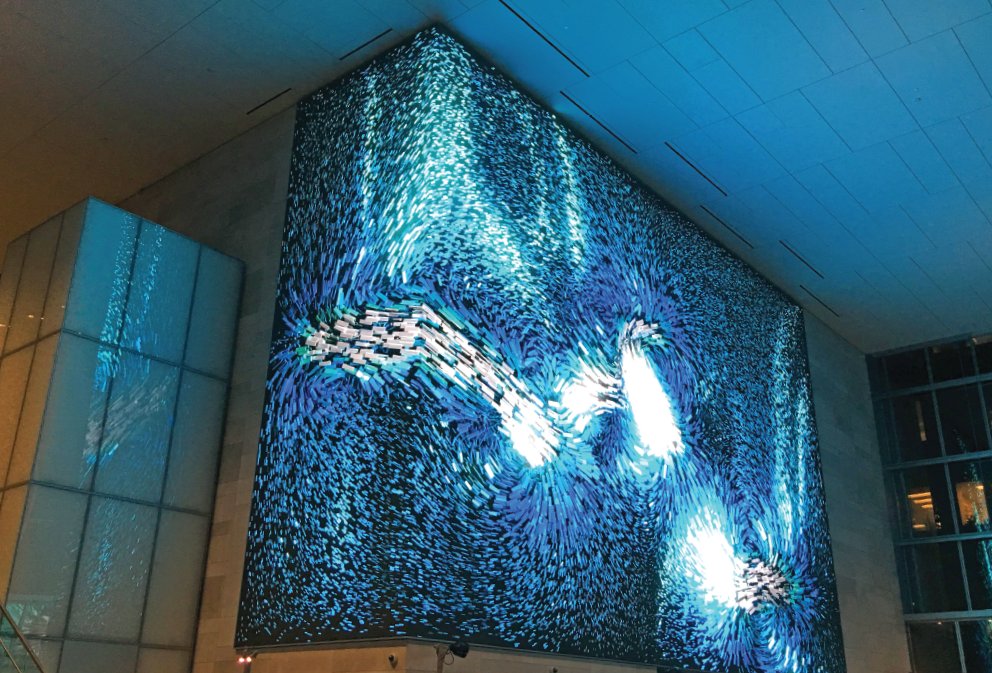 Within the downtown San Francisco landscape are two exceptional buildings, each with a unique LED video wall in its lobby. The first is a new class-A, 30-story skyscraper known as 350 Mission for its location on Mission Street. Although the building adds another decorative edifice to the San Francisco skyline, its most prominent feature is a street-level lobby that features a restaurant and café along with a gigantic LED video screen dedicated to presenting digital art. The other neighboring building is a 40-story skyscraper owned by Salesforce, a San Francisco-based company involved in cloud-based customer relations management – and the building's majority tenant.
350 Mission Street's lobby show-cases a 50-foot-high ceiling and glass façade to create a visually inviting, open space for tenants and passersby to view and experience its street-facing video wall. The building was developed by Kilroy Realty Corp. (Los Angeles), who sought out the video display as an important part of the building's presence at street level. Nicole Stromsness, Kilroy's construction project manager noted that "having the video wall in the lobby adds value to the building, making it a unique public destination in its own right." The building's video display is also visible to foot and vehicle traffic. On sunny days, the viewing experience is expanded by the lobby's glass façade folding back to present an unobstructed view of the display screen. Kilroy Realty likens the building's lobby space to "an urban living room that blurs the boundaries between the public and private realms."
350 Mission video wall
The LED screen, which is the center point of 350 Mission's lobby space, was manufactured by Sansi North America (SNA, New York City). It hugs the lobby wall and wraps around the corner with an extended display mounted on the lobby sidewall. The 6mm pixel pitch RGB SMD video screen is composed of S|VideoTM LED modules, each 9.4 x 9.4 in. (240 x 240mm), and incorporates a total of 4,176 LED modules. In completion, the LED screen is approximately 68 ft. long and 37 ft. high, offering 2,643 sq. ft. of screen acreage.
The assembly of the full LED screen could be likened to a Lego-like process consisting of multiple steel subframes that were bolted to the lobby wall. Knowing the final size of the video display from the start allowed SNA to determine how many subframes to custom manufacture and assemble into the final video wall's steel frame. "The video wall's steel subframes acted as anchor points for the final video display," said SNA Vice President Jason Helton. "The LED modules were assembled into larger sign cabinets, which included the requisite power sup-plies and logic boards. The sign cabinets were then assembled into custom-fabricated subframes, which were delivered to the project site and then picked up and placed on the lobby wall."
Custom Corner completes screen
In the normal course of positioning two screens at a right angle, there is a gap where the returns of both screens meet at each corner edge. Because the 350 Mission client requested a seamless display for its video screen, SNA fabricated a series of custom corner cabinets that were installed by the corner edge of the steel frame, merging the two screens into a single, final display.
"In assembling the full LED screen, which consists of an asymmetrical design with its one main screen and a much shorter adjacent sidewall screen, a series of custom corner cabinets was mounted first where the two walls converge,"Helton said. "Once the custom corner was in place, it was follow-ed by the installation of the left and right side LED sign cabinets to both sides of the corner. The completion of each row began the assembly of the next row until the entire steel frame was fully covered with its video wall display."
In its final form, the SNA video wall can present its content in any number of formats including animations, videos, graphic imagery or live data – simultaneously. Installation of the video wall was coordinated by Golden Gate Sign (Oakland, CA).
Given that the 350 Mission video wall is a dedicated digital art canvas, its all-encompassing visibility has already made an impact within its surrounding neighborhood. The LED display is large and fully visible behind its glass façade to those walking or driving past it. Passersby have been known to enter the lobby (which is encouraged) and watch contemplatively as the content continuously evolves within its presentation.
Virtual Depictions: San Francisco
The 350 Mission video artwork, "Virtual Depictions: San Francisco," was commissioned by Kilroy and created by Refik Anadol, a media artist exploring the convergence of interactive media and architecture. Anadol is also an instructor and visiting scholar for the Design Media Arts Department at the University of California Los Angeles (UCLA). Anadol noted that the creation of "Virtual Depictions" is site-specific and designed to conform to the space where it is exhibited. Thus, the same digital exhibit could appear differently in different spaces.
The significance of "Virtual Depictions" is that it's not a static artwork or an abstract graphic or a slideshow of amazing fantastic realism landscapes. "Virtual Depictions" is a living, breathing data sculpture that, as Anadol notes, is driven by specific segments of information or data sets that are constantly transforming the display's images and creating what he describes as "data sculptures." The data that drive the sculptures come from the city's ambient surroundings, including environmental, social media and post-architectural influences. Anadol's data sculptures are defined by the use of parametric analytics, which is a design process that creates a visual relationship between the data it is measuring and the visualization that represents the data.
These interactions that swirl around the city are captured by "Virtual Depictions'" data engines and form a continuous data sculpture that presents its visualizations as an art experience. Anadol said people are so awed by its potential that they are visiting "Virtual Depictions" from all over the Bay Area to see and connect with its interpretative visualization of San Francisco's interactive communications. DeeDee Postil, Kilroy's art curator, said that because the content is in a real-time relation-ship with the data that shapes its visualizations, it is always changing. Already, it has earned the SEGD Global Design Award. (To view it virtually, visit https://vimeo.com/147304811.)
50 Fremont splashing waterfall
In a neighboring skyscraper, 50 Fremont, which is directly across the street from 350 Mission, yet another LED video display was installed, its screen also supplied by SNA. This video wall also employed SMD S|Video LED tiles, but with a tighter, high-density pitch (4mm) and equally sharp resolution as neighboring 350 Mission screen. The 50 Fremont LED video wall display is 12 ft. high and 106 ft. long, making it among the longest continuous 4mm pitch screens in the US.
The architectural design for the 50 Fremont video wall was challenged by three elevator bay entrances that form part of the lobby wall. In its final design, the video wall simply covered the entire lobby wall, presenting an unusual expressive visual look in both its content and its presentation. Rather than displaying interactive software, the 50 Fremont screen relies on a series of nature-based landscapes composed and composited with a collaboration between between two world-class video effect companies, Obscura Digital (San Francisco) and Fusion CI Studios (Los Angeles).
Fusion CI's video FX supervisor, Mark Stesiuk, said the idea for the wall was to bring the enormous expressions of nature into 50 Fremont's minimalist, hard-edged lobby. From this inspiration, the companies collaborated on a series of nature-based landscapes, such as a full landscape of the nearby Muir Woods that spans the length of the lobby. Another lobby wall landscape that has everyone talking is a waterfall scene with runoff splashing over and around each of the elevator bay entrances. The waterfall spillage is realistic enough (all digital – just like in the movies) that when viewers stand in the lobby, they almost expect to get splashed. Several smartphone users have videoed the waterfall and posted it on YouTube and Vimeo where it has garnered millions of views, reposts and shares. The 50 Fremont video wall was installed by Arrow Sign (Oakland, CA).
Digital canvas and public space
The integration of artistic video walls in lobbies merges architecture and digital media into a new realm of pedestrian interactions. Lobbies are transformed into dynamic art galleries, and for those passing through on the way to or from work, they create a moment of pause, allowing busy pedestrians an unexpected encounter with art. San Francisco's efforts to open such lobbies to the digital domain could very well become a trend – architects, developers, LED manufacturers and sign installers all sharing the redefinition of architectural public space as a digital canvas for cultural and communal experiences.
Advertisement

SPONSORED VIDEO
Find it here! ISA Sign Expo 2023
Whether you're looking to grow your business or advance your career, ISA International Sign Expo® 2023 is the only place to find everything you need to be successful in the sign, graphics, print and visual communications industry.