Need a Lift?
Crane trucks allow sign companies to reach heights both old and new.
THOUGH SIGNS OF ALL kinds, shapes and sizes convey visual impact, when spying a sky-high sign, one can't help but marvel, "They got that huge sign all the way up there…" The unseen agents behind those feats — sign installers — rely on their machines, featuring capabilities and gadgets that rival any in action films. Those machines that make these missions possible are cranes and bucket trucks.
CHOOSE TO ACCEPT IT
On the subject of what's "possible," I could hear the theme song from Mission: Impossible in my head as the details of an install by AMAX Sign Co. (Tulsa, OK) were described to me. Or maybe because it was a "bank job," another movie might be more fitting. Any way you look at it, Amax Sign's installation of a new blade sign for Oklahoma Fidelity Bank this past March required an extremely precise and total team effort.
"Development of the job started out with a referral from a consulting group in Tulsa that works directly for Oklahoma Fidelity Bank," said James Parker, installation department supervisor and field operations manager for Amax. The company's Sign Designer Jonathan Buck then incorporated an art deco look that was appropriate for the time the building was constructed. Amax applied for city permits, and because this is a projecting wall sign, the City of Tulsa required a variance hearing for an approval from the Tulsa Board of Adjustment. Once the permit was approved, Amax consulted a structural engineer for attaching the sign to the building.
Taking 12 weeks, the fabrication team constructed the sign using aluminum square tube and angle frame with steel supports. The faces comprised flat polycarbonate sheet, decorated with digital-print graphics, aluminum-tube art deco elements and raised channel letters. Amax then fit the internally illuminated sign with LED light sticks.
The install plan consisted of targeting a time for delivery and installation, scheduling a "hot-shot delivery service" — as Parker called it — to transport the sign to the job site, and getting a traffic-engineering plan so the company could get a "Use of Street" permit in order to block streets on two sides of the building. The V-shaped sign-mounting brackets had to be attached to the building with ¾-in.-diameter threaded rods and Hilti HIT-HY 200-A epoxy, which has a cure time of 75 minutes at a temperature range of 42-50°F, and 45 minutes between 51-68°F. And, as the lingering Oklahoma winter kept temps low, installation had to be postponed for a couple of weeks until the temperature would be in the mid 50s.
Now this is the part that really made me think of MI: "About a week prior to our anticipated install date, we had a tech drill a small hole through the brick veneer of the building in the area where the sign was going to be installed," Parker said, "[to] monitor the temperature of the concrete structure behind the brick for several days in advance of our planned installation date, using a contactless, infrared thermometer to confirm that the temperature of the concrete would be within the required temperature working range of the anchoring epoxy to cure." By the final few days of winter, the structure's temperature had sufficiently warmed.
Advertisement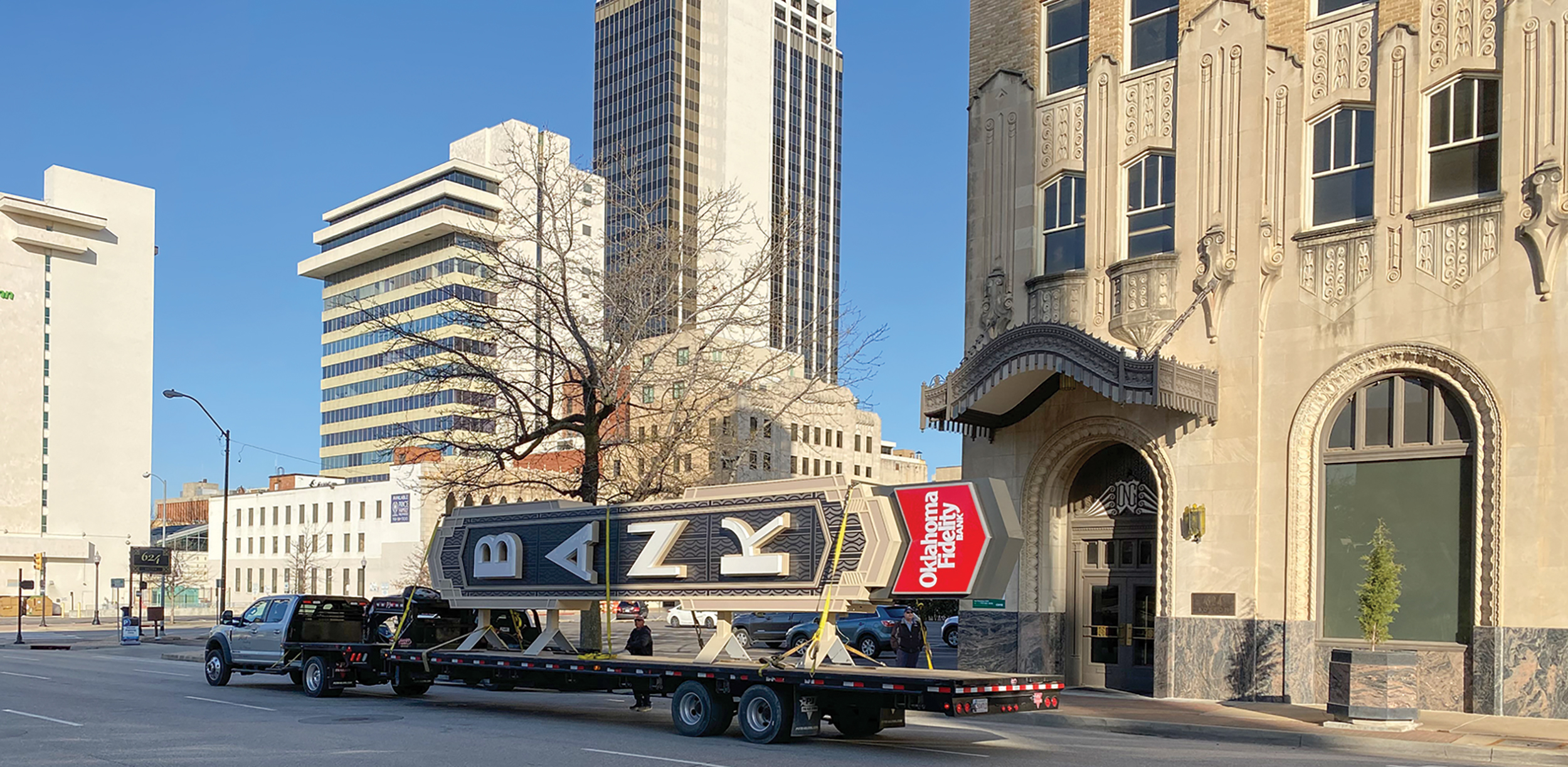 "On the morning of Saturday, March 20, we loaded the sign on a trailer, set up three cranes and completed the work on site within about six hours," said Parker, whose install team consisted of five actually installing the sign, with one person on the ground for safety purposes. Amax Sign used their Altec AC23-95B telescopic boom-truck cranes, each offering a 23.5-ton hoisting capacity with 149 ft. of reach, while two of the cranes are equipped with wireless remote-control capability. Amax relied on the cranes' "very generous load chart, out-and-down outriggers that allow short jacking when necessary and remote control, as one of our installers was operating his crane from the platform while he was working on one side of the sign," Parker said.
Regarding the other installation challenges, weather and logistics are always a factor, Parker said, "but with a little planning, and the fact that we are blessed with some really great equipment and some of the finest installers in the industry, large jobs aren't really any more difficult for us than small jobs." On to the next mission…
SCOREBOARD TURNED BILLBOARD
Don't you like sign stories with decades of history behind them? Superior Lighting (Omaha, NE) has provided signage for their client Omaha's Henry Doorly Zoo and Aquarium since 2013. But the structure for their billboard sign facing I-80 used to be the scoreboard structure for local Johnny Rosenblatt Stadium, host of the men's baseball College World Series from 1950 until 2010, Greg Smith, Superior Lighting's director of operations said. "We converted the structure to its present billboard setup in 2014."
The sign's face is 26 ft. tall x 55 ft. wide, with the highest point 60 ft. and the lowest 34 ft. off the ground. Curzon Promotional Graphics, also in Omaha, digitally printed the face for Superior.
For the installation, Superior rolled out three Elliott HiReach trucks: their H110F with a 117-ft. working height and a 40 x 60-in. two-man work platform with a 600-lb. capacity; their G85R, which features an 87-ft. working height and the 40 x 60-in. two-person work platform with a 500-lb. capacity; and their L60R with a 63-ft. working height, similar platform and capacity of the G85R. Smith said that Superior relies on the Elliott equipment due to the "height and flexibility of the units."
Superior Lighting has been changing this billboard's faces since 2013, so their team of five installers was comfortable with the installation. "In the Midwest, the weather is always the biggest challenge," Smith said, noting particularly the area's wind. "Our installers are the best in the area, and they knocked this out [in six hours] even dealing with the winds."
NIFTY AND THRIFTY
Moving east and a bit more north we arrive in New Berlin, WI, home of Bauer Sign and Lighting, a family-owned and operated company that will celebrate its 40th year in business in 2022. "Jim Bauer, my dad, is the owner," said Jordan Bauer. "I get in at 5 a.m. and he still beats me in," he added with a smile.
Recently, Fosters reStore, an open-to-the-public, non-profit retail thrift store in nearby Racine, became a new Bauer Sign customer by responding to the company's online "contact us" page. The thrift store brought artwork to Bauer. "We essentially just made it buildable," Bauer said. Their fabrication shop constructed face-lit channel letters mounted to a 2-in. aluminum pan frame. The fab team placed the power in an electrical box on the top left corner of the sign.
Though this installation was "only" two stories up, Bauer Sign dispatched two Wilkie Mfg. cranes to the site — a Model 72R and Model 520. "The 72R is primarily used when you need to do the heavy lifting," Bauer said, though that was not necessarily the case for this project. "We used the 520 to get the sign into place and used the 72R's two-man basket to lag the pan onto the wall."
Bauer likes the reliability of Wilkie cranes. "Just being able to know that your equipment will perform exactly how you want is of huge value," he said. "Like fabricators have their favorite wrench, welder, and drill, there is a great comfort level when using Wilkie equipment — simplicity. We enjoy using the 520 for many of our installs for its design. It is a simple-to-operate crane that can get 85% of our projects on the wall," Bauer added.
The Fosters reStore sign was a fairly straightforward, two-installer job that took just two hours from start to finish. One installer acted as the crane operator and the other positioned the sign to fasten it to the wall.
Whether an installation is straightforward, as for Bauer and for Superior, or involves the logistical complexity planned out by Amax, once a sign exceeds a certain size, weight and especially height, crane and bucket trucks provide the tools to do the heavy lifting, and make the job safer and more efficient.
PHOTO GALLERY
(21 IMAGES)
Advertisement
SPONSORED VIDEO
Find it here! ISA Sign Expo 2023
Whether you're looking to grow your business or advance your career, ISA International Sign Expo® 2023 is the only place to find everything you need to be successful in the sign, graphics, print and visual communications industry.