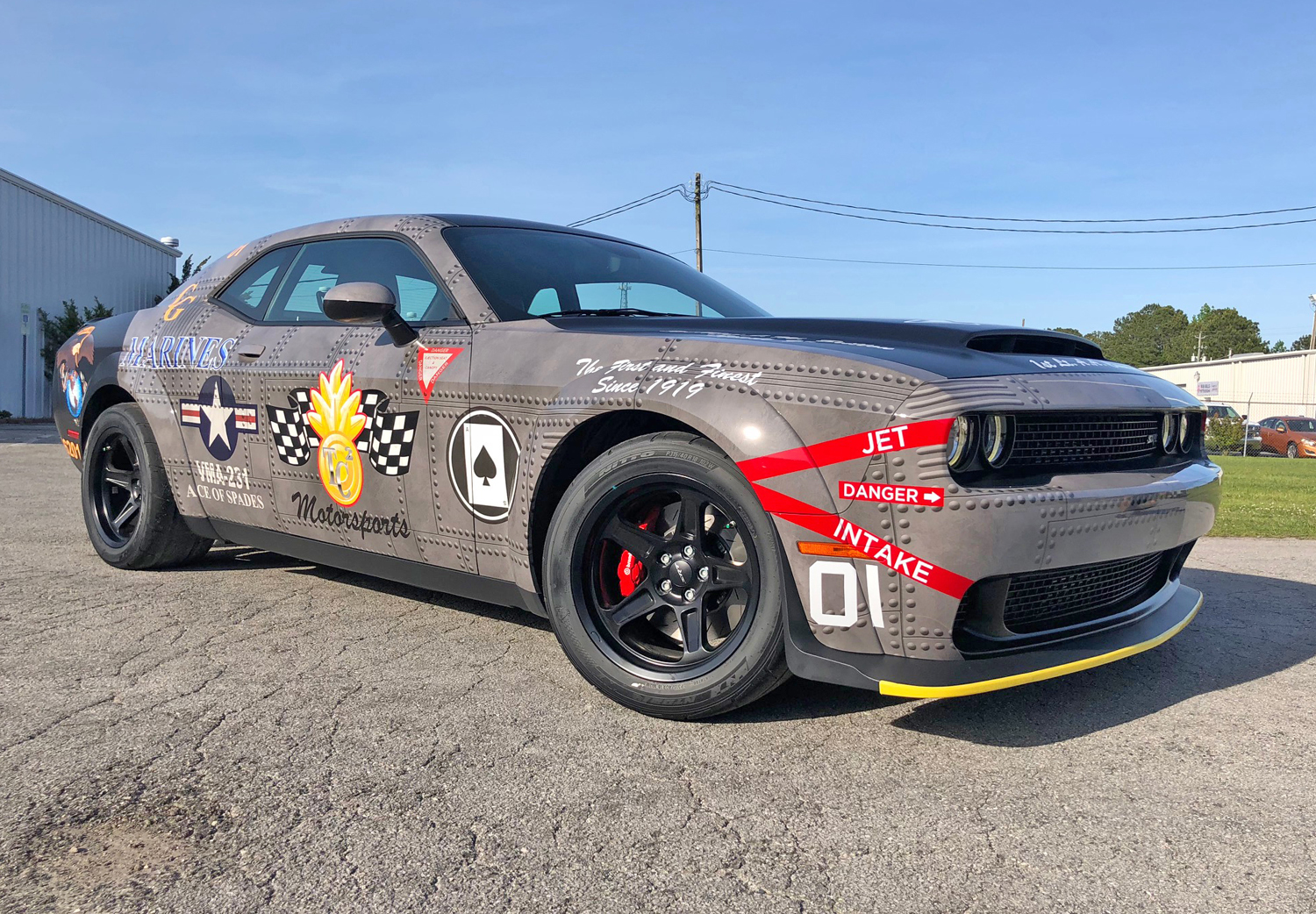 Customers who think they know exactly what they want can be a curse or a blessing. Yes, specific ideas can save time, though not when you're forced to alter them. Made-up minds can take some of the fun out of the process, and also the need for original design fees. Here are two shops that recently worked with two different types of clients: one who knew exactly what he wanted, another who had to be guided there.
Call of duty
On a referral from another signshop in the area, a Marine Corps pilot brought his brand new 2018 Dodge Challenger SRT Demon to Crystal Coast Graphics (Jacksonville, NC) to be wrapped to resemble, as closely as possible, a Marine Corps warbird – both of which would be on display to tens of thousands at the upcoming MCAS Cherry Point Air Show. The only thing was, "He came to us on a Monday afternoon and needed the car back that Friday morning," said Crystal Coast owner Chris Ulmer, so this was no drill! The client provided rough sketches and photos of the plane. Chris and a crew from Crystal then did their own site visit to shoot several more. "There are things we would love to have had more time doing, such as the design," Chris said, "but were limited with their timeline."
This wrap was printed on Arlon SLX with FLITE Technology – chosen for its quick and easy installation –using the shop's OKI Data ColorPainter M-64s, and laminated with Arlon's 3270 cast laminate on the shop's Seal Base laminator. Chris said Arlon SLX is "the lowest initial tack film I've ever seen." The shop also used Avery Dennison SW900 Satin Black wrap film for the rear of the car. The install was fairly straightforward other than the Challenger SRT Demon being such a rare car, Chris said – one of only 3,300 made.
Usually Crystal Graphics runs a 3-4 week turnaround, from meeting the customer/getting a deposit, to art/approval, to printing/installation. "But with it being a high-profile project for our area," Chris said, "we all worked overtime to get it done." He attributed part of the success to improving his wrapping efficiency back in May at the first and aptly named Avery Dennison Business Boot Camp.
Led to subtlety
Meanwhile, a new customer, the head of LED Lighting of Houston approached local Xtickers Designs having first found them on the web. He stopped by the shop with a few concepts in mind for his pickup, but looking for "inspiration," as Xtickers graphic designer Monica Iza recalled. Using Photoshop and Illustrator, Xtickers designed three colorful full wraps, one of which the client liked but not completely, wanting instead something more subtle and unique. "He mentioned he really liked the 'blackout look' and asked us how that would work," Monica said, at which point the design team better understood his needs. Eventually, "we had the idea about black on black with texture contrast – flat and gloss," Monica said, which they showed to the customer, who excitedly approved.
Advertisement
This project was a bit different than normal for the shop. "Usually on our wraps we print and install just one layer," Monica said. This time, no printing and lamination were involved; the Xtickers install team first wrapped LED Lighting of Houston's Ford F150 completely in 3M 1080 Matte Black wrap film. Then running the shop's Mimaki plotter, they cut, weeded and masked the customer logo and copy using 3M 1080 Gloss Black.
The weeded gloss was then installed on top of the matte full wrap. "Whenever we have solid-color vehicle projects, our first option is 1080 series unless the customer requests a specific color not available on 3M," Monica said. "In those projects, we would turn to Avery." Most wraps take Xtickers one or two weeks to install. "It depends a lot on the customer feedback regarding the design, changes and availability to install," Monica said. "We know time is important for everyone, so we care a lot about dates and having projects done on time."
Since Xtickers uses only high-performance vinyl for vehicle graphics, they are comfortable offering a two-year warranty for all of their wraps – double that of many shops. "We explain to [customers] the ideal way to take care of a vehicle wrap, but we also mention how 'careless' we are with our own vehicles wrapped," Monica said, "and they can see they're still in great shape."


SPONSORED VIDEO
New Golf Course Graphic Installations With Mactac
Visual communication is essential to a successful business. 2020 required restaurants to pivot from promotional graphics to safety and spacing graphics. Now that restaurants are reopening, it's time to make necessary signage updates and Mactac is here to help. Before you even enter a building, there are thousands of opportunities to welcome and inform your patrons. Whether that is with window graphics, sidewalk graphics, or building wall signage. Stick with us as we walk through the endless opportunities and which Mactac products can help you achieve the goal.