CV Wraps Makes Food Truck a HAPA-ning Spot
Bay Area shapes gives Filipino food truck strong rebranding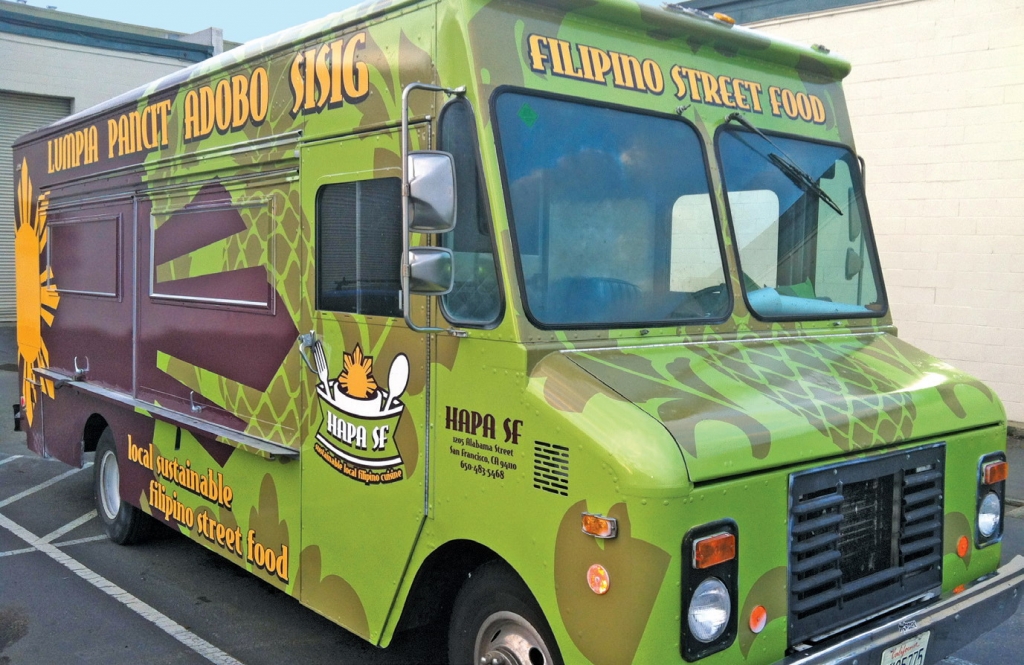 Like Joseph Kony or Fifty Shades of Grey, food trucks have quickly progressed from obscurity to a ubiquitous cultural phenomenon. However, unlike the first two examples, food trucks are likely to withstand public opinion's fickle nature because of the sheer diversity of cuisine offered by an armada of mobile-food vendors. Their itinerant nature, and accompanying frenzy of social-media updates, appeal to younger generations of diners (and, a fun food truck leaves a more positive, permanent impression than news of a delusional despot or mommy porn).
Even in frumpy Cincinnati, where Mark Twain appropriately said he'd like to be when the Apocalypse occurs because things happen 20 years later here, food trucks are common sites – and lunchtime destinations – on downtown streets, and were embraced as part of the Queen City's longstanding Memorial Day-weekend Taste of Cincinnati Festival.
Conversely, trendsetting San Francisco, expectedly, resides on the leading edge of the food-truck boom. According to Greg Gless from www.roaminghunger.com, a website that tracks food-truck activity across the U.S., 175 food trucks operate in the city. Custom Vehicle (CV) Wraps (San Francisco), which wrapped such high-profile projects as decorating the truck that carried the San Francisco Giants' 2010 World Series Trophy across California , has emerged as one of the Bay Area's leading food-truck-wrap providers.
Kwasi Boyd, the company's marketing manager, astutely purchased three appropriate URLs: www.foodtruckwrap.com, www.foodtruckwraps.com and www.foodtruckfabrication.com. To date, he said the shop has decorated 35 food trucks.
William and Olivia Pilz, the husband-and-wife owner of HAPA SF, a food truck that serves organic, Filipino dishes, connected with CV Wraps through Off the Grid, San Francisco's largest foodtruck-event producer. Although the dishes HAPA serves are highly regarded, its prior wrap was comparatively spartan and didn't create curb appeal (where are first impressions more important than with a quick-service food truck?).
"We looked around at other food trucks and noticed they had more complex designs," Olivia said.
"We thought this would create greater attention, and generate more customers."
The Pilzes enlisted Aron Paul, a photographer and graphic artist, to craft a new design for HAPA's truck. The new design prominently displays vibrant graphics and the names of Filipino delicacies it serves – such as sisig, a pork, jalapeno and lime concoction – above the service window. CV's design team refined and made it wrap-ready using Adobe Photoshop.
To render graphics for the 22-ft.-long truck, the installation crew took measurements and plugged them into a digitized template. Before CV could boost HAPA's brand with its new wrap, removal of existing graphics proved to be the job's biggest obstacle.
Advertisement
"The prior graphics were installed two years before, but the adhesive was so embedded into the surface that it seemed like it was there longer," Boyd said. "Acetone and Goof-Off® [heavy-duty removal compound] worked at dissolving the residue. But, because this step took a lot longer than the typical, two-hour removal, we had to take breaks because working around the solvent fumes was making us dizzy."
The prior graphics' removal would have been more arduous without some unlikely help. Eager to roll down Divisadero St. with a new wrap, the Pilzes assisted with stripping the old graphics. Boyd said, "They were the first customers to help with a job, and we may not have met their deadline without their help."
To wrap the truck, CV Wraps used 3M Controltac IJ180-10C with Comply v3 air-egress film. Boyd said most customers request 3M film, although they've also wrapped with Avery and Oracal material. The shop printed the 600-sq.-ft. wrap on a Mimaki JV3-160SP solvent-ink printer with OEM inks and an Onyx Production House RIP. They extended the wrap's lifespan by topcoating it with 3M's 8519 luster-finish overlaminate applied with a Royal Sovereign RSC-1650C roll laminator.
Boyd said, "The trickiest part of installing a food-truck wrap is making the proper cuts around the hood so that everything blends. Also, you have to lay out the graphics so there's conspicuous branding even when the service windows are open. A food truck wrap isn't just a promotional graphic; it identifies a place of business. Attention to detail is required; it's no place for a hack job."
Olivia said they couldn't correlate the new wrap with business growth; many factors influence a food truck's sales on a given day (weather, location, competing events, etc.). However, she noted that many new customers made positive comments about the wrap. Which, of course, probably provides more informative feedback than the most sophisticated market-research tools.

Advertisement

SPONSORED VIDEO
SureColor R5070 and R5070L | Consistent, High-Quality Signage Printing
Achieve consistent, repeatable color for high-quality signage, including banners, adhesive vinyl, wallpaper and more, with the robust, reliable SureColor R5070 and R5070L 64-inch roll-to-roll resin signage printers. Learn more.