Daktronics Updates Venus Control Suite Software
Cloud-based software provides for message scheduling on both LED and LCD displays.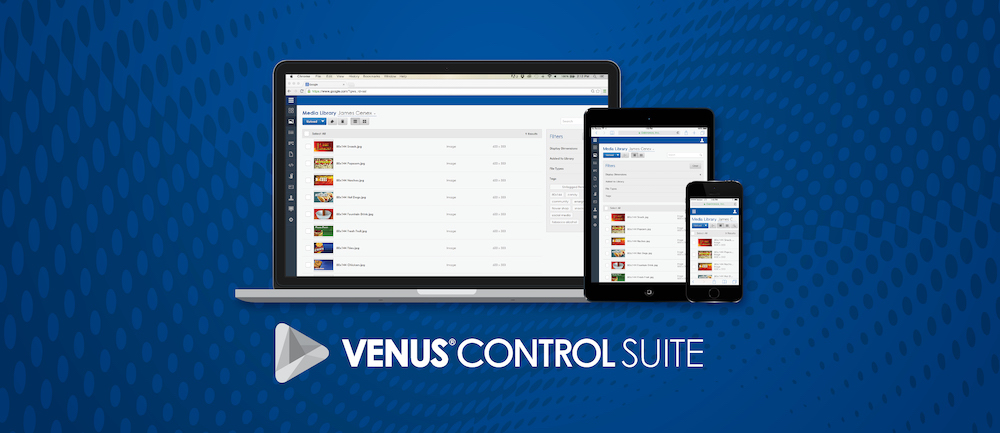 Daktronics (Brookings, SD) has updated its Venus Control Suite, an LED control software, to include centralized control for scheduled content on both LED and LCD displays in indoor and outdoor spaces.
Venus Control Suite is a cloud-based software that allows display operators to control scheduled content on their signs with any device. They can create custom layouts and track all their messaging with reports showing what content played on each display, how many times and when.
Operators can also add content from third-party sources, including news feeds, sports scores and menu prices. Additionally, they can provide automatic emergency alerts with access to the Integrated Public Alert and Warning System (IPAWS).
"One advantage of Venus Control Suite is the ability to activate the software before displays are even installed," said Audie Baker, Venus Control Suite product manager at Daktronics. "That allows people to learn the software and create content and playlists ahead of time, so the organization can start seeing a return on their investment on day one of installation."
To learn more, visit daktronics.com/venus.
Advertisement
SPONSORED VIDEO
SureColor R5070 and R5070L | Consistent, High-Quality Signage Printing
Achieve consistent, repeatable color for high-quality signage, including banners, adhesive vinyl, wallpaper and more, with the robust, reliable SureColor R5070 and R5070L 64-inch roll-to-roll resin signage printers. Learn more.