Everyone has a few favorite creations from the early '90s: Dave Matthews Band, Super Nintendo, The Silence of the Lambs, the first inkjet plotters. OK, the invention of digital printers may only be a fond memory for a certain sign and graphics niche, but there's no denying the disruptive technology forever changed our industry.
Now considered a staple in most signshops, digital printers offer high-quality, timely, cost-effective, customizable output. Signality (Marietta, OH), a shop specializing primarily in decals, relies heavily on its digital press. "I've noticed a definite cutback in cut vinyl – everyone is going toward the print vinyl," said Cassandra Bateson, production manager. "It's so much easier to make a three-color sign when you print them all onto one decal." And that's just brushing the surface of the possibilities digital printing unlocks.
Custom Color Corp's (Lenexa, KS) COO Mike Lecus said, "I know our customers continue to look for different ways to differentiate their brands," which is why the full-service digital printing company has invested millions of dollars into equipment over the past decade. With seven wide-format presses and two shifts five days a week, the shop has gone all-in on digital with great success.
Despite a tight labor market and ever-consolidating industry, many other print shops report similar profit-ability and growth. The International Sign Association (ISA; Alexandria, VA) surveyed hundreds of companies in the sign, graphics and visual communications trade for its 2018 Pulse report on the state of the industry; 55% of respondents indicated their business was on track to grow 10% or more – and more business often means more machines, with 67% saying they would probably or definitely invest in new equipment in the coming year. If your shop is among those in the market for a new printer, the sheer number of options can, understandably, be pretty overwhelming.
ABC, EASY AS UV LED
The digital printing industry isn't exactly known for being sustainable, even with organizations like the Sustainable Green Printing Partnership (SGP; Sayville, NY) encouraging signshops to reduce their environmental impact. "This industry creates a lot of waste and garbage, and we have to take a stand against that and find solutions to reduce our ecological footprint," said Patrick Coulombe, president of Solutions Eco360, a Canadian PSP based out of Boucherville, QC, created expressly to print with the environment in mind. Looking ahead to the state of the industry in five or 10 years, Coulombe hopes to see an all-around greener marketplace. "I want green solutions to become the standard in the near future," he added. Coulombe isn't alone in this viewpoint: 76% of FESPA 2018 Census respondents reported that their business strategy is being shaped by customer demand for environmentally responsible products, with 32% having responded by investing in energy-efficient or environmentally certified equipment.
Advertisement
Printer manufacturers have added a focus to meeting eco-conscious PSP and end-user demands by offering presses boasting greener benefits. The reduction or elimination of ozone/VOC (volatile organic compound) emissions paired with lower power consumption and heat output is a growing trend in newer printer models– which has led to the rise in machines using UV LED technology. UV LED, the most environmentally friendly form of digital printing, is now booming as more and more OEMs enter the LED arena, taking advantage of the technology's strengths such as substrate versatility, instant curing and durable final products.
In the roll-to-roll realm, Fujifilm's Acuity LED 1600R 64-in. machine, launched in January 2018, touts lower ink and power consumption, no ozone or VOC emissions and only one consumable – the ink. And don't forget the superwide roll-to-rolls: Durst's Rho 512R, a 16.4-ft. press reaching speeds of 3,918 sq. ft./hr. with up to 1,200 dpi output, received an LED update in late 2018, said to reduce power consumption and eliminate ozone from the production process, while CET Color released the 197-in., six-color 5000UV LED with maximum speeds of 2,000 sq. ft./hr. "We're really starting to see the evolution of the big right now – the superwides are starting to hit our market a lot more frequently," said Lecus.
The flatbed market has also seen an increase in UV LED presses since early 2018. The Canon Océ Arizona 1300 Series is offered in two sizes with the option to upgrade to eight ink channels with light cyan, light magenta, white ink and optically clear varnish; Azonprinter's Azon Matrix R is available in three table sizes with features such as ink recirculation and grayscale printing; and the Ricoh USA 98.8 x 51.5-in. Pro TF6250 leverages printing speeds up to 1,391 sq. ft./hr. on substrates up to 4.3 in. thick. Lecus doesn't see the UV LED train slowing down any time soon: "Long-term, I think you're going to continue to see advances in the LED technology and how that helps with the curing of the inks."
IT'S A PRINTER/CUTTER
Generally, printed graphics aren't automatically ready for installation after coming off the press. Finishing is an important component of production that can often become a shop-floor bottleneck, leaving OEMs asking, "Why not streamline the process?"
Printer/cutter devices have grown in popularity in recent years due to their application versatility and integrated cutting capabilities. Busy print shops seek ways to improve workflow by any means possible and eliminating even a single step can offer much-needed time savings. Mimaki USA and Roland DGA have invested heavily in this market, with Mimaki debuting its 64-in. UCJV printer/cutter line in the third quarter of 2017, adding three smaller machines to the UCJV300 family in the summer of 2018 and updating the series with clear ink capabilities shortly after in October. The UV-LED UCJV devices offer layered printing and white ink; high-volume production of print-and-cut applications including window clings, floor graphics, POP displays and vehicle markings; and the option to pre-cut materials before printing.
Roland DGA introduced a new print-and-cut device to market in March 2019: the TrueVIS VG2 series of 64- and 54-in. wide-format eco-solvent machines, said to output vehicle wraps and graphics, backlit signage, wall murals, die-cut labels and decals, heat-transfer graphics and signs and banners with a variety of new cutting and productivity features. "People are interested in new ways to do signage," said Cassandra Bateson. Her shop has found a niche in brick wraps produced on a Roland printer/cutter. "We've garnered a ton of interest with our brick wraps; they aren't your standard sign," she said "Everyone loves them because they're different but still durable." Especially for smaller shops or those new to wide format, a printer/cutter can be a versatile workhorse.
Advertisement
DO MORE WITH LESS
The demand for presses that can, simply put, do more has given rise to several new hybrid machines capable of imaging roll-to-roll, flexible roll and rigid substrates. Less equipment taking up valuable floor space + more printing options = a happy shop.
Konica Minolta entered the wide-format market with the launch of its AccurioWide 160 (63 in.) and 200 (79 in.) UV LED printers at Print 18, said to reach speeds of 1,119 sq. ft./hr. imaging traditional signage and display applications like POP banners, as well as niche substrates such as corrugated boards, wood, rigid plastics, textiles and metals up to 1.77 in. thick. Mutoh America's 64-in. ValueJet 1627MH machine can print onto polystyrene, PVC, acrylic, polycarbonate, foamboard, ACM, banner material, vinyl and wallcoverings. Additional features include the ValueJet Status Monitor app for remote printer monitoring and UV alternative bio-based ink in CMYK or CMYK + white.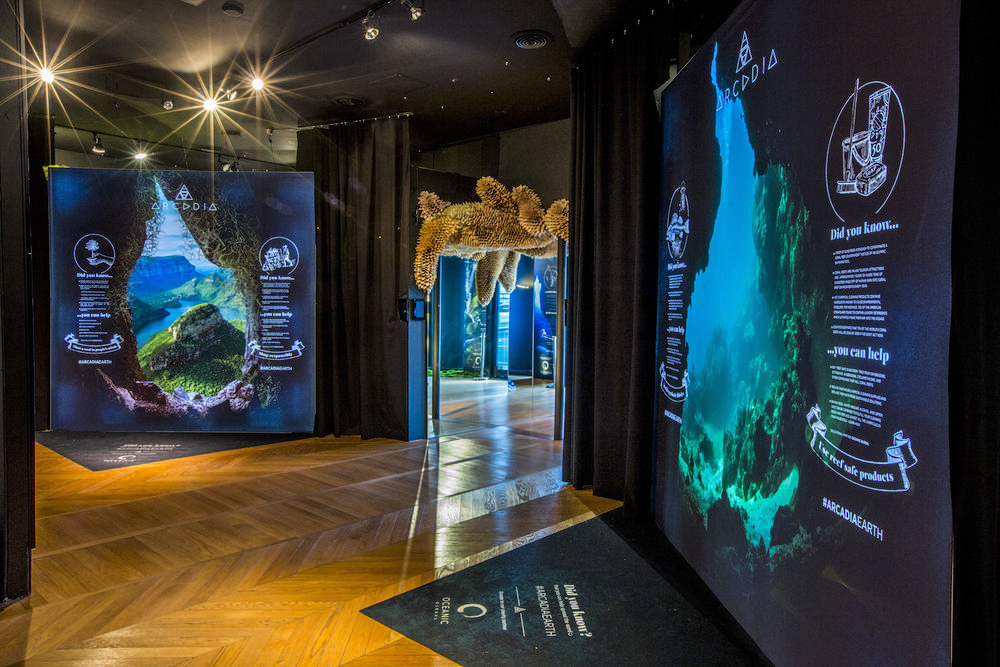 Electronics for Imaging Inc. (EFI) unveiled the addition of the 126-in. EFI VUTEk HS125 F4 and HS100 F4 inkjet presses to its lineup of hybrid flatbed/roll superwide-format machines at its 2018 EFI Connect user conference. Both printers boast a speed increase over older models, reaching speeds of 225 boards/hr. on the HS125 F4 and up to 190 boards/hr. on the HS100 F4. The F4 models also leverage a reconfigured CMYK x 2 ink channel setup for cost-effective output of banners, billboards, building wraps, corrugated displays, posters and more.
Agfa Graphics released two UV LED hybrid models designed for such applications as banners, tradeshow graphics, POP displays, ceramics, interior décor and art reproductions in 2018: the 64-in. Anapurna H1650i LED, a smaller, entry-level version of the company's Anapurna H2500i LED with CMYKLcLm or CMYK+white options and Thin Ink Layer technology for lower ink consumption; and the new flagship 130-in. Jeti Tauro H3300 LED, positioned as a larger, speedier, more stable version of the older Jeti Tauro H2500 LED. The Jeti Tauro H3300 LED gives users four automation configurations, including a roll-to-roll option that enables heavy master single- or dual-rolls for added productivity and speeds up to 4,676 sq. ft./hr.
HP was another OEM to invest heavily in the hybrid market in 2018; the company first revealed the 98-in. Latex R2000 at FESPA 2018 in May, adding the smaller-footprint, 64-in. Latex R1000 in July. The Latex R series is equipped with white ink, HP Latex Overcoat for high adhesion and scratch-resistance and lower machine temperatures to aid flexible and rigid media versatility for applications like vehicle wraps, window graphics, outdoor signage and retail displays.
Advertisement
Parallax Digital (Kennesaw, GA) installed the first R2000 in North America in June. "Having that dual-purpose capability is pretty significant," said David Clevenger, principal. "Everybody's looking for a different look these days and this machine expands material applications." Parallax uses their hybrid press to print on foils, "bling-like materials" and direct to acrylic for décor, corporate and fine art applications. Clevenger sees two primary criteria for new machines: productivity and versatility, two of hybrid's strengths – "I think hybrid will definitely continue to grow and to populate."