Enter a New Dimension
Letters and logos that literally stand out.
DIMENSIONAL SIGNS ARE A simple, yet nuanced sign solution for businesses looking to get their perfect logo, branding or message across. Available in a slew of sizes, colors and materials, this signage form is perfect for lettering but its reach extends way beyond the alphabet. For Mike Mayernick of Mike Makes Signs (Warren, OH), using a combination of formed-plastic dimensional letters alongside a custom-molded tree logo was the ideal solution for a pediatric therapy waiting room. "Our customer wanted their logo in an area that would have children in it, so we wanted a product that would be durable to handling [and] be pretty," he said.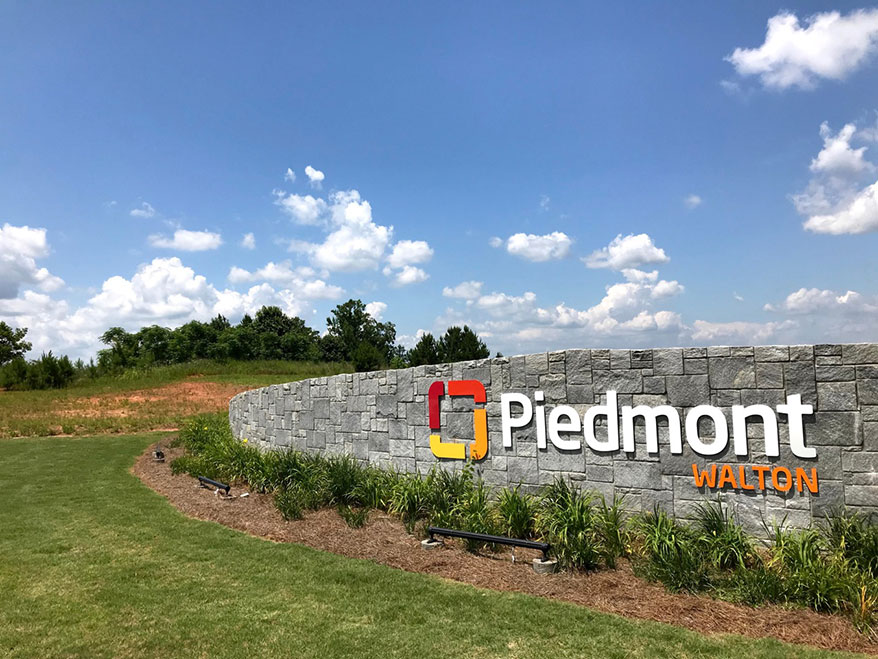 Stonewalled
Philip Henry, senior project manager at The Sign Brothers (Bogart, GA), describes their work with the Piedmont Healthcare system as "much more than a logo and a set of color values," as the system and its mission of improving healthcare facilities and resources in underserved communities is extremely important to them. As part of a rebrand of a small hospital in the Piedmont system, The Sign Brothers created the logo and lettering by routing dimensional acrylic, adding color with Matthews Paint and then stud-mounting directly into a stone wall to keep the look consistent with the hospital's previous signage.
Shelf Reading
Signarama Downtown Louisville (Louisville, KY) partnered with Open Grain Woodwork (Louisville, KY) to fabricate red-oak wood letters, which the signshop then covered in a green, digital-patterned print to create a new branding project for financial services cooperative Farm Credit Mid-America's new headquarters. "We love the choice and the commitment the client made to real wood. They would not consider faux finish or foam, which would have been easier and more affordable," Signarama Downtown CEO Maggie Harlow said. "These kinds of projects stretch us as a team and inspire our creative thinking."
Keeping It Simple
The Martin County Community Health Center (Inez, KY) was able to receive a brand-new dimensional-lettered sign outside of its building inside of two weeks thanks to Paris Signs' (Huntington, WV) quick turnaround and by having a full stock of the materials needed already on hand at their shop. The letters are made from ½-in.-solid acrylic, cut on a CNC router and painted with Matthews Paint acrylic polyurethane to the customer's color preference. "The customer wanted the simplicity and look that only individually raised letters could provide on this wall," Sales Manager Wade Murphy said.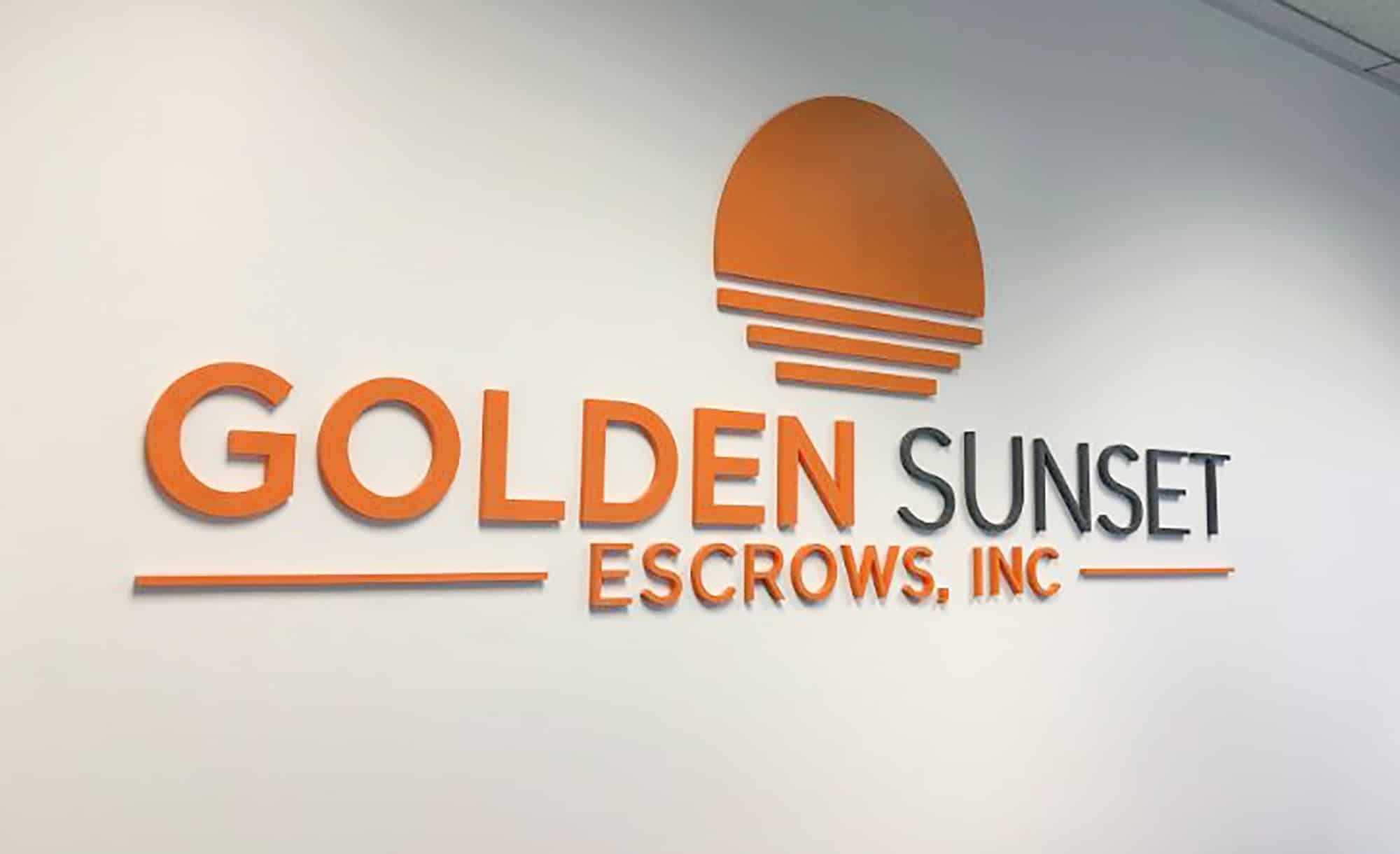 Into the Sunset
Golden Sunset Escrows Inc. (Glendora, CA) was looking for someone to create a new brand-centric lobby marker on their wall, so they turned to Superior Signs and Graphics (Buena Park, CA), and hired them to handle the design, production and installation of the sunny, gold-and-black acrylic wall logo. The ½-in.-thick Acrycast acrylic was cut on a Laguna CNC router, sanded lightly, then painted with a satin finish acrylic latex paint before being stud-mounted flush to the wall, according to Superior Signs President Scott Hoffman.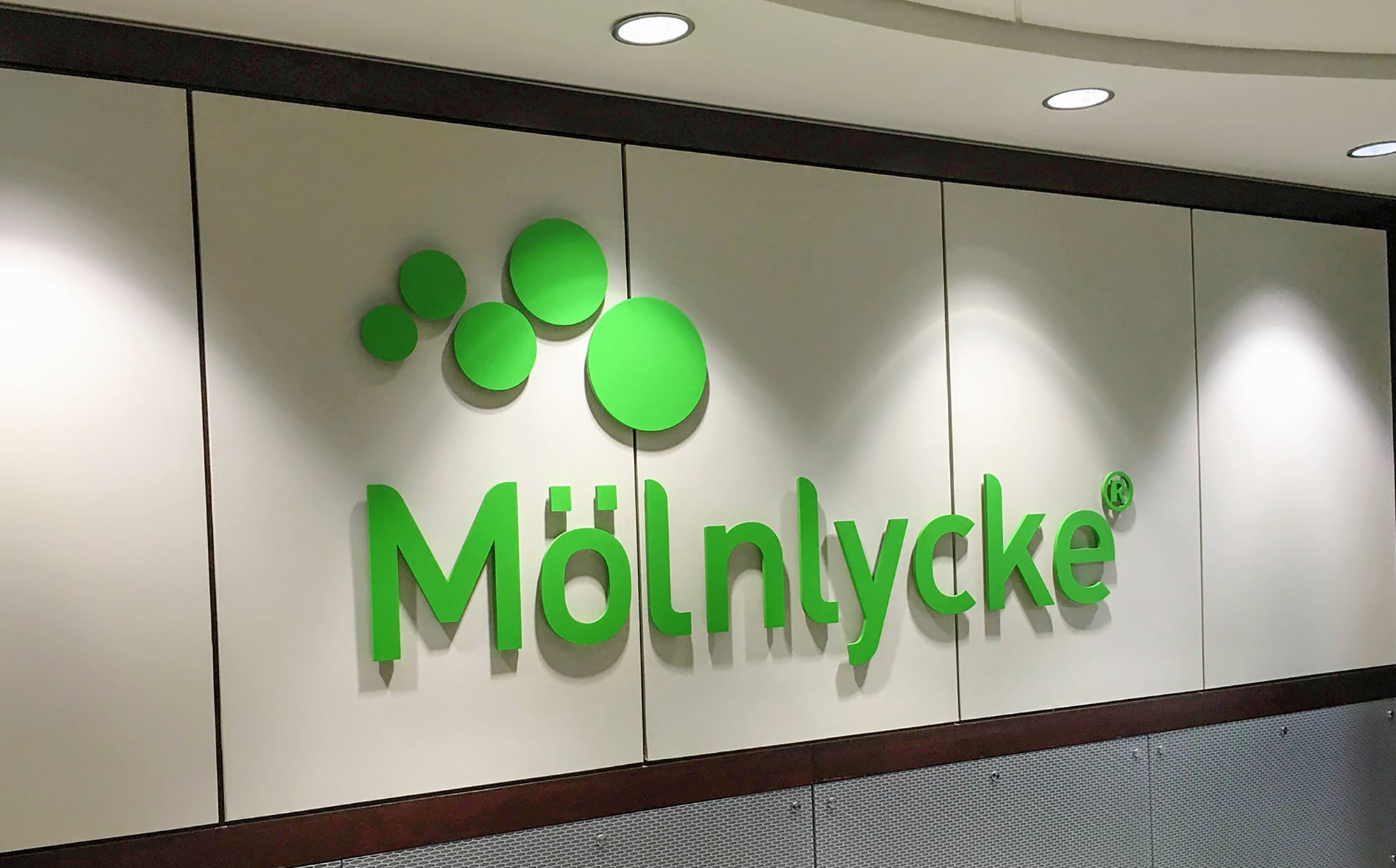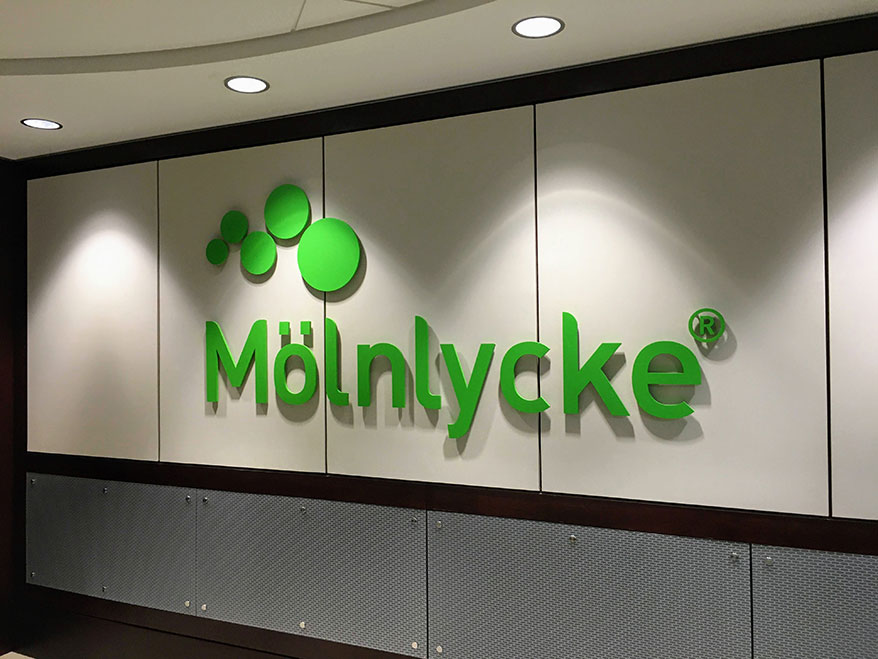 Dots, Umlauts and An ®
When Swedish medical device company Mölnlycke moved into two floors of a building in the metro Atlanta area, The Sign Distillery (Alpharetta, GA) was asked to create "substantial" signage that would make an impact as people stepped off the elevator into the offices' wide vestibules. To that end, The Sign Distillery used ½-in.-thick, flat, cut aluminum with ½-in. spacers painted the company's trademark green to fulfill that goal. Ross Dinnsen, master sign distiller, said the production and installation phase was easy compared to remembering how to pronounce the company's name. "We had to look it up: It's pronounced 'Mon-licka.'"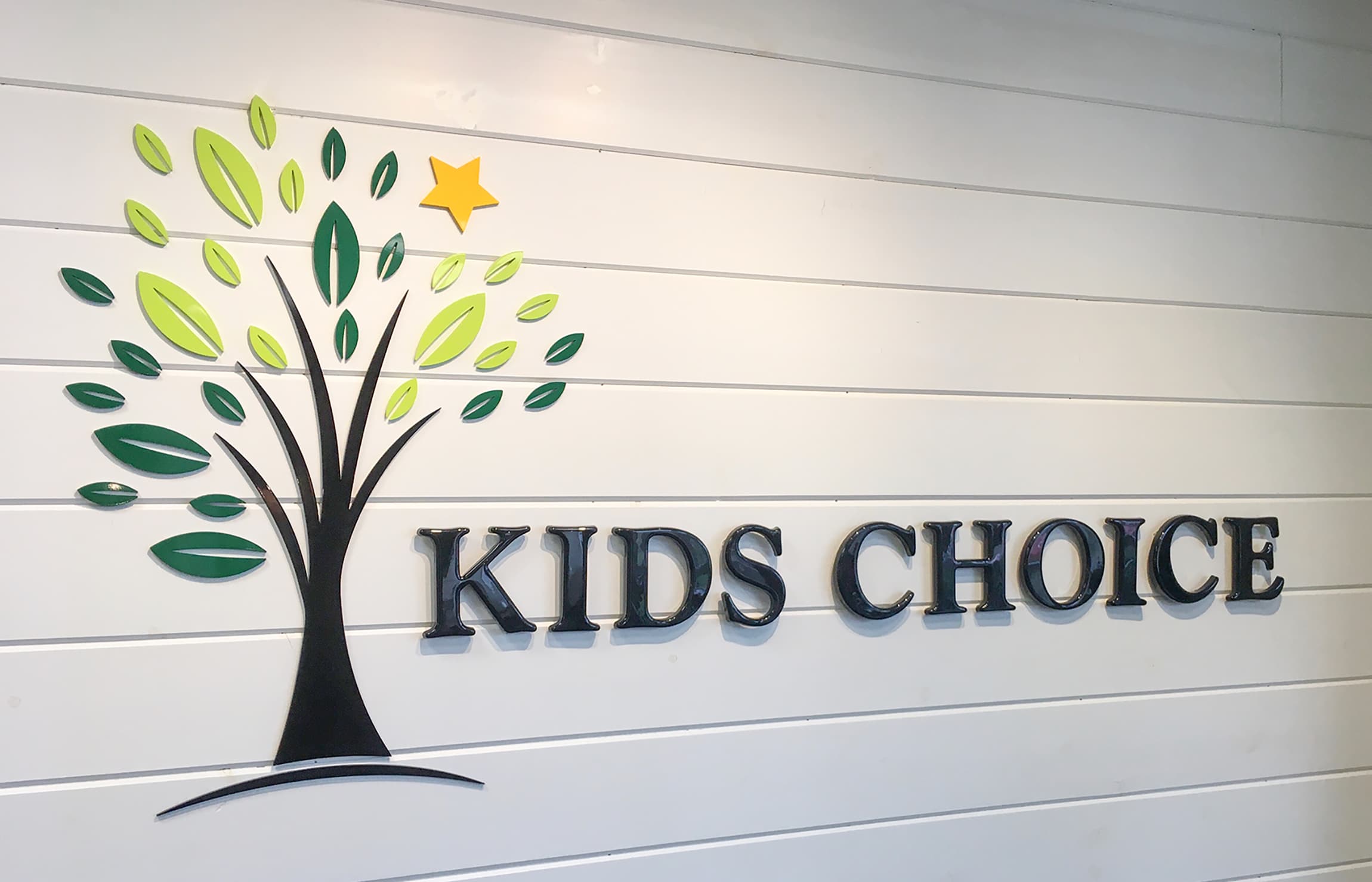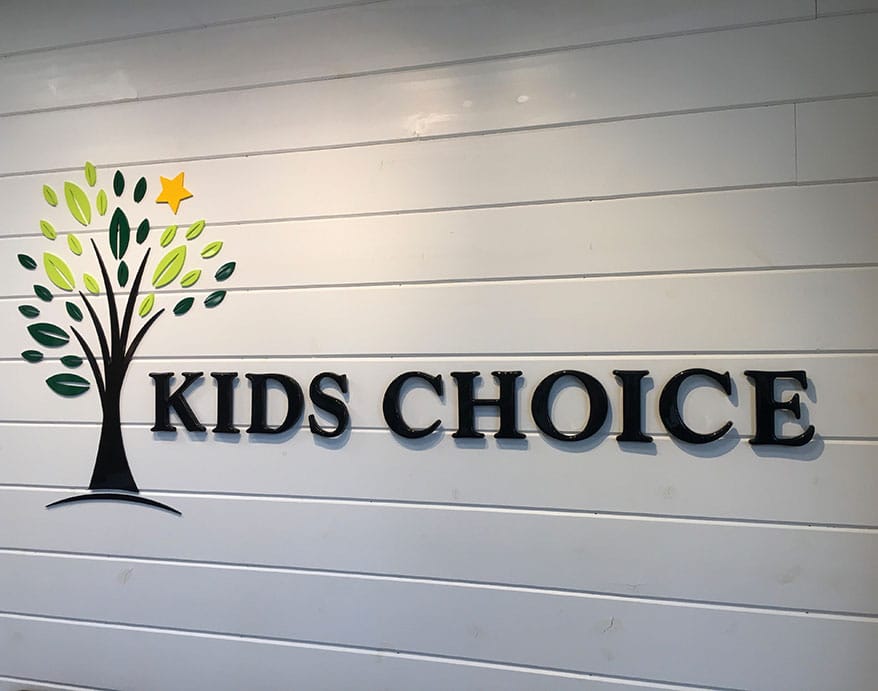 Kids' Choice Awards
After completing a digital message center for a local shopping plaza, Mike and Rosalie Mayernik of Mike Makes Signs were approached by plaza tenant Kids Choice Pediatric Rehab & Therapy Center to create an entire sign suite for them, including a colorful, formed-plastic logo from Gemini in their lobby. "The logo is a tree, so we wanted to mount all the leaves individually for an added dimension," the Mayerniks explained.

SPONSORED VIDEO
Find it here! ISA Sign Expo 2023
Whether you're looking to grow your business or advance your career, ISA International Sign Expo® 2023 is the only place to find everything you need to be successful in the sign, graphics, print and visual communications industry.