Things Remembered
Eye-catching, laser-created products for a new generation.
LASER ENGRAVERS ARE a clutch tool for many signshops. They offer versatility and the ability to pivot from one product line to another, should the unforeseen (ahem, pandemic) occur.
These three signmakers put their laser engravers through their paces this past year, carving, etching and cutting items from creative wedding signs to unique photo clocks and more. And they don't plan on slowing the stream of ideas that comes with the power of a laser engraver any time soon.
THE WALLS HAVE EYES
When you really, really love something, you'll find all sorts of ways to integrate it into your everyday life as much as possible. For some people, it's a piece of jewelry. For Chris Rodkey of Vinylbomb (Hamilton, NJ), it's his Trotec Speedy 400 laser engraver.
Vinylbomb, a full-service printer, recently expanded to add the company Clockface under their umbrella to make and sell custom clocks through a proprietary process of engraving photos and logos into them.
"Since I purchased my Trotec, it has given me the ability to reach out to new markets," Rodkey said. "I started Vinylbomb six years ago and Clockface is less than a year old. We got our Trotec right before COVID-19 shut everything down and all our work disappeared. Then, we retooled and used our Speedy 400 to make thousands of face shields from PETG and polystyrene for hospitals and doctors' offices. Eventually, the supply from China was replenished so the demand died off," he said.
Vinylbomb found themselves in a strange transition around October. "Our typical work did not pick up and we needed something else to utilize our Speedy 400. At that time, I was assembling a new grill in my backyard with my son," Rodkey said. While doing so he had taken a picture of his son holding two bull horns used as handles for the grill up to his head. "I thought it would be a neat idea to engrave his face onto a clock as a gift for the holidays," Rodkey said. "Turns out it was a hit!"
And the rest is history. Rodkey said the Clockface business is popular with pet lovers, parents, business owners and just about anyone who wants a unique, customized gift featuring a photo or a business logo.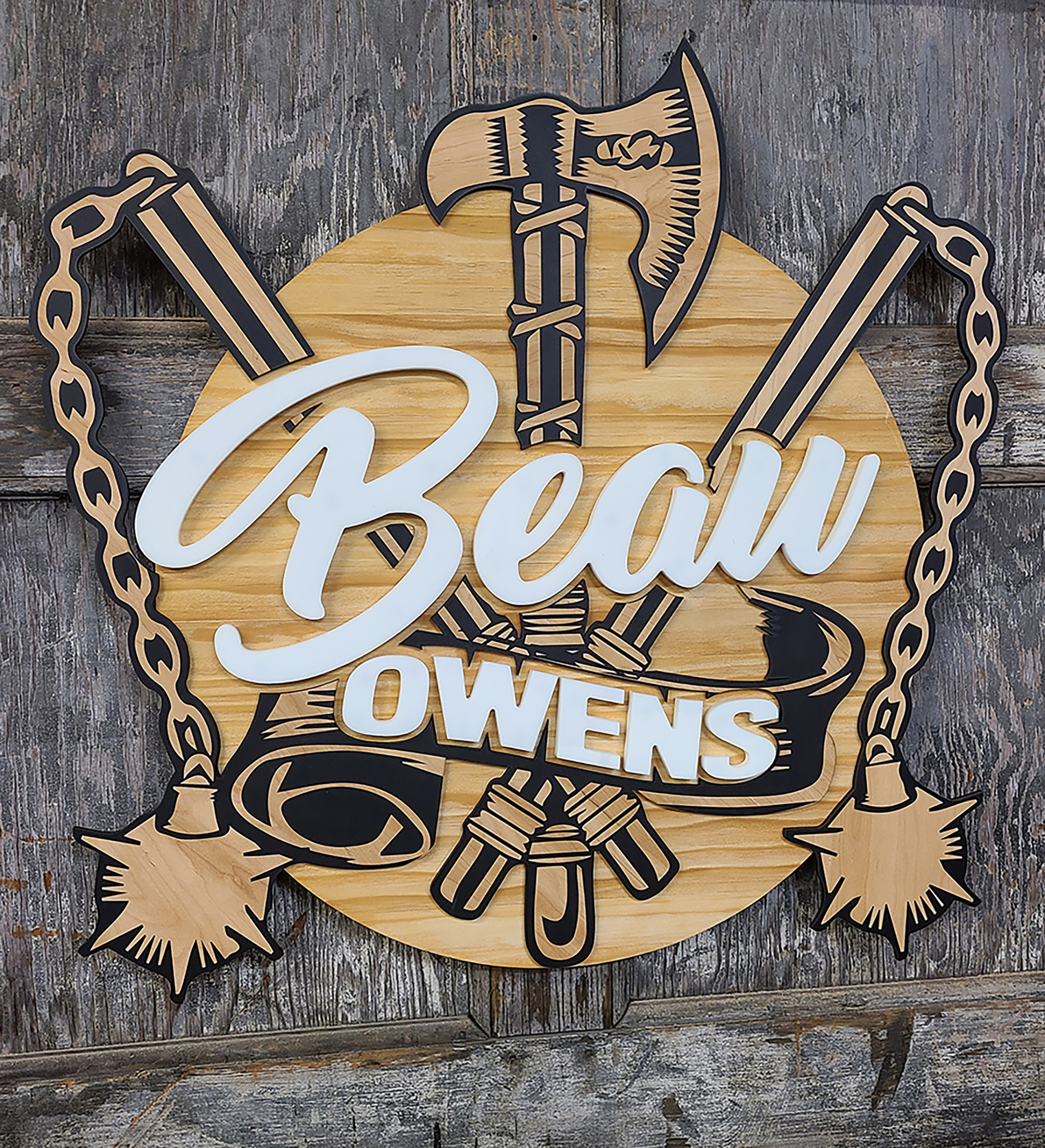 Once a customer orders a clock, they typically send in a photo or logo. Clockface then uses a combination of Adobe Photoshop and Illustrator to prep the artwork with a proprietary workflow to apply a custom halftone, which is more forgiving to any low-res photos that may have been submitted.
Once they have the artwork in the template, Clockface emails a PDF to the client for approval, then prints from an Illustrator or a PDF file right to Trotec Job Control and onto a wood veneer maple. The artwork is then spray painted to get the black face that can be etched away and through-cut with the laser. After engraving and cutting, the fabrication is done. The engravings are assembled with a clock mechanism and are packed with a battery for shipping.
Rodkey said he constantly sees laser engravers being used in a variety of creative ways by shops looking for new revenue streams. "Every day it is something new," he said. "[You can create] whatever you can fit into your laser and find demand for."
WITH THIS SIGN, I THEE WED
Over the past decade or so, Cincinnati has been experiencing a rebirth of its glorious brewery past, which dates back to the late 1800's. Prohibition took its toll first, then market changes and behemoth brewers put most of the smaller operations out of business by the mid-1950's.
Fast forward a few decades to the early 2000's, when the city ushered in a huge, new boom of craft breweries, like Rhinegeist, which is now housed in one of the very same historic brewery buildings in the popular Over-the-Rhine (OTR) district.
In addition to breweries, OTR also experienced a revival of stores, restaurants and other businesses as well, including Lucca, a workshop owned by Lindsey Schweitzer that's devoted to the art of woodcutting and engraving specialized gifts and accessories, and is housed just down the block from Rhinegeist.
As part of her marketing efforts, Schweitzer said she reached out to Rhinegiest with finished samples of a product idea she had. Thus, a partnership was born where Lucca was tasked with creating merchandise for the brewery, such as bar signs, key chains and coasters. Eventually, some of Rhinegeist's space was turned into an event center that hosts a lot of wedding receptions. At the time, Schweitzer was creating smaller "at home" bar signs, which gave her the idea to create them for the wedding venue, too.
The client was open to ideas, and ultimately they decided to laser cut the 18 x 24-in. signs three-dimensionally rather than just engraving them. These were so popular that Lucca now creates them every month for the couples, who purchase the woodcut designs themselves and display them at their wedding.
The process for creating these signs is the same every time, except that the shop offers a color sample board for the client to coordinate their wedding colors and, of course, the shop changes the names and dates.
Rhinegeist supplied their two-dimensional logo as a vector PDF, as well as the logo regulations and stipulations. From there, Schweitzer said they used CorelDRAW graphics editor for the rest of the sign to create a mockup for approval.
Once the mock-ups are approved, they cut the maple plywood project panels to size.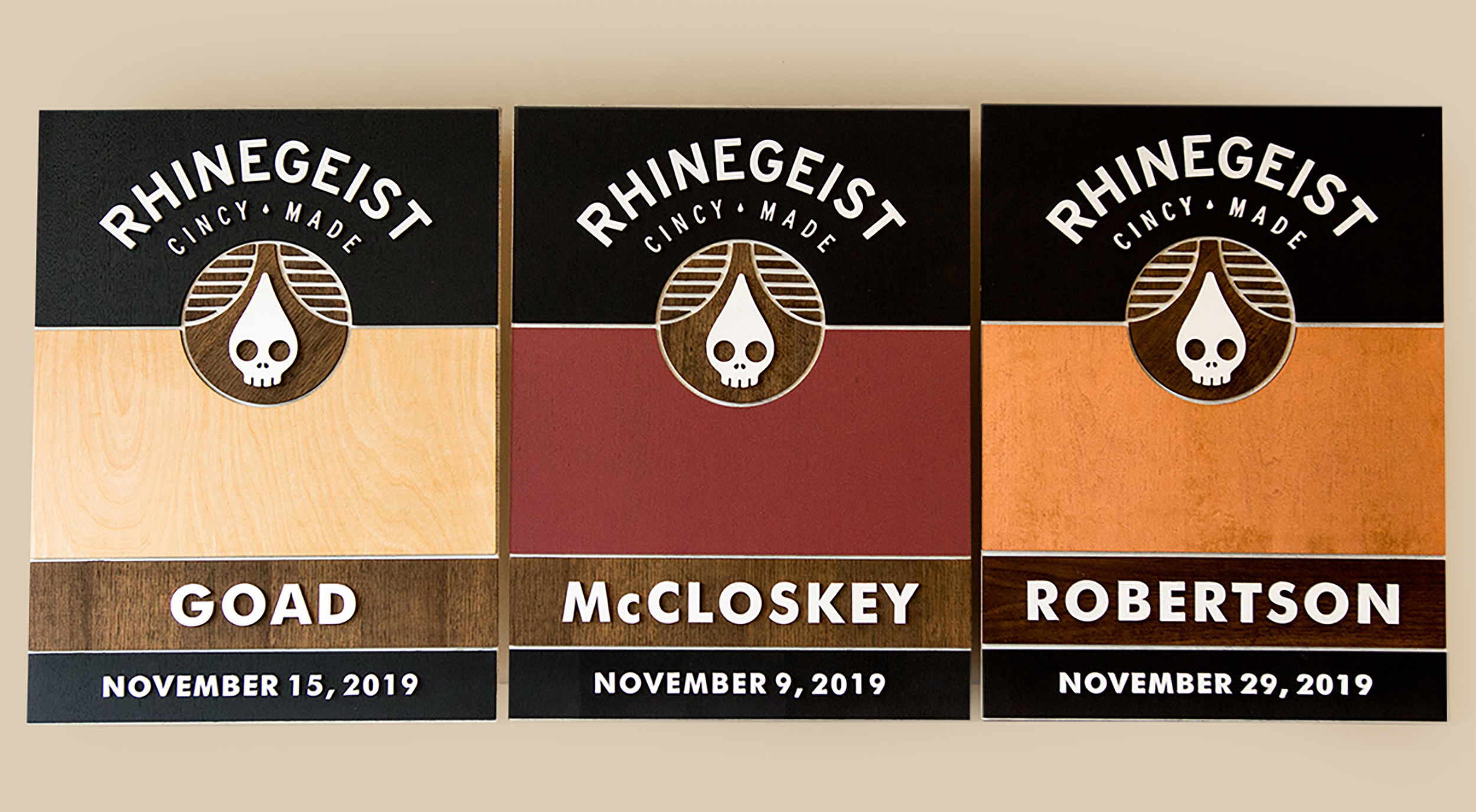 When all of the pieces are cut, each one is then sanded and sprayed with oil-based Montana Black Spray Paint in coordinating colors. Then Lucca applies a layer of wood glue mixed with sand to adhere the super-fine letters onto the wood panels by hand.
Schweitzer said these signs are popular because not only can the couples use them as "welcome signs" to their event, but afterward they can take them home and display them behind their home bar or as a decoration. And the care of these interior signs is simple — just hang and enjoy!
SMALL COMMUNITY, BIG RESULTS
Initially, Quality deSigns Ltd. (Campbell River, BC, Canada) owner Geoff Orlick was approached as a client referral to create an interior sign for the Community Futures Network of British Columbia, a rural, community-driven, nonprofit business loan and development organization.
Although the client knew he wanted a dimensional sign on the inside, Orlick said he was able to upsell him on the exterior sign, as the client didn't realize Quality's laser-cut creations could also be used outdoors.
Once they upped the laser work from one sign to two, the customer supplied an EPS file for their logo, while Orlick found a government text sample online and had it re-typeset to match the correct font. From there, Quality deSigns altered the leaf in the logo to fit within the rectangle so there wasn't too much white space.
Then, after the initial meeting, Orlick said he primarily worked with the customer via email, sending photos and virtual designs, including a drawing on the wall of the Community Futures building, as this made it easier for him to visualize the final outcome.
Once the design was agreed upon, Orlick used Gerber OMEGA design and output software to create the graphics, and then he exported the file to CorelDRAW for the engraving/cutting production.
The interior sign was crafted on a ⅜-in. clear acrylic background cut with a table saw, then sanded and heat-polished on the edges while holes were drilled to fit the stand-offs. Quality skinned the second side with Metamark Etch Vinyl and then printed the custom green color onto a ¼-in. clear acrylic panel with their Mimaki UJF-6042 MkII printer. Orlick skinned that panel with 3M double-sided adhesive and then laser-cut the logo.
For the lower interior sign, the shop laser-cut ⅛-in. red and black logo and letters, then laser-cut card-stock paper to create a template on which to apply the cutout letters/logo onto the panel.
The exterior component was created out of ½-in. black acrylic letters adhered to an ⅛-in. matte white Alusignpanel aluminum composite material (ACM). Quality also needed to rout the ACM, as the laser cannot cut through it.
"For the interior, it was all about the look and feel," Orlick said. "[The client] wanted [the exterior] a little fancier and was pleased with the ½-in. option."
Quality uses a Trotec Speedy 400 – 80 watt for their laser engraving and cutting and runs it with Trotec JobControl, the software that came with it.
Orlick said the interior sign will last Community Futures forever, while the exterior will be subjected to its environment, and therefore could need sprucing up or to be redone in the future. Otherwise, the acrylic can be cleaned with a soft cloth and soap and water.
Quality prides themselves on doing all their signs in-house and not outsourcing them. "We control the look and feel all the way through the design/sales process," Orlick said. "This is a relatively new product for our small community, so to have the 'high end' look is becoming very popular."
SPONSORED VIDEO
Find it here! ISA Sign Expo 2023
Whether you're looking to grow your business or advance your career, ISA International Sign Expo® 2023 is the only place to find everything you need to be successful in the sign, graphics, print and visual communications industry.