Futuristic "Non-Sign" Touches Down in Orlando Neighborhood
Shop puts finishing touches on an out-of-this-world shade structure.
BACK A COUPLE issues we discussed the idea of signshops being more than mere fabricators of awesome signs. Although we most definitely are that, a lot of times signshop projects run the gamut of creativity as well. Such was the case with our featured project in January, a crazy, cool-looking shade structure designed for a new neighborhood in nearby Lake Nona, FL (see ST, January 2022, page 40).
Lately, at least here in Central Florida, we have seen a shift in design concepts of retail spaces, restaurants, even neighborhood hardscapes that incorporates a much greater level of outdoor space, open area and activity parks — a prime example being a new Orlando development, Meridian Parks, created by one of the largest privately owned builders in the US and Canada, Mattamy Homes.
The Meridian Parks home community boasts parks, trails, firepits, an event lawn and even a specialized paw park. In one of these outside areas, we were tasked to bring to life their design of an ultra-modern circular shade structure. We walked through the build in my January column, complete with drastic material changes made by the City, and Media 1 Master Fabricator Robert Hazelton teetering on the edge of insanity … but in this article, we're gonna finish it up and install it!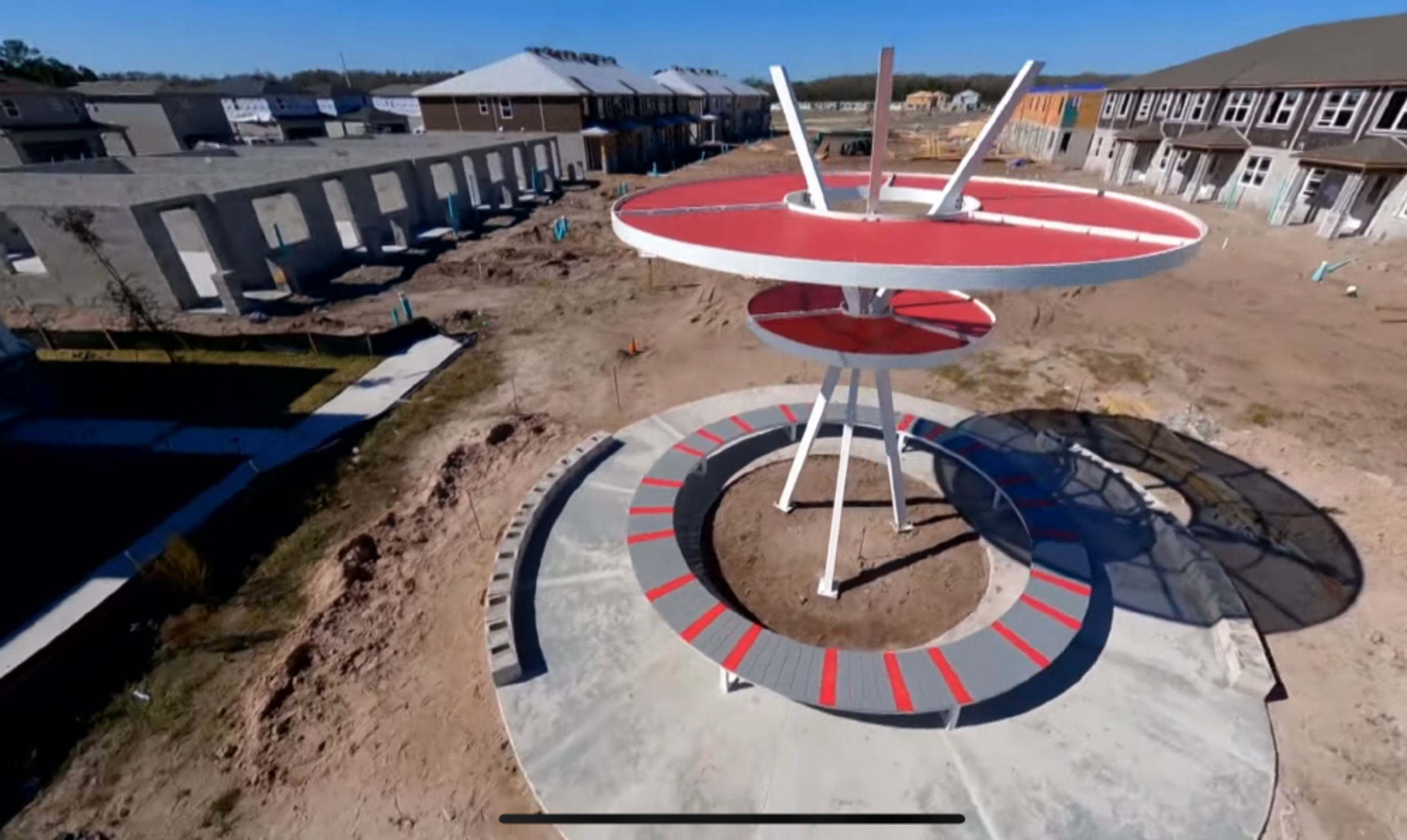 We now had the structure fully built. We had two solid aluminum ring levels (one at 9 ft. in diameter, one at 20 ft.), featuring brightly-painted McNICHOLS perforated metal panels, three crazy steel support legs and a 21-ft.-diameter seating bench. We painted the three legs individually in the booth, as well as the rings, which we built in three equal pie wedges. The bench, fabricated of 2 x 3-in. aluminum rec tube, consisted of eight equal, curved-seat sections, each 7 ft. long x 18 in. tall with one leg. (Once bolted together, the sections formed a complete structural base.) And of course, we painted the 128 Type 1 bench slats as a group, so the build was tough and mathematically overwhelming, but the paint work was cake …
So we're looking good … but how in the world are we supposed to install this thing? The precision of the leg "zip-tie" attachments, with only ⅛ in. of clearance tolerance was not something we wanted to wrestle with in the field. Luckily, Robert came up with an idea. (Really, Robert's wife Shannon gave him the idea). She said, "Why don't you just build a smaller version in the shop?" So that's what he did.
As a shop, we decided to spend the extra time and materials to build an exact replica of the steel intersection points in aluminum, complete with attachment points and all the fixins. This extra work was considered a tradeoff for all the work and uncertainty we'd experience in the field. If the mockup mounting worked in the shop, we'd have confidence with the field install, 20 ft. in the air, dangling from bucket trucks …
The mini-mount was table secured, then each ring section was forklifted and bolted onto this zip-tie twin — and guess what? It worked flawlessly! Not only that, but by conducting this additional research, Robert discovered a better install plan that would eliminate the need for more than one lift.
Brimming with newfound confidence, we loaded the trailers up, drove down to Meridian Parks and expertly installed that entire structure in a total of three days. Client loves it, our contractor loves it, and Media 1 has created a monumental, out-of-this-world shade structure that will be an iconic feature of this Orlando neighborhood for years to come!
Advertisement
SPONSORED VIDEO
Epson SureColor Printers | Partnering for Success with SkinzWraps
"Everything we have here has an Epson label on it because it's just simply the best." Whether printing vehicle wraps, signage or commercial wallpaper, SkinzWraps trusts Epson SureColor printers to consistently deliver vibrant, professional-quality large-format prints with amazing depth and color.