How to Create Thinner Profiles for Illuminated Signs
Don't be afraid to switch vendors to help your team innovate.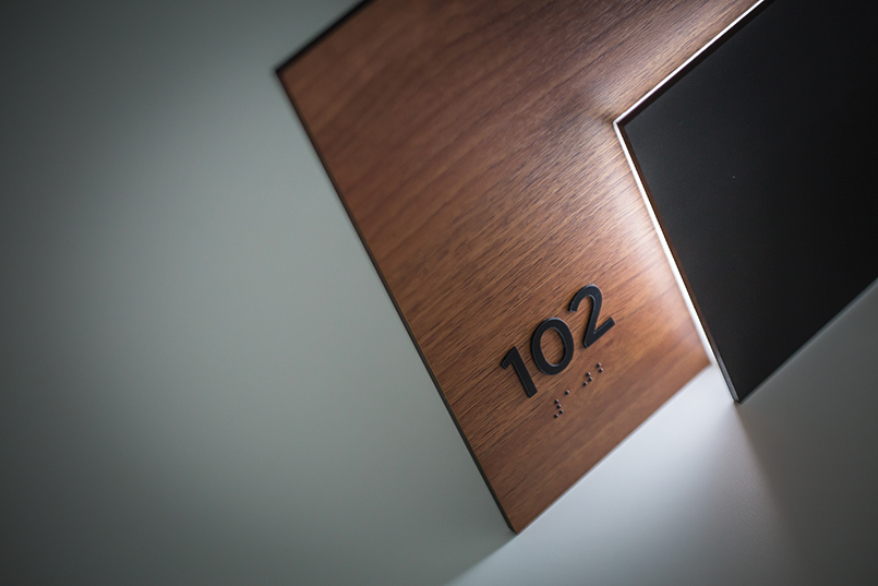 IS IT JUST ME, or does it feel like clients and designers are asking us to build our signage and architectural elements thinner and thinner every year? This clearly causes some re-tooling and process evolution for fabrication, but the real rub seems to be in the lighting department. Dual-lit 1-in.-thick letters are becoming more and more common, pushing us to source still smaller LED products and compelling our engineering team to fit everything into a tighter package.
We recently completed a 25-ft. architectural wall element that required some very special planning to package an adjustable mounting position and dual-sided lighting tracks on both sides within a 3-sq.-in. area … oh, and the lighting needed to be bright and able to diffuse within a distance of 2 in. from the wall. Although LED tape may have worked better, in this case, we opted for Bitro Group OpticsPRO modules with some very tight spacing. The modules were practically end to end on custom-built tracks that provided the correct angle for the graduated side glow. With this project, some partial-scale mockups were key to getting this angle right. I recall our testing two or three different spacing levels and bracket angles before selecting the option that provided the best glow, with the most efficient use of modules and, ultimately, wattage.
More recent projects that are currently in design will be requiring a high-output 350-plus lumen per ft. outdoor LED tape to ensure a commanding glow with only 1 in. of diffusion area. Although they carry a high-wattage load, it's a real time saver for assembly and will provide some of the best results depending on your application. Just don't forget to use the same color temperature if you are blending LED products like we are on this project, where the edge lighting and backlighting are achieved using different types of modules.
In our experience, using various LED tape profiles also prevents the need for a separate diffuser barrier, such as sanded acrylic or diffuser vinyl. This can help eliminate a lot of complexity in your product design when done right. This is when partnering with an LED supplier that offers the broadest range of products (RGB, grids and tube) can be a big advantage, which will help ensure colors match and prevent product mismatch.
Tip: Prepare to invest a little time and money to set up a soldering station, as most of the good tape product we have seen and currently use requires soldering after being cut. This investment provides a great ROI and will help evolve your product offering and capabilities once you start applying it more often, and as the demand for thinner product continues.
Advertisement
I personally love the evolution of thinner profiles and seeing our design and engineering teams working to develop tighter, more elegant letter profiles and lighting arrangements. Although the constant evolution can be challenging in many ways, the rewards of a well-executed plan satisfy the efforts, really bring the team together and foster some critical thinking skills and a flexible mindset. So don't be afraid to swap vendors, prototype and push the boundaries of your team. You just might create the next industry standard!
PHOTO GALLERY
(2 IMAGES)
SPONSORED VIDEO
Find it here! ISA Sign Expo 2023
Whether you're looking to grow your business or advance your career, ISA International Sign Expo® 2023 is the only place to find everything you need to be successful in the sign, graphics, print and visual communications industry.