Kyle, TX's Great Big Signs Unleashes Alien Attack on Austin
Well, not exactly — but their signs for Blazer Tag provide that illusion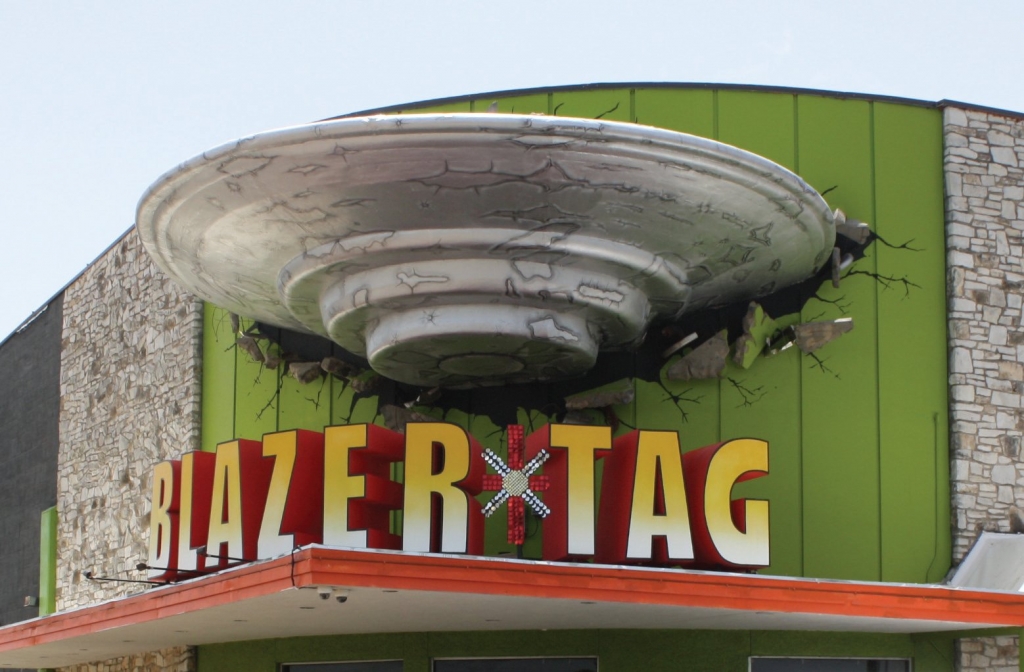 Many are familiar with Austin's slogan: Keep Austin Weird. If you've ever walked down 6th St. downtown and seen the eclectic bars and attractions, you understand that Austin ably upholds its reputation.
Lynn Wilkerson, proprietor of Great Big Signs in nearby Kyle, proudly fuels Austin's eccentricity. His portfolio ranges from 3-D graphics to trucks offering sweet treats at the Austin Ice Cream Festival; signage for Freebirds, a quick-service Mexican chain that features Libby, a fiberglass, motorcycle-riding rendition of the Statue of Liberty; and an array of over-the-top, store-façade signs that would pop eyes in other places, but are required to simply gain attention in Austin.
He offered his distinctive brand of signage for Blazer Tag, a laser-tag and gaming center on Austin's south side. Prior to Lynn's work, the facility featured a nondescript banner that barely whispered its logo. Now, thanks to his extreme-3D handiwork, it practically screams that kids should plan to spend their free time or birthday parties annihilating friends and family with laser guns, navigating a climbing-rope course or playing video games.
Wilkerson noted that Blazer Tag's owner, Thomas Maione, has been a Great Big Signs customer since 1998. Maione repainted the façade, and Wilkerson matched the color scheme in creating the "explosion" on its surface. Wilkerson developed the design using CorelDRAW 6 software, from which he created a CAD drawing that outlined the foam letters. Tim VanderWell developed the structural drawings for the UFO.
Wilkerson outsourced the letter fabrication to Alamo Foam (San Antonio), which cut the letters from expanded-polystyrene (EPS) foam with a hot-wire cutter. Then, Great Big Signs covered them with a protective, polyurea coating that fortified the foam, and painted them with 1Shot® lettering enamels.
Great Big Signs fabricated the UFO in-house; first, by drawing a 30-ft.-diameter circle on the shop floor, and Mario Munoz followed the structural-drawing template by shaping large, EPS-foam sheets using knives, gouges and other sculpting tools, and then applying the polyurea coating. Wilkerson, VanderWell, John Weber and Macario Delarosa recreated Blazer Tag's façade in the shop, and promptly broke it up with the sculpting tools. Wilkerson and Weber constructed the UFO's huge armature using angle iron, and the aforementioned staff and Sheila Willhoite secured all the coated-EPS pieces to the armature. Finally, the team painted the broken-EPS pieces with Sherwin-Williams exterior-latex paint. To create a combination of metallic and patina finishes, they decorated the UFO with Modern Options coatings.
Advertisement
Wilkerson rented 26- and 60-ton cranes for installation from Lewis Signs, which he supplemented with his shop's Genie lifts.
"The most interesting part of the job was that it involved no straight lines," Wilkerson said. "It took a lot of patience and planning to construct a curved armature and foam, and then, installing them precisely onto a rounded well. But Thomas' satisfaction was worth it."

SPONSORED VIDEO
Find it here! ISA Sign Expo 2023
Whether you're looking to grow your business or advance your career, ISA International Sign Expo® 2023 is the only place to find everything you need to be successful in the sign, graphics, print and visual communications industry.