Meet the 2022 Women in Signs Award Winners: Allison Moz
Accessibility is at the heart of her design mission.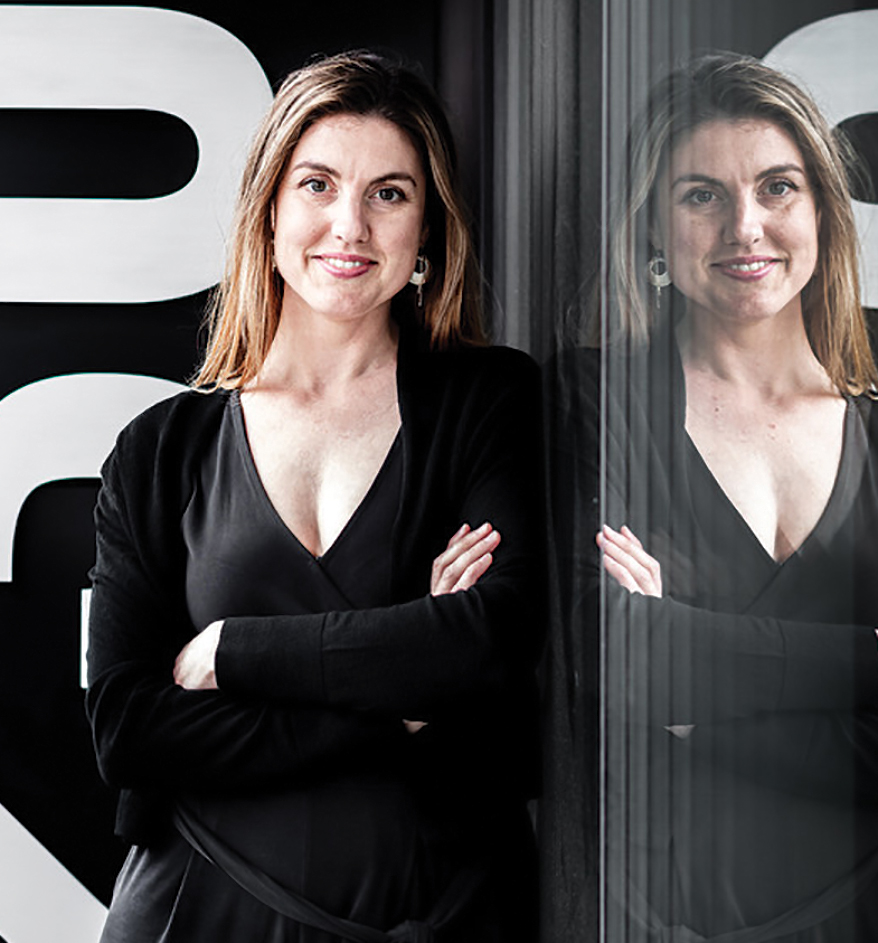 Allison Moz
WAYFINDING PARTNER
| eyecandy SIGNS (Halifax, NS, Canada)
ACCESSIBILITY AND THOUGHTFUL design flow through the heart of Allison Moz's work. "While in art school I was able to take electives at Dalhousie — so I drew from their architecture courses and felt at home in the design process and critiques," she says. "Signage, and specifically wayfinding, sit at the intersection of design, architecture and communication."
Though she didn't originally set out to become a signmaker, Moz's fine art background, boutique approach to manufacturing and extensive knowledge of accessible wayfinding solutions have led to an impactful 17-plus-year career in the industry. "As a signmaker, my capacity to be a change champion may seem limited to the unimaginative — but it's very clear to me that signage can provide meaningful access and significantly improve the built environment," says Moz, who is a Rick Hansen Foundation Accessibility Certified (RHFAC) professional, a founding member of the North End Business Association (Halifax), a committee member of the Nova Scotia Accessibility Directorate for the Built Environment and a board member with the CNIB (Canadian National Institute for the Blind) Atlantic Chapter.
"We all know that anxious feeling we get when we show up to the hospital to see a loved one and we need to find them quickly, independently," explains Moz. "Now, imagine that challenge from the perspective of a person whose mobility is compromised, or whose vision is limited, or whose first language is not English. As a designer it's my prerogative to understand the various and competing challenges end users face."
Beyond educating herself on ways to foster inclusivity, Moz is committed to sharing that knowledge with others, providing RHFAC training for two staff members. "There are very few designers who are trained in accessibility, so the responsibility becomes that of the business owner to provide this level of education …" she says. "Certainly we signage professionals need to maintain a thorough understanding of building code [and] ADA/CSA standards, but we need to go beyond code minimum. As professionals we need to draw on a foundation of barrier-free design, universal design, accessible design and inclusive design. And we can't assume our designers have this foundation — erroneous assumptions are how the sign industry ended up developing the infamous half male, half female 'universal' washroom pictogram."
Instead Moz's team turns to evidence-based design (EBD) to make informed decisions. In fact, Accessibility Standards Canada has funded eyecandy to develop an evidence-based research project intended to advance communication through signage and wayfinding. Partnering with Dalhousie University's PEACH (Planning for Equity, Accessibility and Community Health) research unit, the company's work will engage "user perspectives across various disabilities on a variety of signs, [which will be] designed and created for this project and installed in public spaces to be used as testing sites," says Moz. Most importantly, the analysis will guide recommended changes based on the experience of real users, and results will be available to the public in an accessible format, paving the way for meaningful change within the industry.
SPONSORED VIDEO
Find it here! ISA Sign Expo 2023
Whether you're looking to grow your business or advance your career, ISA International Sign Expo® 2023 is the only place to find everything you need to be successful in the sign, graphics, print and visual communications industry.