Meet the 2022 Women in Signs Award Winners: Jenn-Jenn Marshall
She understands the role signage plays in social movements.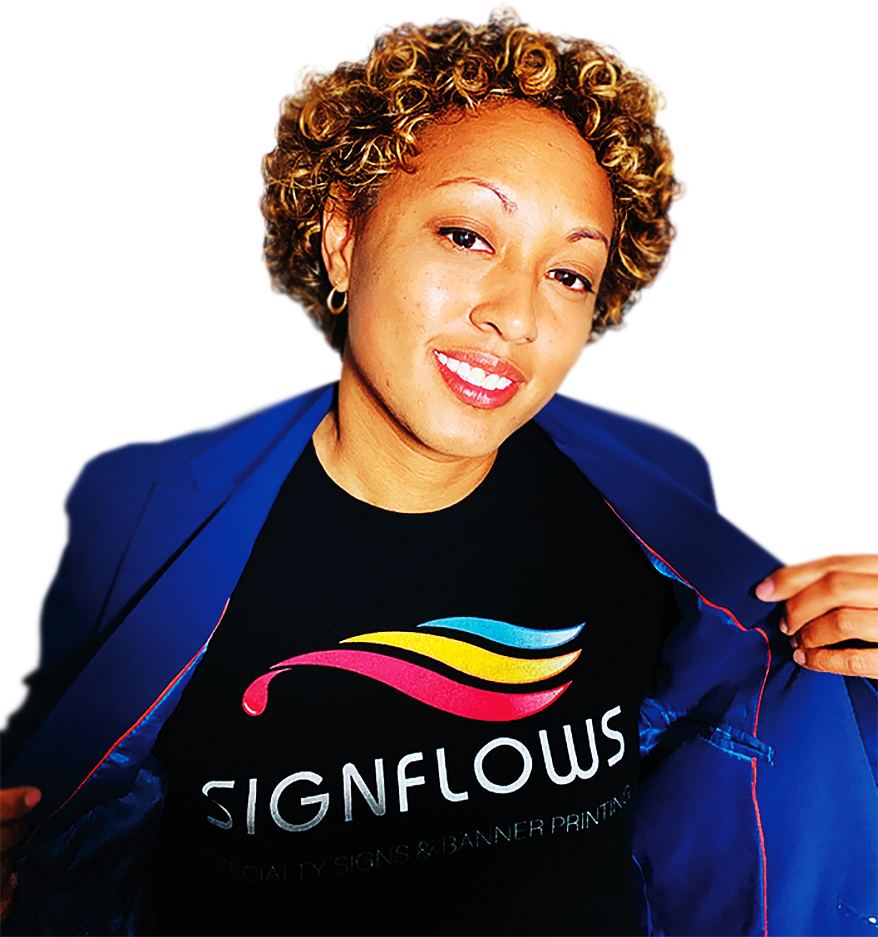 Jenn-Jenn Marshall
FOUNDER AND CEO
| SIGNFLOWS (San Diego) and GreenHive Signage (Los Angeles)
JENN-JENN MARSHALL IS a people person in the truest sense of the phrase. Starting her sign career in 2005, Marshall managed four different FASTSIGNS franchises over the course of six years, including rebuilding operations at two locations at risk of being shut down.
"One of the key things that our team did really well was hire people that were good at the role that needed to be filled, and then we let them do their jobs," says Marshall. "We also made sure that we chose team players who were willing to spend eight-plus hours together … When you're looking to save a sinking ship, you need lifesavers that you can rely on and you get those by creating a good working environment."
In 2013, Marshall decided to launch her own company, SIGNFLOWS. "One of the most challenging moments of my career was making the decision to go independent without having the financial backing that I probably should have sought before taking such a huge leap," she recalls. "I had to turn away some jobs that were too large … during the early stages because I just didn't have the upfront money to execute (and didn't know then how to get that type of support). I took the L on those, but continued to build a solid roster of smaller accounts that eventually grew."
While Marshall recognizes the shift to quick solutions and e-commerce, she remains a firm believer in RoR. "Even in a self-service world where there is a lot less human interaction … the power of building and nourishing relationships is still my go-to formula," she says. "If you provide a good experience, even in just the quoting stage, your clients and potential leads are going to think of you and return. You never know what they'll return with in the future …"
This approach helped land Marshall the opportunity to consult and produce signs — including real neon — for Josephine & Billie's (Los Angeles), the first cannabis speakeasy catering to Women of Color and the first business funded by Jay-Z's social equity program. In 2015, she met one of the co-founders at a cannabis business convention and fostered the connection at trade shows over the years, printing small jobs for her product line. Then last year, one of Marshall's designer contacts reached out for a rush print job — a "coming soon" banner for the speakeasy. "Once I learned who the co-founder of this new lounge was, I told [them] I was already her sign supplier and wanted … to tackle the storefront and interior signage," says Marshall. "That moment in 2015 … came around full circle and we closed the deal."
It's clear Marshall is most fulfilled making a positive social impact. In addition to high-profile clients and national accounts, she's a preferred vendor for organizations like the Women's March Foundation, the NAACP and the AIDS Healthcare Foundation. "As a Black Womxn/LGBTQ-owned company, our passion to engage with organizations that seek to enhance wellness, education and economic growth in spaces that have a history of being struck with road blocks has allowed me to be a part of a village that shares resources to help move things forward," she says. "Signage is a huge need when it comes to these types of movements, and I've been grateful to not only be able to provide a reliable source for visual assets, but also be hands-on alongside so many of our clients during these missions."
SPONSORED VIDEO
Find it here! ISA Sign Expo 2023
Whether you're looking to grow your business or advance your career, ISA International Sign Expo® 2023 is the only place to find everything you need to be successful in the sign, graphics, print and visual communications industry.