Detroit's Majestic Theatre Marquee Recreated by Spectrum Neon Co.
Spectrum Neon Co. and partners re-created this historic Detroit theater marquee.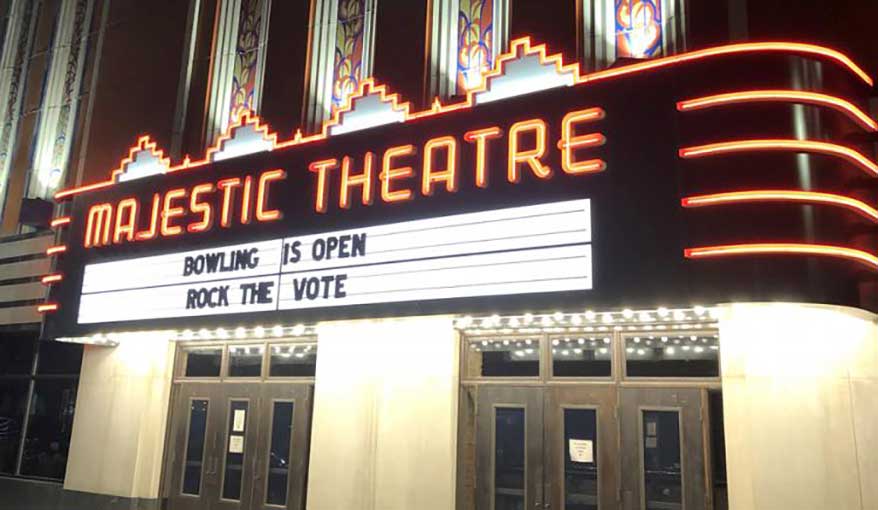 WAITING FOR THE streetcar is something people in cities have done for more than a century, but the installation team wasn't waiting to ride. They were waiting for the streetcar to pass so they could spring into action – offloading a section of an historic theater marquee recreation – before another streetcar would pass in only nine minutes. This was just one of the many challenges we faced, carefully prepared for, and, with a lot of help, executed to perfection.
Historical Challenge
After a year or so of collaboration among the theater owners, the Zainea family, the City of Detroit, and Midtown Detroit Inc., a community development partner – my company, Spectrum Neon Co. (Madison Heights, MI), was commissioned to replicate the original 1930's marquee for the Majestic Theatre along the main street, Woodward Avenue, in Midtown Detroit. The re-creation of the marquee needed to be an accurate representation of the previous marquee, long since removed from the building.
Through our course of planning and design, and closely considering historical accuracy, we needed to be mindful of the code changes that dictated the new marquee projection and overall size. Plus, a new section of the city's aforementioned QLine Streetcar system, with a track and overhead high-voltage lines, had just been completed in close proximity to the front of the theater. The original marquee had been built in 1935, without these and other more contemporary restrictions.
Given these new challenges, our replica marquee needed to be designed and fabricated in modular sections so that alternative equipment could be used to offload and install the individual sections. The marquee also had to be engineered to accommodate future service and maintenance without the use of a service truck or other equipment that might conflict with normal operations of the QLine traffic, tracks and overhead electrical lines.
Working together with the Zainea family and our installer, we developed a plan to break up the modules of the marquee and establish access locations for the power supplies and wiring that would allow for future service and maintenance to be accomplished with use of "A" frame and extension ladders.
In order to maintain the original look of the marquee, and also for reliability and lifespan, the customer chose exposed clear red neon for the open-faced letters, accents and pyramids. LEDs were selected to light the reader board and up-wash lighting because LEDs best fit the low-profile cabinets that would avoid light lines, and allow close proximity to surrounding metal elements without high-voltage capacitive coupling. The original was likely a deeper reader-board cabinet lit with neon tubing in the '30s. In addition, 9W LED bulbs would provide the overhead pedestrian down lighting. This greatly reduced power consumption without altering the look of the original incandescent lighting.
Advertisement
Modular Build
During the time the original marquee was built, sign-cabinet sizes and overall sign square footages were not as restricted as they are today. Back then this allowed for larger clearance between high-voltage wiring and surrounding metal. Many of our current codes were not in place, such as secondary GFI for neon transformers and clearances for high-voltage spacing.
The neon transformers and LED power supplies for the new marquee are located at the lower end, underneath the hingeable light-bulb panels for easy access from below. All routing of neon high-voltage and LED low-voltage wire was carefully separated via different conduits in order to avoid any capacitance or potential to ground. As in many cases, the new electrical and UL codes provide for safer operation and energy efficiency compared to when the original was built.
The entire structure of the marquee body itself was constructed of 2 x 2 x ¼-in. welded aluminum angle with .090-in. aluminum skin. These newer materials are a vast improvement over the original steel marquee for weight, smoothness and longevity. The aluminum skins of the marquee were glued using Lord adhesive, which, in lieu of welding or visible fasteners, gives a smoother, seamless finish for painting. Fairmont Sign Co. (Detroit) graciously helped with construction and painting of portions of the marquee too large to fit in our paint booth.
The entire marquee was pre-assembled in our facility. Off-loading and turn radius were pre-staged to approximate current field conditions. In this case, we used a small forklift with a tight turn radius, and sign sections designed to allow for offloading and placement of sections on the steel structure without compromising proximity issues with the QLine track and overhead electrical wires.
The sign sections were then disassembled and loaded for site delivery. Offloading at the site would take place in the evening to avoid downtown pedestrian traffic.
Advertisement
Intense Install
Staging for installation allowed a maximum of nine minutes – a race against the clock – for each offload and then removal of our truck from QLine tracks before the next streetcar arrived. Archer Sign Co. (Lake Orion, MI) , which was responsible for staging, engineering and implementing the installation, accomplished this in four pressure-packed deliveries. All sections of the marquee were pinned at all seams to allow for alignment on the steel structure, and we had slotted rear-mounting shoes for vertical adjustment.
After the main sections were mounted, we installed the reader board and neon pyramids using preset mounting bolts, with the aid of a scissor lift. Next came the light-bulb panels and the primary-voltage connections. A precise field survey by Archer Sign prior to fabrication and installation made for a seamless installation without notable issues.
The duration of the entire project, from design development, through engineering and revisions, lasted approximately one year. Fabrication time required about three months with a six-person crew. Installation was accomplished with a crew of two over a period of one week. Everything came to fruition upon the final marquee lighting, which instantly returned the historic Majestic Theatre to its former glory.
The story of this project is one of unique collaboration among the owners, Spectrum Neon and our partners to achieve a common vision. And now, when I have to catch the streetcar, nine minutes doesn't seem that long to have to wait anymore.
Equipment and Supplies
Lighting: Eurocom Magnetron B Bombarder & Pumping System, eurocom-inc.com; Principal LED Street Fighter, p-led.com; France transformers, sfeg.com/france; EGL glass and electrodes, egl-lighting.com; TCP A19 9W LED light bulbs, tcpi.com; Advance LED Supply 60W power supplies, advanceledsupply.com; Paige GTO Wire, paigesignwire.com; Transco TC-200 electrode housings; McMahan tube supports, brillite.com
Router: MultiCam MG CNC Router, multicam.com
Crane: Elliott L60R, elliottequip.com
Welder: Millermatic 252 MIG Welder, millerwelds.com
Lifts: Caterpillar 3,500-lb. forklift, caterpillar.com; JLG 3246ES scissor lift, jlg.com
Paint: AkzoNobel paint, akzonobel.com
Substrates: Alupanel, copeplastics.com; aluminum frame reader board with GE polycarbonate faces; welded aluminum open-face letters
Miscellaneous: Gemini Snaplok marquee letters and mounting rails, geminisignproducts.com; silicone boots and caps
Credits and Participants
Owner: Majestic Theatre, Dave Zainea and the Zainea family
Design Engineering and Fabrication: Spectrum Neon Co., Madison Heights, MI
Community Development Partner: Midtown Detroit Inc., Detroit
Installation and Staging: Archer Sign Co., Lake Orion, MI
Additional Fabrication and Painting: Fairmont Sign Co., Detroit
Architect: Archive DS, Detroit (initial concept and rendering)
Structural Calculations: Wagner Structural Solutions, Howell, MI
Structural Steel: Nelson Ironworks, Detroit
PHOTO GALLERY (
6 IMAGES

)

Photos courtesy of Spectrum Neon Co.

SPONSORED VIDEO
Find it here! ISA Sign Expo 2023
Whether you're looking to grow your business or advance your career, ISA International Sign Expo® 2023 is the only place to find everything you need to be successful in the sign, graphics, print and visual communications industry.