New Children's Book About Signs Released
"Signs Have Much to Say" by signshop owner Lauren Stern offers children a new subject to explore.
Children now have a new opportunity to appreciate and understand the work of the sign industry. Written by owner of Studio 618 (Charlotte, NC), Lauren Stern and illustrated by James Bevelander, Signs Have Much to Say is a new children's book that demonstrates the importance of signage and wayfinding.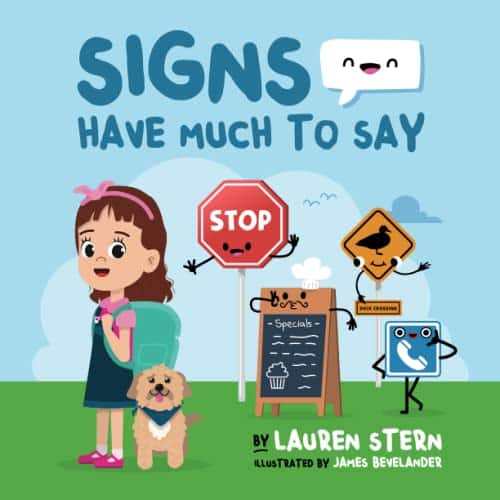 Based on the book's author and her furry companion, this children's book takes readers on a "fun-filled adventure" with aspiring artist Lauren and her best friend Dewey the dog, according to the book's website. 
First-time published author, Stern is no stranger to the sign world, working as the owner and principal consultant of Studio 618. She has worked as an experiential graphic designer that has designed wayfinding elements for small storefronts to facilities with millions of square feet. Since writing stories and poems as a little girl, her dream has finally come true as she combines her love of storytelling and the importance of signage into a children's book. 
"Signs Have Much to Say is a clever way to make young children aware of the signage all around them," says Sheila Bender, as quoted from the book's website. "She draws on her own childhood for an authentic, realistic view of a child's life." 
The book's production was met with a number of sponsors from the sign industry, whose contributions were highlighted by their appearances as billboards, flying blimps, fabrication cranes, and more included in the book. Stern will be promoting the book at this year's International Sign Expo where she will share her inspirations and writing process, as well as how she recruited sponsors that allowed her to self-publish her first book.
Advertisement
Signs Have Much to Say is now available for purchase on Amazon for $14.99.
SPONSORED VIDEO
Find it here! ISA Sign Expo 2023
Whether you're looking to grow your business or advance your career, ISA International Sign Expo® 2023 is the only place to find everything you need to be successful in the sign, graphics, print and visual communications industry.