Optec LED Displays Promote WinStar Casino
Pylons with LED video displays helps designate casino/hotel as a destination center.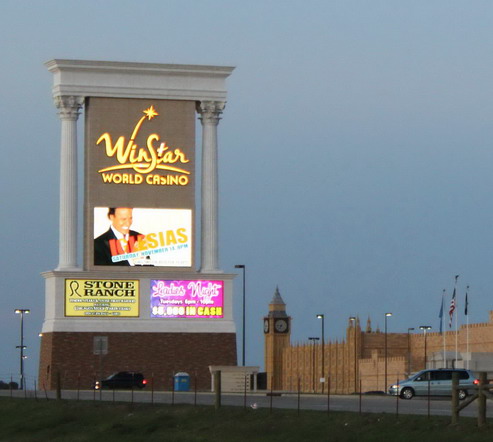 Optec Displays (City of Industry, CA) has provided six, full-color, 20mm-pitch, LED video displays for the pylon sign that designates the new WinStar World Casino (Thackerville, OK) as a destination center.
Operated by the Chickasaw Nation, the nation's fifth-largest casino features a half-mile-long gaming floor with 519,000 sq. ft. of casino entertainment. Directly connected to the casino, a 12-story hotel includes 395-rooms and luxury suites, three restaurants, banquet meeting space (seating up to 200 guests), and a spa.
To help promote the casino and hotel as a destination with gaming entertainment and fine dining, a 112-ft. pylon with Optec Displays' digital LED signage was placed in front of the casino, which faces Interstate 35, near the Texas/Oklahoma border. The pylon sign, which can be seen from both sides of the Interstate, informs passing vehicular traffic about the hotel's entertainment and gaming amenities.
The pylon was designed by the Chickasaw Nation and fabricated by Dalmarc Signs (Oklahoma City), which was also the general contractor for assembling the final pylon structure and installing the Optec Displays LED signage.
Three, full color, 20mm pitch, LED video displays were used on each pylon side. Each sign set included one 20-ft.-tall x 35-ft.-long LED screen and two, 13-ft.-tall x 26-ft.-long LED screens.
Since 1975, Dalmarc Signs has served Oklahoma and surrounding areas, providing on-premise signage that utilizes neon, vinyl, channel letters and digital signage. The full-service sign provider designs, fabricates, oversees and installs a wide spectrum of signs to specific customer needs.
SPONSORED VIDEO
New Golf Course Graphic Installations With Mactac
Visual communication is essential to a successful business. 2020 required restaurants to pivot from promotional graphics to safety and spacing graphics. Now that restaurants are reopening, it's time to make necessary signage updates and Mactac is here to help. Before you even enter a building, there are thousands of opportunities to welcome and inform your patrons. Whether that is with window graphics, sidewalk graphics, or building wall signage. Stick with us as we walk through the endless opportunities and which Mactac products can help you achieve the goal.