Our Client Is a Government Agency – and These Guys Don't Mess Around
This 30-ft. sign is turning out to be no ordinary sign.
WE RECENTLY ENTERED the second stage of our massive SunTrax project for the Florida Department of Transportation (FDOT). First was a 12 x 25-ft. arched entry sign that we installed late last year (see St, November 2021, page 40), then there's the portal sign — a ridiculous, 27-ft.-tall archway that stretches 90 ft. across the roadway as guests traverse the 471-acre wonderland of autonomous vehicle testing grounds. But this month, we're talking about a 30-ft.-tall behemoth we have dubbed the X-Sculpture!
Representing the "X" part of the SunTrax logo, this sculpture simulates crossing roads, complete with illuminated roadway center dashes. The X is to stand proudly in the middle of a raised, 90-ft.-diameter, landscaped rotunda smack in the center of the property — a definite highlight of this gorgeous facility!
But this isn't that big a deal, right? I mean, it's just a 30-ft.-tall "sign," more or less, and we build those all the time … but hold on a minute … that is exactly what this is not! Let's start with the client, FDOT, the government agency that builds and maintains the sprawling network of nearly 275,000 miles of highway within the state. These people do not play around. Everything (and I mean everything) is required to be built to such a high standard that all of our typical — perfectly safe and fine! — engineering and fabrication methods for "a 30-ft. sign" were involuntarily escorted off the project, as we were instructed to overbuild according to their super-stringent standards.
Let's talk about the footer. Picture the scene: a 90-ft. rotunda we couldn't drive onto, mounded up 6 ft. above grade, featuring a 12 x 16 x 2-ft.- thick concrete slab around a dense skeleton of American-made rebar. However, FDOT decided they wanted to plant foliage around the legs of the X, requiring an 18-in. ground cover that we weren't planning on. So, the hole was dug 4 ft. deep before the pour, and we built two 18-in.-tall steel pedestals weighing in at 450 lbs. each to raise the X the required 18 in. from the concrete …
A 10-in. square steel tube with ⅝-in. walls was positioned inside the main X leg, and the 1.5-in.-thick 18 x 18-in. base plates had to be welded in seven passes to meet inspection. But this was no regular 10-in. square pipe. An X has two legs, and this main 30-ft. section was built in one-piece, which meant the support leg that visually appears to go completely through the main section and out the top had to be attached to the main section — somehow. Enter two stubby 8-in. round pipes, welded to the 10-in. square tube in "X" fashion.
This assembly was now over a literal ton, and getting heavier as we built. And because of the round "arms" sticking out from the pipe, the aluminum exterior of the X itself had to be built around this pipe. Next, we shuttled a 4,000-lb. section into the spray booth to get a beautiful purple AkzoNobel finish.
Meanwhile, two shorter sections of 10-in. square pipe were fitted into saddle mounts inside the two non-lit sections of the secondary leg(s) that will, theoretically, slide right onto those 8-in. round pipes jutting from the main section … Following me?
Let's paint the install picture: Set two 450-lb. pedestals onto 12 embedded footer bolts. Then mount the short secondary section angularly onto one pedestal. Then raise the 4,000-lb. main section, and slide it down onto the shorter section, while simultaneously aligning those eight pedestal bolts! After this is done, the short top section will be a breeze …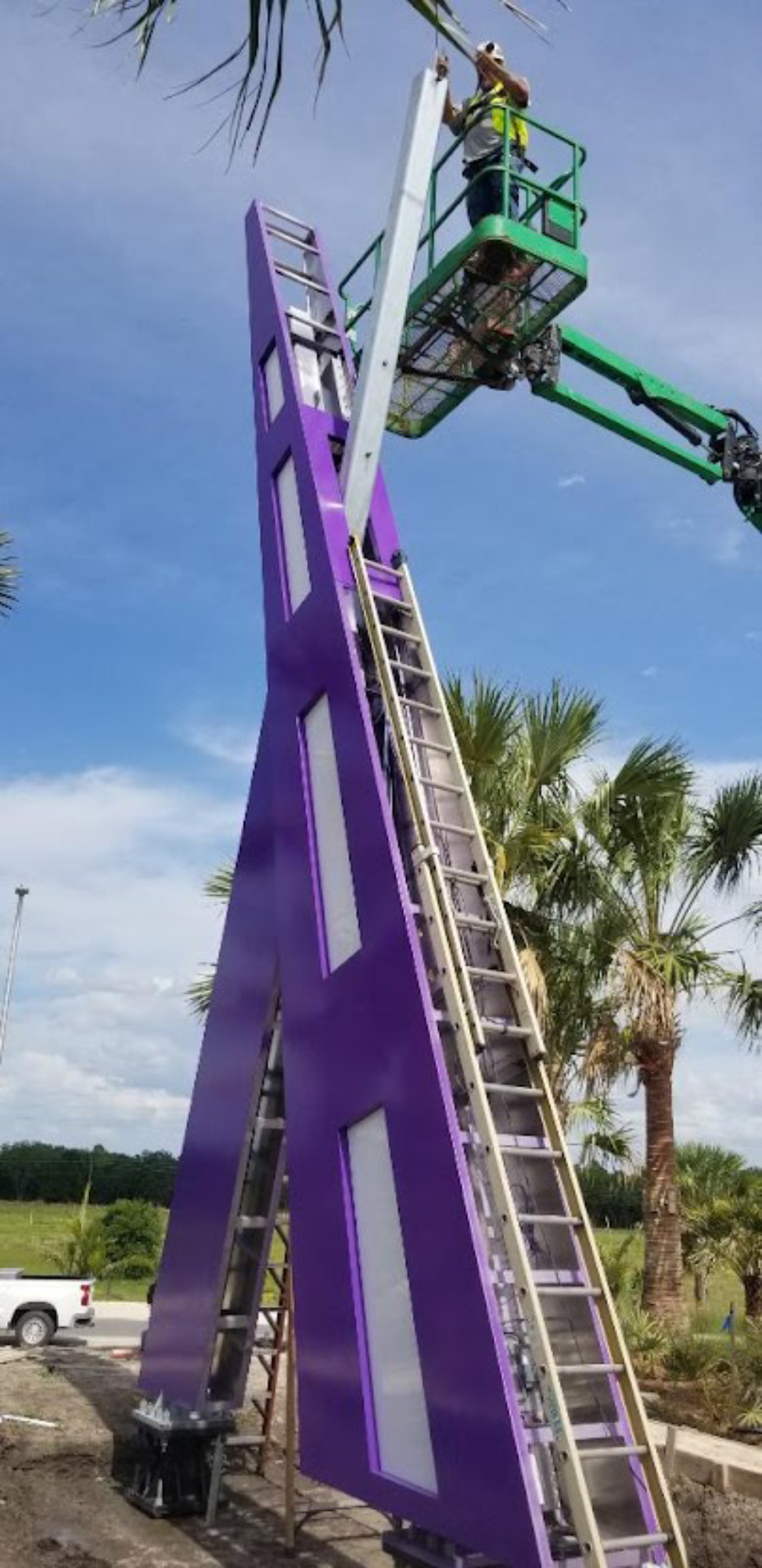 Advertisement
SPONSORED VIDEO
Find it here! ISA Sign Expo 2023
Whether you're looking to grow your business or advance your career, ISA International Sign Expo® 2023 is the only place to find everything you need to be successful in the sign, graphics, print and visual communications industry.