Outdoor Advertising: Big, Bold and Brassy
With improving technology, outdoor is in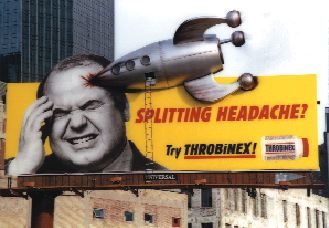 Despite governmental and legislative attempts to quash its progress, the outdoor-advertising market continues to expand and prove itself a viable, effective and, with new technologies, an increasingly attractive advertising medium. In fact, according to Nancy Fletcher, president and chief executive officer of the Outdoor Adv. Assn. of America (OAAA), outdoor advertising is experiencing a rebirth of sorts, finding itself suddenly gaining renewed respect. "I think that the public image of outdoor advertising is way up into as high a position as it's ever been. And that has to do with the improving quality and with how local the business is," she says.
Many factors contribute to this surge of interest in outdoor, including: more and longer-lasting billboard substrates, from vinyl to flexible-face fabric; large-format digital technology, some of which can spew out a billboard in less than an hour; expanded niches that allow less reliance on tobacco advertisers; and creative uses of 3-D, fiber optics and other spectacular effects on billboards.
Additionally, the expansion of the outdoor-advertising market includes a relatively new concept called "out-of-home," which is proving quite profitable. Out-of-home can be defined as signs that promote a business off-premise. In other words, it encompasses advertising not just on billboards but in other places that get high pedestrian or vehicular traffic. Some other types of out-of-home advertising media include: bus shelters, transit (bus exteriors, commuter rail cards, station platforms, underground shelters), street furniture (such as newsstands and benches), airports, malls, spectaculars and painted walls.
When you look at the bottom line, outdoor and out-of-home are making an impact. In fact, billboard revenues for 1996 came to $1.96 billion, according to OAAA and Outdoor Services, Inc., a buying service for agencies in New York City, while out-of-home revenue totaled $3.76 billion. Both statistics are up from previous years, and the latter figure represents a 7% increase from 1995 statistics, showing that outdoor is indeed hot.
Digital Technology
Probably the biggest trend affecting outdoor advertising, Fletcher says, is digital technology. Computer painting, in the forms of inkjet, electrostatic and digital airbrushing, is giving outdoor advertising a much-needed facelift. Whereas 10 years ago, approximately 5% of the billboards actually used it, digital technology is used on about 80% of the billboards today. Not only does this technology make billboards look better, its speed allows advertisers to change boards more frequently with less cost.
Advertisement
The cost-effectiveness and flexibility offered by large-format digital imaging has also helped diversify the number of out-of-home mediums. Out-of-home was a concept that didn't have a name until digital technology gave it one. Instead of hand-painting a bus or shelter, a self-adhesive graphic can be digitally imaged in a short amount of time and applied with relative ease. Advances in the durability and weatherability of inks and vinyl substrates keep the images looking sharp for a longer time.
Other technologies contribute to improvements in outdoor advertising. Satellite lighting systems allow outdoor companies to remotely adjust billboard lighting to change with seasons and daily light variances. For instance, lights can be programmed to turn off at the end of an advertiser's contract, while two-way communication lets outdoor companies know when a power outage occurs.
Another electronic device — barcode identification — tracks an advertiser's campaign from poster production through shipping, display and removal. In this way, advertisers can verify the status of their campaign through on-line communication with the outdoor companies. Similarly, computer-mapping systems help advertisers combine demographic and geographic market research data with outdoor locations to determine the best place to advertise.
Global positioning systems (GPS) make up another technology that enables the outdoor industry to determine display locations by latitude and longitude. Data is gathered with a hand-held GPS receiver that receives radio signals from satellites. The data is then put into mapping database systems that visually position billboards and other out-of-home advertising dispays at that location. In this way, advertisers can test creative designs at specific locations from a computer before they commit to them.
3-D Billboards
Times have changed. With advertising infiltrating every aspect of our lives — from television to magazines to computers — it's hard to go anywhere without bumping into it, or having it bump into you. In this way, it's easy to become immune. To get noticed, advertisers sometimes need to go over the top to capture a more easily distracted, hard-to-please audience. While 3-D certainly hasn't taken over billboards, it has proven an effective advertising vehicle in cities all across the US, especially in Los Angeles and New York City. As industries move more toward billboards as an outdoor-advertising medium, 3-D proves an appealing and eye-catching way to get the message across.
Advertisement
Atomic Props & Effects Ltd., Minneapolis, MN, started in the prop-production business 17 years ago. At that time, 95% of its business came from television props, and 5% came from 3-D billboards. Today, those figures have reversed. To boot, owner Pat Punch says the company's revenues have tripled. Punch says, "There's been an evolution in 3-D advertising. People are becoming aware of using 3-D and mechanical spectaculars to make outdoor advertising different."Atomic Props & Effects
This is an understatement. The billboards Atomic Props has created incorporate a range of elements, from 3-D objects and inflatables to smoke and smell. Yes, even smell. This is interactive advertising at its finest. Punch gives the example of a billboard set up in downtown Minneapolis for Dayton stores. The ad was for Frango