Overflowing Fonts
Several signmakers offer their thoughts on fonts.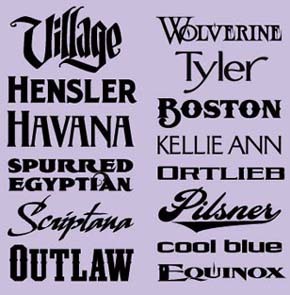 You know the usual suspects for lettering a banner, dimensional sign or entry monument: Helvetica, Times, Univers, Garamond, et al. These fonts certainly have their attributes: Helvetica's and Univers' simplicity and stocky appearance catch the eye; and Palatino has sufficient serif to provide characters with style.
However, seeing the same handful of fonts adorn most applications can become tiresome. Read on to see what one font supplier and three signmakers say about how the right fonts can yield clever, effective signage.
Behind the fonts
In order to help signmakers explore and experiment with new fonts, Chuck Davis of Palmdale, CA, created letterheadfonts.com, a Website that features approximately 70 fonts, ranging from the florid, yet professional, Advertisers Plug, to the refined, but predatory, Wolverine.
Davis began his signmaking career in the late '80s and started using a computer in 1996. Davis realized that the primary shortcoming to computer design was the limited letter styles for signs.
So he scanned in his own letters to create fonts. In 1998, he created his first font, Esoteric, which gave way to the inception of letterheadfonts.com the following year. According to Davis, he wanted the site to capture visitors' imaginations.
Davis and numerous other graphic artists create the site's fonts. According to Davis, any number of resources can spur the creation of a new font — old books and magazines, labels and vintage photographs or memorabilia.
Some of Davis's favorites include Timberlodge and Classic Caps — good fonts for Western applications," he explains — while New Trajan and Stratford impart a more classic appearance.
While Davis appreciates the plethora and possibilities of available fonts, he acknowledges the possibility of too much of a good thing.
"In some ways, the diversity of fonts has probably done more harm than good," he says. "When you look back at the old masters like [Frank] Atkinson, [Charles] Strong and Mike Stevens, they only regularly used a handful of letter styles. They knew how and in what context to use them. With 10,000 different fonts out there, it can be overwhelming."
While he enjoys the customized allure of his Website's fonts, Davis defends common letterstyles. He lauds Helvetica for its ability to be stretched and condensed, and remarks that it "doesn't have an overshadowing personality."
Bluegrass beauties
John Deaton, owner of Deaton Designs (Harlan, KY), has been creating window and vehicle graphics, and MDO signs, for 17 years, the last eight fulltime.
"Drawing since I could pick up a pencil," Deaton cut his designing teeth by creating cartoons. Because sales were tough in such a competitive market, he turned to signpainting.
While Eastern Kentucky has scenic foliage and breathtaking Appalachian vistas, it wasn't conducive to embarking upon a signmaking career.
"Nobody knew what type of brushes to use, and no one had heard of 1Shot®," he explains. "I learned some bad techniques. I still don't palette my brushes because I didn't learn how."
Deaton's transformation of his shop to primarily vinyl work has enhanced his font repertoire, he says, as more fonts lend themselves to vinyl fabrication.
One of his favorite fonts is Esoteric, found on Davis' Website. According to Deaton, when the font first appeared, the letters had tips that made them difficult to apply squarely to vinyl, but Davis' design refinements made it much more practical.
To modify a font, Deaton often forms the words in all caps, then enlarges the first and last letters. When laying out Esoteric, he injects flair by adding a flourish to the connecting line of a capital "A," for example. He's using the font to create his shop's logo, and enlists Adobe Illustrator® to make adjustments, such as contracting the "s" in "Design," widening the serifs and other minor tweaks.
A Stevens devotee, Deaton frequently uses some of the legendary Mastering Layout author's original 15 fonts, including the blockish Big Red and the scriptish Magic.
Abundant choices
Janette Balogh owns her own St. Petersburg, FL-based shop, Janette Balogh Creative Studio. She began her career 17 years ago working for Joe Reese, a local signmaker, who helped her form a solid foundation in the sign trade.
She fabricates a significant amount of sandblasted, dimensional, HDU signage, particularly for corporate primary identification and onsite commercial contractors, as well as vehicles, cut-vinyl and logo design.
As customers' demand for logo design has increased, Balogh has experimented with more letter styles. She's particularly fond of condensed fonts because they deliver more visual impact, which plays to her preference for vertical designs.
One of her favorites is Oz Handicraft, a sans-serif, elongated typestyle that was designed based on the handlettering of Oswald Bruce Cooper (1879-1940). To incorporate a serif-laden font, she generally opts for Rockwell or Serifa, which have a square appearance that readily conforms to many layouts.
When determining the best font for a project, Balogh analyzes the client's line of work, as well as the neighborhood and character of the building. Sometimes, powers of persuasion are required to sway the client to use the font she wants.
"A dentist said he wanted to convey precision and kept choosing the most conservative design I offered," she recalls. "My favorite featured Scriptana, which is a cursive and very energetic font. People are afraid of a dentist; he needed something fun. I won."
Balogh appreciates conservative styles such as Copperplate and Bank Gothic because they establish an appropriate tone for many businesses. For her own logo, she applied Futura. Balogh staggered the letters for her name, which she says "gives them the appearance that they're dancing."
Left Coast creations
John Studden, a native Brit who owns L.A. Signs and Graphics (Burbank, CA), graduated from art school in the late '60s. Then, he met Mike Kilgallon, a veteran English signmaker, who indoctrinated him into the basics of the craft.
When he concluded that making a living fabricating signs in Britain would be difficult, he moved to California. After marrying, he and wife Kathi founded their shop, where they perform glass glue chipping and gilding, carving and vinyl work.
However, Studden's creative resumé exceeds those skills. He's also created numerous fonts, several of which Davis features on his Website. One of his favorites is Burbank, which he patterned after vintage handlettering on fire trucks from the '40s. Using this model, he created a style that incorporates thick, wide letters with substantial serifs.
His inaugural job using the font was a wall sign for his adopted hometown's fire department (thus the name). The 10-ft. glass sign was enclosed in a carved-oak case and reverse gilded, featuring pictures of the entire company.
Other Studden creations include Classic Caps, with its nodes and pronounced serifs conjuring up images of Old West saloons, and New Trajan, which features clean, slender letters with minimal serifs. His appreciation for the fonts of yore makes his work stand a breed apart from many of today's signmakers.
"Sometimes, I think I was born 100 years too late," Studden says.
SPONSORED VIDEO
New Golf Course Graphic Installations With Mactac
Visual communication is essential to a successful business. 2020 required restaurants to pivot from promotional graphics to safety and spacing graphics. Now that restaurants are reopening, it's time to make necessary signage updates and Mactac is here to help. Before you even enter a building, there are thousands of opportunities to welcome and inform your patrons. Whether that is with window graphics, sidewalk graphics, or building wall signage. Stick with us as we walk through the endless opportunities and which Mactac products can help you achieve the goal.