Praise for Recent Sign Project Coverage, and More Reader Comments from Our December Issue
A Tennessee sign pro says the magazine is now a "better sampling of the marketplace."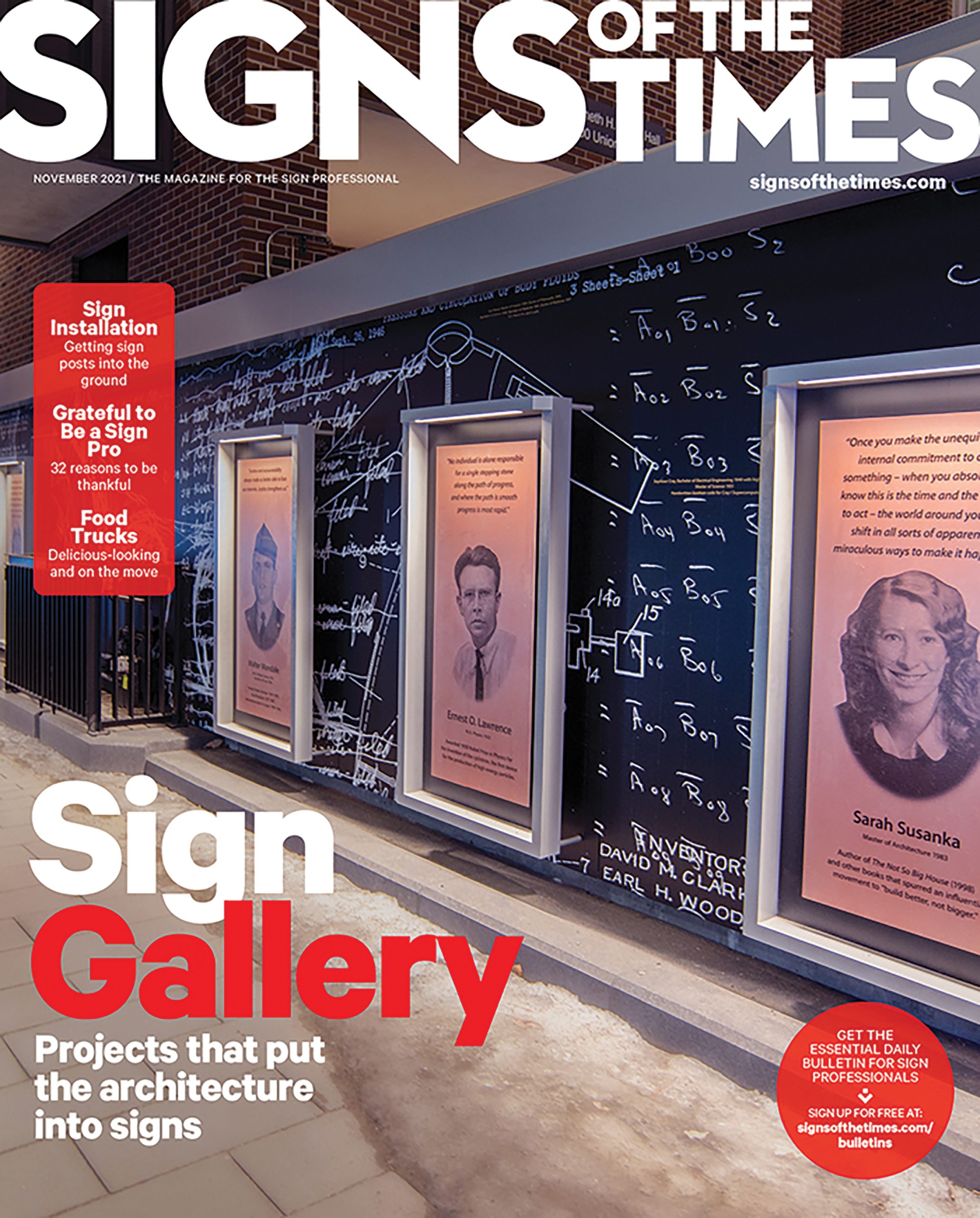 On Recent Articles, Bulletins and Web Posts
Loved the article on the [office] murals! What amazing talent! (See St, October 2021, page 20) —

Jenny Collins, Widmer Sign Co., Scranton, PA

Keep up the great work. I read your pub cover to cover and learn so much! —

Mary Hester, Carolina Pride, Timberlake, NC

In the past, I felt like your journal was aimed more toward large businesses, today I feel like it's a better sampling of the marketplace. I hope it helps to increase readership. Because I prefer the new look and feel. Thanks! —

Kevin McBroom, Martin Signs, Cookeville, TN

Loved the Blades of Glory article. Thanks for the shout out. (See St, October 2021, page 36) —

Jeremy Vanderkraats, Signs by Van, Salinas, CA
Reader Requests
[ST] should run a piece on realistic pricing structures. I feel there are too many small shops that don't know how to correctly price work. Are you putting away money in a fund so that you can afford that new piece of equipment when the current one dies? —

John Miller, Signs by Autografix, Branford, CT

I [would] like to increase my sales. Any better ideas will help me. —

Gonzalo Cervantes, Pronto Signs, Keizer, OR
Material World
Is there a new basic material? Years ago we used MDO and then products like LusterBoard. Then we cut out the wood and replaced it with PVC to get composite materials. Is there something new that I'm missing? Because I like DIBOND and it works great in so many applications, but if there's something new out there, I'd love to give it a try. —

Meri Lindenmuth, G&L's Sign Factory, Bethlehem, PA
---
We always love to hear from you. Send your Inbox letters to us at [email protected].
SPONSORED VIDEO
SureColor R5070 and R5070L | Consistent, High-Quality Signage Printing
Achieve consistent, repeatable color for high-quality signage, including banners, adhesive vinyl, wallpaper and more, with the robust, reliable SureColor R5070 and R5070L 64-inch roll-to-roll resin signage printers. Learn more.