Should You Give Advice to Sign Newbies, or Let Them Learn the Hard Way?
A North Carolina sign pro wonders aloud, among other reader ruminations.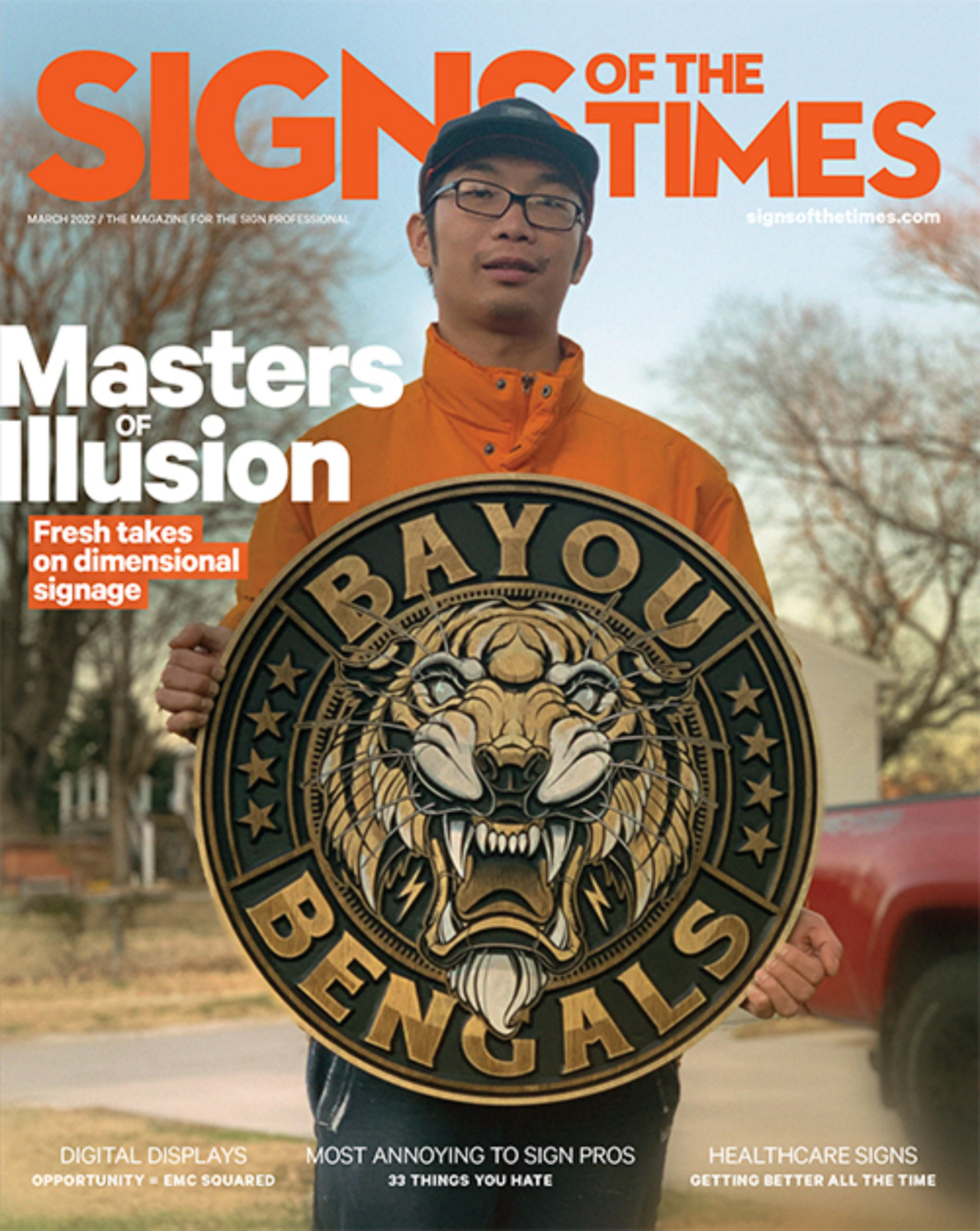 On Recent Articles …
I have been doing a lot of research into the impacts of additive manufacturing on our industry, and while the last article on 3D printing dimensional signs was a good overview (See St, February 2022, page 14), I think there needs to be more dialogue on changing processes and materials to leverage additive manufacturing techniques. —

Keith Davis, KRD Design, Chester Springs, Pa

Thank you for posting Woody's article (see signsofthetimes.com/022202). It meant the world to his mother. —

Jeremy Vanderkraats, Signs by Van, Salinas, CA
Longtime Fan
I've been reading this magazine since 1998. The stories and articles are amazing! I like the direction Mark has taken this publication. Great job. —

Earl Walker, Image360 Tucker, Tucker, GA
EDITOR'S REPLY: Thank you very much for that very nice compliment, Earl! Of course, the new direction is a total team effort — including our management, design, production and editorial departments — and supported by our sales team.
New Players
Newbies to the sign industry often cut their prices to get work but many make shoddy signs that do not last or they are always touting lower prices. Some ultimately go out of business or can't keep good help because they cannot afford to pay them to stay. Should we give advice on this practice or is experience the best teacher? Those growing pains are harder on some more than others! —

Nonnie Luther, Cadillac Sign Co., Norwood, NC
Advice On Pricing
Raise your shop minimum … It's OK! —

John Hotaling, Signarama Woodstock, Woodstock, GA
Software Struggles
Upgrades on any software suck. We have a difficult time learning the upgrades — nothing comes with a manual — all companies are useless on informing of the changes. —

Glenn Goehrung, Signs by Tomorrow-Rockville, Rockville, MD
---
REACH OUT! We always love to hear from you. Send your Inbox letters to us at [email protected].
SPONSORED VIDEO
Epson SureColor Printers | Partnering for Success with SkinzWraps
"Everything we have here has an Epson label on it because it's just simply the best." Whether printing vehicle wraps, signage or commercial wallpaper, SkinzWraps trusts Epson SureColor printers to consistently deliver vibrant, professional-quality large-format prints with amazing depth and color.