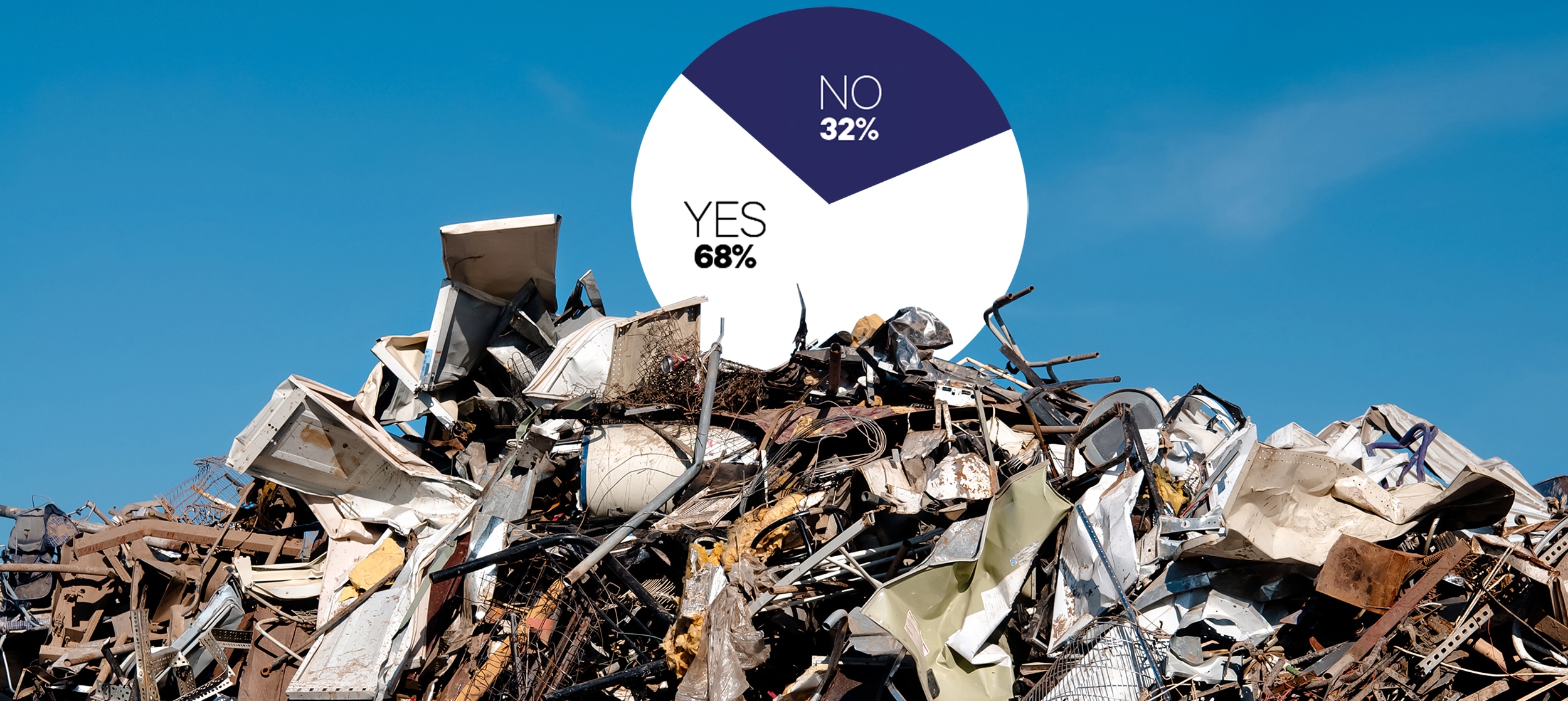 Sign Companies Reveal Their Recycling Policies and Details of Their Hiring Practices
Our Brain Squad also dishes on social media and fabrication equipment purchasing.
Question:

Do you or don't you recycle at your company?
Yes:
68%
Shop scraps and old signs. — Heather Jack, FASTSIGNS, Oklahoma City, OK
Metals (steel, aluminum) go to the local scrap yard. Office paper, cardboard, etc., go into the local recycling pickup. Ballasts and transformers also go to the scrap yard. — Rocco Gaskins, Abco Signs, Pennsauken, NJ

Aside from cans and bottles, we sell our scrap aluminum to a metal recycling company. Our small pieces of ACP, sign foam, etc., are given to the local industrial arts teacher. Our out-of-date vinyl is given to several crafters. — John Miller, Signs By Autografix, Branford, CT

Production materials. — Derek Atchley, Atchley Graphics, Columbus, OH
Scrap aluminum, steel, cans and paper/cardboard. — Michael Johnson, Henry Graphics, Buford, GA
Scrap metal. — Mike Crosley, Northeastern Sign, South Colton, NY
All of the above. This is California after all. — Skip Moore, Bill Moore & Associates Graphics, San Rafael, CA
Lamps and metal. — Ralph Garcia, Venture Promotions & Marketing, Whitestone, NY
No:
32%
We used to recycle acrylic, but the low $$ doesn't defend storing it for recycling anymore. — Per Asberg, Cogent Signs And Graphics, Laguna Hills, CA
BUZZ SESSION
How many new, full-time employees aged 30 or younger, who are not related to you, have you hired in the past three years?
0

40%
1 or 2

24%
3 to 5

28%
6 to 10

0%
More than 10

8%
Is your company currently experiencing – or do you anticipate soon experiencing – an inability to replace skilled fabricators and/or installers who are retiring/nearing retirement?
Yes

48%
No

36%
Don't know/hard to say

16%
Which social media platforms do you use for your company (as opposed to just personally)?
Facebook

88%
Twitter
17%
Instagram

50%
LinkedIn

54%
YouTube

15%
Other

25%
What type of fabrication equipment do you plan to purchase next (if not soon, then as soon as you can afford it)?
Digital printer
18%
Vinyl-cutting plotter
9%
Router
14%
Laminator
0%
Crane/bucket truck
9%
Channel letter bender (or other metal-forming machine)
9%
Other
41%
Do you plan to attend the 2021 ISA Sign Expo – Virtual (April 7-9)?
Yes
32%
No
36%
Don't know yet/haven't decided yet
32%
What's the Brain Squad?
If you're the owner or top manager of a signage and graphics company in the US or Canada, you're invited to join the Signs of the Times Brain Squad. By taking one five-minute survey each month, you will receive access to some of the industry's freshest data on sales — including your fellow members' comments on what's selling and what isn't — and can make your voice heard on key issues affecting the sign industry. Sound good? Sign up here.