Risky Business
These restaurants use striking signage for success.
TO OPEN A NEW restaurant over the past year, you had to plan to really stand out. A sound strategy? Have a killer menu and also some impressive signage like these seven restaurants received, thanks to the hard work of signmakers like Kimberly Martin, co-owner/vice president of Sign Crafters of Florida (Leesburg, FL). "We are blessed to work with so many amazing entrepreneurs who [risked] opening up new businesses," she said. "While we've had to remove the signs of some that weren't so fortunate, it is wonderful to see new establishments overcome the obstacles."
Get Bruzzed
RiNo Sign Works' (Lakewood, CO) Partner Willis Wood enjoys that the Bruz Beers blade sign can be appreciated from every angle. RiNo made a 2D plan, then transformed that into the desired 3D barrel form. They then fabricated the main structure, laminated the barrel to make it look like wood and added color-changing Philips Hue LED rope lights for an eye-catching arrow detail, while acrylic push-throughs were used for letter depth. Lastly, the logo was stencil-painted onto the 3D barrel using AkzoNobel paint.
Branded for BBQ
SignCraft Solutions (SCS; Wake Forest, NC) has created a myriad of signage for former weekend warriors Prime BBQ (Knightdale, NC) over the years, so when Prime BBQ opened their first restaurant, they asked SCS to create exterior signage. Per Production Manager Matt Key, the cabinets were constructed of aluminum sheeting and the sign faces were routed to allow Piedmont Plastics' white acrylic push-through letters to pass through, which offered a dimensional letter detail during the day and a crisp, illuminated letter at night. The cabinet also has dimensional backlit letters on the front and is internally illuminated with white LEDs.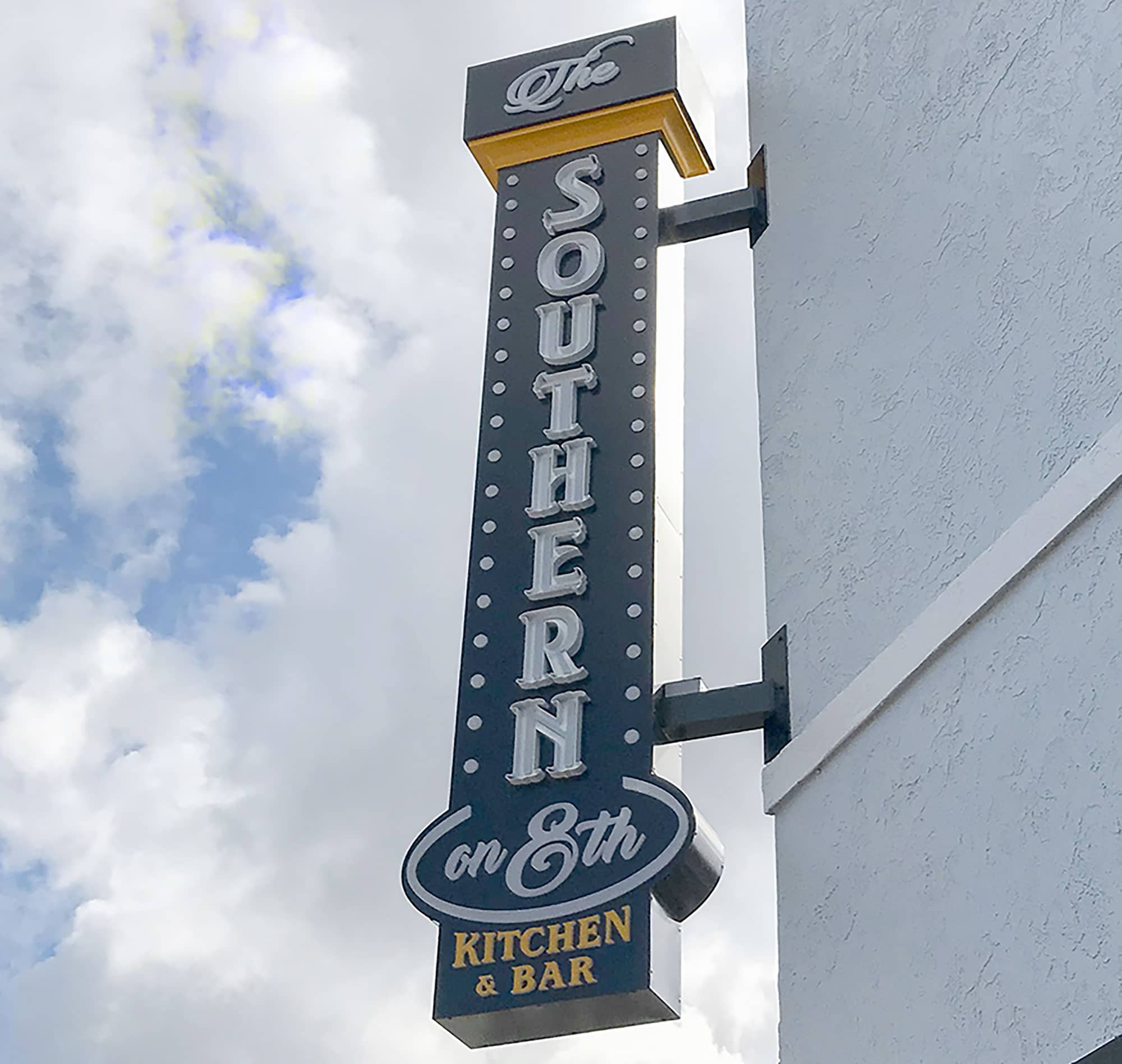 Taste of the South
Sign Crafters of Florida built the 12-ft.-tall The Southern on 8th sign-topper on a Roper Whitney AutoBrake while its faces were cut with a MultiCam CNC, with the bottom hand-formed. The letter returns were bent using an SDS Automation channel letter bender, then welded to the faces of the body, which was routed for push-through acrylic-letter inserts. Instead of traditional marquee sign bulbs lining the borders, Sign Crafters opted for custom, routed, diamond-cut acrylic with HanleyLED modules to create a superior, energy-efficient, neon look, Martin said.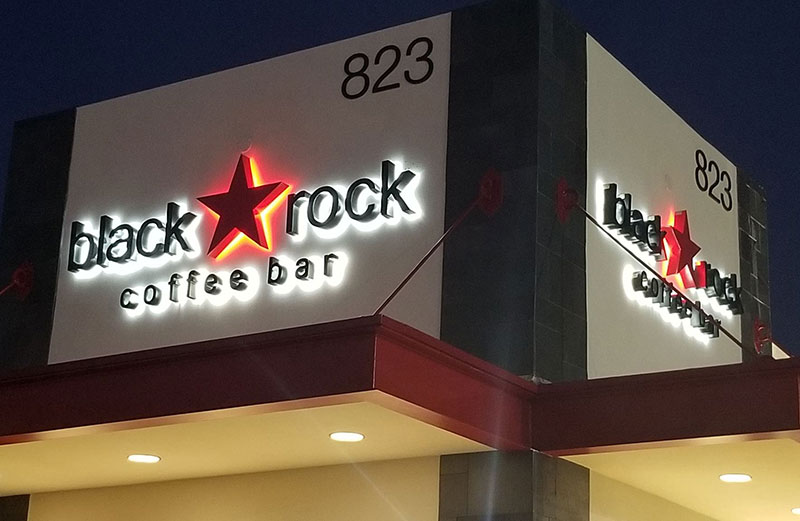 Next Stop, Coffee
When Black Rock Coffee Bar in Oceanside, CA needed a new illuminated sign to attract customers in a high-traffic area, they contacted Signs for San Diego (SDS; Oceanside, CA). SDS crafted bright LED signs with backlit channel letters made with a MultiCam 1000 series router, an Accu-Bend and a Taloc clincher. "Black Rock Coffee is dependent on the number of cars that pass by," SDS owner Frank Murch said. "Pulling [in] a higher percentage of travelers to buy coffee is directly measurable in terms of dollars."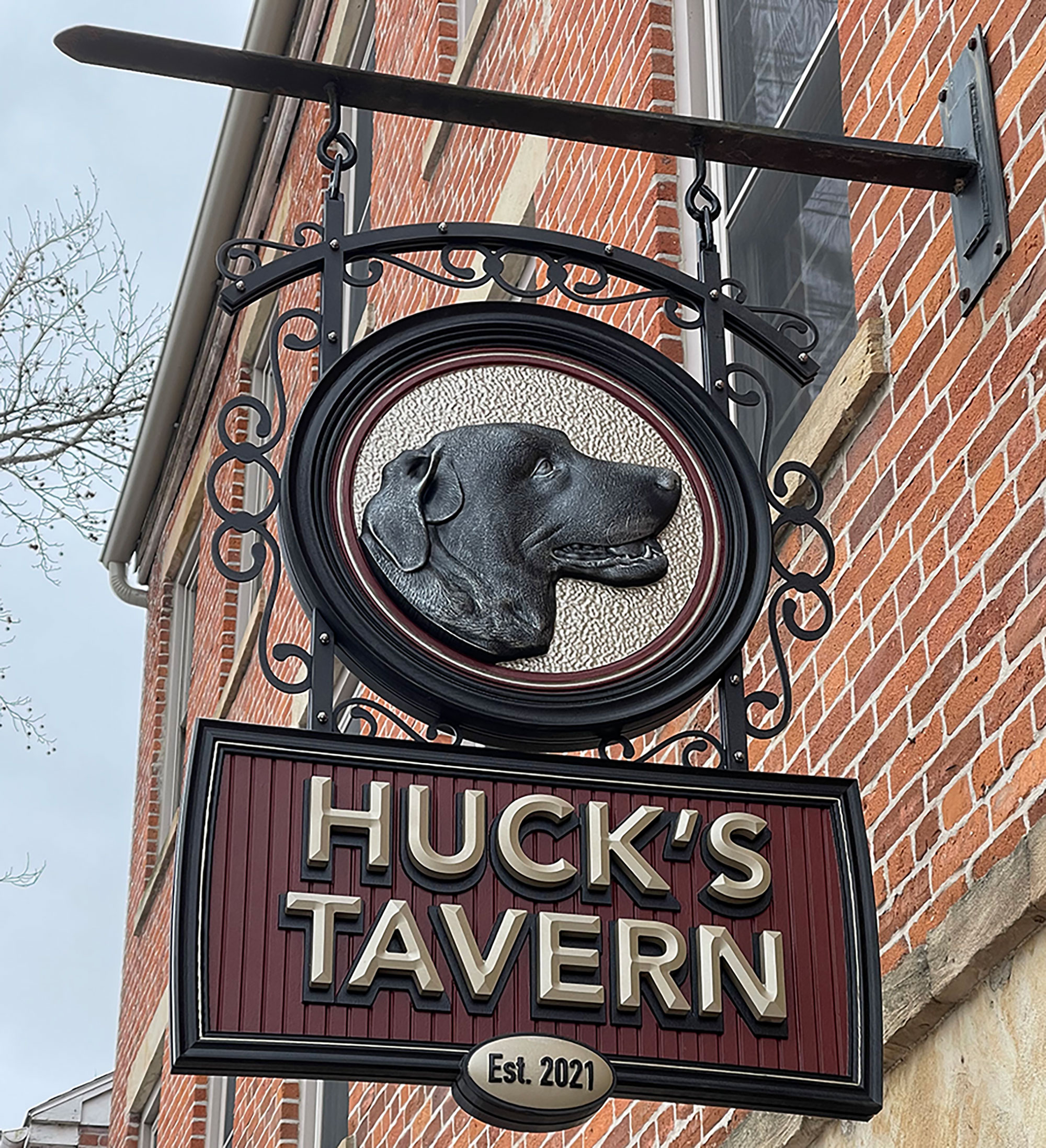 Sit and Stay a While
Huck the black lab was a good boy. So good, the owner of Huck's Tavern in Coshocton, OH, named both her tavern after him and put his likeness on her sign. The naming was easy, but Synergy Sign & Graphics (Strasburg, OH) was needed to create the 3D sign. Owner Jim Dawson said he and his team used a 3D-modeled pictorial of Huck to fabricate the image out of 30-lb. Coastal Enterprises Precision Board with a MultiCam 3000 router and a CNC plasma cutter. The likeness was then bonded to a ¼-in. plasma-cut steel structure and finished in a black wrinkle powder coat.
This Little Piggy…
Paul Shoemaker, the owner of Creative Blast (Cincinnati), used 18-lb. density Sign Foam routed on a CAM Tech CNC SpaceMaker to create the one-of-a-kind, hand-carved Pig Candy BBQ sign. They built the sign to an 8-in. depth, then used woodworking tools to carve and shape it. Fabricator Mark Anderson cut and welded all the pieces to the bicycle and it was painted with Chromatic enamel from Graphic Solutions Group.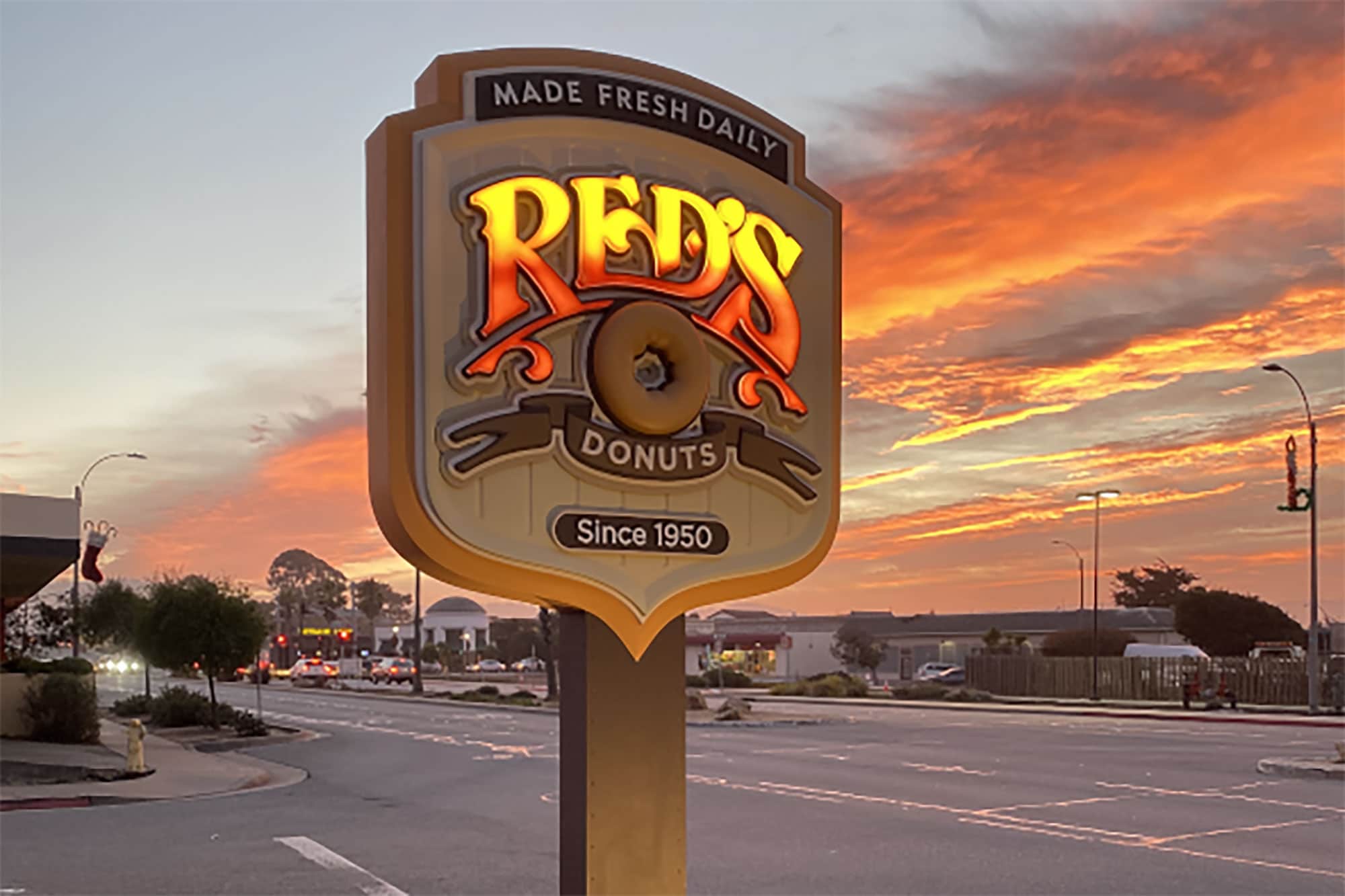 A Mighty Wind
When the wind takes out your sign, build it bigger and better. Owner Jeremy Vanderkraats of Signs by Van (Salinas, CA) rebuilt the Red's Donuts sign by "[Taking] the original design and adding our crazy dimensional touch." That included an internally illuminated DUNA-USA CORAFOAM HDU sign that was reverse routed using a SCM CNC router and then flipped and routed again to slide in push-through acrylic. BEHR ULTRA Premium exterior grade flat and translucent Nova Color paints ensured the sign looked amazing both day and night.
SPONSORED VIDEO
Find it here! ISA Sign Expo 2023
Whether you're looking to grow your business or advance your career, ISA International Sign Expo® 2023 is the only place to find everything you need to be successful in the sign, graphics, print and visual communications industry.