Driving Business
Cool sign company vehicles convey both messages
and materials.
SHOP TRUCKS PROVIDE some of the best advertising for sign companies. Whether at a job, tooling down the road or parked at the shop, a sign truck does far more than haul stuff. Captivating designs and colors create business. Some companies add interest by using vintage vehicles. Ruggles Sign in Versailles, KY is celebrating 75 years in business and the company's 1946 Chevrolet flatbed turns back the clock exactly three-quarters of a century. "The truck is mainly for display," said Operations Manager Brad Turpin, Jr. "We'll bring it out a few times a year when we are installing a cool, local sign — a vintage, retro neon sign, etc. We have used it in our local town parade as well."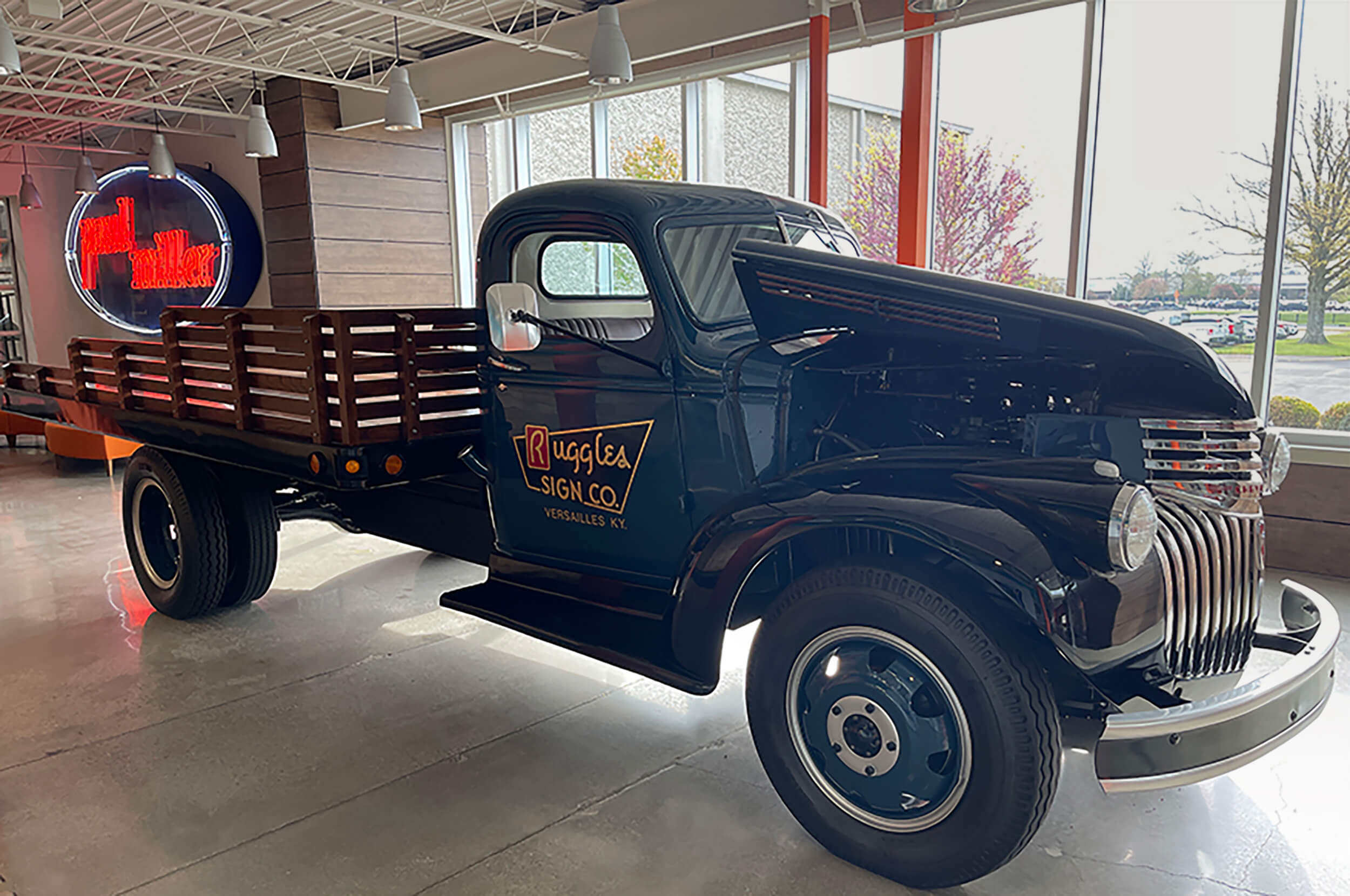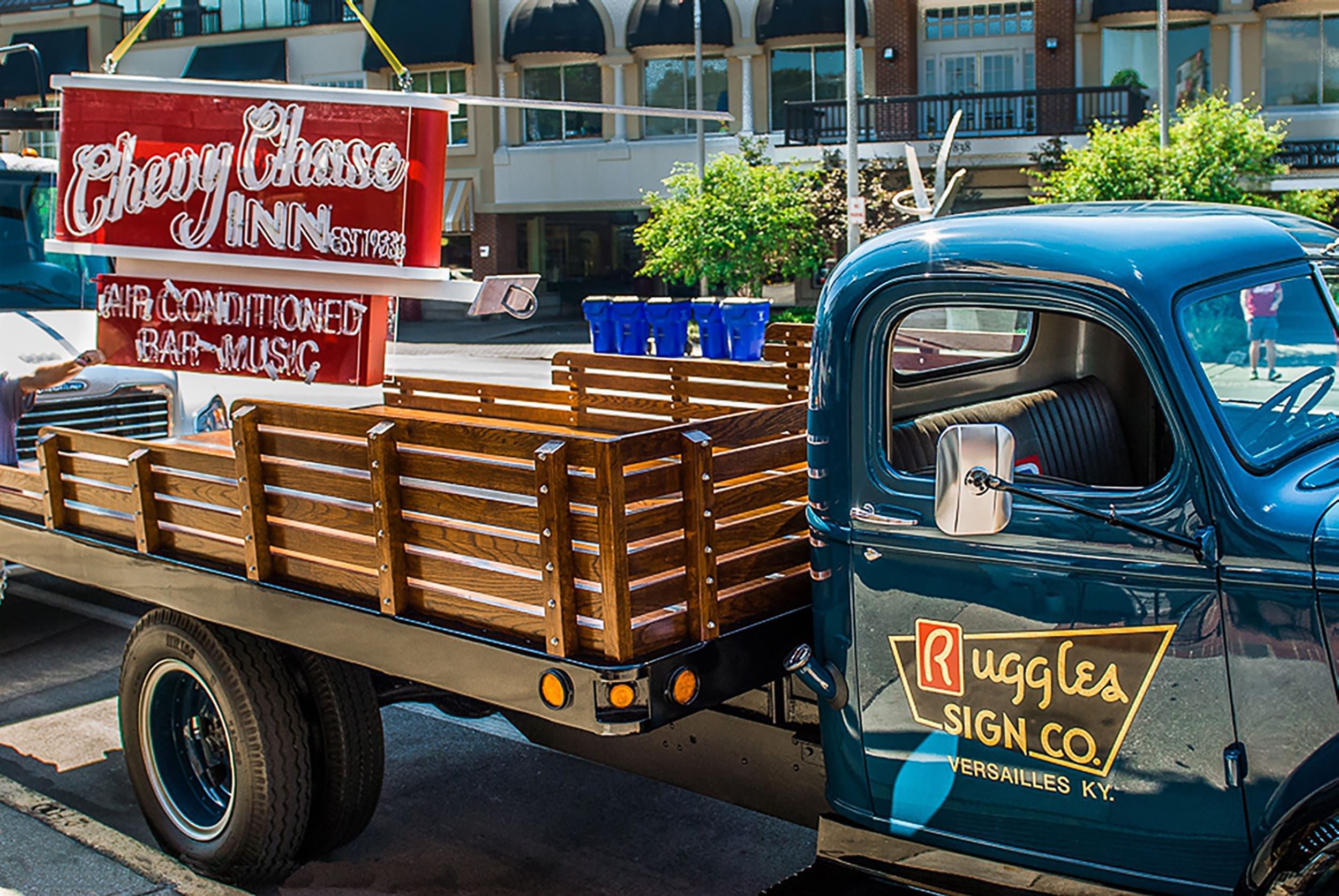 Seriously Old-School
"Ruggles Sign had a flatbed truck just like this one back in 1946," Turpin said. Purchased with slightly more than 13,000 original miles, Ruggles did full-body and engine restorations in 2009. "The truck runs well," Turpin said. The logo — featuring 3M Poppy Red, 3M Sultan Blue and custom-textured gold leaf vinyl cut on their Graphtec plotter — is the original from 1946. "Over the next year, our plan is to remove the vinyl and have it hand-lettered with real gold leaf," Turpin said, "just like we would have done back in 1946."
See the Forest For the Trees
"We decided to go with this design vs. a larger logo and advertisement," said Matt Henkel, who, with girlfriend Steph Olson, co-owns Statt Wraps in Grand Rapids, MN. "We figured people would just come up and ask about it," he said. "That has 100% been the case." Henkel printed the wrap for the 2014 GMC Sierra on 3M IJ180 silver metallic with the shop's Mimaki JV300-160, and applied 3M Scotchcal 8518 Gloss Overlaminate via their AGL 60-in. laminator. "We get more questions about where it was wrapped and that gives us the opportunity to explain about our business," Henkel said.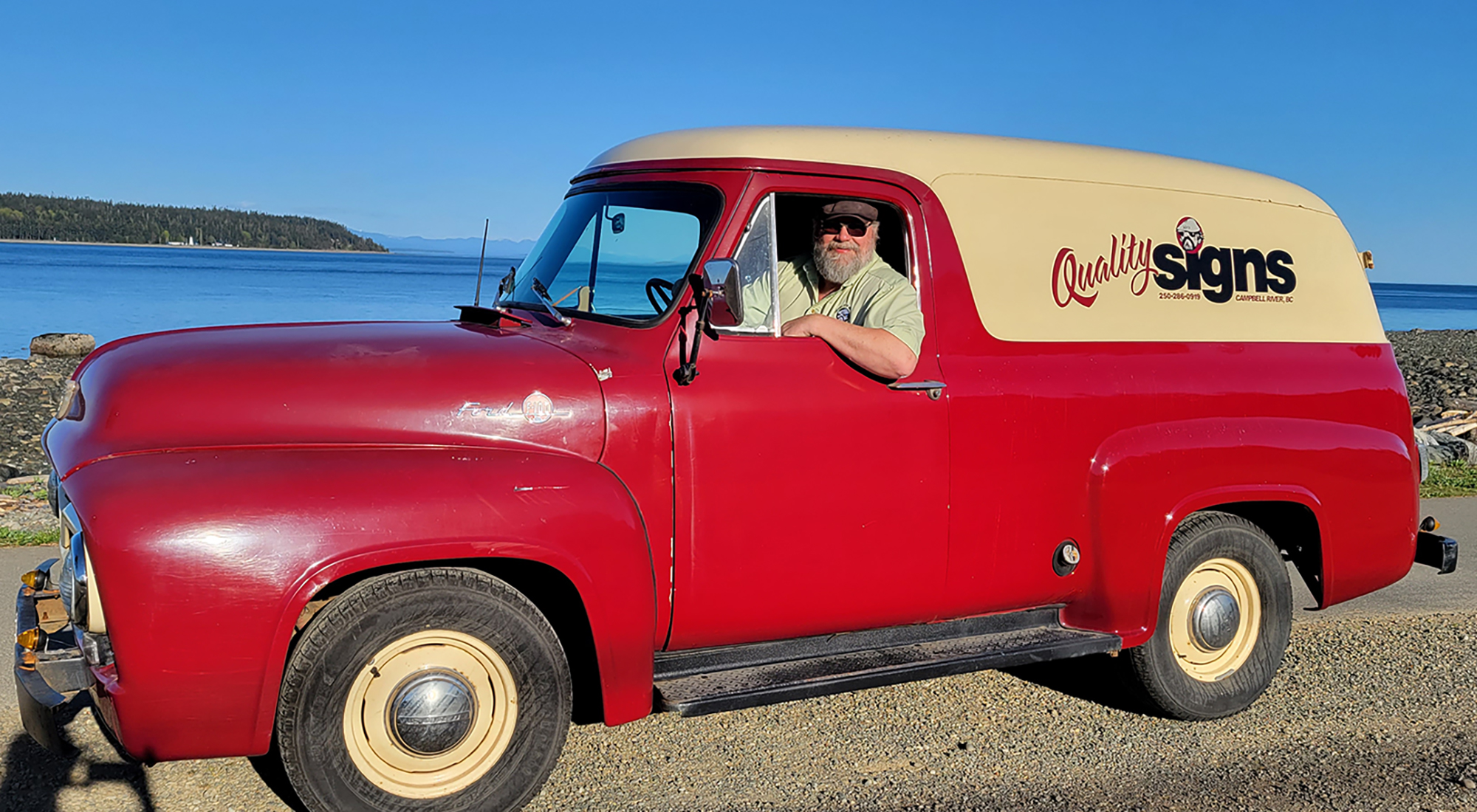 Advertisement
I Can Drive a '55
Quality Designs (Campbell River, BC, Canada) also reads retro with their 1955 Ford (top), and according to owner Geoff Orlick, "my customers love it!" Orlick used Gerber OMEGA 6.5 for the design, and Avery Dennison SC950 burgundy, matte black and white vinyl, cut on the shop's Summa D120RL. Quality Signs has been using a modern Dodge Ram pickup (left), and the '55 is fairly new to his shop, Orlick said. "If I knew how much attention this old girl would produce, I would have found it years ago," he said. Now it's his "daily driver until winter hits."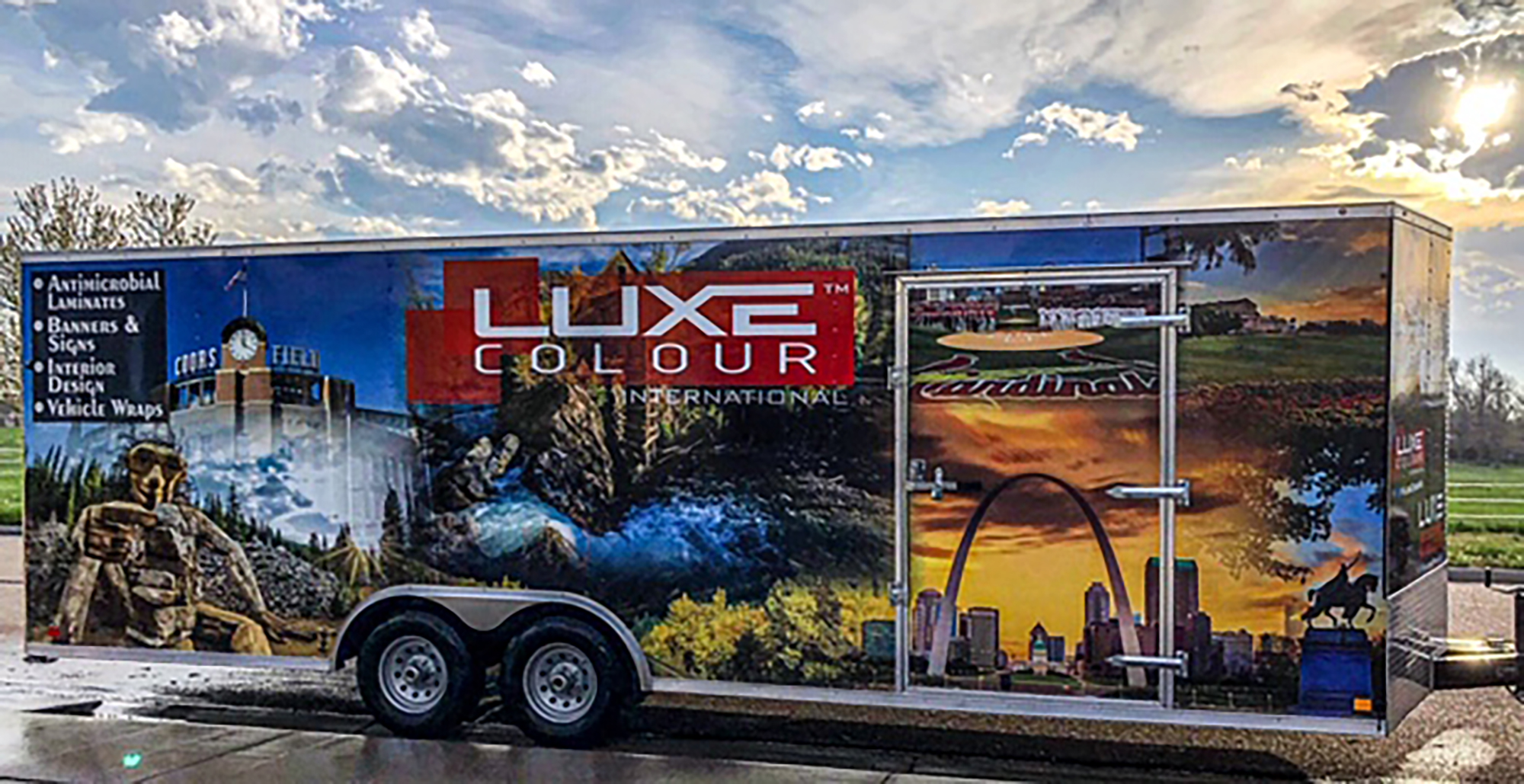 Film Trailer
Luxe Colour, with locations in Denver and St. Louis, has been using this trailer to transport customer vehicles for wraps, "so that they can still practice social distancing," said Chief Visionary Officer William Lindsey, IV. The design, which depicts the two cities and some work for clients, was done in ONYX Thrive and Adobe Creative Suite. Luxe Colour then printed HEXIS SKINTAC HX30000 vinyl on its Epson SureColor S80600 printer.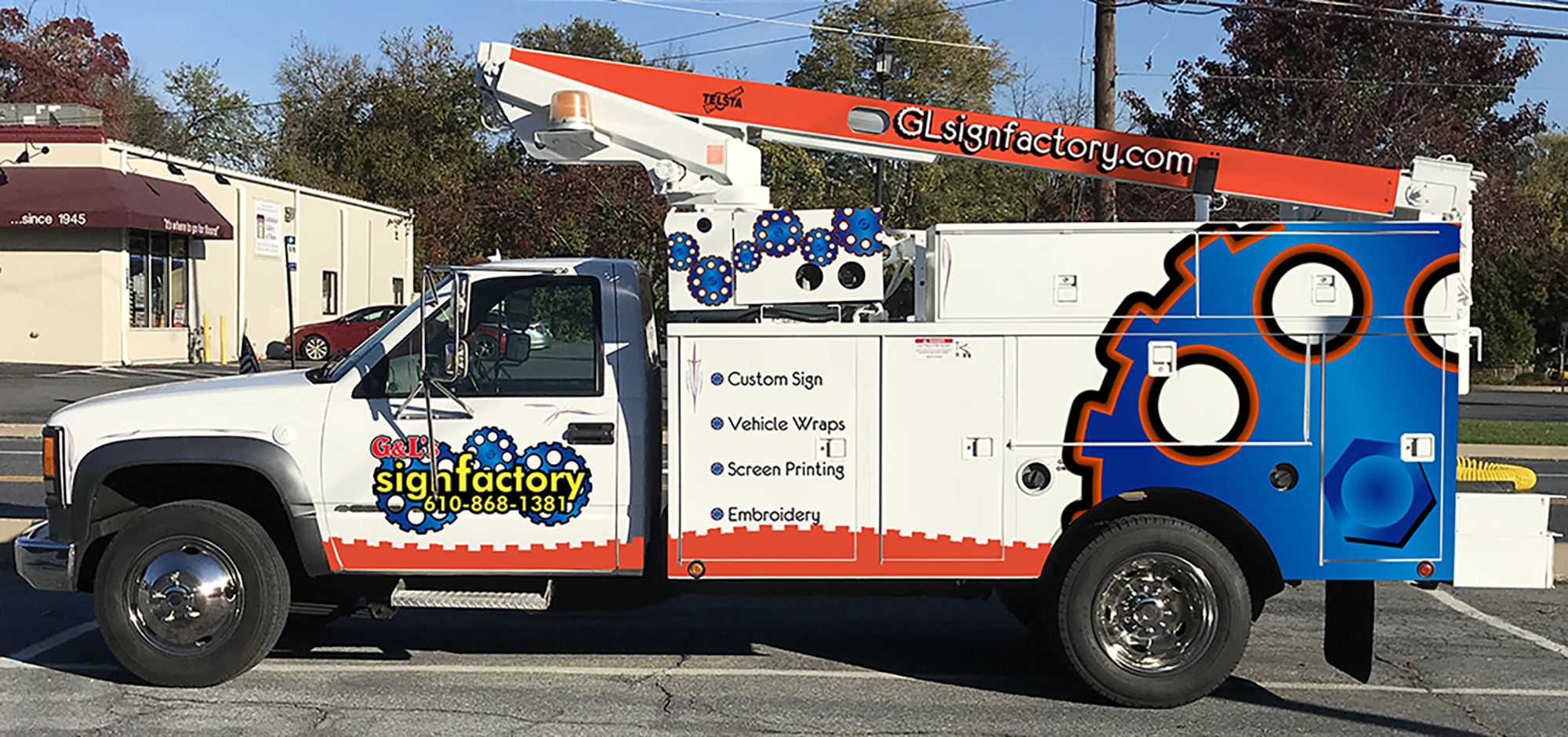 Gear Up
Most shop trucks do involve the company logo, as with G&L's Sign Factory (Bethlehem, PA). Owner Gary L. Gower, Jr. designed the truck graphics using Gerber OMEGA, according to General Manager Meri Lindenmuth. "The gears were pulled from our logo," she said. G&L subs its large format prints to Signs365.com, who used a combination of vinyls: The digital prints are 3M Controltac; the orange, red and yellow are all 3M Scotchlite Reflective 5600; and a translucent blue print is on Avery Dennison SC950 Ultra Metallic Ultra Silver for the gears.
Advertisement
SPONSORED VIDEO
Find it here! ISA Sign Expo 2023
Whether you're looking to grow your business or advance your career, ISA International Sign Expo® 2023 is the only place to find everything you need to be successful in the sign, graphics, print and visual communications industry.