Sustainability and Signs: Renewable Efforts to Benefit the Environment and Stand Out from the Crowd
These 11 sign companies are embracing sustainability – and boosting their bottom lines as a result.
EVERY YEAR, MORE and more sustainable sign products and practices are being introduced. As customers espousing sustainability increase and the cost of green products decreases, expect more efforts from sign companies and manufacturers, such as these.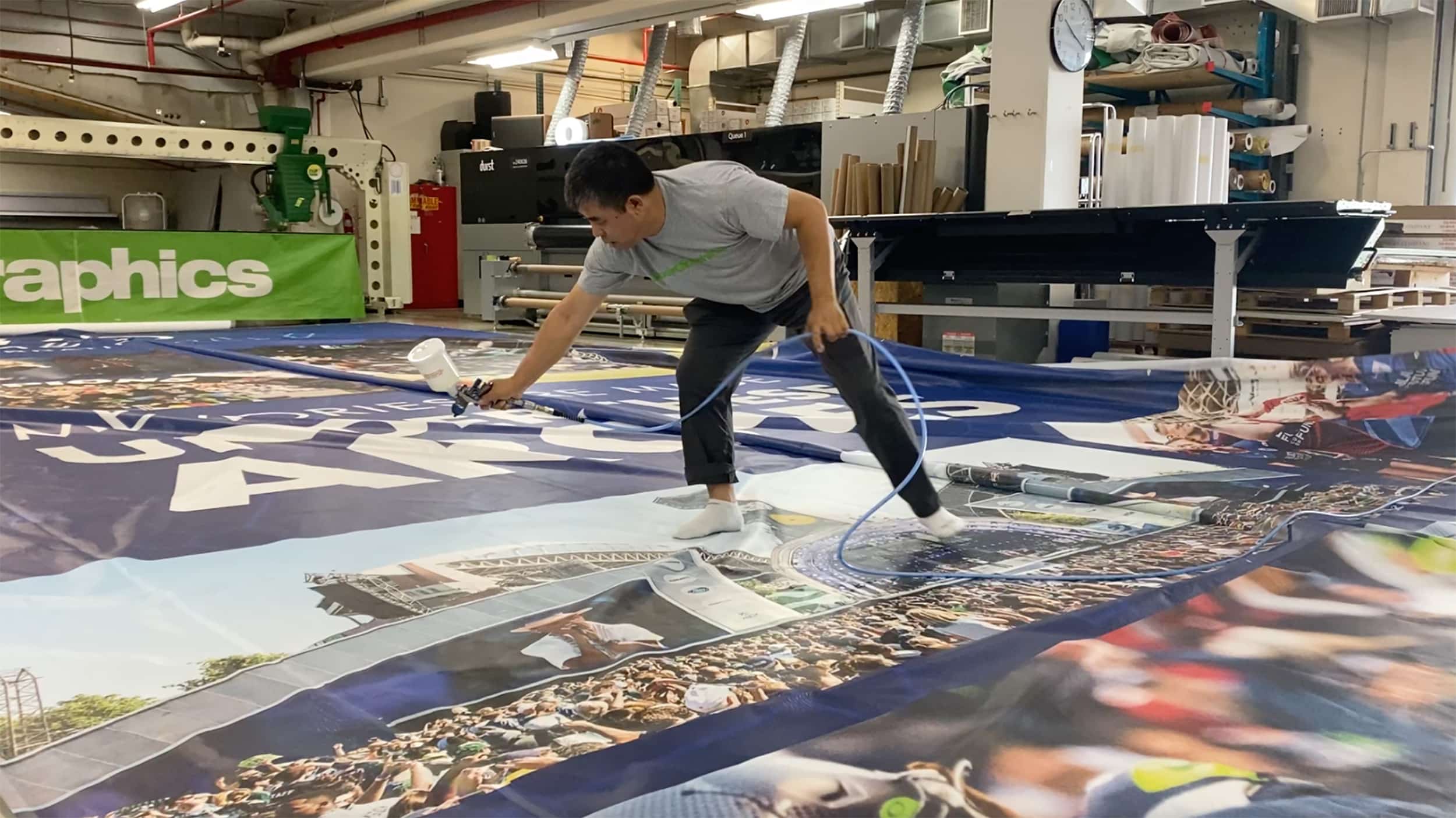 SUSTAINABLE
PRODUCTS/EQUIPMENT
SUPERGRAPHICS recently added a new material to its eco-friendly family. KAVALAN, the world's first comprehensive line of PVC-free banner material, is being offered by the Seattle firm, the first to bring it into the US market. But what drove the firm to introduce eco-friendly print solutions?
When SuperGraphics underwent an employee buyout in 2018, its new ownership completed a massive fence banner for an event. When the event was canceled, the PVC plastic banner was sent to a landfill. This bothered the new owners so much that they founded an EcoFormat initiative, which includes four solutions: a sustainability cycle, PVC-free material options, recycling, and a clear overprint for outdoor graphics that is proven to purify the air.
Since then, sustainability has continued to be a huge focus for SuperGraphics. Currently, the firm is testing reclaimed wood from a local architectural salvage, and PVC-free plotter film manufactured in France. It strives to be PVC-free by 2025. EcoFormat empowers brands to achieve a zero-landfill waste graphic impact without hindering quality; this has been a key component for many brands trusting SuperGraphics to lead them toward a more sustainable future.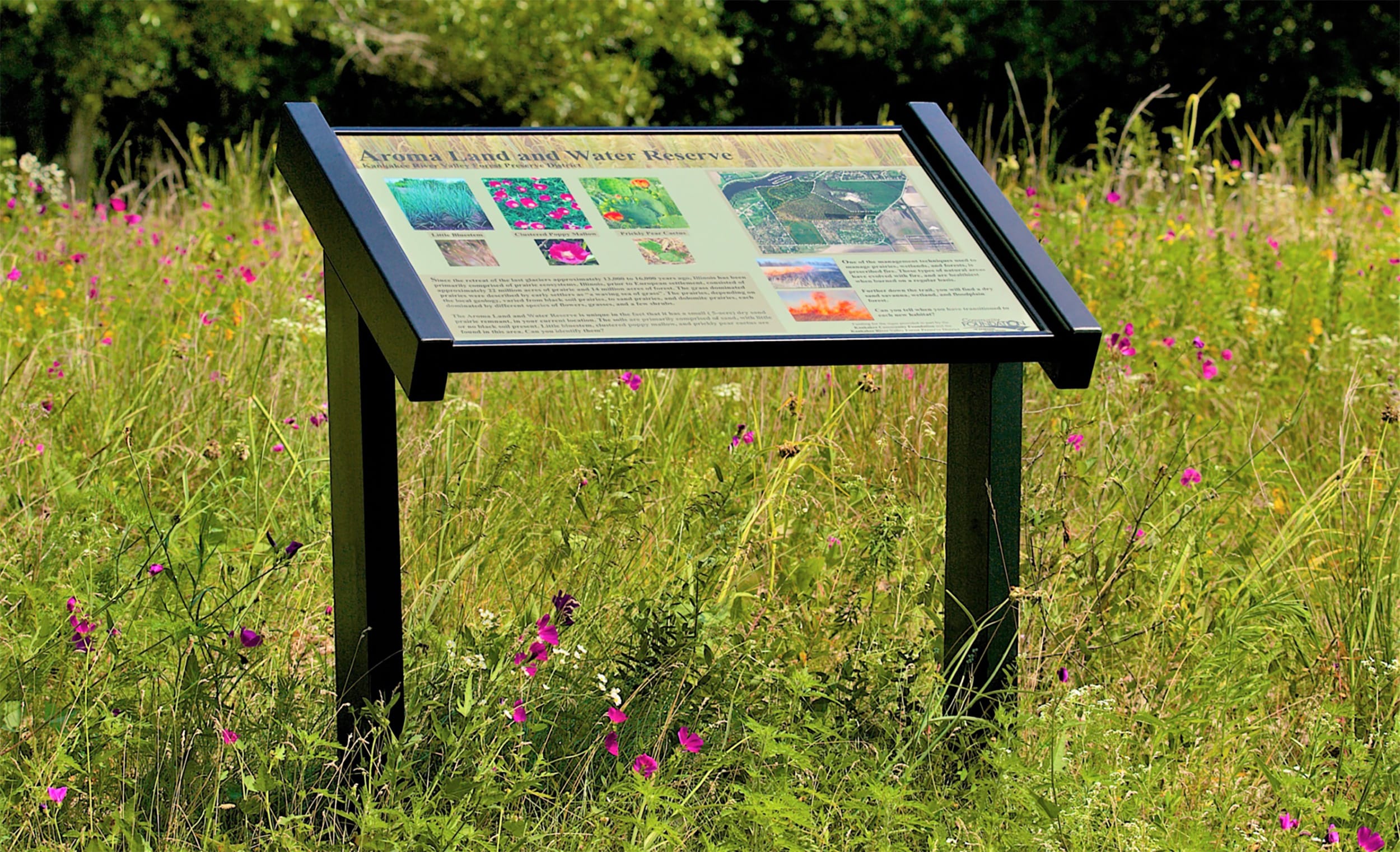 When you are tasked with producing signage for outdoor parks and historical areas all over the world, it had better be durable. For PANNIER GRAPHICS in Gibsonia, PA, signs are meant to last outdoors for many years, and not fade, crack, or de-laminate and need frequent replacement. Pannier is committed to producing long-lasting products in a responsible and environmentally friendly manner.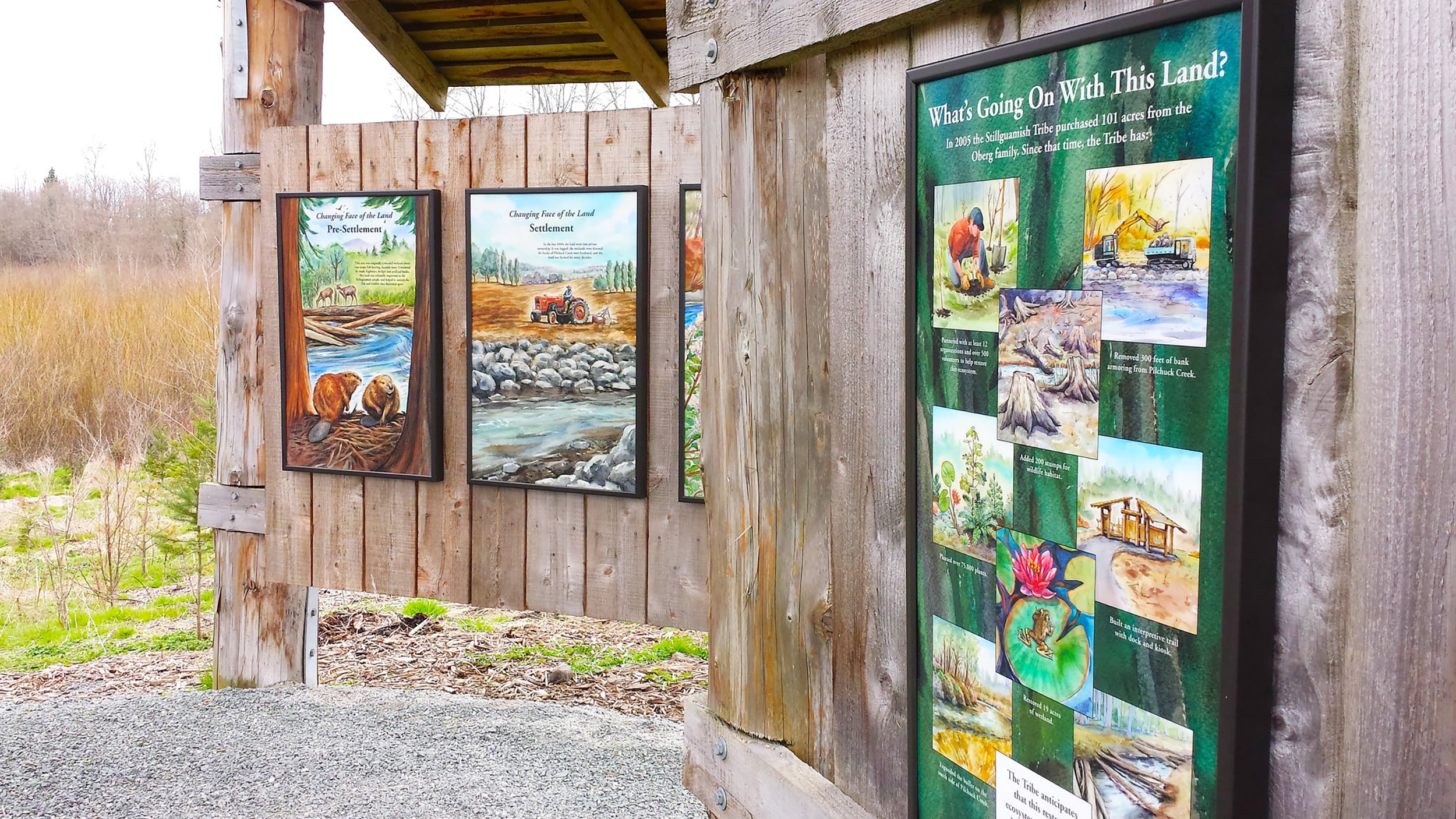 PARK IT HERE: Pannier Graphics' park signs use eco-friendly materials and last a long time.
Pannier has offered its Fiberglass Embedded (FE) panel material for almost 45 years and released its Gel Coat Laminate (GCL) material in 2014. GCL uses recycled resins and prevents nearly 26 tons each year from reaching the environment. GCL panels don't chip and cannot be peeled apart, so no debris or waste will fall, collect or be harmful to wildlife or waterways.
At RULE SIGNS & GRAPHICS in Randolph, VT, owner Jake Zani takes sustainability and the environment seriously. He does his best to minimize the pollutants coming from his shop and often scrounges for used but still good materials for sign projects.
He recently completed a double-faced dimensional letter sign for a local dentist. The support infrastructure between the two panels comprises Vermont wood harvested from in-state lumber mills within a 45-minute drive of his business. Zani hand carved the edges of all of the letters with an unguided utility knife, leaving rough, wavy, organic imperfections to the edges: a decidedly "sculpted" feel when viewed from the sidewalk or access road. Even the dentist's former sign is being reused. Easily one of the most technically complicated projects he's ever worked on, says Zani, but also one of the most rewarding.
Another signmaker who holds sustainability close to his heart is Canaan Farmer, owner of ROUGH CUT CUSTOM SIGNS in Centerton, AR. Farmer canvases local stores for unique discarded substrates to print on, such as picture frames and vinyl records, which he uses to print all types of handmade signs including historic, rustic and modern designs on his Roland DG LEF2-300 benchtop UV flatbed printer.
As an artist, Farmer tries to see value where no one else does. Finding ways to reuse discarded materials is a fun, creative challenge. This not only cut costs significantly but has saved multiple tons of "waste" from reaching the landfill.
"Sustainability is the number one focus of my company," he says. "I only make products that are made from used materials. My customers appreciate and value the sustainability efforts. I believe recycling materials is much more interesting than materials that came directly from a factory. These materials had a life before I gave them a new one."
Advertisement
THINNING GIN: SmithCraft Signs recycles its paint thinner, reducing new purchases by 90%.
RE-USE
As a life-long drummer and founder of WOODSHED STAGE ART in Cleveland, OH, Dominic Tancredi has blended his love of music and design into a thriving business. For the past 10 years he's added a sustainable practice into the mix: printing the firm's business cards on discarded drumhead material.
His niche, designing and printing for the music industry, took off by custom printing bass drumheads emblazoned with a band's logo or album art. The drumhead material is made from PET, which is similar to backlit film, and printed in house. Serving nationally touring artists, the firm gained a reputation for high quality control and attention to detail. But what to do with the drumhead prints that weren't up to snuff? Rather than send them to a landfill, Tancredi began to turn those prints into his firm's business cards. Not only is this a sustainable practice but the business cards are more memorable (especially to the musicians who can instantly spot the drumhead material in their hand), and the cards are also a great conversation starter.
When SMITHCRAFT SIGNS' lead painter approached company President Nicole Bergstrom with a recycling idea, she was all ears. He explained that it would be much simpler to own a Sidewinder solvent recovery system rather than recycle the firm's paint thinner through Safety-Kleen, its outsourced recycling firm. Implementing his advice, the Phoenix firm installed its own recycler in 2022 and has experienced nothing but positive change. "It's been a huge win for us," says Bergstrom. "We have reduced our purchases of new paint thinner by 90% of what we used to buy. Having the recycler under our own roof has saved us about $2,500 since June of 2022. The quality of our own recycled paint thinner has improved as well."
Bergstrom also notes that when customers come to build LEED-certified projects, she's able to tell them about her firm's own sustainability efforts and environmentally sourced products. By operating the Sidewinder, SmithCraft eliminates the need for Safety-Kleen to pick up its hazardous waste in 50-gallon drums every eight to 12 weeks and eliminates the disposal fees. SmithCraft also reuses boxes rather than sending them to the landfill and has implemented water jugs for employee use rather than single-serve water bottles. "Every little bit helps," says Bergstrom. "Our cool little Sidewinder is a slam-dunk in our sustainability efforts."
REFILLS, PLEASE: Fastsigns of Lancaster has recycled more than four tons of acrylic/PVC.
RECYCLING
At FASTSIGNS OF LANCASTER (PA), sustainable recycling was sparked when its largest customer asked what the franchise signshop was doing to go green. The firm took its first steps in 2021 by recycling its cardboard/paper/glass as well as aluminum, just because it made sense, says Bob Wakeley, director of operations. A year later, the firm found a company that recycled scrap PVC and acrylic.
"To be clear, we want to do what we can," says Wakeley. "What do we gain? Recycling helps us elevate our reputation for large national accounts. We save money because our PVC and acrylic doesn't end up in a landfill or go through our compactor. Recycled aluminum does provide cash in scrap metal. And we continue to test materials made out of cardboard or other paper/recyclable materials and have found a few options that work for us." To date, Fastsigns of Lancaster has recycled over 9,000 lbs. of acrylic/PVC.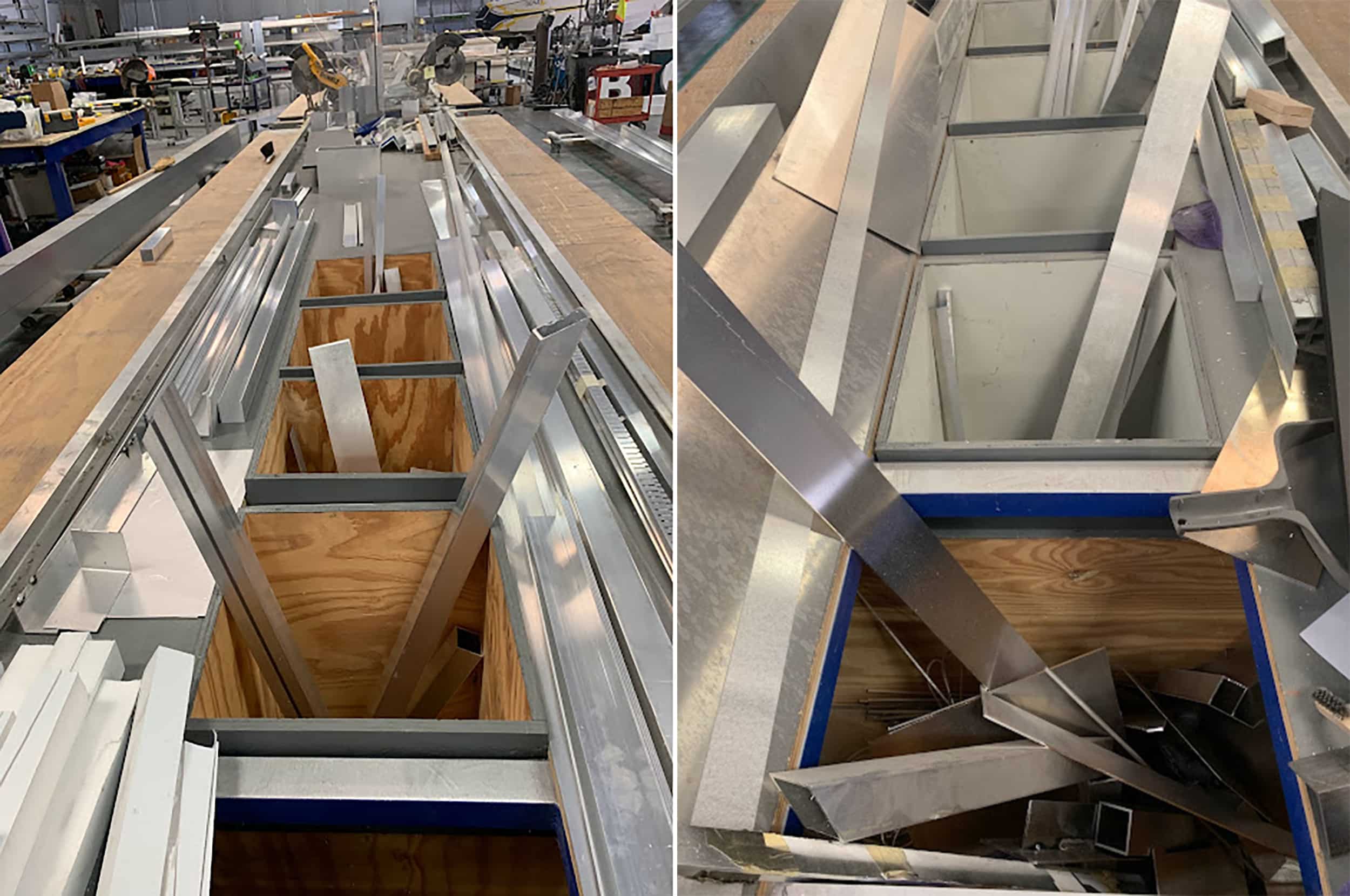 GREENER SOLUTION: Media 1 earns a decent return on its recycled aluminum, due to its higher current value.
When MEDIA 1/WRAP THIS in Sanford, FL began recycling its scrap aluminum 20 years ago, the firm seemed ahead of the trend. But today, as the firm recycles 5% to 10% of its aluminum, they are seeing a decent return on recycling due to the higher cost of aluminum, says Rick Ream, the company's vice president.
"We recycle all of the signs that we take down or replace," he says, "as well as all of the aluminum scrap from our MultiCam CNC router table. We don't make a ton of money on it but at least it doesn't rot in a landfill. It just seemed like such a waste to toss the scrap in the dumpster." Scrap bins are located between the firm's chop saws and the router table. All of the waste goes into the bins, and if not used, it's recycled.
Advertisement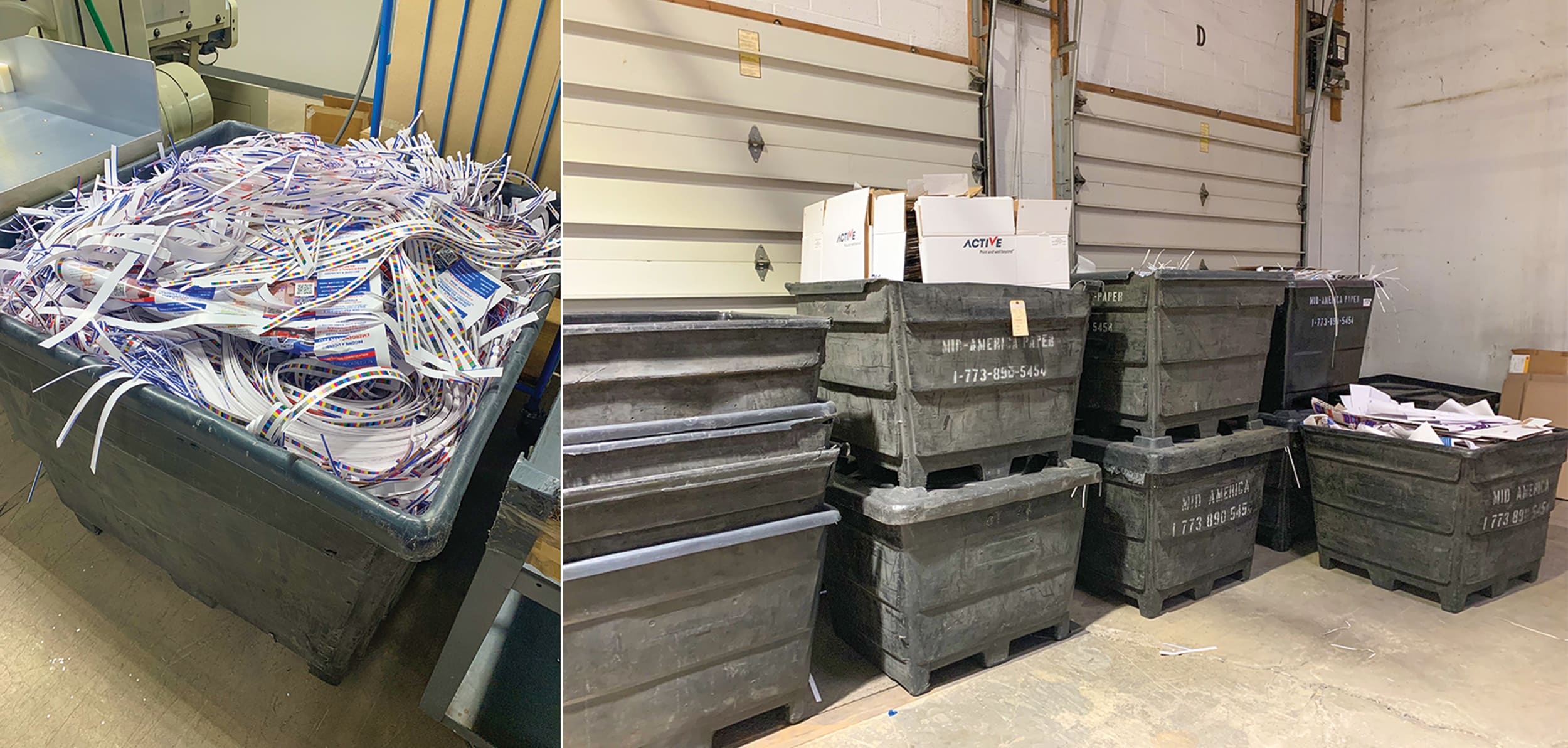 EVERYONE CAN: Like many shops, Graphic Image Corp. recycles paper and cardboard.
"We're always trying to make a conscious eco-friendly effort moving forward," says GRAPHIC IMAGE CORP. owner Frankie Markasovic, in Orland Park, IL. His firm is using latex inks, making plans to phase out UV ink altogether for a full latex ink print shop, and utilizing (and promoting use of) eco-friendly substrate options such as PVC-free adhesives and eco-friendly rigid substrates like Falconboard paper products for some applications. They also use FSC-certified papers for packaging applications and poster projects. Taking it a step further, the firm is making efforts to recycle all its paper, plastic waste and ink waste as best as it can.
TRENDING NOW: Orbus and Vycom are among the companies with major sustainability programs.
MANUFACTURERS
ORBUS DISPLAY GROUP (Woodridge, IL) is minimizing its footprint by making efforts for waste disposal and material maximization. The firm began its focus on environmental sustainability in 2010 and received its ISO 14001: 2015 certification for environmental management. Since then it has recycled an immense amount of its total waste each year and participated in community cleanup projects, diverting over 80% of its waste from landfills.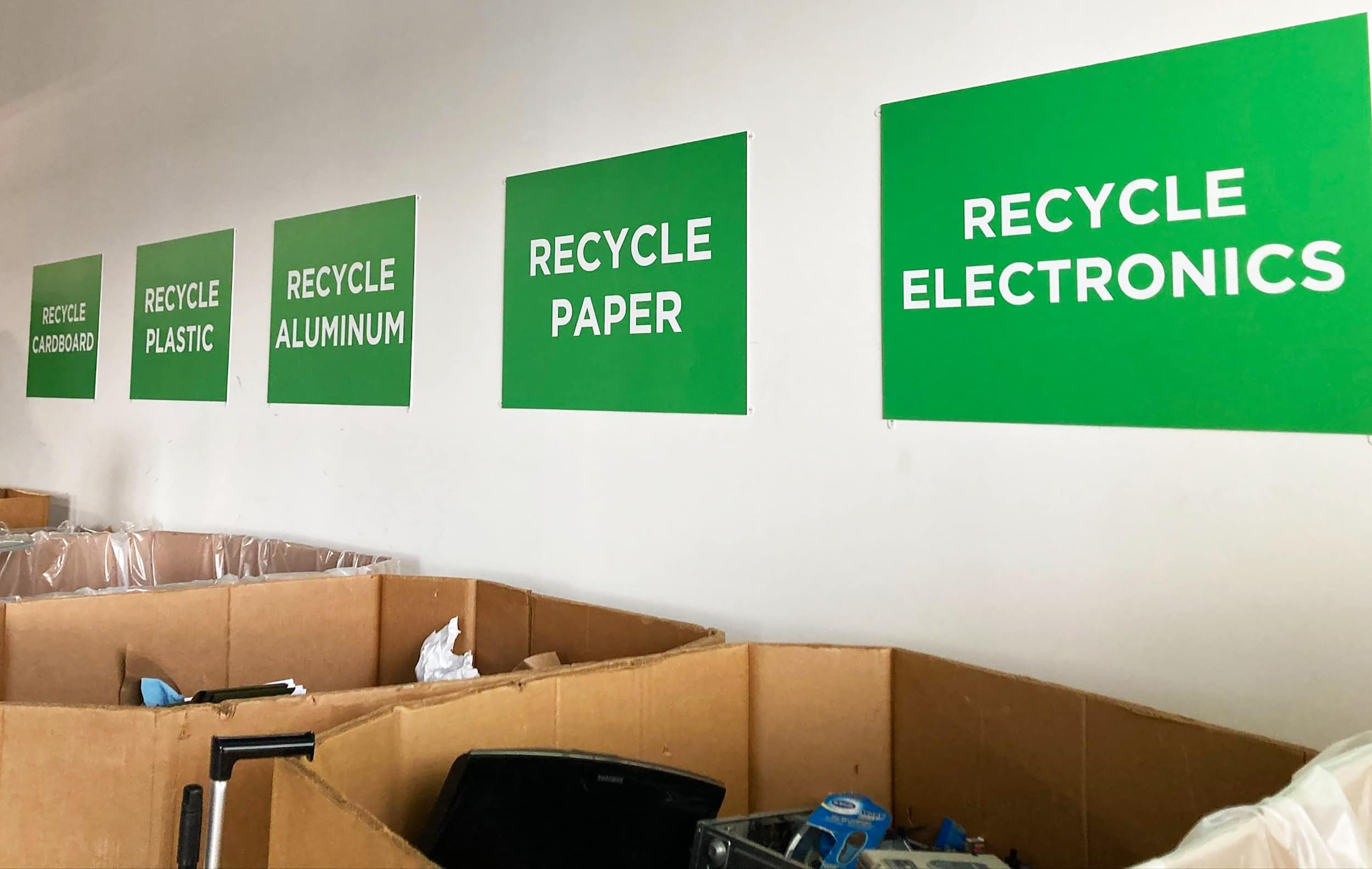 The VYCOM (Scranton, PA) Recycling Program accepts printed and unprinted rigid PVC and acrylic sheets, as well as scraps and drops from finishing and fabricating. The program is intended for users of PVC, acrylic and PE products. The material is returned to company-owned domestic facilities and used to manufacture residential and commercial products, ensuring this scrap does not end up in landfills. The AZEK Co. diverted approximately 500 million pounds of waste and scrap from landfills in 2021, increasing from roughly 400 million pounds in 2020. Vycom, a subsidiary of Azek, has set a 2026 goal of 1 billion pounds.
PHOTO GALLERY
(19 IMAGES)
Advertisement
SPONSORED VIDEO
Find it here! ISA Sign Expo 2023
Whether you're looking to grow your business or advance your career, ISA International Sign Expo® 2023 is the only place to find everything you need to be successful in the sign, graphics, print and visual communications industry.