Textile Printers
Who knew sublimation could be so sublime?
WHAT'S ONE OF the fastest growing segments in the sign market? If you say "soft signage," you are correct. Flags, backdrops and tradeshow booth graphics are just a few of the applications available for textile printing. Of course, if you have the capabilities, you are open to creating customized garments and one-of-a-kind bolts of fabric that can be used by fashion and/or interior designers. Textile printers can open up a whole new set of possibilities for the established shop.
You may have noticed that we didn't mention imaging ridged items like skateboard decks or tiles. The reason we omitted those items has to do with the printing technology. Yes, you use sublimation inks to print on fabrics and receptive rigid media, but the method of applying the image is quite different. There are also differences in how the final image looks on the media. Transfer printers have more vibrant colors with sharper lines and text. The downside is that the image is far less durable than inks directly printed on the fabric. The direct print method offers the durability needed for outdoor flags and banners, as well as decor applications such as upholstery.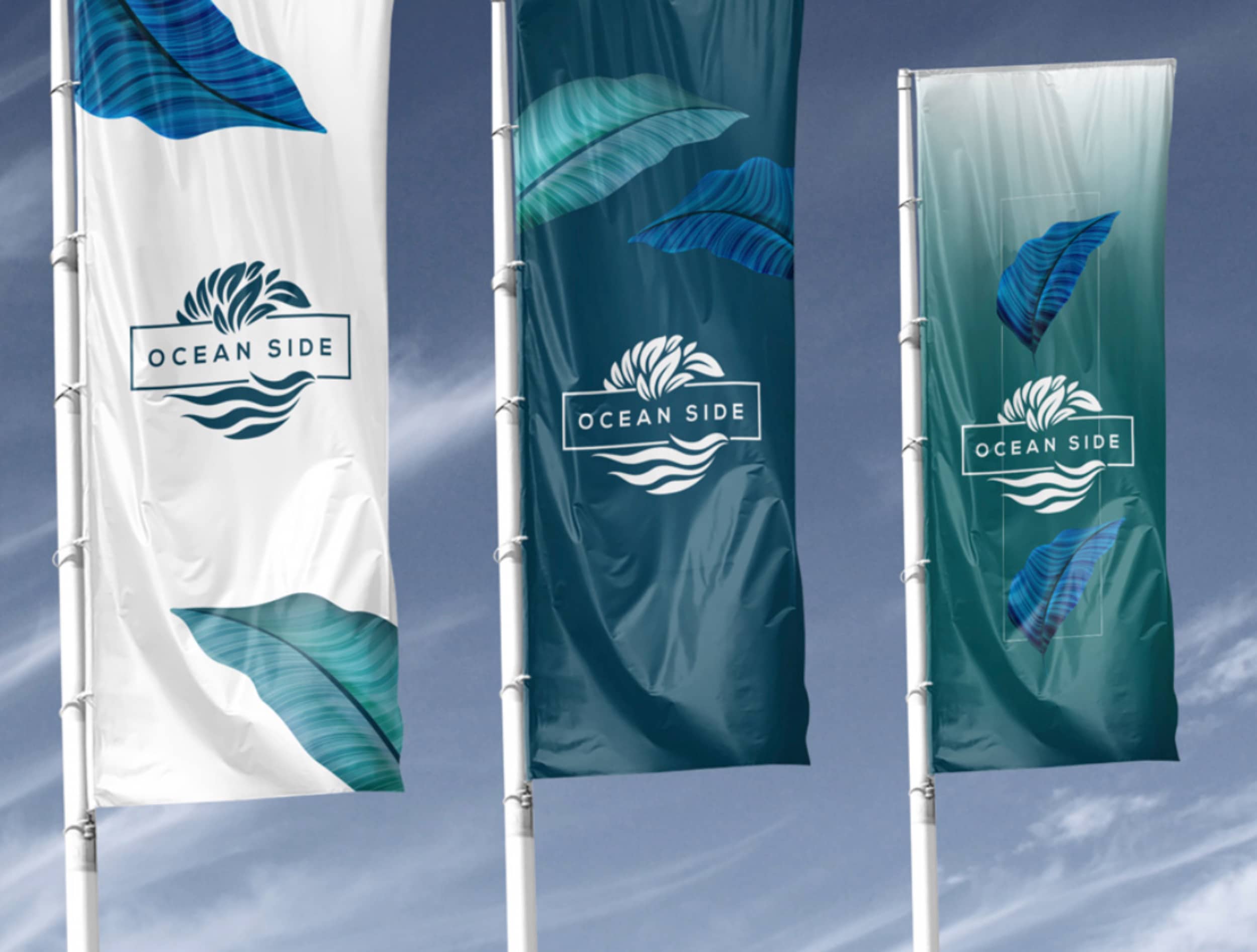 Soft signage, like flags and banners, is one of the fastest growing segments in the sign market, and textile printer capabilities range widely.
Sublimation inks need heat and pressure to transfer the color to the media. Fabrics easily go through this process in machines built to print directly onto the fabric. To transfer the image to a rigid surface you need to print the image onto special transfer paper and then use a separate method to heat and apply pressure. While this makes the transfer process more versatile, it also introduces additional manual steps and heat press equipment or fabric calendars into the process. If you want to print on textiles only, you can avoid the additional expense and labor. We are seeing some machines that can print to both transfer paper and direct to fabric (DTF) which can offer the best of both worlds.
Assuming you have no desire to print on rigid media, then you need to determine the market you want. For soft signage, custom fabric bolts and tradeshow graphics, you want to go with a purpose-built, large format printer. The prices can range from around $25K up to the mid-six figures. At the lower end you are looking at production speeds ranging from 500 sq. ft./hr. up to more than 4,000 sq. ft./hr. Expect 75-in. printing widths for the low-production printers and up to around 132 in. for industrial models.
You may not be thinking of soft signage so much as adding DTG printing to your shop. Many customers offer branded swag through their websites or shops and it's easy to repurpose graphics for use on a shirt. Again, you can start with a small setup that can handle short runs of one to maybe a dozen shirts for around $3.5K. At that price point you are usually limited to printing white shirts only. If you want to print on non-white shirts, then you're looking at spending $12K to $20K. You will also see a huge improvement in printing speed. Need even more? For around $85K you have the ability to print multiple garments at once and also have a high flexibility in the fabrics that can be printed.
Textile printers can cover a wide range of applications and fit well within signshops. Most operators can easily handle the transition from papers and vinyls to cloth. Eliminating the need for additional heat presses or fabric calendars can reduce shop expenses and keep production speeds high. If you're looking to get into this market, now is a great time.
PHOTO GALLERY
(6 IMAGES)
Advertisement
SPONSORED VIDEO
Find it here! ISA Sign Expo 2023
Whether you're looking to grow your business or advance your career, ISA International Sign Expo® 2023 is the only place to find everything you need to be successful in the sign, graphics, print and visual communications industry.