The Big Survey: The Basics
To start, let's find out where our respondents come from, their shop sizes and settings, sign types and industries served, their 2022 sales and more.
1.

In what state/province is your company (or headquarters) located?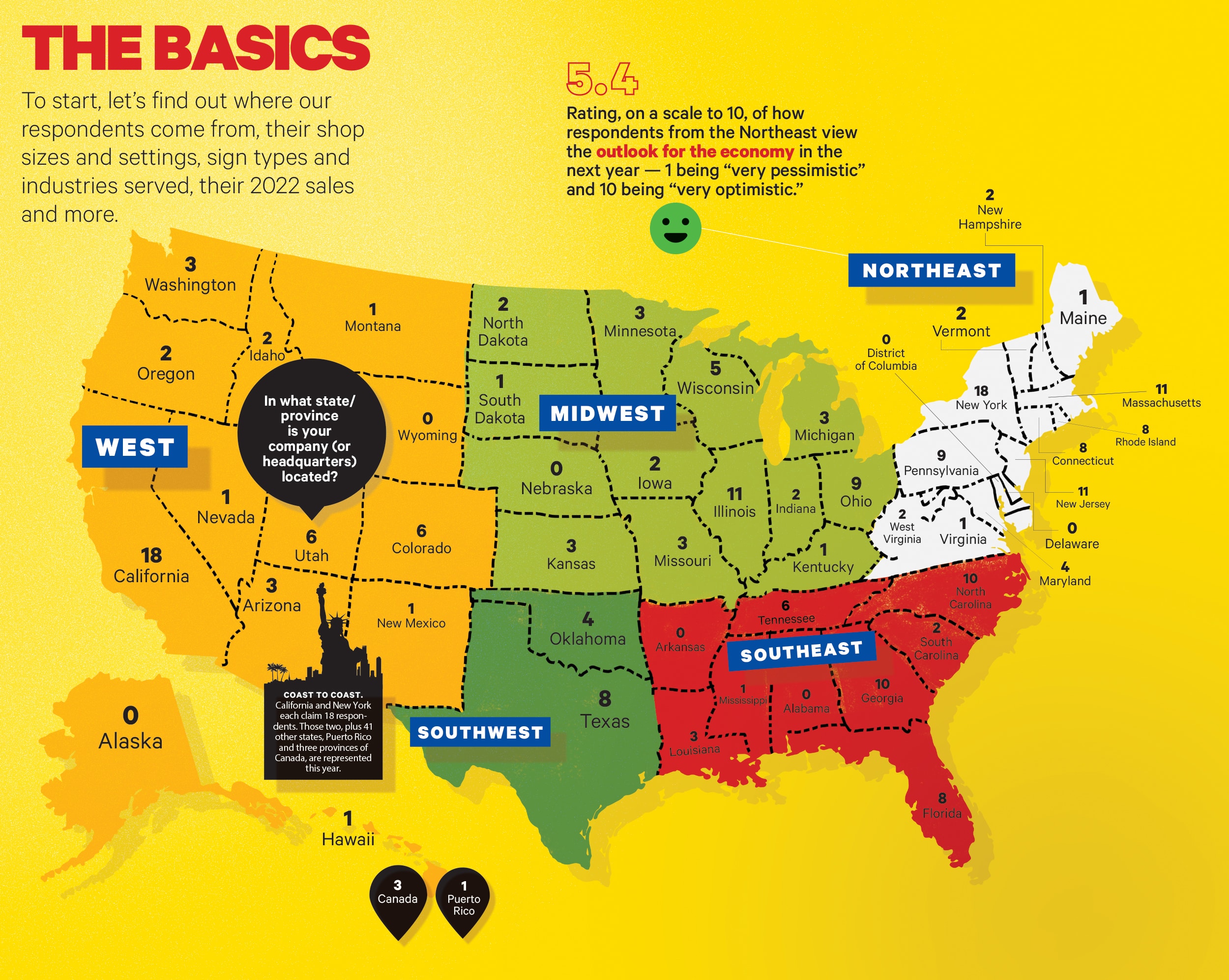 87%
Portion of sign companies that sell

window graphics

, the most popular-selling item among our respondents. Banners came in second at 85%.

Advertisement
2.

Where is your company located by region?

3.

Where is your company located by setting?
71%
Percentage of sign companies without their own working

websites

that have four or fewer employees.
53%
Portion of sign companies whose three-year trend with

subcontracting

is either increasing or greatly increasing, yet classify themselves as full-service.
4.

What is the total square footage of your office and shop combined?

Less than 1,000 sq. ft.

8%

1,000-1,999 sq. ft.

13%

2,000-2,999 sq. ft.

10%

4,000-4,999 sq. ft.

9%

5,000-7,499 sq. ft.

13%

7,500-9,999 sq. ft.

8%

10,000-20,000 sq. ft.

16%

More than 20,000 sq. ft.

12%

N/A

1%

SPACE ODYSSEY. 5,000 sq. ft. divides our respondents roughly in half: 50% have less space, 49% have more. Is that remaining 1% mindspace?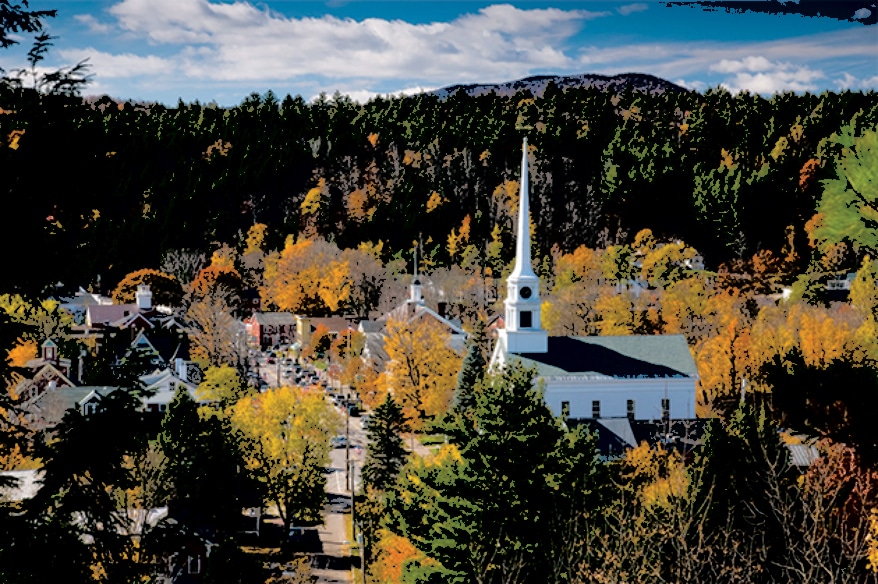 5.

How would you describe the market where your company is located?

Big urban market

20%

Suburban outskirts of a big urban market

21%

Medium-sized city (250,000-1 million people)

21%

Small city (25,000 to 250,000)

25%

Country town (up to 25,000)

7%

Resort area

3%

Other (rural, national)

3%

FULL HOUSE. Essentially as many full-service sign company respondents are located in big urban markets (28) as in medium-sized cities (27) and small cities (29).
6.

Which description of your business do you most closely identify with?

Full-service sign company (including electric and installation)

53%

Specialized sign company (non-electric or non-installation)

19%

Franchise sign company

4%

Large-format printer

6%

Independent vinyl or vehicle wrap shop

9%

Sign designer, design firm or design agency

2%

Wholesaler (sell to sign companies only)

2%

Sign installation and maintenance company

0%

Other (please specify)

5%

MORE OR LESS. Full-service participants are up by 8% compared to last year's Big Survey, while franchises are down from 8% to 4%.
7.

How long has the company you own/manage/work for been in business?

Less than 2 years

1%

2 to 5 years

3%

5+ to 10 years

8%

10+ to 25 years

33%

25+ to 50 years

39%

More than 50 years

16%

SALUTE A CENT'ANNI. Check out the March issue for 11 sign companies that have already reached 100 years in business. (See St, March 2023, page 24.)
8.

What were your total sales in 2022? (If you're Canadian, please convert to US dollars).

Under $100,000

7%

$100,000-$249,999

10%

$250,000-$999,999

40%

$1,000,000-$5,000,000

29%

Over $5,000,000

14%

MO' MONEY, NO PROBLEM. Our sign companies report making more money in 2022 than in 2021, bumping about 4% up each category at and above $100K. Nicely done!
9.

Check all industries for which you offer signs.
10.

Check products/services offered by your company:

Digital Imaging

63%

Electronic flat panel display

34%

Electronic message centers (EMCs)

46%

Architectural signage

72%

Channel letters

67%

Neon signs

33%

Non-electric changeable copy signs

55%

Screen printing

25%

Sandblasting

29%

Foamboard signage

60%

Billboard graphics

20%

Banners

85%

Vehicle graphics

77%

Floor graphics

73%

Window graphics

87%

Other

25%

FROM A TO Z. 3D graphics, acrylic, ADA/Braille, apparel decorating, architectural brackets and decoration, awnings, banners, billboards, bronze plaques, business cards, carved, casino specialties, CNC routing, decals, design services, directory, DTG shirt printing, dye-sub fabric, electric signs (cabinets, monuments, pylons), electrical contracting, embroidery, engraving, flags and flagpoles, flat cut outs, gold leaf, graphic design, installation, large format printing, laser engraving, metal art and cut signs, municipal, outdoor advertising, parking lot lighting, reprographic services, retail signs and decor, site signs, soft goods, steel sign structure fabrication, sign footing excavation and installation, stone entry, theming, trade show displays, traffic signs, wall graphics and murals, wayfinding and yard signs… OK, no "z."

Advertisement
SPONSORED VIDEO
Find it here! ISA Sign Expo 2023
Whether you're looking to grow your business or advance your career, ISA International Sign Expo® 2023 is the only place to find everything you need to be successful in the sign, graphics, print and visual communications industry.