USSC Foundation Releases New Sign Height Study and Standards
A new study on freestanding sign height.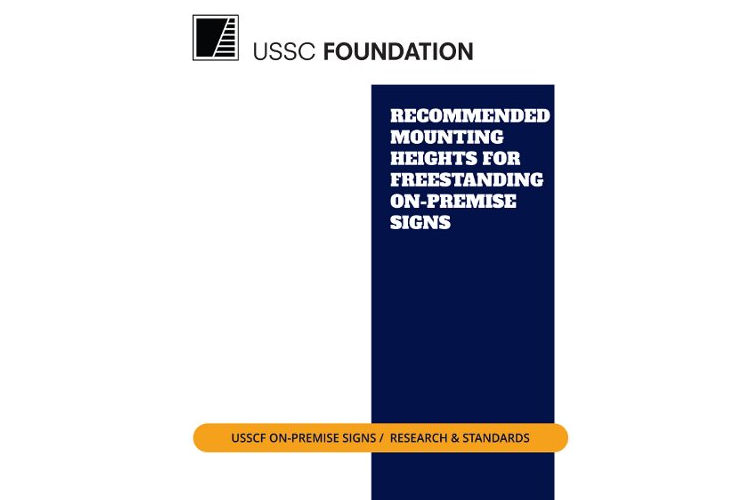 The United States Sign Council Foundation (USSCF; Doylestown, PA) announced the publication of a new study on freestanding sign height titled Recommended Mounting Heights for Freestanding On-Premise Signs, by Philip M. Garvey and M. Jennifer Klena, Garvey & Associates (2018). This research was funded by the USSCF and in part by Foundation for the Advancement of the Sign Industry (FASI, Cincinnati).
A statement from the USSCF s Richard Crawford stated, the new Garvey and Klena study presents a new way of looking at freestanding sign height based on science and the needs of the motorist, and a new way of determining the correct height. Instead of focusing on so-called "maximum sign height", the new USSCF research answers what distance from the ground to the bottom of the sign message is required in order to make the entire sign message visible and legible for motorists. In other words, what is the minimum sign height necessary [USSCF s emphasis].
The report can be found in the USSCF Research Library at usscfoundation.org and is free of charge.
In addition, the authors of the new study have a created an easy-to-use Sign Height Calculator, based on the findings of the new report; you can find the calculator at garveyandassociates.com.
For more information or for questions, please contact the USSCF at 215-785-1922 or usscfoundation@usscfoundation.org.
Advertisement
SPONSORED VIDEO
Find it here! ISA Sign Expo 2023
Whether you're looking to grow your business or advance your career, ISA International Sign Expo® 2023 is the only place to find everything you need to be successful in the sign, graphics, print and visual communications industry.