You, Your Background & Outlook
Most respondents are pretty optimistic about their futures, less so about the economy, and about as many entered the industry through a family business or connection as by "dumb luck."
10.

What's your race or ethnicity?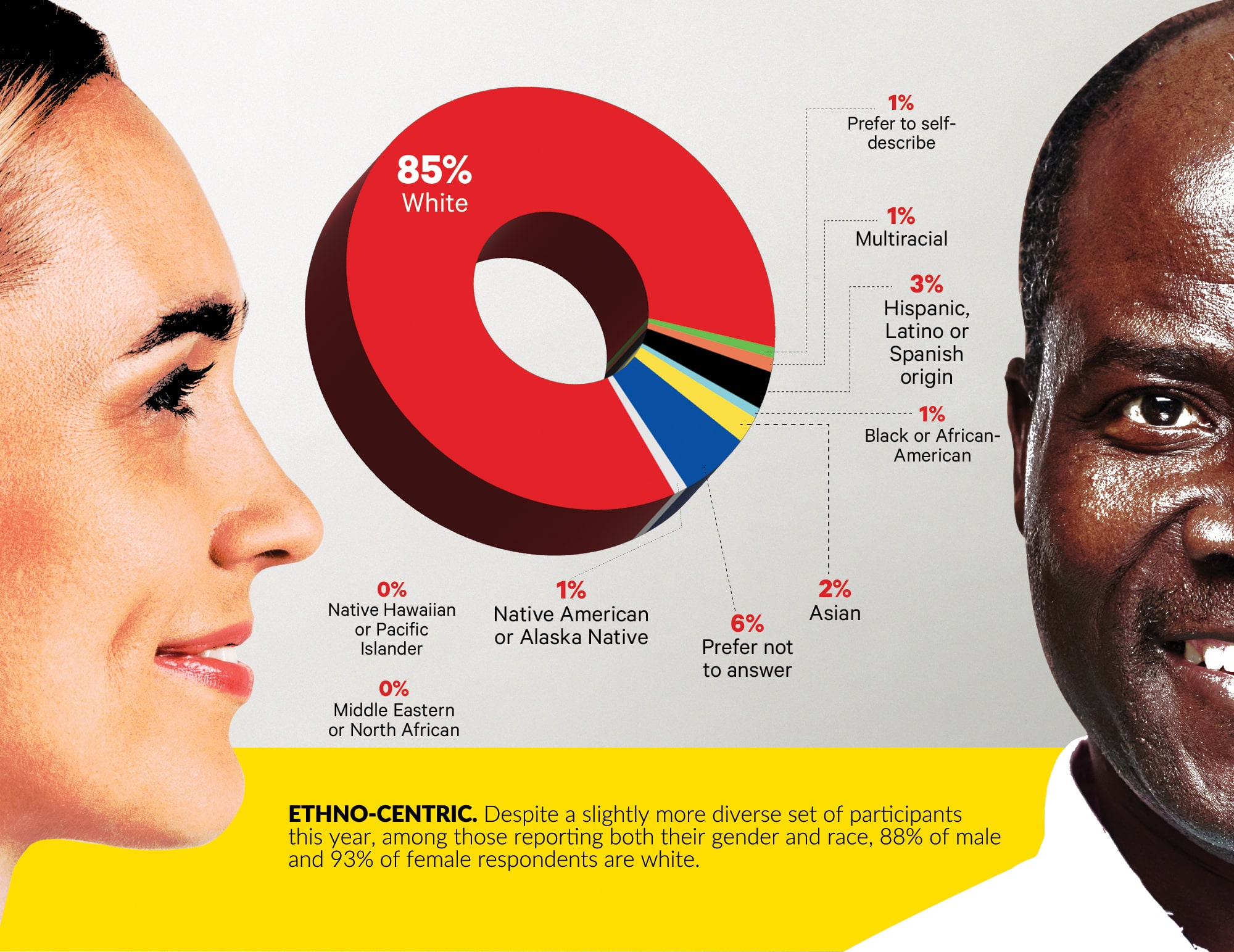 11.

What is your gender?
WONDER WOMEN. Male representation increased by 3% this year over last, with females decreasing the same amount. We wonder: Is the ratio out there really four to one?
12.

How old are you?

Under 20

0%

20-29

2%

30-39

8%

40-49

15%

50-59

29%

60-70

34%

Over 70

12%

AGING PROCESS. Neon sign manufacturing isn't the only thing involving "aging in" our industry. This year, fully three out of four respondents are 50 or older, up from 72% last year.
13.

What is the highest level of your education?

High school graduate

10%

Trade school training/certification

9%

Some college or community college

25%

Undergraduate college degree

38%

Graduate school degree

17%

Other

1%

YES, B.S. (OR B.A.). 39% of male and 33% of female participants report having an undergraduate degree — our largest education-based cohort.
14.

What led you to enter the sign industry as a profession?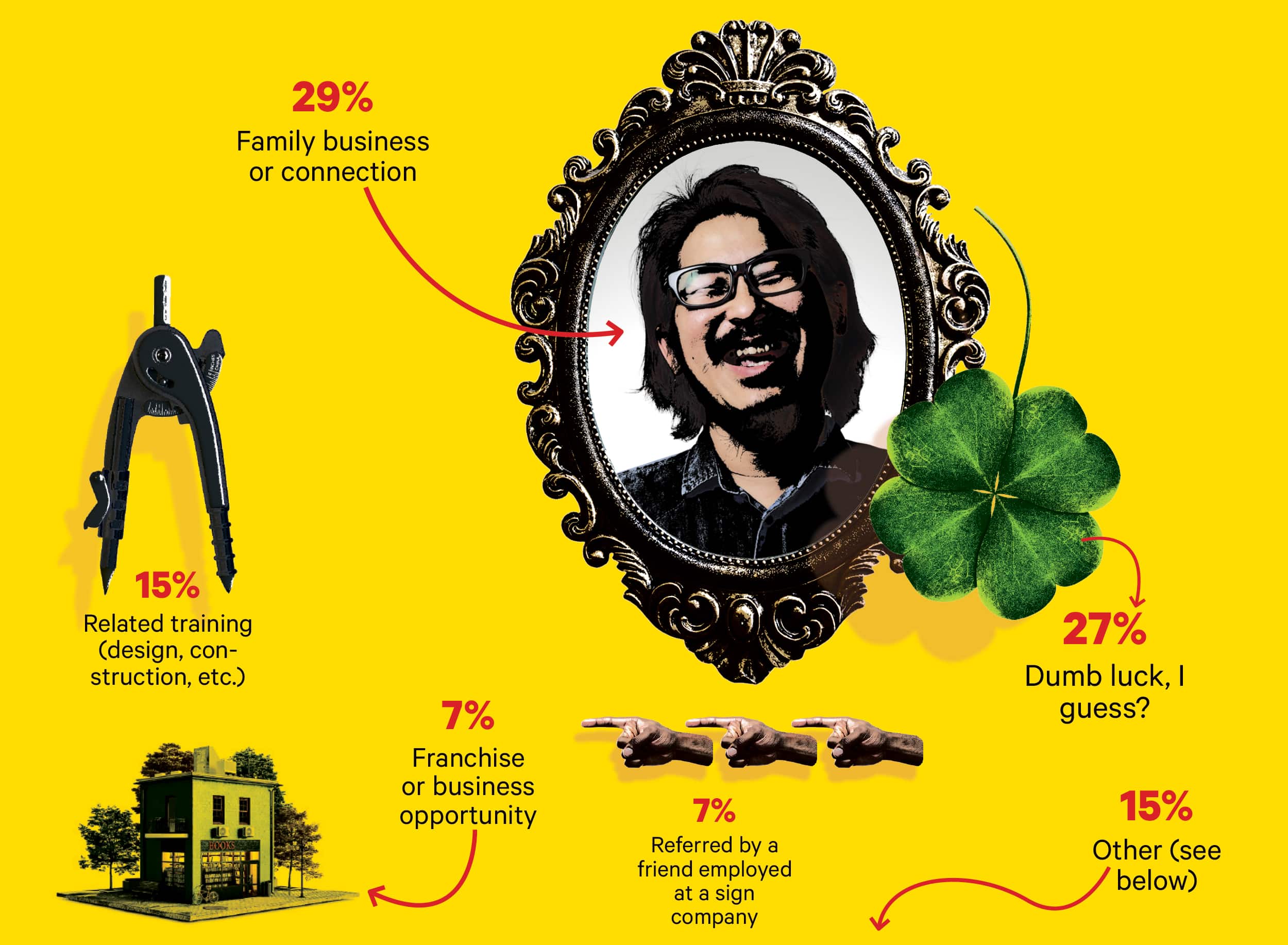 Wait, What?
Started out doing signs and lettering for myself and friends as a kid.
Desire to be creative.
A lady who put a stripe on my dad's semi taught me what she knew.
Painting motorcycles, then lettering race cars.
Graffiti artist turned signpainter.
Art degree, Butera School of Art or vocational school.
Didn't want to be stuck in a cubicle.
Avoiding or leaving the retail and corporate worlds.
Business opportunity, growing industry.
Second or side business.
Seemed like a good idea.
A friend conned me into joining him.
15.

What is something new or different you will do or try in your business in 2023?

Plucked from the hundreds of responses related to every far-reaching corner of the sign business you could possibly dream up, we offer these.

MOST COMMON: Add ADA signage, hire (outside) sales reps, use new software, (cross) train employees, purchase new equipment, start/improve online presence/marketing.

MOST UNIQUE: Introduce a new patented invention, "open the books" to employees, not give in to tight timelines, not get sick right before the spring rush starts.
16.

What is something you have been doing but will eliminate from your business in 2023?

A surprising number of participants answered "nothing," and though more narrowly focused — I'm looking at you, bad employees and deadbeat customers — a number of responses stood out.

PRODUCTS AND SERVICES: Awnings, banners, (color change and fleet) vehicle wraps, large freestanding signs, sandblasted signs, screen printing, shirts, small and temporary signs, trophies and yard signs. And one participant said, "Neon. Sadly, dad just can't bend anymore."

POLICIES AND PRACTICES: Hiring the wrong people, taking every job or low-margin jobs, not getting deposits or charging for design time, building signs in house, most installations, working late, and our favorite: "Any customer that does not meet certain criteria to help us meet our numbers for 2023." That ain't no lie, baby, bye bye bye!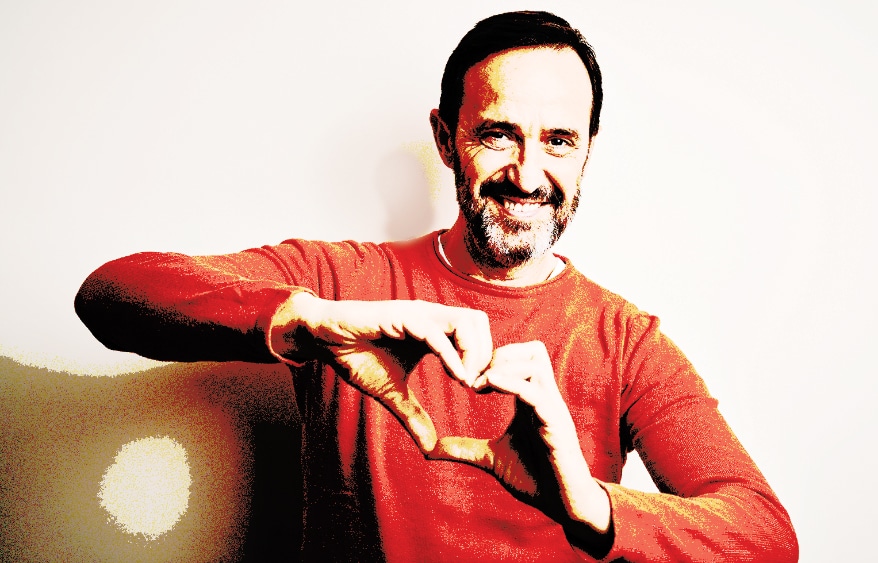 17.

What is the main reason you continue to work in signs?

To succeed in the business aspect or "for the money"

17%

To support or contribute to a family business

20%

To work with sign people, fellow employees, team members

7%

To practice specific crafts (design, fabrication, installation)

7%

Hard to put into exact words … It's what I love doing!

40%

Other (see below)

9%

MORE REASONS. Run my own business and not be an employee, it's what I know, offers a unique perspective, every day is different, help other businesses grow, sucked in with too many people relying on me, and, "If something would happen to my husband, I won't be able to farm by myself, but I could continue to do signs." Hard to argue with that!
18.

What will be your No. 1 priority this year/for the next 12 months?

Growth

27%

Boosting profitability

37%

Bringing in new technology

5%

Clearing old inventory

2%

Cutting expenses

4%

Surviving

7%

Preparing to exit the business (succession, retirement, etc.)

4%

Other (see below)

6%

HIRE ASPIRATIONS. Other growth priorities included finding and/or training employees, streamlining or increasing efficiency, implementing new systems, focusing on enjoyable projects, and all of the above.
19.

On a scale of 1 to 10, where 1 is "very pessimistic" and 10 is "very optimistic," how would you rate the outlook for the following?
RINSE AND REPEAT. Every figure matches that of last year's Big Survey. The more things change…
Advertisement
SPONSORED VIDEO
Find it here! ISA Sign Expo 2023
Whether you're looking to grow your business or advance your career, ISA International Sign Expo® 2023 is the only place to find everything you need to be successful in the sign, graphics, print and visual communications industry.