Commercial Displayers' Tradeshow Graphics Help K2's Booth Traffic Climb
Company has maintained 40-year relationship with customer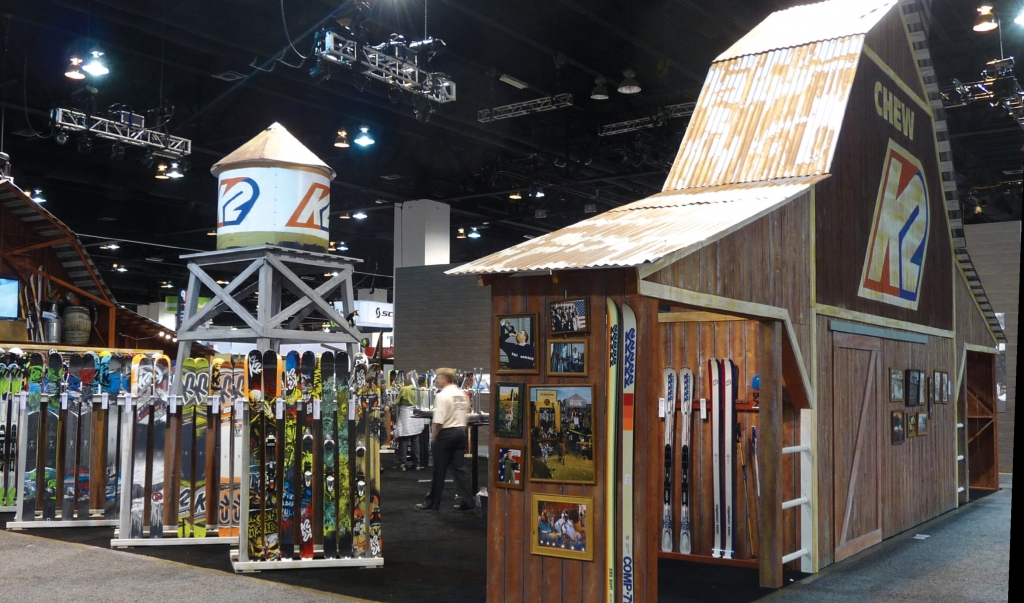 In 1962, brothers Bill and Don Kirschner developed fiberglass skis in their workshop on Vashon Island, WA. Their product was a lightweight alternative to wood and metal skis, and their invention became so popular the company needed corporate investors to provide capital to manage their company's growth. The company, known as K2, has been transformed through numerous ownership groups, but it's enjoyed steady growth and has since expanded its repertoire to snowboards, inline skates and bicycles.
K2 executives wanted to make a splash while celebrating its roots at Snowsports Industries America's (SIA) Snow Show, the largest tradeshow that targets suppliers of personal, winter-sports equipment. The January show at Denver's Colorado Convention Center attracted approximately 5,000 equipment buyers.
The K2 brand has grown in tandem with Seattle-based Commercial Displayers, which has always provided K2's exhibit-booth and in-store graphics. Commercial Displayers also produces digital graphics for Starbucks, Fran's Chocolates and other large, Pacific Northwest corporations.
To develop the graphics, K2 collaborated with Commercial Displayers' production team; Heckler Assoc., a Seattle-based advertising agency; and Ron Beloit, a tradeshow-booth painter who decorated booth components that weren't digitally printed.
"The concept for this year's exhibit was open to many ideas, because the company wanted a signature exhibit to celebrate 50 years," Patrick Comer, Commercial Displayers' president (his father, Bernie, founded the company), said.
The booth's focus pays homage to a vintage piece of company branding – a replication of a makeshift barn constructed at the original K2 factory near Seattle in the early 1970s. The wall was constructed from Western red cedar, which Beloit sanded and decorated with water-based paint. Bernie Comer helped execute that original campaign. Like the original wall painting, the "Chew K2" graphic tips its cap to Harley Warrick, the legendary barn painter best known for the handpainted "Chew Mail Pouch Tobacco" barn graphics that were once ubiquitous roadside scenery (and still stand in a few places today).
Advertisement
The 25-ft.-tall barn wall proved especially challenging because of the required storage space. Normally, the company sends exhibit components in sections; however, the barn door's structural integrity required it to remain intact. Thus, the company had to rent a warehouse in nearby Tukwila to store the barn door until the exhibit was shipped to Denver.
For the booth's rear portion, Commercial Displayers designed and built a watertower that reinforces the booth's rustic aura. The watertower face was built from four pieces of 3mm-thick, 3A Composites Sintra® aluminum-composite material. Commercial Displayers direct-printed two of the faces with its Agfa Anapurna M2540 flatbed printer with UV-cure inks. The watertower also features a cedar, 3-D K2 logo, which was CNC-routed to shape and painted.
"When you're building permanent exhibit graphics, weight is less of a concern because you aren't concerned with repeated shipping," Comer said. "Because K2's exhibit will only be used once a year, it's less of a concern than an exhibit that's packed up and reinstalled repeatedly. Had this been a frequently changed-out project, we probably would have opted for modular components instead of real wood. Cedar is lightweight compared to other woods, but it's still more expensive and labor-intensive than plywood."
The exhibit's in-booth signage and graphics originate from old photos and vintage markers, sent from K2 headquarters, that recount K2's history. Ski-rack decoration includes handpainting, solvent-ink-printed decals and rigid panels direct-printed on the Anapurna.
K2's booth graphics created an indelible impression; SIA named it the show's Booth of the Year. Snewsnet.com, a website that covers outdoor sports and fitness, summarized the accolades: "Celebrating 50 years in the industry, K2 pays homage to its beginnings with a 40 x 65-ft. booth that, while recalling the past, is full of fresh new products and technology. Every detail transports visitors to the barn of the past."

Advertisement

SPONSORED VIDEO
SureColor R5070 and R5070L | Consistent, High-Quality Signage Printing
Achieve consistent, repeatable color for high-quality signage, including banners, adhesive vinyl, wallpaper and more, with the robust, reliable SureColor R5070 and R5070L 64-inch roll-to-roll resin signage printers. Learn more.