EasyCut Studio Announces Easy Cut Studio 5
Latest version offers more cutter support and 64-bit compatibility.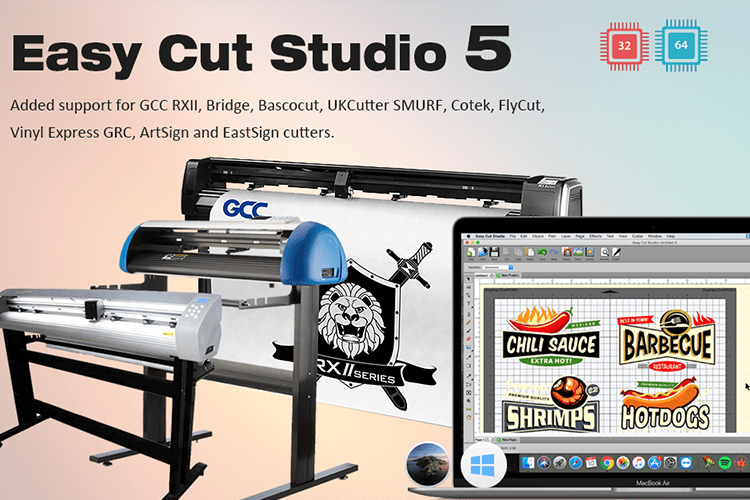 EasyCut (New York) has announced Easy Cut Studio version 5, a compatibility update to the company's signmaking software with more enhanced functions, support for more vinyl cutters, 64-bit compatibility and more. Version 5 of Easy Cut Studio is fully compliant with Apple's latest operating system, macOS 10.15 Catalina.
According to a statement from the company, Easy Cut Studio is designed and engineered for any signmaking business. The software features advanced vector graphics editor, vectorization tool, and full vinyl cutting and color printing features. Adapted for both Mac and Windows, it can be used in eight different languages and together with over 600 different cutting plotters.
Easy Cut Studio 5 includes the following new features and bug fixes:
Added support for GCC RXII, UKCutter SMURF, Cotek, FlyCut, Bridge, Bascocut, Vinyl Express GRC, ArtSign and EastSign cutters
Fully compatible with the latest macOS 10.15 Catalina
Completely rewritten for 64-bit, now runs natively as 64-bit on machines
Added sensitivity option for USCutter TITAN3 ARMS
Add TCP option to Janome cutter
Export as PDF format
More than one project can be opened at a time
Custom guidelines
Custom color for Cutting Mat
More functions added to Trace Image
Other stability improvements and small bugs fixed
For more information, visit easycutpro.com.