Painting Signs and Murals
Add old-school skills to your new-school shop.
CIARA LEROY DIDN'T plan on becoming a sign and mural painter. The Lexington, KY artist actually studied writing with a minor in studio art at Asbury University (Wilmore, KY). Ciara did freelance art as a "side hustle," until it became a full-time job. "I didn't see it as something I could do full time – until my client base kind of grew," she said.
I fell in love with Ciara's work on Instagram (@prettystrangedesign), which is a great source of artists, ideas and creative signs. She posts beautiful progression photos that break down the methods of her custom work. When I asked Ciara to spend some time with me so that I could learn how a sign company could better appreciate painted signs and murals, she was happy to oblige.
The first large mural Ciara did for a client was a vintage store in Versailles, KY. The visibility helped her design firm, Pretty Strange Design, (Lexington, KY), grow by word of mouth. She was surprised to see that "murals and painting work [have] exploded this year." Ciara believes handpainted signs and murals are great, personal and tactile works of art that provide people something to interact with – selfie, anyone? There is something very authentic and refreshing about a handpainted mural in our modern digital world. Pretty Strange Design draws clients thanks to a unique style Ciara described as "smile-inducing" and "really bright, an echo of '70s grooviness with a modern twist. There is always something off-kilter or asymmetrical – which is why I call it Pretty Strange Design."
Is your sign business ready to take on a small, painted sign panel or mural for your client? It may be more manageable than you think! Here are three steps to prepare yourself for a painted sign or mural:
Understand the surface. What is the best way to prepare this surface, and what paint is best suited for the job? The best resources are other artists. Look online for chat rooms or forums that discuss these topics.
Understand the environment/context. Will it be exposed to a lot of sun and weather? Does it compete with anything else in the environment?
Understand the client. As in, what do they want? What's their goal? What's the purpose of the sign? Like most sign-purchasing clients, this is like reading between the lines. Creating the right product and design for a client is often an alchemy of detective work, creative inspiration and budgeting expertise!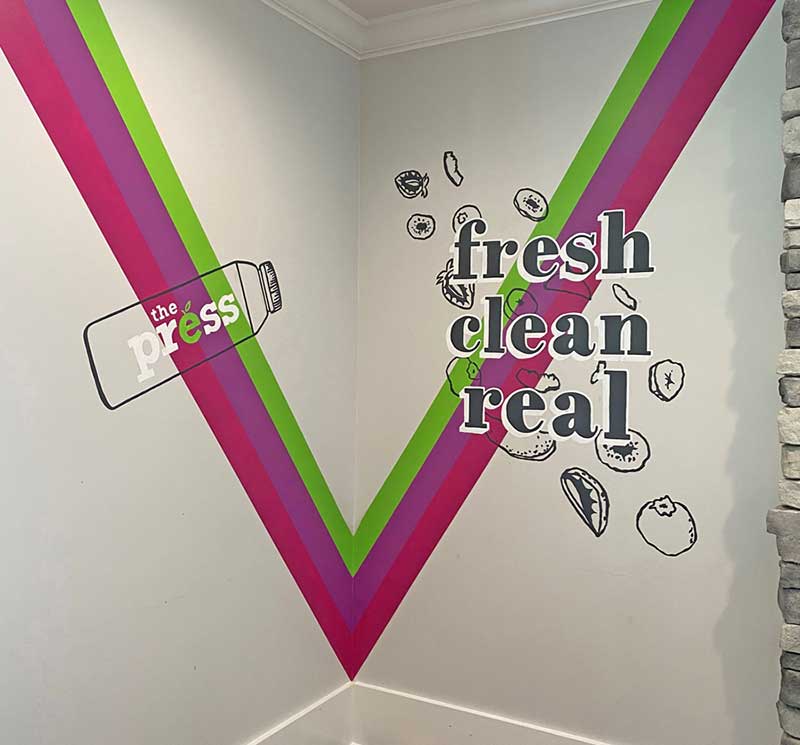 How to Put An Image On A Panel or Wall?
There are many techniques for planning and transferring the image to a wall or sign panel:
Advertisement
Transfer paper works well for smaller pieces.
Larger murals can be projected onto the wall in the dark or at night. Use a pencil or chalk to trace the image.
An old-school method is using a grid. Trace a grid over the image on paper, then replicate the grid at full size and draw in the details of each box of the grid.
What to Paint With
Go for a very high-quality outdoor latex paint. It's the best chance for one-coat coverage.
Primer may only be needed if the surface is highly porous.
How to Price A Mural
Smaller projects can be quoted by estimating your design time, labor time and materials.
Larger projects are often priced by the square foot, ranging from $30 to $75 per sq. ft.
Finding A Muralist for Your Client's Project
Check out social media, especially Instagram, for muralists in your area.
Often murals are tagged or marked by an artist's name so you can track them down online.
PHOTO GALLERY (
5 IMAGES

)
SPONSORED VIDEO
SureColor R5070 and R5070L | Consistent, High-Quality Signage Printing
Achieve consistent, repeatable color for high-quality signage, including banners, adhesive vinyl, wallpaper and more, with the robust, reliable SureColor R5070 and R5070L 64-inch roll-to-roll resin signage printers. Learn more.