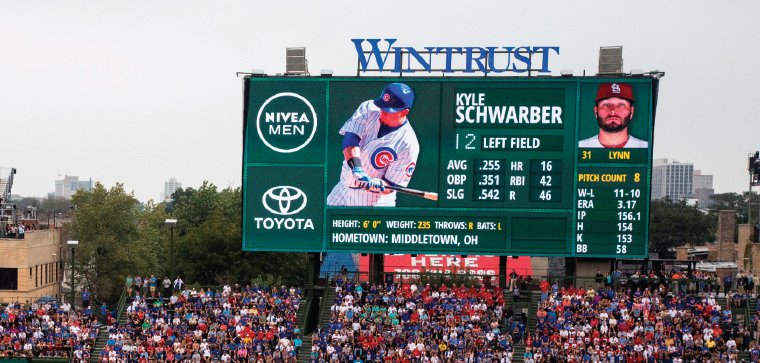 "Happiness is going eyeball-to-eyeball with those Cub fans. That's really what I appreciated most about playing in Wrigley Field."
– Ernie Banks
Perhaps there's no more enjoyable place to be on a warm sunny after-noon than sitting in the stands of your favorite ballpark with a hot dog or beverage in hand, and hearing "play ball!" ring out. For many Chicagoans, that place is Wrigley Field, especially when the Cubs are winning. Second only to Boston's Fenway Park in age, Wrigley is known for its intimate design, ivy-covered outfield walls and manually operated scoreboard. This is the home of Billy Williams, Ron Santo, Ryne Sandberg and Andre Dawson.
It is exactly this celebrated heritage that Cubs' owner Tom Ricketts is trying to maintain through a $500 million, five-year stadium renovation to repair crumbling infrastructure and upgrade facilities. Though improvements won't be completed until 2019, many changes are already visible, including vastly improved signage. Even skeptical fans might admit that 21st-century technology has been skillfully added without sacrificing Wrigley's charm. The completed signage includes two jumbo HD LED video displays, several ribbon displays, numerous LED scoreboards and, perhaps most compelling, a renovated 1934 marquee at the main entrance.
What HD LEDs bring
Because Wrigley Field has landmark status, the final video display sizes and positioning were chosen to minimally disrupt the open-flow feeling in the outfield. Daktronics (Brookings, SD) provided the HD LED video displays, one 42 ft. high by 95 ft. wide in left field, and the other at the right field line measuring 29 ft. high by 71 ft. wide, both with 13HD pixel layout. The key trends in LEDs that have made these massive displays economical include the ever-increasing brightness of LEDs along with improving efficiency. In Daktronics' 13HD pixel layout, a pixel of one red, one green and one blue LED are separated by 13mm (0.5 in.) from the next pixel. The display is com-posed of multiple 14.4 x 14.4-in. (366 x 366mm) modules, each containing 28 x 28 pixels. Screen brightness maxes out at 6,500 nits (candela/m2), but the brightness adjusts automatically depending on light conditions.
"The Cubs were careful to integrate the technology tastefully, and they did a fantastic job of that," said Will Ellerbruch, Daktronics' national sales manager for live events. "We provided them with high-resolution technology to provide great picture quality with the brightness to combat direct sunlight during day games."
Daktronics also installed its Show Control System at Wrigley, which is capable of content zoning – showing one image on a display, such as an instant replay, or multiple images, including scores, player statistics and ads.
Advertisement
Features of the ribbon displays Daktronics installed along first and third base line upper decks and in the outfield include bright, high-contrast images using Nichia LEDs, louvers that enhance display contrast and overall slim design to protect fans' sightlines. The LED scoreboards throughout the stadium feature high reliability, high contrast and legibility at significant distances. Finally, Daktronics provided the video board inside the marquee. Outer shells of all displays are IP66 rated and are constructed of aluminum and corrosion-resistant steel.
Landmark Marquee Gets Kid Glove Treatment
Approximately 3,700 man-hours went into the restoration of Wrigley's 1934 Art Deco marquee. Beginning in October 2015, plant manager David Garza and his crew at South Water Signs (Elmhurst, IL) restored this porcelain-enameled sign with neon letters in time for the Cubs' opener on April 11. Comprising four cabinets, the portion that reads "Wrigley Field, Home of" and "Chicago Cubs" is landmark protected, so the US National Park Service, the State of Illinois and the Commission on Chicago Landmarks oversaw renovation. Landmark tax credits rely on approval by the commission.
"Several decisions were made along the way," explained Thomas Merkel, president of South Water Signs. "We proposed a change from the neon to LEDs to reduce energy costs and improve the lifetime of the sign. However, the LED tubes did not appear clear in daylight the way the neon tubes do, so the landmark committee chose neon to maintain the same appearance."
Onsite, the workers began by removing the neon and electronic message board. To access the under-lying sign fasteners, they removed five signface porcelain panels on the second cabinet using grinders and cutters to extract rusted screws. Offsite, they removed 10 front panels on the top cabinet using a drill to loosen the bolts and nuts attached to interior struts. Whole portions of the steel cabinets were replaced to meet code, including the bottom of the top cabinet and the top and bottom of the second cabinet. Most interior electronic components were also replaced.
The signface was cleaned with a baking soda blaster at 30 psi to remove 60 layers of paint without damaging the metal. Exposed areas were treated with Manganesed Phospholene No.7 (M&P). Original sign material was repurposed to repair the damaged signface. The entire sign was soda blasted and coated with three coats of M&P. After testing six paint systems from three manufacturers, South Water chose AkzoNobel Inter-national Devran 201H epoxy primer and International Interfine 1080 polysiloxane finish coat for the enameled steel surface. The white letters, detailed decoration, red background (front face) and green background (back face) were applied by hand. The returns were spray painted. South Water Signs fabricated the replacement neon in its shop to the exact size and shape of the original.
South Water Signs has provided all new signage during Wrigley Field's historic renovation, with the exception of the digital signage.
Advertisement

SPONSORED VIDEO
Find it here! ISA Sign Expo 2023
Whether you're looking to grow your business or advance your career, ISA International Sign Expo® 2023 is the only place to find everything you need to be successful in the sign, graphics, print and visual communications industry.