On Oct. 6, 2023, Signarama Troy | Metro Detroit (Troy, MI) hosted more than 40 students from two local high schools for the company's very first Sign Manufacturing (MFG) Day — an international program sponsored by the International Sign Association to introduce and market the sign industry to young people. "Our biggest goal with hosting … was to further develop our relationships and commitment to our local community," says Bob Chapa, Signarama Troy's owner. "Our team comes from a very diverse background with education and we wanted to instill in the young minds that there are many paths towards success in their future."
Join us as we explore our industry through young and eager minds…
Photos courtesy of Signarama Troy | Metro Detroit
Captions by Mark Kissling with Bob Chapa
Among the guests were students from Lake Orion High School (Orion Twp., MI) led by faculty member Monica Cotton, who teaches Photography, Design Concepts and Graphic Design. Students into this class would definitely be interested in signs!
Eight of 12 guests from all over the US, hosted by Signarama Troy for a multi-day masterclass taught by Bob Chapa. Pictured, from left to right, are Bill Hall, Signarama Lawrenceburg (IN); Michael Quilty, Signarama Columbia (SC); Matthew Mattingly, Signarama San Antonio; Kevin McCord, Signarama Lawrenceburg; Matt Vaughn, Signarama Columbia; Emily Harestad, Signarama Salt Lake City; Blake Anderson, Signarama Salt Lake City; and Dustin Lee, United Franchise Group.
Each guest also participated in Sign MFG Day, and promoted franchising and the sign industry all across the US.
"A great moment at the launch of the event when I introduced myself to 40+ students and teachers," Chapa (pointing in the picture) says, "and shared my background as a graphic designer and path through college… to running a sign company… to eventually owning the business… to becoming the largest Signarama in the world for seven years running."
On the right is AJ Titus, president of Signarama Corporate (West Palm Beach, FL), who handled the opening remarks and spurred a ton of great questions from the students, Chapa says.
Michael Stephens, a veteran of Signarama Troy for over 20 years, coincidentally started his career in the sign industry when he applied to work at the company when he was 17 years old and still in high school. "Michael was able to share his unique path and love for our industry and really connect with the students," Chapa says.
A student adds to the "puzzle-piece outline" of the day, designed to teach them about the many areas of the sign industry in which they can work. Nice interactive metaphor!
Krystal Hoover, one of the shop's top sign fabricators in their fabrication department, demonstrates some of the technical aspects of wiring LED modules for lit sign cabinets.
Discussing an assembled channel letter sign, from left to right are various students from the two high schools; Brian Halama, Signarama Troy's fabrication manager; Matthew R. Godwin, the company's COO/CFO and Torey Rouillon, director of project management for National Branding (also owned by Signrama Troy).
"Torey was the lead on the entire Sign Manufacturing Day," Chapa says. "Torey's leadership and development of the program were instrumental in the success of the day."
Safety-goggled students learn how much technology has improved the process to produce ADA signs on acrylic using the shop's Direct Color Systems UV-84 Gen2 wide format inkjet 3D printer. Coincidentally, this was also a good lesson in accessibility.
Fabrication Manager Brian Halama teaches about CNC routing on the shop's MultiCam Apex router. Big machines always impress students… and adults!
COO/CFO Matthew R. Godwin demonstrates the types of vinyl materials the company can print on with their HP Latex printers. Meanwhile, one student on the left celebrates the demo by signaling a touchdown.
Signarama Troy's Aaron Pletta helps students understand various vinyl application techniques for Avery Dennison wrap media. Note the continuation of the puzzle theme in the print. You see what they did there? Clever…
Now the students put into practice what they just learned. Someone might have a future as a wrap installer!
While this picture represents only about half of the students at the end of the day, rest assured that all who attended Sign MFG Day 2023 at Signarama Troy | Metro Detroit experienced the many, varied professions within our industry.
"We are happy to report multiple students interested in summer internships," Chapa says, "and one already looking for a full-time position after he graduates next May."
To read the full article about Sign MFG Day at Signarama Troy, click here.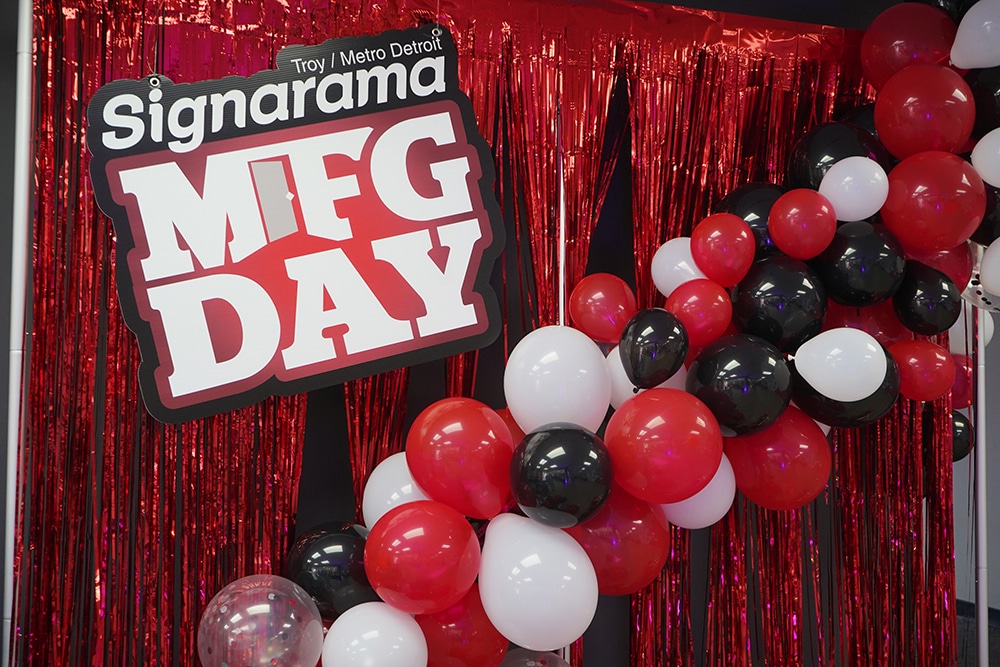 Sign MFG Day 2023 at Signarama Troy | Metro Detroit
On Oct. 6, 2023, Signarama Troy | Metro Detroit (Troy, MI) hosted more than 40 students from two local high schools for the company's very first Sign Manufacturing (MFG) Day — an international program sponsored by the International Sign Association to introduce and market the sign industry to young people. "Our biggest goal with hosting … was to further develop our relationships and commitment to our local community," says Bob Chapa, Signarama Troy's owner. "Our team comes from a very diverse background with education and we wanted to instill in the young minds that there are many paths towards success in their future."
Join us as we explore our industry through young and eager minds…
Photos courtesy of Signarama Troy | Metro Detroit
Captions by Mark Kissling with Bob Chapa