Vinyl: A History
3M tracks the history of this medium.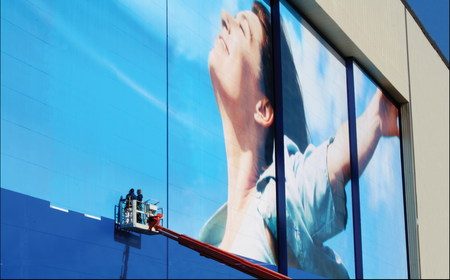 Advances in chemistry, evolving manufacturing methods, societal demands and changing business conditions mark vinyl's history and evolution. With this progress, the signage and graphics-arts industries have transformed; road safety has improved, and businesses have gained a bright, modern way to advertise and identify themselves.
In 1937, when 3M engineers laid double-coated cloth tape, which contained glass beads, as a roadway median, no one could have predicted vinyl's later success as a sign material. Although this early reflective product was significantly brighter than white paint, adhesive failure left the strips floating during spring's thaw.
This experience led the development team to change course and focus on reflective sheeting for road signs. By the late summer of 1939, the first highway signs covered with reflective sheeting appeared on a Minnesota highway, and a new era in signage began.
Film star
Aggressive adhesives developed for reflective sheeting's backside helped it adhere to metals, wood and other surfaces. Vinyl coatings that protect the top surface eventually led to the development of non-reflective, marking films. This was the first vinyl-film variety used for truck decoration and identification.
In the 1940s, a process to cast film on a liner was invented. With some refinements, this technology is still used today. Film cast on a release liner, which doesn't get stretched, yields an inherently thin, strong film that won't shrink. Cast film remains the best way to produce high-quality graphic film with excellent, uniform color, although calendering and extrusion technologies have improved enough that such films are useful for many applications.
Advertisement
In 1953, non-reflective lettering, using a solvent or heat-activated adhesive, was introduced. The coating technique produced approximately 20 ft. of film per minute, but early technicians were lucky to achieve a 50% yield (of course, manufacturing methods have improved exponentially since then). Vying for market acceptance versus handpainted graphics, early vinyl materials offered greater durability, as well as the ability to be die-cut in mass quantities.
An initial order for this film entailed decorating American, World War II military planes with the Air Force logo. Only a heroic effort successfully made and shipped the decals on time. Unfortunately, an adhesive activator spilled during shipment and ruined half the film!
A better film
In 1956, pressure-sensitive vinyl film hit the market. This advancement, combined with more color introductions, enabled greater vinyl usage to fabricate attractive signs and emblems. Two years later, an easy-to-peel, silicone release liner was developed; this has remained a mainstay in protecting vinyl film's adhesive backing. That same year, a new fluorescent film, used for enhanced hospital and school-sign visibility was successfully introduced.
Also in 1958, the graphics industry enjoyed more color choices, such as a gold display film, which was used initially to create metallic stripes on Eastern Airlines planes and beer trucks. In 1960, a display film designed for such short-term signs as store windows became available.
Over the next few years, product innovations and introductions occurred at a dizzying pace. Key advancements included films for window stickers, vandal-resistant markings and embossed, textured and metallic films. Film colors also expanded well beyond such early, standard-issue colors as white, black, insignia red, insignia blue and yellow. Vehicle-graphic designers, who wanted films to match the dazzling colors of cars streaming out of Motown assembly lines, spurred many of these developments.
During the early 1960s, the market for decorative films – particularly wood-grain replicas – surged. To make these films realistic, technicians etched wood-grain features from real wood veneers onto the print rolls. By 1966, all of the then-Big Four automakers (American Motors, Chrysler, Ford and General Motors) used wood-grain films on various models.
Advertisement
In 1983, translucent films, which overcame many technical challenges, were introduced. For the first time, technicians could cast 2-mil, wide-format films with uniform backlit color. Thus, a completely uniform image could be produced on translucent film when imaging a backlit substrate. Previous technologies, such as spraypainting and screenprinting, rarely produced uniform color densities.
Enhanced adhesives
In 1965, graphic films that feature microscopic, glass bubbles in the adhesive were introduced. The adhesive allowed the film to be repositioned before final adhesion, which greatly expanded the market.
Another innovative film, which contained micro-replicated air channels that allowed trapped air to escape, was introduced in 1996. This meant applicators could quickly and easily install perfect graphics while no longer needing to pop air bubbles with needles and knives. This air-egress technology set the standard for the next vehicle-graphics generation.
In 2007, the latest generation of films with micro-replicated air channels offered more channels on a smaller scale, which ensured the micro-structured adhesive's surface eliminated imperfections. This film developed from expertise gained from the development of micro-replication technology for traffic-control films.
Printers, inks and cutters
In 1991, the first successful, large-scale, outdoor-durable, digital-printing process was unveiled – the electrostatic printer. This technology uses a process similar to photocopying by apply liquid toners to film. Using screenprinted graphics, service providers had to wrap 100 trucks to make it economical, but this advance made it possible to profitably wrap single vehicles.
Advertisement
Electrostatic printers, which still produce up to 2,600 sq. ft. of graphics per hour at 600 dpi, are being displaced by a slower, direct-printing process that provides better resolution. In 2000, piezo-inkjet printers hit the market — their process uses pigmented inks to provide a durable graphic with excellent color retention.
Also, the digital, electronic, vinyl-film cutter's advent further revolutionized the sign industry. These cutters triggered significant production boosts and allowed faster, cheaper production. Also, their introduction dramatically increased the sign industry's vinyl demand. Advancements in cutters' speed, size and detail capabilities soon followed and increased their industry impact.
Bright future
As always, product enhancements continue to change the graphics-industry landscape, and the future promises to be increasingly bright. Imminent advances will enable films to be applied to challenging surfaces, such as deep draws and compound curves, with easy application and removal.
Recent environmental improvements include lead-free inks and heavy-metal-free, UV piezo inks that offer flexibility and durability. Scientists continue to search for ways to eliminate lead pigments in all graphic films without sacrificing expected performance.
Vinyl films, adhesives and inks have greatly improved, and they'll continue to evolve to meet the industry's changing needs and expectations – just as they have for nearly 70 years.
SPONSORED VIDEO
Find it here! ISA Sign Expo 2023
Whether you're looking to grow your business or advance your career, ISA International Sign Expo® 2023 is the only place to find everything you need to be successful in the sign, graphics, print and visual communications industry.