3 Ground Graphics That Will Leave You Completely Floored
Social distancing signage may be a thing of the past, but floor graphics still have a bright future.
This article originally appeared at our sister publication, Big Picture.
ONE SIGNIFICANT CHANGE brought on by COVID-19 was the overwhelming need for directorial floor signage reminding us to stay six feet apart from others. Outside of safety measures, has this application stuck?
"Floor graphics have dropped off all together," says Paul Ricchezza of Cutting Edge Signs & Graphics. Tim Bezner of Westmount Signs and Printing says they've "vanished!" And Tommy Melendez of Master Graphics NYC says "Absolutely went south. No interest anymore. Clients who ordered tons of six-feet signs no longer see or understand the capabilities." How can you prove to your clients there's value in graphics on the ground?
These three PSPs have found a way.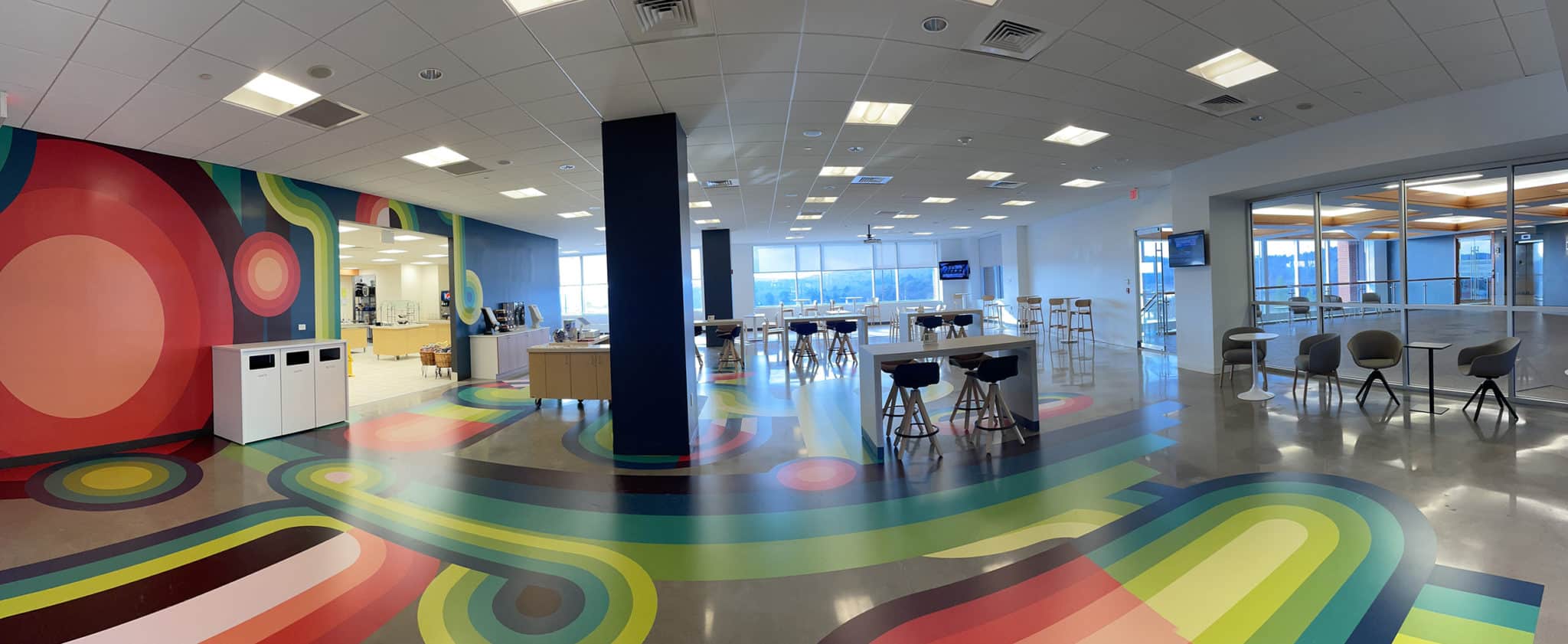 Go Graphix

East Longmeadow, Massachusetts
Braintree Hill Office Park, managed by The Flatley Company, is considered one of Boston's most prestigious "super parks," according to its website. The buildings offer panoramic views of the Boston skyline, Quincy Bay, and the 7000-acre Blue Hills Reservation. A technology-oriented building on the property with multiple tenants reached out to Go Graphix to spruce up the common space for employees and guests. The print shop designed the graphics via Adobe Illustrator and used its HP Latex 570 printer with Onyx RIP to print onto 3M IJ180CV3 Controltac graphic film with 3M Scotchcal overlaminate 8520. The printed graphics were contour cut with a Mimaki CG-130 SRIII cutting plotter. The floor and wall graphics total just under 2500 square feet. Client reaction? "Wow!" says Jim White, president/partner, Go Graphix.
Tip: Consider the entire space. If a customer comes to you for wall graphics, suggest floor graphics, as well.
Advertisement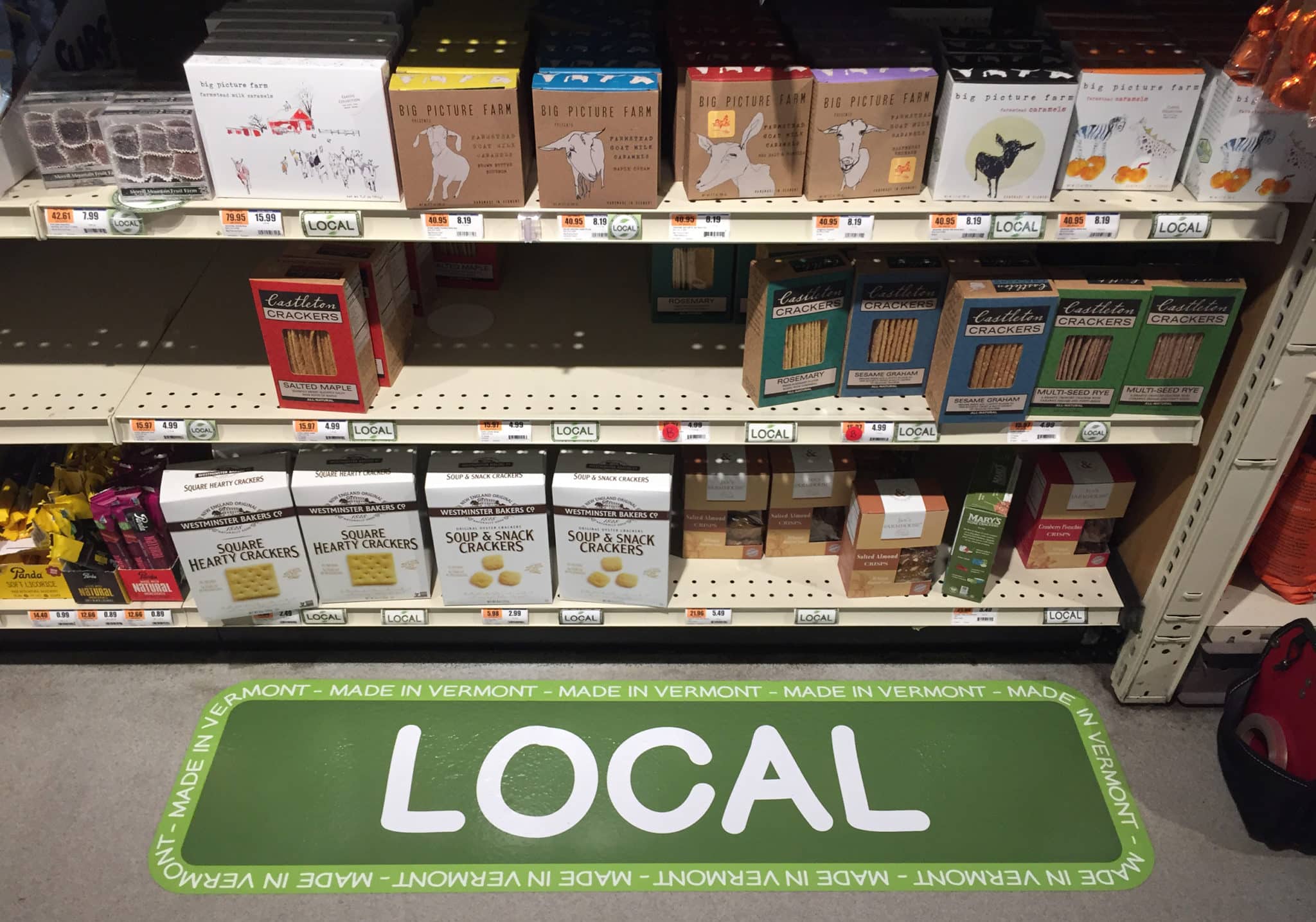 Awesome Graphics

Rutland, Vermont
Awesome Graphics saw an uptick in floor signage orders through COVID that has since dwindled, except for in the medical and grocery fields. "We do a lot of work for Middlebury Natural Food Co-op in Middlebury, Vermont," says Tami Napolitano, owner, Awesome Graphics, "from euro stickers to huge hanging aisle signs that we fabricated, designed, and printed, to floor and wall graphics." The shop designed the 48-inch-wide grocery store floor graphics via Adobe Illustrator and used its HP 560 Latex printer onto 3M IJ 40-10 White Gloss Grey Adhesive. A Royal Sovereign laminator was used to apply 3M UV film with scratch resistance; a Summa cutter was used to die cut the shape of the image after the laminate was applied. "The client loved the floor graphics and I have a repeat order for more in the works," says Napolitano.
Tip: If a certain application is thriving in a specific market, dial into it. Use images from successful installs to gain prospective clients in the same industry.
Advertisement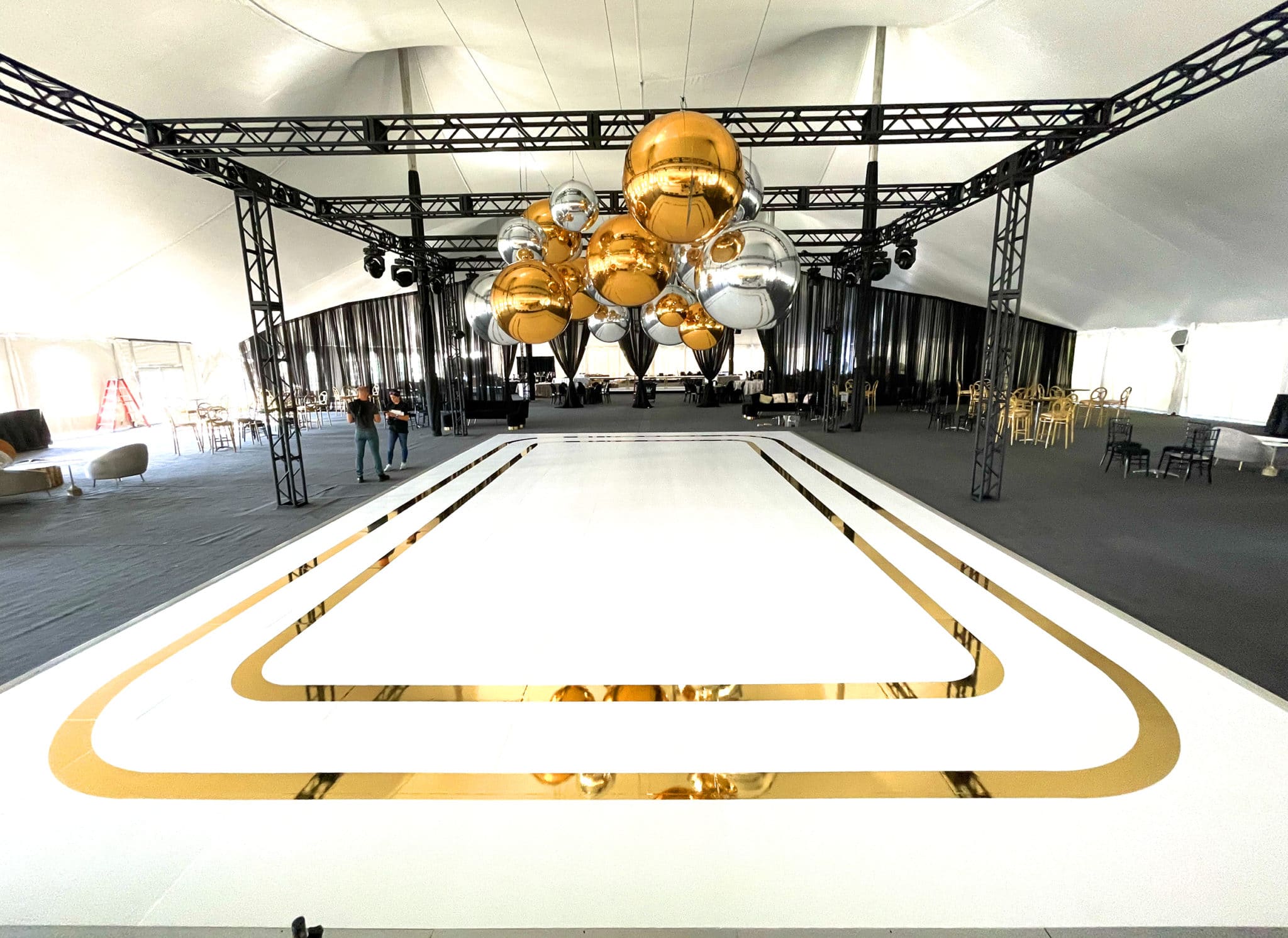 Mandel Graphic Solutions

Glendale, Wisconsin
Social distancing is over and parties are on. Mandel Graphic Solutions is now the "premier" dance floor wrap company in it's local area. The print shop recently completed a job for Events by David Caruso. "This was a huge wedding at Road America racetrack," says Colleen Lake, account manager, Mandel Graphic Solutions. The modular dance floor was 44 x 28 feet and assembled from 4 x 4 squares. "We wrapped the entire floor with a three-inch overlap with Magik-Stik vinyl," she says. "Then we used our Mimaki CG-160FX cutting plotter to cut Oracal gold mirror chrome vinyl into arcs and straights. We put it all together on-site using our math and geometry skills from our public high school education."
Tip: Not everything has to be printed. Give your machines some time off and use your in-house tools and showstopping media to create the same effect.
Advertisement
SPONSORED VIDEO
Epson SureColor Printers | Partnering for Success with SkinzWraps
"Everything we have here has an Epson label on it because it's just simply the best." Whether printing vehicle wraps, signage or commercial wallpaper, SkinzWraps trusts Epson SureColor printers to consistently deliver vibrant, professional-quality large-format prints with amazing depth and color.